This website uses cookies to ensure you get the best experience while browsing it. By clicking 'Got It' you're accepting these terms.
Could Spider Venom Save the Bees?
Jun. 04, 2014 11:56AM EST
A novel bio-pesticide created using spider venom and a plant protein has been found to be safe for honeybees—despite being highly toxic to a number of key insect pests.
New research, led by Newcastle University, has tested the insect-specific Hv1a/GNA fusion protein bio-pesticide—a combination of a natural toxin from the venom of an Australian funnel web spider and snowdrop lectin.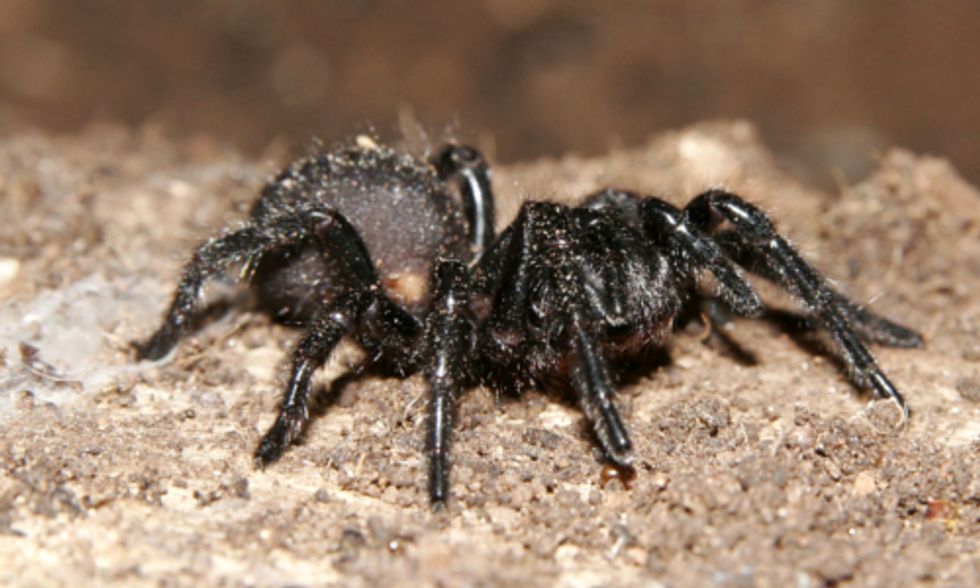 Feeding acute and chronic doses to honeybees—beyond the levels they would ever experience in the field—the team found it had only a very slight effect on the bees' survival and no measurable effect at all on their learning and memory.
Publishing their findings today in the academic journal Proceedings of the Royal Society B, the authors say the insect-specific compound has huge potential as an environmentally-benign, "bee-safe" bio-pesticide and an alternative to the chemical neonicotinoid pesticides which have been linked to declines in pollinator populations.
Honeybees perform sophisticated behaviors while foraging that require them to learn and remember floral traits associated with food. Disruption to this important function has profound implications for honeybee colony survival, because bees that cannot learn will not be able to find food and return to their hives.
By pollinating some key crop species, honeybees make a vital contribution to food security. The decline of these insects raises significant concerns about our ability to feed a growing population.
Professor Angharad Gatehouse, based in Newcastle University's School of Biology and one of the supervisors on the project, explains: "Our findings suggest that Hv1a/GNA is unlikely to cause any detrimental effects on honeybees."
"Previous studies have already shown that it is safe for higher animals, which means it has real potential as a pesticide and offers us a safe alternative to some of those currently on the market."
The project is part of the Insect Pollinators Initiative, jointly funded by the Biotechnology and Biological Sciences Research Council, UK's Department of the Environment, Food and Rural Affairs, the Natural Environment Research Council (NERC), the Scottish Government and the Wellcome Trust under the auspices of the Living with Environmental Change (LWEC) partnership.
This research, involving academics from Newcastle and Durham Universities and the Food and Environment Research Agency, was funded by the UK's innovation agency the Technology Strategy Board.
During the study, the bees were exposed to varying concentrations of the spider/snowdrop bio-pesticide over a period of seven days.  Throughout the study period, the team carried out a series of memory tests and recorded any changes in behavior.
Research lead Erich Nakasu, a PhD student at Newcastle University, explains: "This is an oral pesticide so unlike some that get absorbed through the exoskeleton, the spider/snowdrop recombinant protein has to be ingested by the insects."
Unlike other pesticides, Hv1a/GNA affects an underexplored insecticidal target, calcium channels.  These are more diverse than commonly-targeted insecticide receptors, such as sodium channels, and therefore offer the potential for more species-specific pesticides.
 "Calcium channels are linked to learning and memory in bees so it's vital that any pesticide targeting them does not interfere with this process," explains Erich.
"Although Hv1a/GNA was carried to the brain of the honeybee, it had no effect on the insect which suggests the highly selective spider-venom toxin does not interact with the calcium channels in the bee."
The larvae were also unaffected by the Hv1a/GNA, as they were able to break it down in their gut.
Dr. Geraldine Wright, one of the authors on the paper, heads up Newcastle University's Honeybee Lab.  Last year she led the research which highlighted the damaging effect of neonicotinoids on bees' ability to learn and remember and subsequently communicate to their hive mates.
"Around 90pc of the world's plants are directly or indirectly reliant on pollinators to survive," she explains.  "If we destroy the biodiversity of pollinators then it will be irrelevant how effective our pesticides are because we won't have any crops to protect."
"There is now substantial evidence linking neonicotinoid pesticides to poor performance and survival in bees and what we need now is a clear directive from Government to develop and introduce bee-safe alternatives."
"There isn't going to be one silver bullet," Professor Gatehouse adds. "What we need is an integrated pest management strategy and insect-specific pesticides will be just one part of that."
--------
YOU MIGHT ALSO LIKE
Two New Studies Address the Ongoing Plight of Honeybees
7 PR Tricks Pesticide Companies Use to Spin Bee Crisis
EPA Approves Another Pesticide Highly Toxic to Bees  
--------
EcoWatch Daily Newsletter
With more than half the global population under some form of lockdown due to the COVID-19 pandemic, sustainable habits can easily fall by the wayside. But we can still fight off the virus and keep our green habits.
Climate
The global coronavirus pandemic has thrown our daily routine into disarray. Billions are housebound, social contact is off-limits and an invisible virus makes up look at the outside world with suspicion. No surprise, then, that sustainability and the climate movement aren't exactly a priority for many these days.

We don't have to abandon our green habits during the crisis, but some might have to be adapted for the foreseeable future as we continue to learn about COVID-19 and how this new disease spreads.
Locals board up their shops in Vanuatu's capital of Port Vila on April 6, 2020 ahead of Tropical Cyclone Harold. PHILIPPE CARILLO / AFP via Getty Images
The most powerful extreme weather event of 2020 lashed the Pacific nation of Vanuatu Monday as it tries to protect itself from the new coronavirus.
A tiger at the Bronx Zoo is believed to be the first animal in the U.S. and the first tiger in the world to test positive for the new coronavirus.
Derrick Jackson
By Derrick Z. Jackson
As much as hurricanes Katrina and Maria upended African American and Latinx families, the landfall of the coronavirus brings a gale of another order. This Category 5 of infectious disease packs the power to level communities already battered from environmental, economic, and health injustice. If response and relief efforts fail to adequately factor in existing disparities, the current pandemic threatens a knockout punch to the American Dream.
President Donald Trump speaks during a roundtable meeting with energy sector CEOs in the Cabinet Room of the White House April 3 in Washington, DC. Doug Mills-Pool / Getty Images
By Andrea Germanos
A coalition of climate organizations strongly criticized President Donald Trump's in-person Friday meeting with the chief executives of some of the biggest fossil fuel companies in the world, saying the industry that fueled climate disaster must not be allowed to profiteer from government giveaways by getting bailout funds or preferred treatment during the coronavirus pandemic.