This website uses cookies to ensure you get the best experience while browsing it. By clicking 'Got It' you're accepting these terms.
Could Fracking Spark a Modern-Day Dust Bowl?
Apr. 28, 2015 10:25AM EST
Energy
Oil wells and natural gas may have made individual Americans rich, but they have impoverished the great plains of North America, according to new research.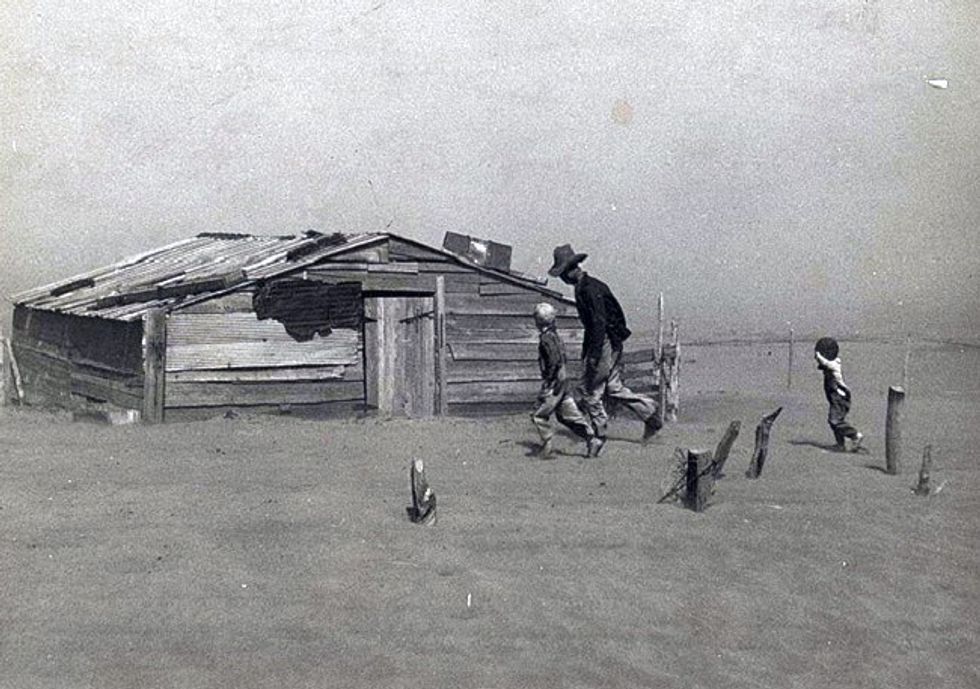 Fossil fuel prospectors have sunk 50,000 new wells a year since 2000 in three Canadian provinces and 11 U.S. states, and have damaged the foundation of all economic growth: net primary production—otherwise known as biomass, or vegetation.
Brady Allred, assistant professor of rangeland ecology at the University of Montana's College of Forestry and Conservation, and colleagues write in the journal Science that they combined years of high-resolution satellite data with information from industry and public records to track the impact of oil drilling on natural and crop growth.
They conclude that the vegetation lost or removed by the expansion of the oil and gas business between 2000 and 2012 added up to 10 million tonnes of dry vegetation, or 4.5 million tonnes of carbon that otherwise would have been removed from the atmosphere.
Loss of fodder
Put another way, this loss amounted to the equivalent of fodder for five million cattle for one month from the rangelands, and 120 million bushels of wheat from the croplands. This wheat equivalent, they point out, adds up to the equivalent of 13 percent of the wheat exported by the U.S. in 2013.
Net primary production—the biomass that plants make from photosynthesis every day, all over the world—is the basis of all wealth and food security. It underwrites all other human and animal activity.
Human wealth depends ultimately on what grows in the ground, or what can be dug from the ground, and most of the latter—such as coal, oil and peat—was once stuff that grew in the ground.
The same net primary production is the basis of what economists sometimes call ecosystem services on which all civilisation depends: the natural replenishment of the water supply, pollination of crops, provision of natural nitrogen fertilizers, and the renewal of natural habitat for wild things.
And what worries the conservation scientists is that this loss of net primary production is likely to be "long-lasting and potentially permanent, as recovery or reclamation of previously drilled land has not kept pace with accelerated drilling."
"This is not surprising because current reclamation practices vary by land ownership and governing body, target only limited portions of the energy landscape, require substantial funding and implementation commitments, and are often not initiated until the end life of a well."
They say that the land actually taken up by wells, roads and storage facilities just between 2000 and 2012 is about 3 million hectares. This is the land area equivalent to three Yellowstone National Parks.
The hydraulic fracturing, or "fracking," used to extract oil and gas is between 8,000 cubic meters and 50,000 cubic meters per well, which means that the total quantity of water squirted into the ground at high pressure during the 12 years to 2012 could exceed 33,900 million cubic meters. At least half of this was used in areas already defined as "water-stressed."
New wells
The researchers considered the drilling of new wells in Alberta, Manitoba and Saskatchewan in Canada, and in Colorado, Kansas, Montana, Nebraska, New Mexico, North Dakota, Oklahoma, South Dakota, Texas, Utah and Wyoming in the U.S.
Although there is legislation, it is limited to lands subject to federal jurisdiction, and 90 percent of all drilling infrastructure is now on privately-owned land—at least, in the U.S.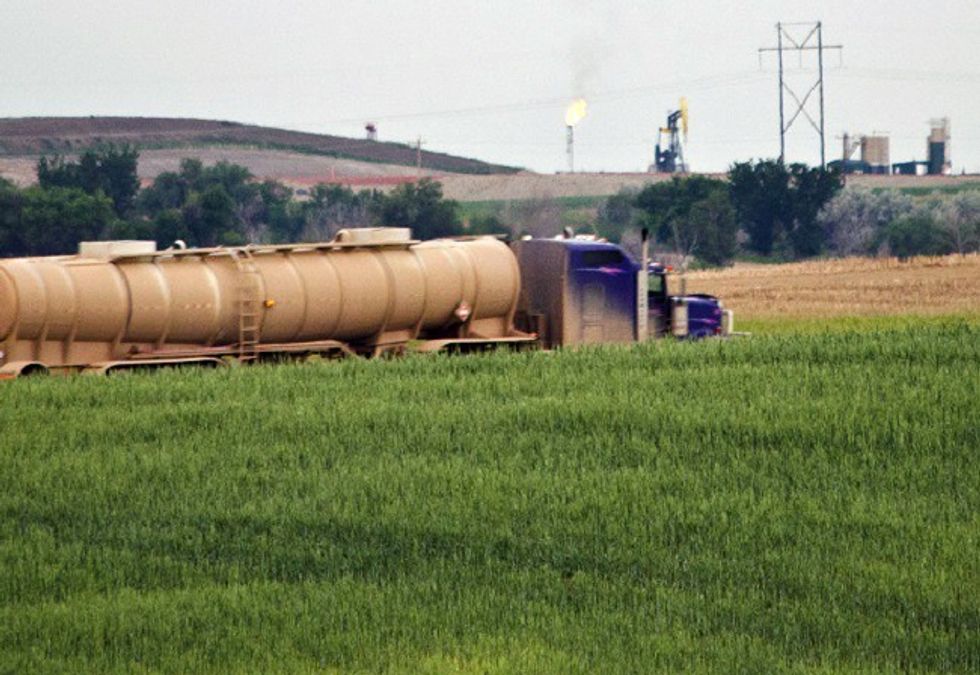 The study's authors want decision-makers to confront the challenges of this kind of ecological disruption. There are lessons from history in all this, they warn.
"In the early 20th century, rapid agricultural expansion and widespread displacement of native vegetation reduced the resilience of the region to drought, ultimately contributing to the Dust Bowl of the 1930s," they write.
"It took catastrophic disruption of livelihoods and economies to trigger policy reforms that addressed environmental and social risks of land-use change."
YOU MIGHT ALSO LIKE
8 States Dealing With Huge Increases in Fracking Earthquakes
Jon Stewart's Hilarious Take on Oklahoma's Fracking Earthquakes
EcoWatch Daily Newsletter
Farm waste being prepared for composting. USDA / Lance Cheung

By Tim Lydon
Can the United States make progress on its food-waste problems? Cities like San Francisco — and a growing list of actions by the federal government — show that it's possible.
Pexels
By C. Michael White
More than two-thirds of Americans take dietary supplements. The vast majority of consumers — 84 percent — are confident the products are safe and effective.
The common giant tree frog from Madagascar is one of many species impacted by recent climate change. John J. Wiens /
EurekAlert!
The human-caused climate crisis could cause the extinction of 30 percent of the world's plant and animal species by 2070, even accounting for species' abilities to disperse and shift their niches to tolerate hotter temperatures, according to a study published this week in the journal Proceedings of the National Academy of Sciences.

SolStock / Moment / Getty Images

By Tyler Wells Lynch
For years, Toni Genberg assumed a healthy garden was a healthy habitat. That's how she approached the landscaping around her home in northern Virginia. On trips to the local gardening center, she would privilege aesthetics, buying whatever looked pretty, "which was typically ornamental or invasive plants," she said. Then, in 2014, Genberg attended a talk by Doug Tallamy, a professor of entomology at the University of Delaware. "I learned I was actually starving our wildlife," she said.