This website uses cookies to ensure you get the best experience while browsing it. By clicking 'Got It' you're accepting these terms.
Could Earthworms Save the Climate?
May. 22, 2015 08:46AM EST
Climate
We know that earthworms are good for our gardens. When you turn over a spade full of rich soil and find it packed with the wiggly creatures, you know that your garden is going to grow strong and healthy. Vermicomposting—using worms to consume food scraps and turn them—has justifiably become all the rage.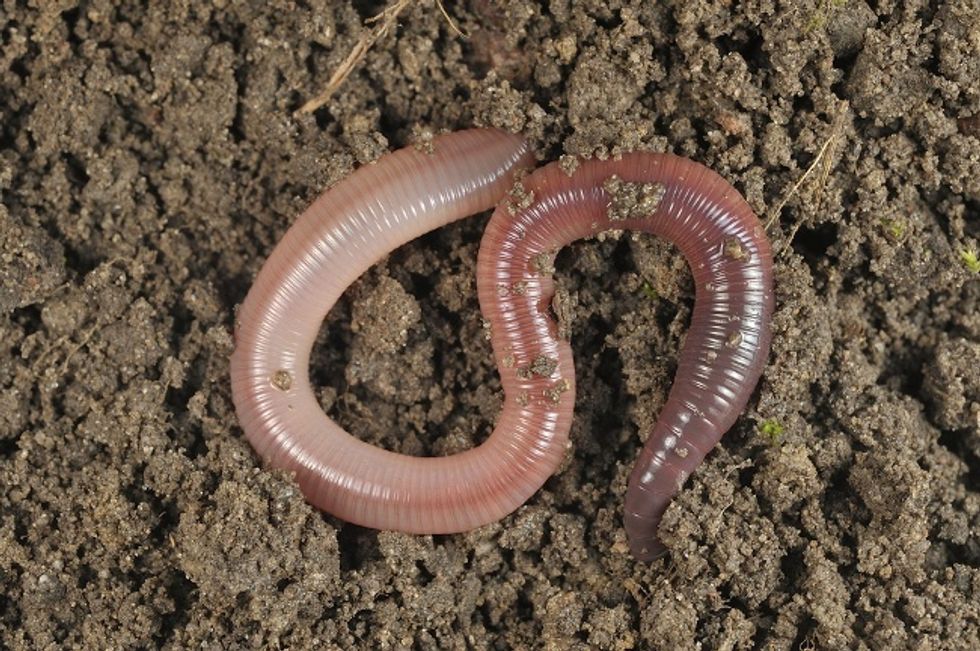 Photo credit: Shutterstock
But now it appears earthworms can do more than just save your tomatoes and eggplants from struggling in poor soil. According to a new study, they could also be instrumental in saving the planet.
A new study published this week by a team of scientists from Yale University, the University of New Hampshire, the University of Helsinki in Finland and Institute of Microbiology of the Academy of Sciences of the Czech Republic suggest that earthworms could be important allies in the fight against climate change.
The study, Biotic Interactions Mediate Soil Microbial Feedbacks to Climate Change, in layman's terms, says that worms and other small animals that live in the soil feed on the microbes that ingest decaying matter, releasing carbon as they do so. When earthworms and other insects feast on the microbes, the process of decomposition emits less carbon. That's important because global warming causes warmer soil temperatures which stimulates the process of decay and creates more carbon emissions. Microbial carbon emissions could cause a temperature rise of 2-3 degrees Celsius in the next 100 years on their own, the study says, exceeding the 2 degree limit commonly set by climate experts as the maximum amount we can let the Earth warm before disastrous results occur. But earthworms slow the process down.
"Effectively, the microbes that live in the soil are responsible for producing 10 times more carbon emissions than even humans have produced," said the study's lead author Thomas Crowther, a postdoctoral fellow at Yale University. "That's the biggest flux of carbon into the atmosphere that there is on Earth."
"The failure to incorporate animals and their interactions with microbial communities into global decomposition models has been highlighted as a critical limitation in our understanding of carbon cycling under current and future climate scenarios," says the study.
Improving soil quality and combatting factors such as erosion and nutrient depletion have been proposed as solutions to hunger, but indirectly they may also be a solution to global warming. So should we start adding billions of worms to the soil? Probably not, says Crowther.
"It's never really been considered as an approach to mitigate climate change before, because we didn't know how complex the interactions were," he says. "Now that we know, adding soil animals may be the kind of thing that could be a viable option, but a more realistic approach is to leave the ecosystem alone or cultivate natural biodiversity. Natural regeneration is the best way."
YOU MIGHT ALSO LIKE
3 Problems With Obama's Plan to Save the Bees
Droughts, Floods and Heatwaves: Blame It on Climate Change
EcoWatch Daily Newsletter
Malaysian Environment Minister Yeo Bee Yin (front 2nd L) and officials inspect a container containing plastic waste shipment on Jan. 20, 2020 before sending back to the countries of origin. AFP via Getty Images
The Southeast Asian country Malaysia has sent 150 shipping containers packed with plastic waste back to 13 wealthy countries, putting the world on notice that it will not be the world's garbage dump, as CNN reported. The countries receiving their trash back include the United States, the United Kingdom, France and Canada.
Trump leaves after delivering a speech at the Congress Centre during the World Economic Forum annual meeting in Davos on Jan. 21, 2020. JIM WATSON / AFP via Getty Images
Warning: The video above may be upsetting to viewers.
An amusement park in China came under fire on social media this weekend for forcing a pig off a 230 foot-high bungee tower.
Participants at the tree-planting event in Ankazobe district, Madagascar, on Jan. 19. Valisoa Rasolofomboahangy / Mongabay
By Malavika Vyawahare, Valisoa Rasolofomboahangy
Madagascar has embarked on its most ambitious tree-planting drive yet, aiming to plant 60 million trees in the coming months. The island nation celebrates 60 years of independence this year, and the start of the planting campaign on Jan. 19 marked one year since the inauguration of President Andry Rajoelina, who has promised to restore Madagascar's lost forests.