This website uses cookies to ensure you get the best experience while browsing it. By clicking 'Got It' you're accepting these terms.
Could Earthworms Save the Climate?
May. 22, 2015 08:46AM EST
Climate
We know that earthworms are good for our gardens. When you turn over a spade full of rich soil and find it packed with the wiggly creatures, you know that your garden is going to grow strong and healthy. Vermicomposting—using worms to consume food scraps and turn them—has justifiably become all the rage.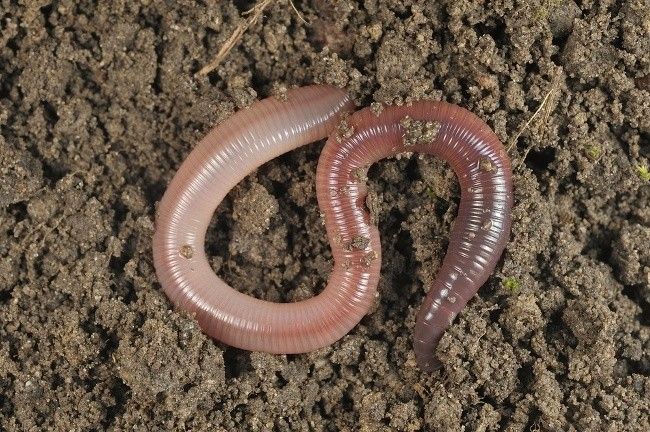 Photo credit: Shutterstock
But now it appears earthworms can do more than just save your tomatoes and eggplants from struggling in poor soil. According to a new study, they could also be instrumental in saving the planet.
A new study published this week by a team of scientists from Yale University, the University of New Hampshire, the University of Helsinki in Finland and Institute of Microbiology of the Academy of Sciences of the Czech Republic suggest that earthworms could be important allies in the fight against climate change.
The study, Biotic Interactions Mediate Soil Microbial Feedbacks to Climate Change, in layman's terms, says that worms and other small animals that live in the soil feed on the microbes that ingest decaying matter, releasing carbon as they do so. When earthworms and other insects feast on the microbes, the process of decomposition emits less carbon. That's important because global warming causes warmer soil temperatures which stimulates the process of decay and creates more carbon emissions. Microbial carbon emissions could cause a temperature rise of 2-3 degrees Celsius in the next 100 years on their own, the study says, exceeding the 2 degree limit commonly set by climate experts as the maximum amount we can let the Earth warm before disastrous results occur. But earthworms slow the process down.
"Effectively, the microbes that live in the soil are responsible for producing 10 times more carbon emissions than even humans have produced," said the study's lead author Thomas Crowther, a postdoctoral fellow at Yale University. "That's the biggest flux of carbon into the atmosphere that there is on Earth."
"The failure to incorporate animals and their interactions with microbial communities into global decomposition models has been highlighted as a critical limitation in our understanding of carbon cycling under current and future climate scenarios," says the study.
Improving soil quality and combatting factors such as erosion and nutrient depletion have been proposed as solutions to hunger, but indirectly they may also be a solution to global warming. So should we start adding billions of worms to the soil? Probably not, says Crowther.
"It's never really been considered as an approach to mitigate climate change before, because we didn't know how complex the interactions were," he says. "Now that we know, adding soil animals may be the kind of thing that could be a viable option, but a more realistic approach is to leave the ecosystem alone or cultivate natural biodiversity. Natural regeneration is the best way."
YOU MIGHT ALSO LIKE
3 Problems With Obama's Plan to Save the Bees
Droughts, Floods and Heatwaves: Blame It on Climate Change
EcoWatch Daily Newsletter
Artist's conception of solar islands in the open ocean. PNAS
Millions of solar panels clustered together to form an island could convert carbon dioxide in seawater into methanol, which can fuel airplanes and trucks, according to new research from Norway and Switzerland and published in the Proceedings of the National Academy of Sciences journal, PNAS, as NBC News reported. The floating islands could drastically reduce greenhouse gas emissions and dependence on fossil fuels.
Marcos Alves / Moment Open / Getty Images
More than 40 percent of insects could go extinct globally in the next few decades. So why did the U.S. Environmental Protection Agency (EPA) last week OK the 'emergency' use of the bee-killing pesticide sulfoxaflor on 13.9 million acres?
EcoWatch teamed up with Center for Biological Diversity via EcoWatch Live on Facebook to find out why. Environmental Health Director and Senior Attorney Lori Ann Burd explained how there is a loophole in the The Federal Insecticide, Fungicide, and Rodenticide Act under section 18, "that allows for entities and states to request emergency exemptions to spraying pesticides where they otherwise wouldn't be allowed to spray."
Simple swaps that cut down on kitchen trash.
Sponsored
By Kayla Robbins
Along with the bathroom, the kitchen is one of the most daunting areas to try and make zero waste.
View of downtown Miami, Florida from Hobie Island on Feb. 2, 2019.
Michael Muraz / Flickr
The Democratic candidates for president descended upon Miami for a two-night debate on Wednesday and Thursday. Any candidate hoping to carry the state will have to make the climate crisis central to their campaign, as The New York Times reported.
By Sharon Kelly
On Monday, the Wall Street Journal featured a profile of Scott Sheffield, CEO of Pioneer Natural Resources, whose company is known among investors for its emphasis on drawing oil and gas from the Permian basin in Texas using horizontal drilling and hydraulic fracturing, or fracking.
Pexels
By Craig K. Chandler
The federal government has available to it, should it choose to use them, a wide range of potential climate change management tools, going well beyond the traditional pollution control regulatory options. And, in some cases (not all), without new legislative authorization.
Denis Poroy / Getty Images
By Dan Gray
Processed foods, in their many delicious forms, are an American favorite.
But new research shows that despite increasing evidence on just how unhealthy processed foods are, Americans have continued to eat the products at the same rate.
By Sarah Steffen
With a profound understanding of their environmental surroundings, indigenous communities around the world are often cited as being pivotal to tackling climate change.