This website uses cookies to ensure you get the best experience while browsing it. By clicking 'Got It' you're accepting these terms.
Corporations Win, Farmers Lose in GE Seed Deals
Apr. 30, 2013 08:20AM EST
Health + Wellness
When arch-competitors Monsanto and Dow AgroSciences make a genetically engineered (GE) seed deal and both come out looking very smug, you have to wonder. When, five days later, Monsanto and Bayer CropScience announce a deal to cross-license their competing GE seed technologies with each other, you should probably start to worry.

What are all these deals about and why should you care? Because these agreements are the latest, most visible way that the Big 6 pesticide/biotech companies are speeding up the consolidation—and their control—of the world's seed markets.
Corporations Win, Farmers Lose 
Cross-licensing GE traits has been going on among seed industry players for years, but the practice has now vaulted into high gear. As Hope Shand, former research director of the Erosion, Technology and Concentration Group notes:
"By agreeing to cross-license proprietary germplasm and technologies, consolidate R&D efforts and terminate costly patent litigation battles, the world's largest seed and agrochemical firms are reinforcing their top-tier market power."
With Monsanto et al. sharing and stacking their GE traits in the same seed product, farmers are running out of options. It is almost impossible these days for a Midwest farmer to find and purchase non genetically-engineered seeds or even choose among a variety of GE traits the one(s) that he or she might actually want to try.
Take SmartStax corn, for example. The seed includes eight GE traits owned by Monsanto, Dow and Bayer. And it comes with a higher price tag due to the extra licensing fees attached to each of the traits. Farmers don't get to choose which traits—if any—they want. They pretty much have to take whatever the companies have agreed amongst themselves to serve up.
Big 6 in Cahoots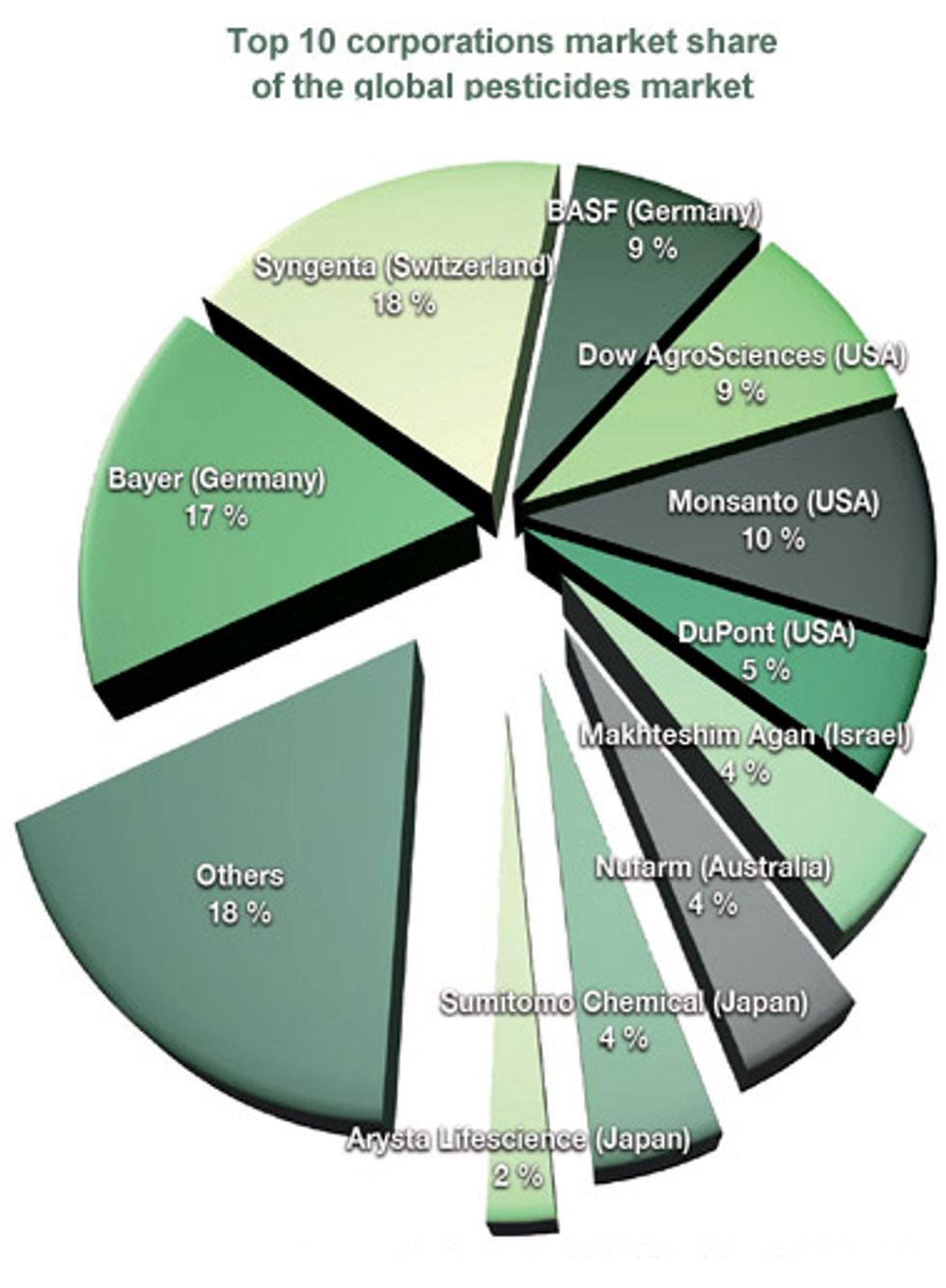 The recent Monsanto/Dow trait-sharing deal is a good example of how all this corporate handshaking benefits a few huge companies at the expense of farmers, rural communities and the rest of us.
What's in it for Monsanto? By the terms of the agreement, Monsanto will get to use Dow's controversial 2,4-D-resistant technology. Dow's 2,4-D-resistant trait enables crops to survive applications of the highly toxic herbicide, 2,4-D, which is intended to destroy weeds that have evolved resistance to RoundUp, Monsanto's flagship herbicide.
By adding 2,4-D resistance to its own seed products, Monsanto hopes to keep one step ahead of the superweed problem that now plagues 60 million acres of American farmland—and that Monsanto's own RoundUp technology created. But as I've explained before, 2,4-D-resistant crops are a very bad idea for the rest of us.
What's in it for Dow? You might be wondering why Dow would give Monsanto—a major competitor and arguably the biggest biotech bully on the block—its prized "solution" to RoundUp resistant superweeds. Well, as it happens, Dow wants Monsanto's answer to the country's growing superbug blues.
A little digging reveals that Monsanto's "Corn Rootworm III" technology—the one that Dow now shares rights to—is likely to be micro-RNA interference technology. This "gene silencing" biotechnology has become the hot topic in GE-based insect control. And as I've written before, its enormous danger lies in how very little we know about how gene-silencing technology really works. And what we do know is reason enough for concern.
Days after the Monsanto/Dow deal, Monsanto and Bayer finalized their own licensing agreement. Around the same time, Monsanto and DuPont abandoned their long and fierce legal battles and agreed to team up, while—not to be outdone—Syngenta and Bayer joined the cross-licensing brigade as well.
Stacks and Stacks
So just what can farmers expect out of all these cross-licensing deals? Stacks upon stacks of traits that they haven't asked for. More licensing fees. Skyrocketing seed prices. These and other disastrous consequence for farmers have been thoroughly documented in the seminal report, Out of Hand.
At first glance, these corporate deals can sound like so much legal gobbledygook. But they have real and very harmful impacts on society, on farmers' abilities to earn a living, and on the health of our food and farming system. This is why Pesticide Action Network stands with farmers in saying no to backroom corporate deals, and yes to putting seeds—and the future of farming—back in the hands of our farmers.
Visit EcoWatch's GENETICALLY MODIFIED ORGANISM page for more related news on this topic.
EcoWatch Daily Newsletter
At least 1,688 dams across the U.S. are in such a hazardous condition that, if they fail, could force life-threatening floods on nearby homes, businesses, infrastructure or entire communities, according to an in-depth analysis of public records conducted by the the Associated Press.
By Sabrina Kessler
Far-reaching allegations about how a climate-sinning American multinational could shamelessly lie to the public about its wrongdoing mobilized a small group of New York students on a cold November morning. They stood in front of New York's Supreme Court last week to follow the unprecedented lawsuit against ExxonMobil.
By Alex Robinson
Leah Garcés used to hate poultry farmers.
The animal rights activist, who opposes factory farming, had an adversarial relationship with chicken farmers until around five years ago, when she sat down to listen to one. She met a poultry farmer called Craig Watts in rural North Carolina and learned that the problems stemming from factory farming extended beyond animal cruelty.
People navigate snow-covered sidewalks in the Humboldt Park neighborhood on Nov. 11 in Chicago. Scott Olson / Getty Images
Temperatures plunged rapidly across the U.S. this week and around 70 percent of the population is expected to experience temperatures around freezing Wednesday.
A general view of the flooded St. Mark's Square after an exceptional overnight "Alta Acqua" high tide water level, on Nov. 13 in Venice. MARCO BERTORELLO / AFP / Getty Images
President Donald Trump doesn't like wind turbines.
In April, he claimed they caused cancer, and he sued to stop an offshore wind farm that was scheduled to go up near land he had purchased for a golf course in Aberdeenshire in Scotland. He lost that fight, and now the Trump Organization has agreed to pay the Scottish government $290,000 to cover its legal fees, The Washington Post reported Tuesday.
A verdant and productive urban garden in Havana. Susanne Bollinger / Wikimedia Commons
By Paul Brown
When countries run short of food, they need to find solutions fast, and one answer can be urban farming.
Trevor Noah appears on set during a taping of "The Daily Show with Trevor Noah" in New York on Nov. 26, 2018.
The Daily Show With Trevor Noah / YouTube screenshot