This website uses cookies to ensure you get the best experience while browsing it. By clicking 'Got It' you're accepting these terms.
Corporations are NOT People—Time to Stamp Money Out of Politics
Oct. 11, 2012 04:29PM EST
Energy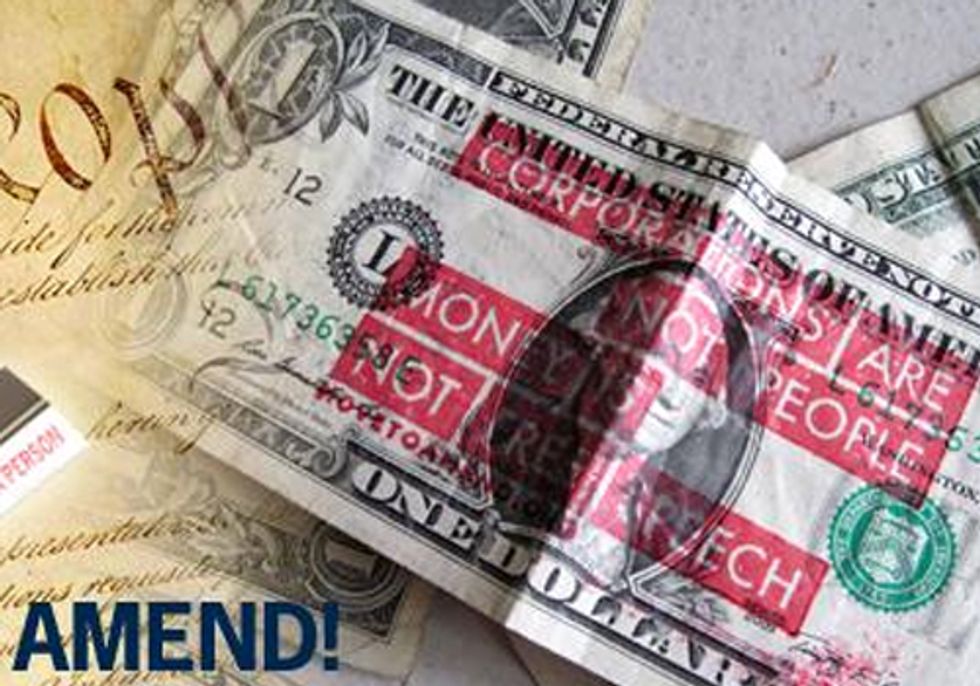 Today, Ben Cohen, co-founder of super-premium ice cream maker Ben & Jerry's, and organizers with the Move to Amend Coalition, launched a bold new campaign aiming to return government to the hands of the people. The "Amend-O-Matic" is part art spectacle, part money-stamping machine, part road-worthy vehicle, and will allow participants to insert dollar bills to be printed with slogans such as "Corporations are not people," "Money is not speech" and "Not to be used for bribing politicians."
"This campaign is a way for citizens to express their outrage at the ties between big money and political corruption—and spread the word about the solution, which is a Constitutional amendment," said Ashley Sanders, a spokesperson for the Move to Amend coalition who will be traveling on the tour. "Our world is in terrible crisis, but we're unable to heal it because We, the People, don't control our own government. Stamping our money puts that message right in front of people."
Cohen and Move to Amend are launching the Stamp Stampede today in support of a Constitutional amendment that reinforces the twin principles that money is not political speech (which would overturn the 1976 Supreme Court decision in Buckley v. Valeo), and that corporations are not people (overturning the 2010 Supreme Court decision in Citizens United). Polling indicates that nearly 80 percent of Americans are in favor of getting money out of politics, with a majority supporting an amendment to establish that corporations are not entitled to Constitutional rights. The Citizens United decision allows corporate money to drown out the voice of the people with over $2 billion expected to be spent to influence the 2012 presidential election.
"Stamping money is like a petition on steroids—its monetary Jiu-Jitsu and is truly making your money talk for little people," said Cohen. "It doesn't matter what issues you care about—education, poverty, Wall Street, spiraling healthcare costs, you name it. At the end of the day, the absolutely massive amounts of money in our politics is at the root of our problems. That's why we have to stamp out the corrosive influence of money in our government and politics."
Stamp Stampede also aims to have tens of thousands of Americans across the country use their own rubber stamps to print messages on currency supporting a constitutional amendment that gets money out of America's political system. As part of the kick off, stamps are being distributed across the nation. In addition, people can either design their own stamps at home, or they can purchase ready-made stamps from Stamp Stampede. More information on the campaign, along with downloadable designs that people can use at their local rubber stamp maker, can also be found on the website. 
The tour kicked off in Los Angeles today. Among the cities that the Stamp Stampede will visit are Phoenix, Denver, Philadelphia and Boston, before winding up the tour in Florida in December.
EcoWatch Daily Newsletter
A Starbucks barista prepares a drink at a Starbucks Coffee Shop location in New York. Ramin Talaie / Corbis via Getty Images
By Cathy Cassata
Are you getting your fill of Starbucks' new Almondmilk Honey Flat White, Oatmilk Honey Latte, and Coconutmilk Latte, but wondering just how healthy they are?
By Sharon Kelly
Back in April last year, the Trump administration's Environmental Protection Agency decided it was "not necessary" to update the rules for toxic waste from oil and gas wells. Torrents of wastewater flow daily from the nation's 1.5 million active oil and gas wells and the agency's own research has warned it may pose risks to the country's drinking water supplies.
Swedish climate activist Greta Thunberg takes part in a "Friday for Future" youth demonstration in a street of Davos on Jan. 24, 2020 on the sideline of the World Economic Forum annual meeting. FABRICE COFFRINI / AFP via Getty Images
Treasury Secretary Steven Mnuchin pretended not to know who Greta Thunberg is, and then he told her to get a degree in economics before giving world leaders advice, as The Guardian reported.
The Visible Infrared Imaging Radiometer Suite on the Suomi NPP satellite acquired this image of forest fire smoke hovering over North America on Aug. 15, 2018. NASA Earth Observatory
New York City isn't known for having the cleanest air, but researchers traced recent air pollution spikes there to two surprising sources — fires hundreds of miles away in Canada and the southeastern U.S.
If temperatures continue to rise, the world is at risk from global
sea-level rise
, which will flood many coastal cities as seen above in Bangladesh. NurPhoto / Contributor / Getty Images
The mounting climate emergency may spur the next global financial crisis and the world's central banks are woefully ill equipped to handle the consequences, according to a new book-length report by the Bank for International Settlements (BIS), as S&P Global reported. Located in Basel, Switzerland, the BIS is an umbrella organization for the world's central banks.