This website uses cookies to ensure you get the best experience while browsing it. By clicking 'Got It' you're accepting these terms.
Corporate Profit Trumps Public Health in Colorado Fracking Vote
Apr. 25, 2013 01:52PM EST
Energy
Phillip Doe
What is the common curse of mankind? Folly and ignorance, observed an old English playwright. The curse was on uncommon display two weeks ago at the Colorado State Capitol in Denver.
I went there to testify in favor of a bill, House Bill 1275. It was a modest bill. It simply asked that data on Front-Range citizen complaints about fracking be collected and examined by an independent body of scientists and health professionals. A preliminary report on their findings was to be issued within a year. Presumably, this report would lead to an evaluation of the need for follow up studies to protect the public's health and well being, as it almost certainly would have, for the air is leaden with unexamined citizen complaints of ill health from living near fracking sites. The cost was earmarked at around $300,000.
It belabors the point to remind readers, as several citizens did the legislators, that in a rational world we would investigate the health consequences of fracking on public health before we allowed the process to begin, but we don't live in a rational world as the following events clearly demonstrate.
Leading the charge for continued ignorance and the virtues of not knowing was Dr. Chris Urbina, Governor Hickenlooper's appointee that heads the Colorado Department of Public Health and the Environment. Urbina said, this proposed report—which he insisted on characterizing as a study—was too short, saying it might lead to premature, unfavorable judgment of the oil industry and that we must be cautious. Dr. Urbina failed to mention in his remarks that he also sits on the board of the Colorado Oil and Gas Conservation Commission (COGCC). The COGCC has the dual mission of promoting oil and gas development and protecting the public's health and the environment.  
Following his criticism of the bill, Urbina turned to his young confederate, a staff toxicologist who explained, on cue, how important double-blind tests are to accuracy in scientific investigations. Unmentioned was that a double-blind study is also expensive, time-consuming and the most logistically difficult type of epidemiological study. Basically, the toxicologist argued, and I don't exaggerate, that we really couldn't trust knowing anything until we know everything. This argument is tantamount to arguing you shouldn't quit smoking cigarettes until you die from them, or something equally double-barreled and nonsensical. Even the Walrus understood it is better to start at the beginning, and this was to be a beginning.
Caution, sure. But the industry is drilling at least 3,000 new wells in Colorado annually with the likelihood that the annual average will increase substantially. Another 50,000 wells are already operative. And, each is spewing a variety of unmeasured chemical substances into the atmosphere, into the air we all breathe. Add to this that the industry is generating trillions of gallons of fracking wastewater of generally unknown toxic quality which is being re-injecting into the ground under the most primitive of oversight standards, with hundreds upon hundreds of significant spills being reported each year. Under these circumstances, you'd think some enterprising public health official might sound a small alarm.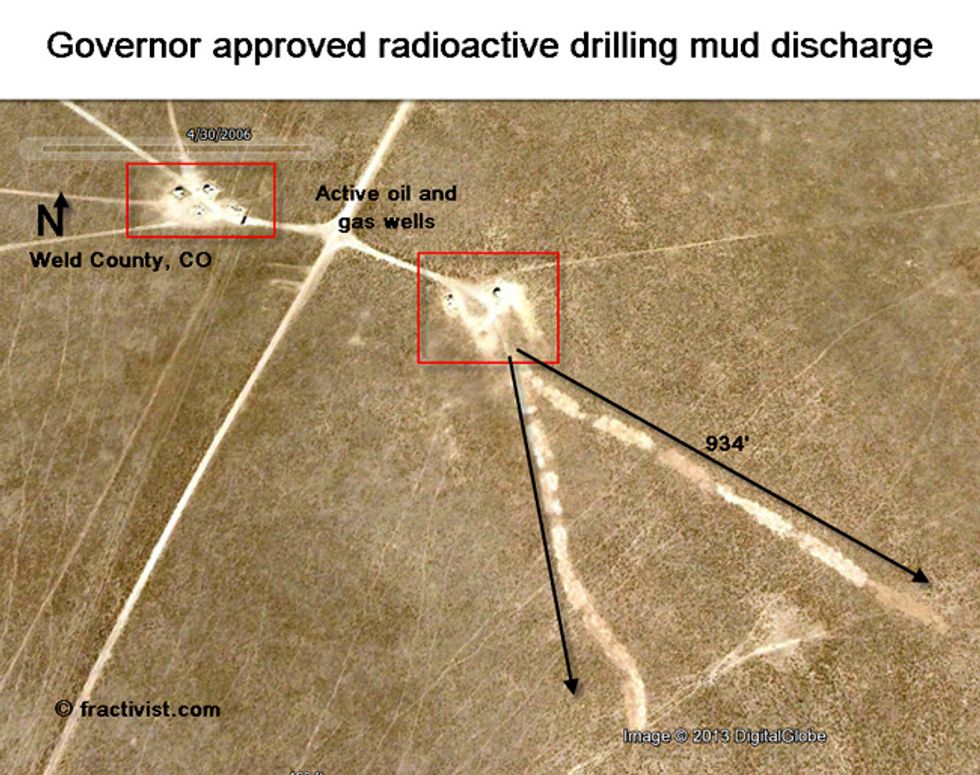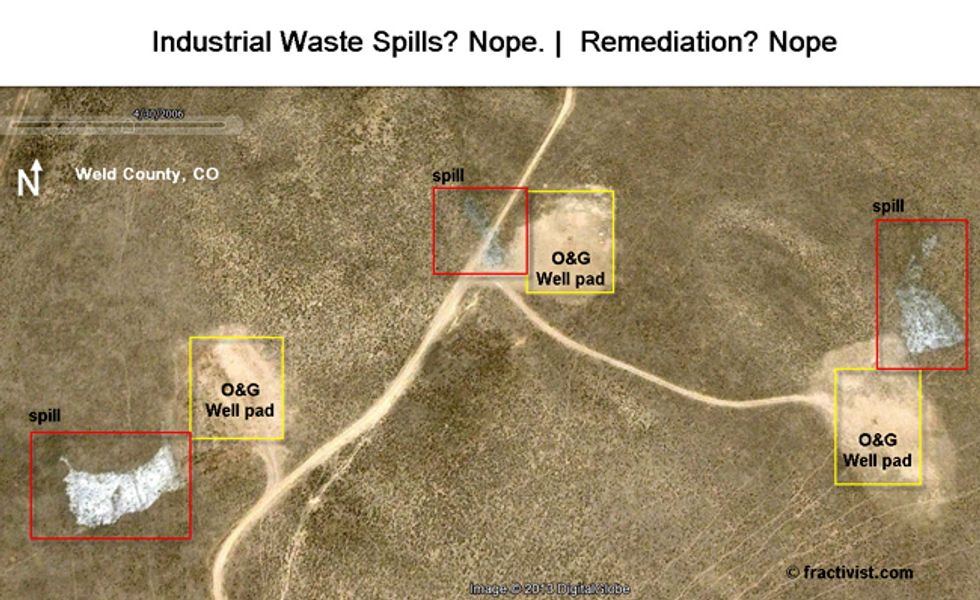 Not this evening. Dr. Urbina's solution was to unveil a new plan, unvetted and unfunded, that might take, by his estimate, five years to complete. That's the equal of at least 21,000 new wells and trillions of gallons of dangerously corrupted fresh water that must be warehoused somewhere. Moreover, as someone has already observed such a plan would take at least seven years, if you factor in funding and review time.
So, make that at least 28,000 new wells. Even more oddly, Urbina's plan would focus on Garfield County, Colorado rather than on the Front Range as proposed in HB 1275. Garfield County is on the west slope and several studies have been conducted there already. But no studies have been conducted on the Front Range where drilling, like some form of crazy mutant kudzu, is starting to engulf community after community.
One of the Garfield County studies by the Colorado School of Public Health, had shown that even at distances of 2,700 feet from a well site, toxic chemicals were still detectable at levels that increase the chance of developing cancer by 66 percent based on published health standards. The county government, alarmed at the preliminary results, then defunded the study. This study figured prominently is New York Governor Cuomo's decision to initiate a moratorium on fracking in his state.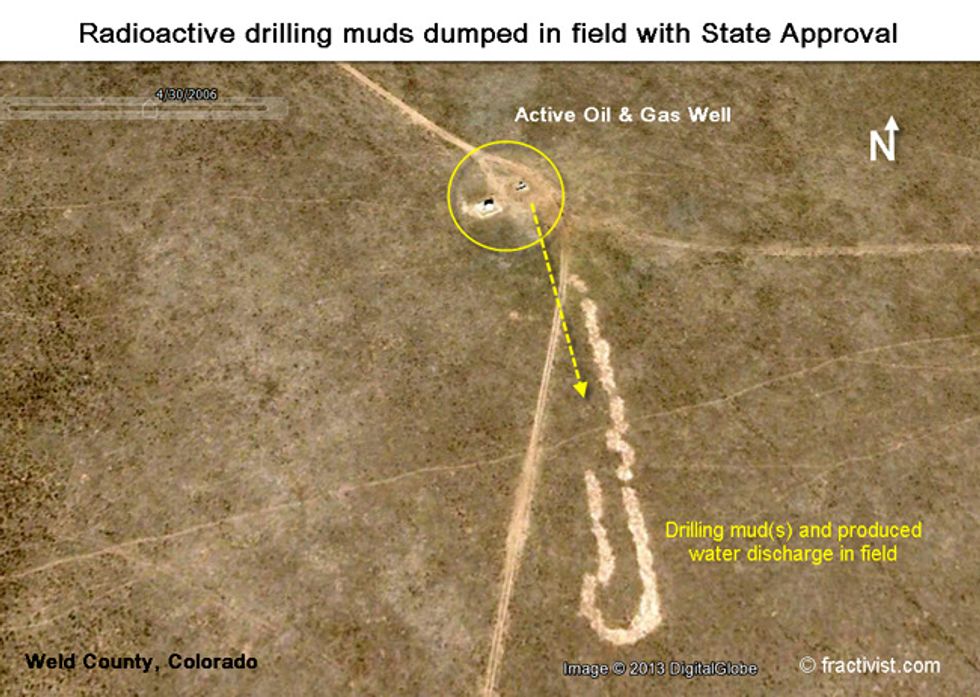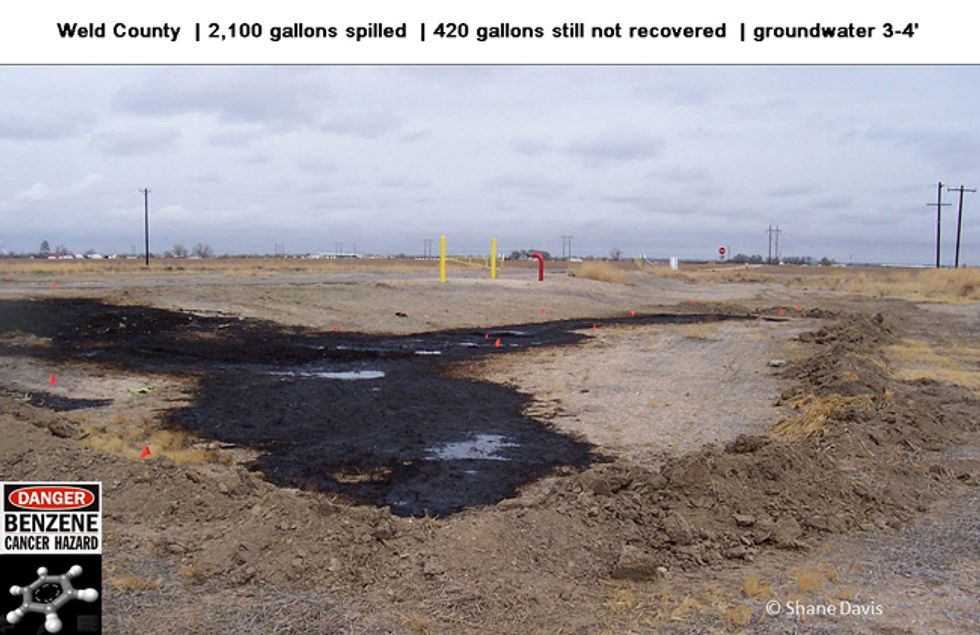 On top of that, the COGCC had tried to discredit the study because it was conducted in a rural setting and, therefore, was not really suitable as a basis for judging urban health impacts. We certainly can assume that Dr. Urbina, resident public health official on the COGCC, participated in rendering this head spinning criticism. It seems to stand for the crack-pot concept that the immunology of rural people is different than that of urban people.
But back to the hearing, several people asked for the bill to be expanded to collect health data from all areas of the state, since the issue of equal protection for those living in what are beginning to be regarded as energy colonies, if not outright oil and gas sacrifice zones, is starting to generate ethical concern from those still familiar with the concept.
Nevertheless, it was all for naught. Dr. Urbina, his toxicologist, and a swarm of oil and gas lobbyists held the field. The vote was 6-5, with one Democrat voting with the rock solid Republican minority who voted for industry jobs and profits over unproven concerns about public health. The Democrat, Dave Young, a second term representative from Weld County, the county with more than a third of the wells in the state, in a rather rambling and puzzling explanation of his vote, talked about his years as a science teacher of middle school children in Weld County and the need for compromise. Apparently, we should find in this an explanation for the low-five handshake I saw him give to an oil lobbyist as he exited down the committee room hallway.
Those speaking for the bill included the sponsor, Rep. Joann Ginal, a PhD endocrinologist. The other sponsor, a public health physician did not testify, but Boulder County public health officials did, as did a representative for the Colorado Medical Society. So too did a physician who heads a clinic in eastern Colorado.
Of the citizens from around the state testifying in favor of the bill, some had health and science backgrounds, one had headed the aborted Garfield County study, and still others, simply caught up in the maelstrom, had come to Denver hoping their elected representatives might listen to their personal stories. Instead, the majority greeted them with indifference.
 
The testimony of Rod Brueske, who I know personally, is illustrative of this indifference. He told how he'd moved to rural Boulder County, bought an old farmhouse to restore on the county's dedicated Open Space land, hoping to establish a home place to raise his family. Instead he's discovered his nearest neighbors are gas wells that constantly belch out vapors that are poisoning his family. His children have repeated nosebleeds and other health complications as a result.
Frustrated with the unwillingness of the COGCC to help him against what he considers a toxic trespass by the industry, he had blood tests performed and analyzed. The state does not and will not do citizen blood tests, just as it doesn't represent citizens even when it determines the industry has polluted their wells. Resolution of the injury is left to the landowner.
In fact, when a state inspector showed up as a result of an early Brueske complaint, she brought only her nose, which she claimed was trained to sniff out bad air. Her nose detected nothing.
Brueske family blood tests show elevated levels of toxins which are, given their rural home, likely associated with nearby oil and gas production.
Not one member of the committee asked him a question about the health of him or his family. Is that not indifference? Socializing the health costs to protect private profit is an old game in this country. But the oil and gas boys have brought it to new levels, as they own significant segments of both parties, thus insuring continued ignorance by design.
How much proof is going to be needed to protect people like the Brueskes? I don't know, but a recent lecture by Malcolm Gladwell, the author of Tipping Point among other books, may provide a partial answer. Gladwell wondered when the requirements for "proof just became another word for letting other people suffer." He pointed to the 50 years of shadow dancing by the coal industry and American medicine before admitting coal dust was causing black lung disease. By comparison, he said, the life insurance companies had raised life insurance rates on miners almost immediately based on personal data gathered in field surveys. HR 1275 was really about gathering a little field data.
The language of silence was palpable when HR 1275 was defeated. As people were filing out, one disgruntled citizen remarked that Urbina appeared to be such a profound mediocrity that he had a good chance to be the next governor. There was a general murmur of agreement.
--------
Want to learn more about fracking?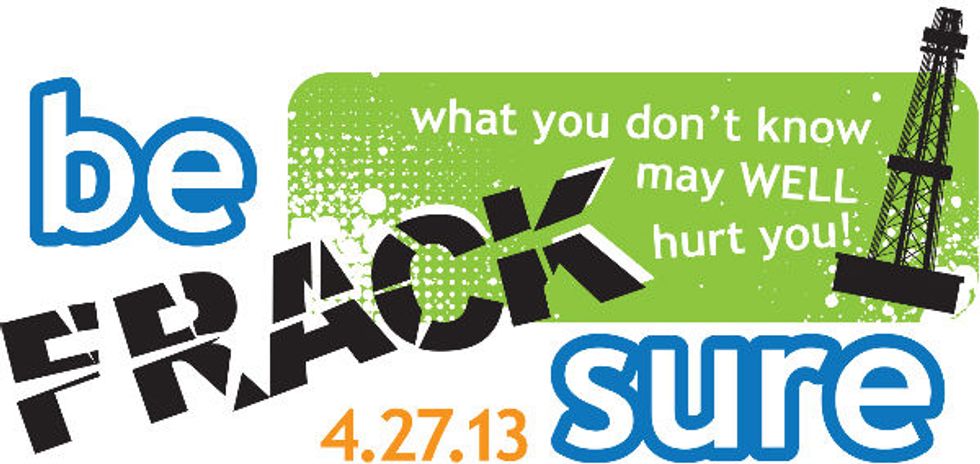 On April 27, attend Be Frack Sure, an interactive, informative, day-long event. Learn from the expert testimony of scientists and professionals from 9 a.m. - 5 p.m. at the Best Western Plus Plaza Hotel and Conference Center, 1900 Ken Pratt Blvd., Longmont, CO. Enjoy world-class entertainment by the Hazel Miller Band. Sponsored by Patagonia.
Featured Speakers:
Dr. Anthony Ingraffea: Professor of Engineering in Cornell University's Department of Civil and Environmental Engineering and a renowned expert on fracturing mechanics and its threats.
Dr. Geoffrey Thyne: Author or co-author of over 50 peer-reviewed scientific papers, he will speak to the complexities of research and the influence of industry and government in academic settings.
 
Panelists:
Organizing Your Community: Sam Schabacker, Food & Water Watch
Health Ramifications of Water and Air Quality: Phillip Doe, (Be The Change), Wes Wilson, (Retired EPA), Shane Davis
Economic Ramifications of the Fracking Boom: Jeanne Basset (Environment Colorado) and Pete Morton
Visit EcoWatch's FRACKING page for more related news on this topic.
——–
Sign the petition today, telling President Obama to enact an immediate fracking moratorium:

EcoWatch Daily Newsletter
Milk made from almonds, oats and coconut are among the healthiest alternatives to cow's milk. triocean / iStock / Getty Images Plus
Dairy aisles have exploded with milk and milk alternative options over the past few years, and choosing the healthiest milk isn't just about the fat content.
Whether you're looking beyond cow's milk for health reasons or dietary preferences or simply want to experiment with different options, you may wonder which type of milk is healthiest for you.
Greta Thunberg stands aboard the catamaran La Vagabonde as she sets sail to Europe in Hampton, Virginia, on Nov. 13. NICHOLAS KAMM / AFP via Getty Images
Greta Thunberg, the teenage climate activist whose weekly school strikes have spurred global demonstrations, has cut short her tour of the Americas and set sail for Europe to attend COP25 in Madrid next month, as The New York Times reported.
At least 1,688 dams across the U.S. are in such a hazardous condition that, if they fail, could force life-threatening floods on nearby homes, businesses, infrastructure or entire communities, according to an in-depth analysis of public records conducted by the the Associated Press.
By Sabrina Kessler
Far-reaching allegations about how a climate-sinning American multinational could shamelessly lie to the public about its wrongdoing mobilized a small group of New York students on a cold November morning. They stood in front of New York's Supreme Court last week to follow the unprecedented lawsuit against ExxonMobil.
By Alex Robinson
Leah Garcés used to hate poultry farmers.
The animal rights activist, who opposes factory farming, had an adversarial relationship with chicken farmers until around five years ago, when she sat down to listen to one. She met a poultry farmer called Craig Watts in rural North Carolina and learned that the problems stemming from factory farming extended beyond animal cruelty.
People navigate snow-covered sidewalks in the Humboldt Park neighborhood on Nov. 11 in Chicago. Scott Olson / Getty Images
Temperatures plunged rapidly across the U.S. this week and around 70 percent of the population is expected to experience temperatures around freezing Wednesday.
A general view of the flooded St. Mark's Square after an exceptional overnight "Alta Acqua" high tide water level, on Nov. 13 in Venice. MARCO BERTORELLO / AFP / Getty Images
President Donald Trump doesn't like wind turbines.
In April, he claimed they caused cancer, and he sued to stop an offshore wind farm that was scheduled to go up near land he had purchased for a golf course in Aberdeenshire in Scotland. He lost that fight, and now the Trump Organization has agreed to pay the Scottish government $290,000 to cover its legal fees, The Washington Post reported Tuesday.