This website uses cookies to ensure you get the best experience while browsing it. By clicking 'Got It' you're accepting these terms.
Corporate Personhood Is the Ebola Virus of Climate Chaos
Sep. 18, 2014 07:32AM EST
Energy

Unrestrained corporate power is the Ebola virus of our global ecological crisis. Rooting it out will demand a whole new level of resistance.
The worldwide march for the climate this weekend is focussed on moving us to a Solartopian energy supply, a green-powered Earth.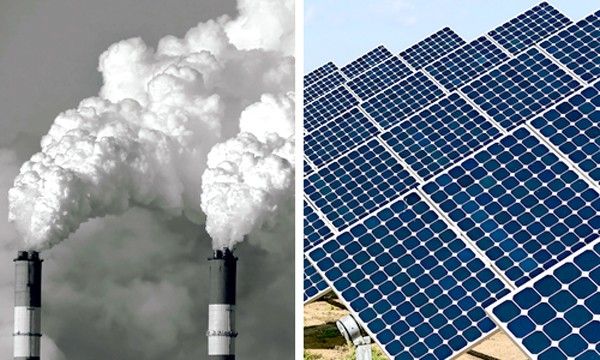 But those who march must also focus on the real core problem: the nature of the modern corporation.
As currently structured, the corporation's sole mandate is to make profit. Its insatiable need for more and more money, and its immunity from the consequences of its actions, are unsustainable in any sense.
Its fossil fuels heat our planet. Its atomic reactors threaten us all.
Meanwhile, solar, wind and other Solartopian technologies plunge in price while surging in efficiency. It's now abundantly clear they can power our civilization cleaner, cheaper, more reliably and with more job creation than old King CONG (Coal, Oil, Nukes and Gas).
In a free and open marketplace, they would have won long ago.
But it's the inherent nature of corporations to HATE the marketplace.
They always demand monopoly. They push complex, capital-intensive, centralized technologies that only they can control.
They fight off any social or ecological responsibilities. And they do not tolerate competition.
Not on the internet, where they want to kill net neutrality and monopolize the flow of ideas and information.
Nor from green energy technologies that threaten their profits and control.
Windmills have been around for centuries. The photovoltaic cell was born six decades ago. A 1952 federal report predicted 13 million solar-heated U.S. homes by 1975.
By all rights, we should already have a green-powered planet.
Today's climate crisis was avoidable.
But in the fossil/nuke world it currently rules, King CONG is above the law. It's been cheaper for the fossil/nuke corporations to wreck the Earth—and our health—than to protect them.
So now we must take the next step.
It's a great thing to march on climate chaos, and to finally know that our power can and must come in concert with our Mother Earth, rather than at war with her.
Keystone XL, tar sands, oil leases, mountaintop removal, fracking, nukes ... these all must be stopped.
A carbon tax, environmental regulation, Solartopian technologies ... these all must be put in place.
But nothing truly lasting will happen until we eradicate the virus that's killing us all—the unrestrained corporate power over our lives and planet.
The core engine of our economy must at last be made directly accountable to humankind and our Mother Earth.
Until that happens, we are an endangered species.
YOU ALSO MIGHT LIKE
'This Changes Everything' Including the Anti-Fracking Movement
McKibben to Obama: Fracking May Be Worse Than Burning Coal
People's Climate March = Tipping Point in Fight to Halt Climate Crisis
EcoWatch Daily Newsletter
Protesters gathered outside US Bank and Wells Fargo locations around the U.S. to protest investment in the Dakota Access Pipeline on Dec. 1, 2016. This photo is from a protest outside US Bank in south Minneapolis, Minnesota.
Fibonacci Blue / CC BY 2.0
By Jake Johnson
As a growing number of states move to pass laws that would criminalize pipeline protests and hit demonstrators with years in prison, an audio recording obtained by The Intercept showed a representative of a powerful oil and gas lobbying group bragging about the industry's success in crafting anti-protest legislation behind closed doors.
Reposted with permission from our media associate Common Dreams.

DESIREE MARTIN / AFP / Getty Images
Wildfires raging on Gran Canaria, the second most populous of Spain's Canary Islands, have forced around 9,000 people to evacuate.
Wolves in Mount Rainier, Washington. Ron Reznick / VW Pics / Universal Images Group via Getty Images
The last four members of an embattled wolf pack were killed in Washington State Friday, hours before the court order that could have saved them.
Aerial view of lava flows from the eruption of volcano Kilauea on Hawaii, May 2018. Frizi / iStock / Getty Images
Hawaii's Kilauea volcano could be gearing up for an eruption after a pond of water was discovered inside its summit crater for the first time in recorded history, according to the AP.
Plateau Creek near De Beque, Colorado, where land has been leased for oil and gas production. Helen H. Richardson / The Denver Post / Getty Images
By Randi Spivak
Slashing two national monuments in Utah may have received the most attention, but Trump's Interior Department and U.S. Forest Service have been quietly, systematically ceding control of America's public lands to fossil fuel, mining, timber and livestock interests since the day he took office.
Global SO2 Emission Hotspot Database / Greenpeace
A new report by Greenpeace International pinpointed the world's worst sources of sulfur dioxide pollution, an irritant gas that harms human health. India has seized the top spot from Russia and China, contributing nearly 15 percent of global sulfur dioxide emissions.
The huge surge this year in Amazon deforestation is leading some European countries to think twice about donations to the Amazon Fund. LeoFFreitas / Moment / Getty Images
By Sue Branford and Thais Borges
Ola Elvestrun, Norway's environment minister, announced Thursday that it is freezing its contributions to the Amazon Fund, and will no longer be transferring €300 million ($33.2 million) to Brazil. In a press release, the Norwegian embassy in Brazil stated:
Gina Lopez, the Philippine secretary of the environment, at a meeting with residents affected by a mine tailing disaster. Keith Schneider
Gina Lopez, a former Philippine environment secretary, philanthropist and eco-warrior, died on Aug. 19 from brain cancer. She was 65.