This website uses cookies to ensure you get the best experience while browsing it. By clicking 'Got It' you're accepting these terms.
Coral Reefs Face Point of No Return
Jul. 12, 2013 07:54AM EST
Climate
Without deep cuts in carbon dioxide emissions, the planet's coral reefs could be in serious trouble. In a world in which humans continue to burn fossil fuels unchecked, ocean conditions will become ultimately inhospitable, according to U.S. scientists.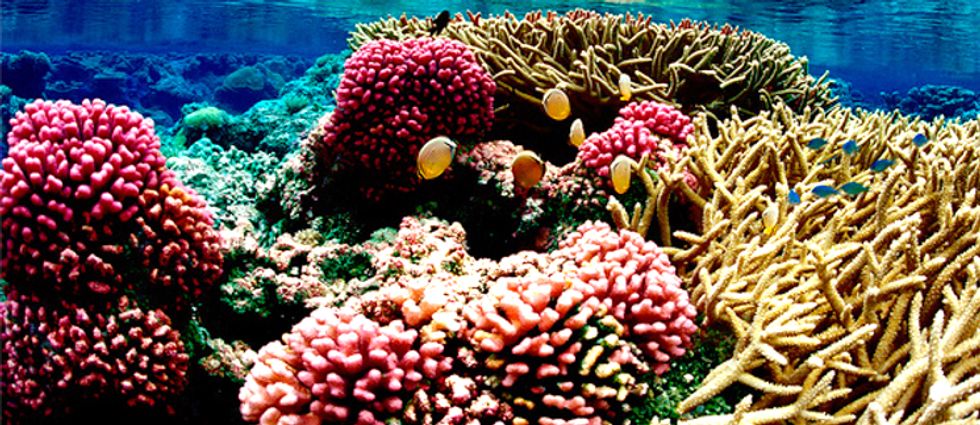 Katharine Ricke and Ken Caldeira of the Carnegie Institution in Washington and colleagues make their sombre prediction in Environmental Research Letters. Their argument on the face of it seems inconsistent with other recent research on reef response to climate change, which in one case suggests that some corals could vanish, and in another that some corals might adapt, very slowly.
But the debate in all three cases is about the rate of warming, the levels of carbon dioxide in the atmosphere and the ultimate impact of changes in the pH levels of the seas.
Ricke and Caldeira looked not so much at the warming of the seas–tropical corals are very sensitive to temperature–nor at the levels of acidification as such (because rain dissolves carbon dioxide to form a weak carbonic acid and inevitably affects the ocean's pH levels), but at the chemical circumstances in which crystals of aragonite can form.
All fossil reefs and shell and bone sediments are ultimately calcium carbonate in the form of limestone or chalk. However, calcium carbonate, or CaCO3, exists in two crystal structures, calcite and aragonite, and these fossilized sediments must once have been mostly aragonite.
That is because marine life, in the form of corals, fish and mollusc shells, mainly begins with aragonite. The biochemical availability of aragonite depends on the pH values of the water.
An End to Dumping
Ricke and Caldeira used computer models to calculate ocean chemical conditions under a range of carbon dioxide scenarios, looking for the necessary conditions to support aragonite formation and shell and bone growth, and set a potential aragonite saturation threshold.
In pre-industrial times, 99.9 percent of the oceans that washed over coral reefs were comfortably above this threshold. Under the notorious business-as-usual threshold, in which fossil fuel use continues to grow, ultimately the water surrounding the 6,000 coral reefs they used as a database for their research would be significantly below the threshold.
There would be a point at which the resilience and capacity to adapt that must be inherent in corals would be overwhelmed. The conclusion is a bleak one.
"Our results show that if we continue on our current emissions path, by the end of the century there will be no water left in the ocean with the chemical properties that have supported coral reef growth in the past. We can't say with 100 percent certainty that all shallow water coral reefs will die, but it is a pretty good bet," said Ricke.
"To save coral reefs, we need to transform our energy system into one that does not use the atmosphere and ocean as waste dumps for carbon dioxide pollution," Caldeira added.
Visit EcoWatch's WATER and BIODIVERSITY pages for more related news on this topic.
———

EcoWatch Daily Newsletter
Investing in grid infrastructure would enable utilities to incorporate modern technology, making the grid more resilient and flexible. STRATMAN2 / FLICKR
By Elliott Negin
The Royal Swedish Academy of Sciences' recent decision to award the 2019 Nobel Prize in Chemistry to scientists who developed rechargeable lithium-ion batteries reminded the world just how transformative they have been. Without them, we wouldn't have smartphones or electric cars. But it's their potential to store electricity generated by the sun and the wind at their peak that promises to be even more revolutionary, reducing our dependence on fossil fuels and protecting the planet from the worst consequences of climate change.
Two Javan rhinos deep in the forests of Ujung Kulon National Park, the species' last habitat on Earth. Sugeng Hendratno / WWF
The global population of the critically endangered Javan rhinoceros has increased to 72 after four new calves were spotted in the past several months.
A tiger looks out from its cage at a new resort and zoo in the eastern Lao town of Tha Bak on Dec. 5, 2018. Karl Ammann believes the "zoo" is really a front for selling tigers. Terrence McCoy / The Washington Post / Getty Images
Are tigers extinct in Laos?
That's the conclusion of a detailed new study that found no evidence wild tigers still exist in the country.
A group of scientists is warning that livestock production must not expand after 2030 for the world to stave off ecological disaster.
The largest wetland in Africa is in the South Sudan. George Steinmetz / Corbis Documentary / Getty Images Plus
Methane emissions are a far more powerful greenhouse gas than carbon dioxide – about 28 times more powerful. And they have been rising steadily since 2007. Now, a new study has pinpointed the African tropics as a hot spot responsible for one-third of the global methane surge, as Newsweek reported.