This website uses cookies to ensure you get the best experience while browsing it. By clicking 'Got It' you're accepting these terms.
Coral Reefs Face Point of No Return
Jul. 12, 2013 07:54AM EST
Climate
Without deep cuts in carbon dioxide emissions, the planet's coral reefs could be in serious trouble. In a world in which humans continue to burn fossil fuels unchecked, ocean conditions will become ultimately inhospitable, according to U.S. scientists.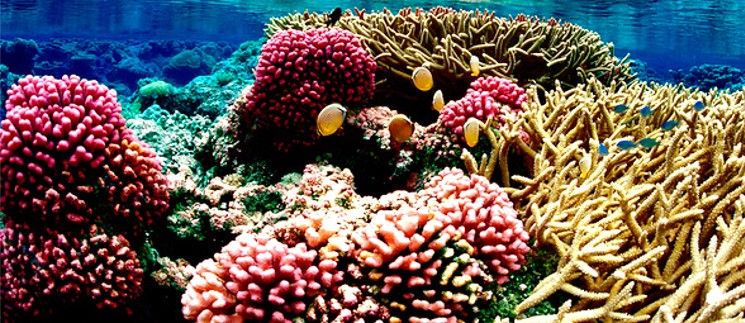 Katharine Ricke and Ken Caldeira of the Carnegie Institution in Washington and colleagues make their sombre prediction in Environmental Research Letters. Their argument on the face of it seems inconsistent with other recent research on reef response to climate change, which in one case suggests that some corals could vanish, and in another that some corals might adapt, very slowly.
But the debate in all three cases is about the rate of warming, the levels of carbon dioxide in the atmosphere and the ultimate impact of changes in the pH levels of the seas.
Ricke and Caldeira looked not so much at the warming of the seas–tropical corals are very sensitive to temperature–nor at the levels of acidification as such (because rain dissolves carbon dioxide to form a weak carbonic acid and inevitably affects the ocean's pH levels), but at the chemical circumstances in which crystals of aragonite can form.
All fossil reefs and shell and bone sediments are ultimately calcium carbonate in the form of limestone or chalk. However, calcium carbonate, or CaCO3, exists in two crystal structures, calcite and aragonite, and these fossilized sediments must once have been mostly aragonite.
That is because marine life, in the form of corals, fish and mollusc shells, mainly begins with aragonite. The biochemical availability of aragonite depends on the pH values of the water.
An End to Dumping
Ricke and Caldeira used computer models to calculate ocean chemical conditions under a range of carbon dioxide scenarios, looking for the necessary conditions to support aragonite formation and shell and bone growth, and set a potential aragonite saturation threshold.
In pre-industrial times, 99.9 percent of the oceans that washed over coral reefs were comfortably above this threshold. Under the notorious business-as-usual threshold, in which fossil fuel use continues to grow, ultimately the water surrounding the 6,000 coral reefs they used as a database for their research would be significantly below the threshold.
There would be a point at which the resilience and capacity to adapt that must be inherent in corals would be overwhelmed. The conclusion is a bleak one.
"Our results show that if we continue on our current emissions path, by the end of the century there will be no water left in the ocean with the chemical properties that have supported coral reef growth in the past. We can't say with 100 percent certainty that all shallow water coral reefs will die, but it is a pretty good bet," said Ricke.
"To save coral reefs, we need to transform our energy system into one that does not use the atmosphere and ocean as waste dumps for carbon dioxide pollution," Caldeira added.
Visit EcoWatch's WATER and BIODIVERSITY pages for more related news on this topic.
———
EcoWatch Daily Newsletter
A. Battenburg / Technical University of Munich
By Sarah Kennedy
Algae in a pond may look flimsy. But scientists are using algae to develop industrial-strength material that's as hard as steel but only a fraction of the weight.
Variety of fermented food korean traditional kimchi cabbage and radish salad. white and red sauerkraut in ceramic plates over grey spotted background. Natasha Breen / REDA&CO / Universal Images Group / Getty Image
Even if you've never taken probiotics, you've probably heard of them.
These supplements provide numerous benefits because they contain live microorganisms, such as bacteria or yeast, which support the healthy bacteria in your gut (1, 2, 3, 4).
Pexels
Singapore will become the first country in the world to place a ban on advertisements for carbonated drinks and juices with high sugar contents, its health ministry announced last week. The law is intended to curb sugar consumption since the country has some of the world's highest diabetes rates per capita, as Reuters reported.
A typical adult takes around 20,000 breaths per day. If you live in a megacity like Beijing, with many of those lungfuls you're likely to inhale a noxious mixture of chemicals and pollutants.
Fred Stone holds his brown swiss cow Lida Rose at his Arundel dairy farm on March 18 after a press conference where he spoke about PFAS chemical contamination in his fields. Gregory Rec / Portland Portland Press Herald via Getty Images
By Susan Cosier
First there was Fred Stone, the third-generation dairy farmer in Maine who discovered that the milk from his cows contained harmful chemicals. Then came Art Schaap, a second-generation dairy farmer in New Mexico, who had to dump 15,000 gallons of contaminated milk a day.
Protesters attend the 32nd annual Fur-Free Friday demonstration on Nov. 23, 2018 in Beverly Hills, California. Ella DeGea / Getty Images
California Governor Gavin Newsom signed into law a bill that that bans the sale and manufacture of fur products in the state. The fur ban, which he signed into law on Saturday, prohibits Californians from selling or making clothing, shoes or handbags with fur starting in 2023, according to the AP.
By Simon Evans
During the three months of July, August and September, renewables generated an estimated total of 29.5 terawatt hours (TWh), compared with just 29.1TWh from fossil fuels, the analysis shows.
A demonstrator waves an Ecuadorian flag during protests against the end of subsidies to gasoline and diesel on Oct. 9 in Quito, Ecuador. Jorge Ivan Castaneira Jaramillo / Getty Images