This website uses cookies to ensure you get the best experience while browsing it. By clicking 'Got It' you're accepting these terms.
Cool Interactive Tool Shows You How Taxpayer Money Could Be Spent Instead of Subsidizing Big Oil
Jan. 13, 2015 02:39PM EST
Energy
As the new Republican-led Congress gets underway, we're hearing a lot of rhetoric about cutting the social safety net programs that throw a lifeline to those in need and help people climb out of poverty—things like food assistance, free school lunches and Pell Grants that pay for college. And while some in Congress have ripped the veil off their underlying meanness, saying that giving any assistance to those in poverty makes them "dependent" and "lazy," many are still hewing to the party line that they're just too expensive.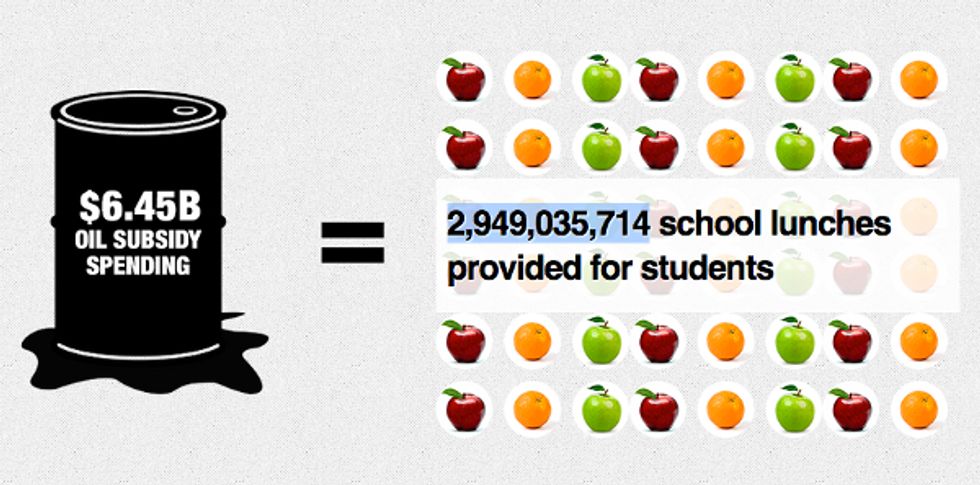 A new interactive tool called Big Oil Giveaways demonstrates what is really expensive: subsidies and tax breaks for Big Oil and Gas, worth $6.45 billion annually.
"What's the tradeoff for your tax dollars?" it asks. "Each year, billions of dollars do not make it to the U.S. Treasury, but rather stay in the pockets of the oil and gas industry in the form of subsidies and tax breaks. Millions more are wasted on special handouts for Big Oil. Find out some of the things those revenues could pay for."
Big Oil Giveaways lets you do just that. You can select from among five lucrative subsidies and tax breaks given to oil and gas companies and then learn what it could be paying for if it were redirected to ten other programs. Find out what accounting tricks like the percentage depletion allowance and the intangible drilling cost deduction, tax breaks like the manufacturing tax credit and money allocated to the government fossil fuel research and development program are diverting from uses that would benefit far more people.
For instance, you can learn that the annual $2,480,407,500 lost by allowing gas and oil companies to drill without paying royalties could fund 1,143,044,931 school lunches. It could provide health insurance for 2,120,066 children or health care for 837,976 veterans. With that amount, 432,881 students could receive a Pell Grant to help them attend college. And it could pay the salaries of 41,977 epidemiologists for a year, which would have been a better approach to containing ebola than scaring the pants off everyone. And all five special breaks for Big Oil and Gas could together pay for 2,949,035,714 school lunches. That's a lot of children who aren't too hungry to focus on their education.
The tool is sponsored by Friends of the Earth, along with 13 other organizations including Public Citizen, Institute for Policy Studies, Interfaith Power & Light, Rebuild the Dream, Physicians for Social Responsibility, People for the American Way, Peace Action, Oxfam America, Labor Network For Sustainability, Green for All, Corporate Accountability International and Oil Change International.
YOU MIGHT ALSO LIKE
The $88 Billion Fossil Fuel Bailout for Oil, Gas and Coal Exploration
Thousands Call on Gov. Brown to Stand Up to Big Oil and Support 100% Renewable Energy
EcoWatch Daily Newsletter
Coldplay is releasing a new album on Friday, but the release will not be followed by a world tour.
Ash dieback is seen infecting a European ash (Fraxinus excelsior) in Bottomcraig, Scotland, UK on Aug. 10, 2016.
nz_willowherb / Flickr
Scientists have discovered a genetic basis to resistance against ash tree dieback, a devastating fungal infection that is predicted to kill over half of the ash trees in the region, and it could open up new possibilities to save the species.
Truth in Action is a day-long global conversation on the climate crisis and how we solve it. The Climate Reality Project
Former Vice President Al Gore kicked off 24 hours of climate talks in the U.S. and 77 other countries around the world Wednesday night.
Activists highlighted the climate emergency outside Scottish Government headquarters at St Andrew's House in Edinburgh on Oct. 13, 2017. Usage of the term "climate emergency" spiked in 2019, according to Oxford Dictionaries.
By Jessica Corbett
Climate advocates and experts celebrated Oxford Dictionaries' announcement Wednesday that "climate emergency" is the Oxford Word of the Year 2019.
By Kieran Cooke
There could be a way of countering one key aspect of the climate emergency by making much greater use of a widely-available plant: bamboo building.