This website uses cookies to ensure you get the best experience while browsing it. By clicking 'Got It' you're accepting these terms.
Cool Interactive Tool Shows You How Taxpayer Money Could Be Spent Instead of Subsidizing Big Oil
Jan. 13, 2015 02:39PM EST
Energy
As the new Republican-led Congress gets underway, we're hearing a lot of rhetoric about cutting the social safety net programs that throw a lifeline to those in need and help people climb out of poverty—things like food assistance, free school lunches and Pell Grants that pay for college. And while some in Congress have ripped the veil off their underlying meanness, saying that giving any assistance to those in poverty makes them "dependent" and "lazy," many are still hewing to the party line that they're just too expensive.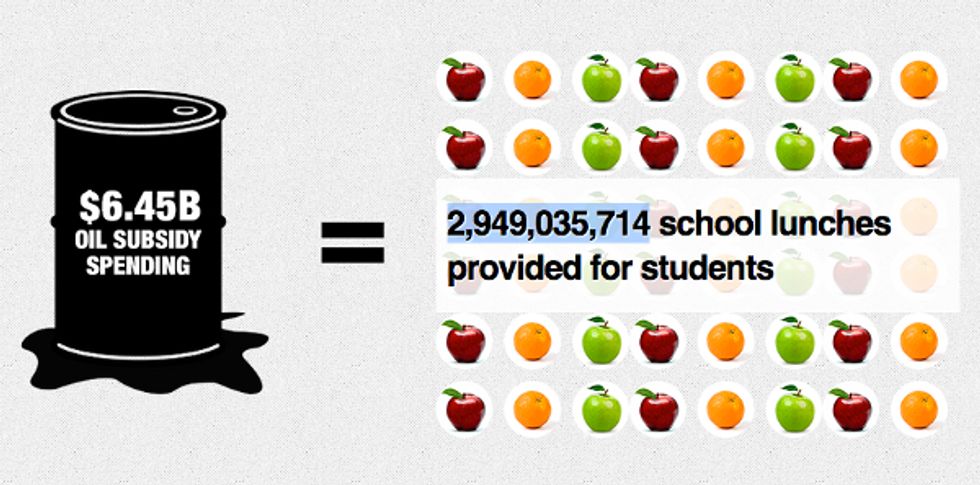 A new interactive tool called Big Oil Giveaways demonstrates what is really expensive: subsidies and tax breaks for Big Oil and Gas, worth $6.45 billion annually.
"What's the tradeoff for your tax dollars?" it asks. "Each year, billions of dollars do not make it to the U.S. Treasury, but rather stay in the pockets of the oil and gas industry in the form of subsidies and tax breaks. Millions more are wasted on special handouts for Big Oil. Find out some of the things those revenues could pay for."
Big Oil Giveaways lets you do just that. You can select from among five lucrative subsidies and tax breaks given to oil and gas companies and then learn what it could be paying for if it were redirected to ten other programs. Find out what accounting tricks like the percentage depletion allowance and the intangible drilling cost deduction, tax breaks like the manufacturing tax credit and money allocated to the government fossil fuel research and development program are diverting from uses that would benefit far more people.
For instance, you can learn that the annual $2,480,407,500 lost by allowing gas and oil companies to drill without paying royalties could fund 1,143,044,931 school lunches. It could provide health insurance for 2,120,066 children or health care for 837,976 veterans. With that amount, 432,881 students could receive a Pell Grant to help them attend college. And it could pay the salaries of 41,977 epidemiologists for a year, which would have been a better approach to containing ebola than scaring the pants off everyone. And all five special breaks for Big Oil and Gas could together pay for 2,949,035,714 school lunches. That's a lot of children who aren't too hungry to focus on their education.
The tool is sponsored by Friends of the Earth, along with 13 other organizations including Public Citizen, Institute for Policy Studies, Interfaith Power & Light, Rebuild the Dream, Physicians for Social Responsibility, People for the American Way, Peace Action, Oxfam America, Labor Network For Sustainability, Green for All, Corporate Accountability International and Oil Change International.
YOU MIGHT ALSO LIKE
The $88 Billion Fossil Fuel Bailout for Oil, Gas and Coal Exploration
Thousands Call on Gov. Brown to Stand Up to Big Oil and Support 100% Renewable Energy
EcoWatch Daily Newsletter
Pro-environment demonstrators on the streets of Washington, DC during the Jan. 20, 2017 Trump inauguration.
Mobilus In Mobili
/ Flickr /
CC BY-SA 2.0
By Dr. Brian R. Shmaefsky
One year after the Flint Water Crisis I was invited to participate in a water rights session at a conference hosted by the US Human Rights Network in Austin, Texas in 2015. The reason I was at the conference was to promote efforts by the American Association for the Advancement of Science (AAAS) to encourage scientists to shine a light on how science intersects with human rights, in the U.S. as well as in the context of international development. My plan was to sit at an information booth and share my stories about water quality projects I spearheaded in communities in Bangladesh, Colombia, and the Philippines. I did not expect to be thrown into conversations that made me reexamine how scientists use their knowledge as a public good.
Mt. Rainier and Reflection Lake on Sept. 10, 2015. Crystal Geyser planned to open a bottling plant near Mt. Rainier, emails show.
louelke - on and off / Flickr
Bottled water manufacturers looking to capture cool, mountain water from Washington's Cascade Mountains may have to look elsewhere after the state senate passed a bill banning new water permits, as The Guardian reported.
Large storage tank of Ammonia at a fertilizer plant in Cubatão, Sao Paulo State, Brazil. Luis Veiga / The Image Bank / Getty Images
The shipping industry is coming to grips with its egregious carbon footprint, as it has an outsized contribution to greenhouse gas emissions and to the dumping of chemicals into open seas. Already, the global shipping industry contributes about 2 percent of global carbon emissions, about the same as Germany, as the BBC reported.
At high tide, people are forced off parts of the pathway surrounding DC's Tidal Basin. Andrew Bossi /
Wikimedia
The Jefferson Memorial in Washington, DC overlooks the Tidal Basin, a man-made body of water surrounded by cherry trees. Visitors can stroll along the water's edge, gazing up at the stately monument.
But at high tide, people are forced off parts of the path. Twice a day, the Tidal Basin floods and water spills onto the walkway.
Lioness displays teeth during light rainstorm in Kruger National Park, South Africa. johan63 / iStock / Getty Images
Ahead of government negotiations scheduled for next week on a global plan to address the biodiversity crisis, 23 former foreign ministers from various countries released a statement on Tuesday urging world leaders to act "boldly" to protect nature.