Consumer Reports Finds Fecal Matter in Ground Beef
Aug. 25, 2015 11:20AM EST
Food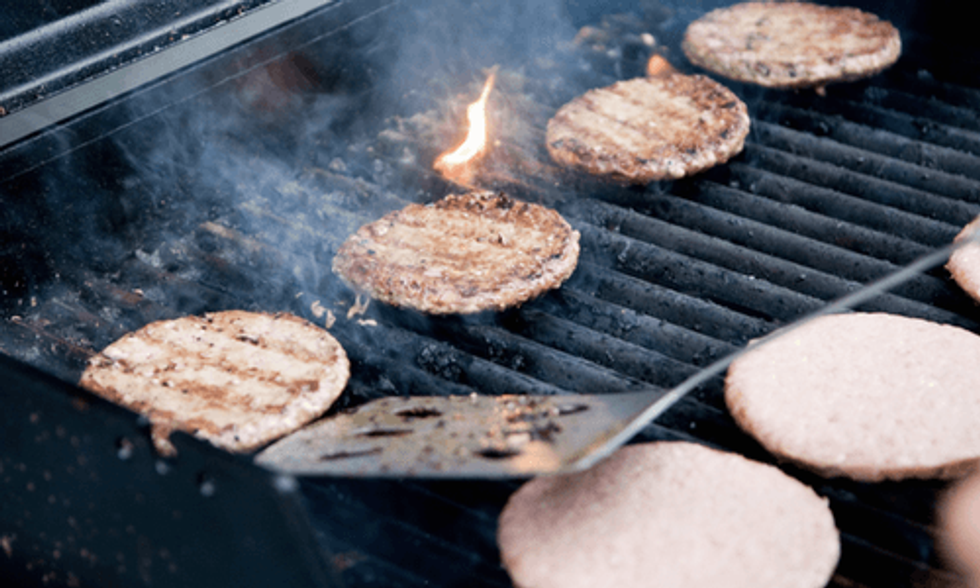 Just in time for Labor Day cookouts, Consumer Reports found that eating undercooked ground beef might leave you very sick. According to the organization's investigation, supermarket ground beef can harbor superbugs, or antibiotic-resistant strains of bacteria. Oh, and almost all store-bought varieties likely contain fecal matter. Meanwhile, the meat industry and the U.S. Department of Agriculture (USDA) denies any harm.
Drug-resistant bacteria found in 18% of burgers from conventional meat http://t.co/dDgf0oRlIF #buybetterbeef pic.twitter.com/Iwd47ymWlH

— Consumer Reports (@ConsumerReports) August 25, 2015
Consumer Reports tested 300 packages of raw ground beef—conventionally and sustainably produced (meaning no antibiotics, organic or grass-fed)—from 100 food stores around the country, and "the results were sobering."
Here's what the team found:
All 458 pounds of beef examined contained bacteria that signified fecal contamination (enterococcus and/or nontoxin-producing E. coli), which can cause blood or urinary tract infections.

About 20 percent contained C. perfringens, a bacteria that causes almost 1 million cases of food poisoning annually.

10 percent of the samples had a strain of S. aureus bacteria that can produce a toxin that can make you sick. That toxin can't be destroyed—even with proper cooking.

1 percent of the samples contained salmonella.

On three conventional samples (and none on sustainable samples), the team found an antibiotic-resistant S. aureus bacteria called MRSA (methicillin-resistant staphylococcus aureus), which kills about 11,000 people in the U.S. every year.
While some percentages, such as the incidence of salmonella, sounds very little, Urvashi Rangan, Ph.D., executive director of the Center for Food Safety and Sustainability at Consumer Reports pointed out that if we "extrapolate that to the billions of pounds of ground beef we eat every year, and that's a lot of burgers with the potential to make you sick."
It comes as no surprise that sustainably produced ground beef contained less harmful bacteria. "Conventional beef was twice as likely to be contaminated with superbugs than was all types of sustainably produced beef," the report said.
The biggest difference, the team found, was between conventional and grass-fed beef: only 6 percent of grass-fed samples contained superbugs.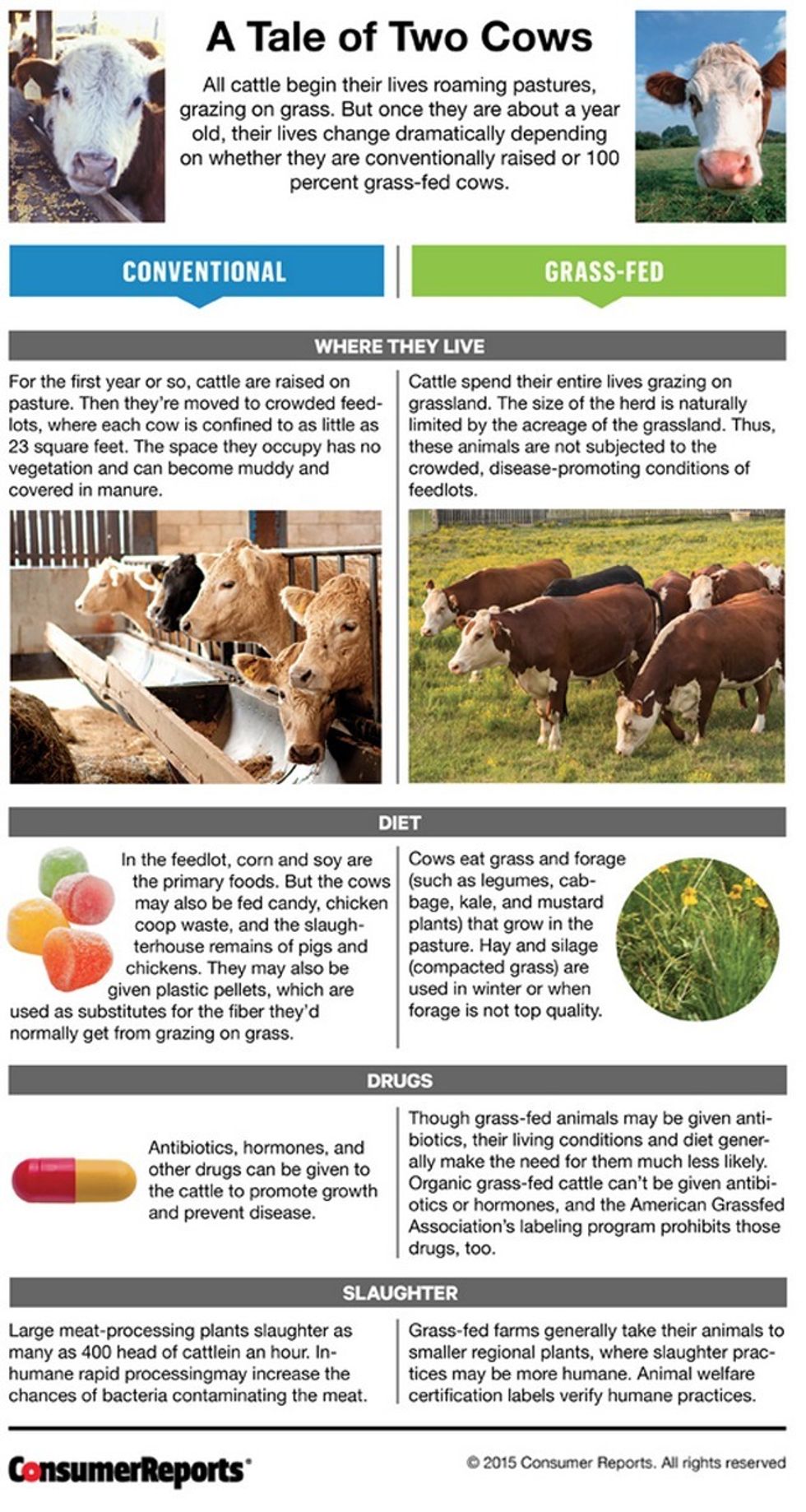 "We know that sustainable methods are better for the environment and more humane to animals. But our tests also show that these methods can produce ground beef that poses fewer public health risks," Rangan said.
Here's the full rundown from the investigation: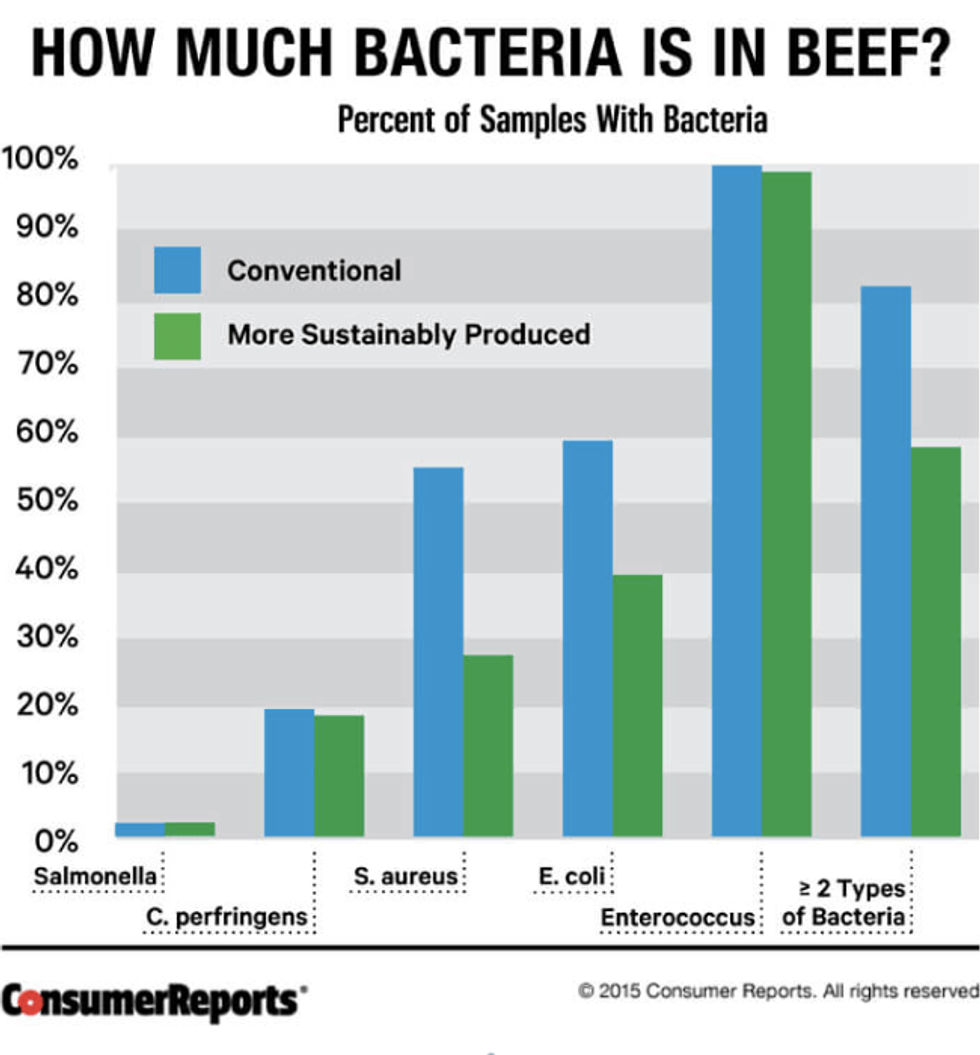 So why is ground beef especially problematic compared to other cuts or meat? There are a variety of factors, such as the several stages in slaughter, grinding, processing and handling, which provides opportunities for cross contamination.
Also, the report said, when beef is ground up, the bacteria get mixed throughout. Compared to steaks or roasts, for instance, bacteria tends to stay on the surface, so "when you cook them, the outside is likely to get hot enough to kill any bugs."
Additionally, "the meat and fat trimmings often come from multiple animals, so meat from a single contaminated cow can end up in many packages of ground beef."
.@ConsumerReports finds beef that's more sustainably produced is 1/2 as likely to contain superbugs: http://t.co/j9brc5lVLz #buybetterbeef

— Kirsten Gillibrand (@SenGillibrand) August 24, 2015
Although Americans' taste for beef has been waning over the years, the country purchased 4.6 billion pounds of beef in grocery and big-box stores in the past year, mostly in ground form (about 50 percent vs. 42 percent a decade ago), the report noted.
The Centers for Disease Control and Prevention estimates that each year roughly 1 in 6 Americans (or 48 million people) get sick, 128,000 are hospitalized and 3,000 die of foodborne diseases. Beef is particularly a culprit since meats such as fish, chicken and pork are usually cooked thoroughly, whereas many people like eating rare or medium-rare beef.
As for how to keep safe for your next beef burger? Make sure the meat is cooked to at least 160 degrees Fahrenheit. Also keep raw meat way from counters and other foods to prevent contamination.
Still, "there's no way to tell by looking at a package of meat or smelling it whether it has harmful bacteria or not," Rangan warned. "You have to be on guard every time."
Meanwhile, the North American Meat Institute has since issued a response to the Consumer Reports investigation:
"The real headline here is the bacteria that Consumer Reports doesn't report finding in their testing—Shiga toxin-producing E. coli—and just one percent of samples with Salmonella, a number far below USDA performance standards, which are the foodborne bacteria of greatest public health concern in beef," said North American Meat Institute Vice President of Scientific Affairs Betsy Booren, Ph.D.
"Bacteria occur naturally on all raw food products from beef to blueberries so finding certain types on some foods in a grocery store is not surprising and should not be concerning. As an industry, our number one priority is producing the safest meat and poultry possible and this is done by focusing attention on bacteria which are most likely to make people sick, particularly Shiga toxin-producing E. coli and Salmonella. It is telling that Consumer Reports did not highlight finding these bacteria on products they tested, which is a strong indication of the overall safety of beef."
Kristen Felicione, a public affairs specialist at the USDA's Food Safety and Inspection Service (FSIS) also told Agri-Pulse: "FSIS conducts inspections at all establishments that produce meat products and verifies that they are safe and not adulterated through a variety of inspection activities."
YOU MIGHT ALSO LIKE
The New England Journal of Medicine Asks FDA to Reconsider Labeling GMO Foods
10 Healthiest Ways to Eat a Sandwich
EcoWatch Daily Newsletter
Related Articles from EcoWatch