This website uses cookies to ensure you get the best experience while browsing it. By clicking 'Got It' you're accepting these terms.
Consumer Reports Finds Eating Tuna Too Risky for Pregnant Women
Aug. 22, 2014 08:59AM EST
Food
Eat more fish. It's a ubiquitous bit of dietary advice you hear over and over. For pregnant and nursing mothers, it's something that the U.S. Food and Drug Administration (FDA) specifically recommends. To lots of people, "fish" equals tuna. It's canned. It's cheap. It's easy. But new analysis from one of the country's most trusted resources when it comes to product safety, Consumer Reports (CR), concludes that tuna's high levels of mercury outweigh its potential benefits for expecting mothers.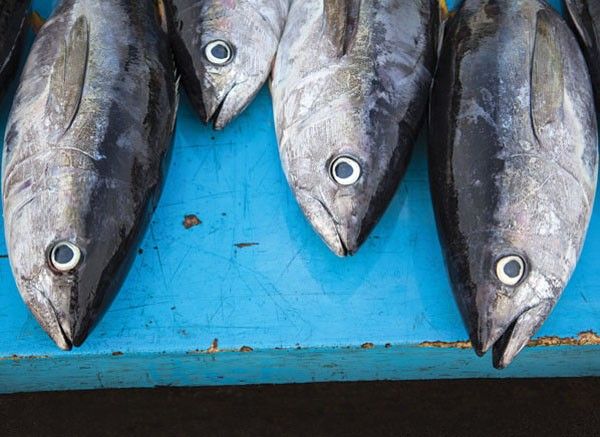 The report, The Great Fish Debate, relies on data from the FDA and U.S. Environmental Protection Agency (EPA), but directly conflicts with the agencies' latest recommendations on seafood, which state that a medium amount of tuna is okay for consumption as the health benefits outweigh the effects of consuming mercury. It's a touchy subject for the agencies, which recently set a minimum level for the amount of fish people should consume weekly. In fact, after CR pointed out to the FDA that its own data indicated elevated risks, the agency replaced a chart that ranked seafood according to mercury levels with a new one that lists species in alphabetical order, in what would seem to be an attempt to obfuscate the contradictory data.
The central issue here centers on brain development in fetuses and young children. Tuna and other fish are high in omega-3 fatty acids, which play an important role in the formation of a healthy, powerful brain. Unfortunately, because of increasing amounts of mercury in our oceans, tuna and other predatory fish are now laced with methlymercury, a neurotoxin that can permanently damage the brain, according to the Agency for Toxic Substances and Disease Registry. Considering tuna is the second most popular seafood in the U.S. next to shrimp, it is no wonder that CR is concerned.
Why now? What happened? The answer is actually a perfect example of the inter-connectivity of the relationships between our food, water and energy systems, what we call the nexus. The mercury issue exemplifies the ways in which our energy choices directly affect water quality and by extension, the food we eat.
How does mercury get into seafood?
Basically, coal-fired power plants and other power sources continue to pump mercury into our atmosphere, which then makes its way into large bodies of water via precipitation. Mercury (not extremely dangerous) in the water gets processed by bacteria into methlymercury (very dangerous), which then makes its way up the food chain, from the smaller fish to the largest ones. Each step of the way up, the levels get more concentrated. Result: Bluefin and Albacore tuna with 54-58 micrograms of mercury per four cooked ounces (which is very high compared to salmon's two micrograms per the same amount).
And the next step up on the food chain? Us. So, how do we reduce the amount of methlymercury in our fish? Read more about mercury in fish and efforts at reduction.
In many ways the "to-eat-or-not-to-eat" question comes down to whether the risks outweigh the benefits and whether the benefits are cumulative, because mercury is a cumulative toxin. Everyone involved (CR, FDA and EPA) agrees there is a continuum between what types of seafood are beneficial and what types are too risky, but the groups disagree on where to draw the line. The FDA and EPA recognize that people—especially expecting mothers and those who breastfeed—should not eat large, predatory fish species such as shark, tilefish from the Gulf, swordfish and mackerel, but for whatever reason, have decided that tuna and other fish are fine to eat.
CR's report makes it clear that tuna is not safe at all for expecting mothers and that it should be cut out of the diet of anyone who eats more than 24 ounces of seafood per week. CR's reasoning for its tuna classification is partially based on the EPA's own guidelines for safe consumption. For instance, the FDA instructs women to eat up to six ounces of albacore or white tuna weekly, yet a 125-pound woman exceeds the EPA's "safe" limit by eating only four ounces. A 48-pound child surpasses the EPA's limit at about a third of a can a week. To make matters even worse, the amount of mercury found in each can of tuna can vary wildly. The FDA's own data showed that 20 percent of the cans tested since 2005 contained almost double the average level of mercury the agency lists.
Lots of families on tight budgets look to cans of tuna as an affordable way to get important omega-3s in their kids' diets. Proponents of the tuna industry would say that CR's decision to take tuna off the table (literally) limits lower-income families' options. Luckily though, there are tons of other foods that are high in omega-3s and aren't laced with neurotoxins, many of which are as cheap as tuna. There are vegetables like cauliflower and edamame, greens like purslane, grains like wild rice and nuts like walnuts. Grass-fed beef and bison are a great source because grass is actually a good source of omega-3. Canola and flaxseed oil contain a lot of omega-3. Plus there are many omega-3 enriched products including eggs and juices. Then of course there are the supplements.
Seafood lovers looking to decrease their mercury intake can eat lower on the food chain by replacing tuna with sustainably procured mussels, clams, oysters and shrimp. Eating these smaller species not only cuts out most of the mercury in your diet, it's also much more sustainable, because—for one—it reduces your water footprint. If you want finfish, there are many low-mercury species, such as salmon, tilapia, haddock and hake. All of the above-mentioned seafood has fewer than six micrograms of mercury per four ounces, meaning most contain less than five percent of the mercury found in tuna.
There are also fish on the market that contain almost no mercury because they were raised on farms. While some fish farms are not sustainable and still sell fish with high levels of mercury, there are many amazing farms that use highly sustainable recirculating techniques. The Recirculating Farms Coalition has more information about these innovative farms.
For concerned parents and mothers, there are many available resources that teach you all you need to know about seafood safety and sustainability. Food and Water Watch's Smart Seafood Guide and the Monterey Bay Aquarium's Seafood Watch program are both invaluable resources to learn about purchasing sustainable, safe seafood.
Considering all of the safe options for ensuring omega-3 is included in your diet, it's a wonder that the FDA still lists tuna as safe for consumption, especially when it comes to the health of an infant's brain. For us, we're going with CR's recommendation—even if it means turning all of those cans of tuna in our cupboard into cat food. That is, just as long as the cat isn't expecting.
YOU ALSO MIGHT LIKE
Video Shows How Helping Women Farmers Shrinks Hunger
3 Common Chemicals That May Cause Breast Cancer
Despite Industry Opposition, Scientists Report Formaldehyde Causes Cancer
EcoWatch Daily Newsletter
A vegan diet can improve your health, but experts say it's important to keep track of nutrients and protein. Getty Images
By Dan Gray
Research shows that 16 weeks of a vegan diet can boost the gut microbiome, helping with weight loss and overall health.
A healthy microbiome is a diverse microbiome. A plant-based diet is the best way to achieve this.
It isn't necessary to opt for a strictly vegan diet, but it's beneficial to limit meat intake.
New research shows that following a vegan diet for about 4 months can boost your gut microbiome. In turn, that can lead to improvements in body weight and blood sugar management.
Students gathered at the National Mall in Washington DC, Sept. 20. NRDC
By Jeff Turrentine
Nearly 20 years have passed since the journalist Malcolm Gladwell popularized the term tipping point, in his best-selling book of the same name. The phrase denotes the moment that a certain idea, behavior, or practice catches on exponentially and gains widespread currency throughout a culture. Having transcended its roots in sociological theory, the tipping point is now part of our everyday vernacular. We use it in scientific contexts to describe, for instance, the climatological point of no return that we'll hit if we allow average global temperatures to rise more than 2 degrees Celsius above preindustrial levels. But we also use it to describe everything from resistance movements to the disenchantment of hockey fans when their team is on a losing streak.
samael334 / iStock / Getty Images
Berries are small, soft, round fruit of various colors — mainly blue, red, or purple.
A glacier is seen in the Kenai Mountains on Sept. 6, near Primrose, Alaska. Scientists from the U.S. Geological Survey have been studying the glaciers in the area since 1966 and their studies show that the warming climate has resulted in sustained glacial mass loss as melting outpaced the accumulation of new snow and ice. Joe Raedle / Getty Images
By Mark Mancini
On Aug. 18, Iceland held a funeral for the first glacier lost to climate change. The deceased party was Okjökull, a historic body of ice that covered 14.6 square miles (38 square kilometers) in the Icelandic Highlands at the turn of the 20th century. But its glory days are long gone. In 2014, having dwindled to less than 1/15 its former size, Okjökull lost its status as an official glacier.
Members of Chicago Democratic Socialists of America table at the Logan Square Farmers Market on Aug. 18. Alex Schwartz
By Alex Schwartz
Among the many vendors at the Logan Square Farmers Market on Aug. 18 sat three young people peddling neither organic vegetables, gourmet cheese nor handmade crafts. Instead, they offered liberation from capitalism.
Hackney primary school students went to the Town Hall on May 24 in London after school to protest about the climate emergency. Jenny Matthews / In Pictures / Getty Images
Bird watching in the U.S. may be a lot harder than it once was, since bird populations are dropping off in droves, according to a new study.