This website uses cookies to ensure you get the best experience while browsing it. By clicking 'Got It' you're accepting these terms.
Consumer Reports Finds 60% of Raw Shrimp Tested Positive for Bacteria
Apr. 24, 2015 01:27PM EST
Food
There are now more reasons to consider skipping your next shrimp cocktail. In a startling new Consumer Reports study, bacteria was detected in more than half the raw shrimp that was tested, with some also tainted with illegal antibiotic residues.
For the study, How Safe is Your Shrimp?, scientists analyzed 342 packages of frozen shrimp—284 raw and 58 cooked samples—purchased at Albertsons, Costco, Fry's Marketplace, Hy-Vee, Kroger, Sprouts Farmers Market and Walmart in 27 cities across the U.S.
The study found that 60 percent of raw shrimp tested positive for bacteria, including salmonella, E. coli and listeria. In seven raw shrimp samples, scientists detected the antibiotic-resistant superbug MRSA, or Methicillin-resistant Staphylococcus aureus, that could potentially lead to a dangerous infection.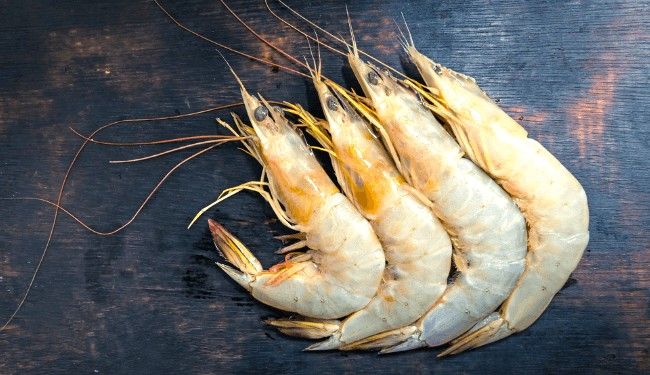 Photo credit: Shutterstock
The country currently consumes about three times more shrimp than it did 35 years ago, with the average American chomping down nearly 4 pounds of shrimp per year. While the crustacean is clearly America's favorite seafood, most of the country's supply comes from faraway countries such as India, Indonesia and Thailand, where shrimp is squeezed into industrial tanks or shallow, man-made ponds where they're fed commercial pellets, sometimes containing antibiotics to ward off disease, the study pointed out.
"Bacteria and algae can begin to grow and disease can set in, prompting farmers to use drugs and other chemicals that can remain on the shrimp and seep into the surrounding environment," said Urvashi Rangan, Ph.D., executive director of the Consumer Reports Food Safety and Sustainability Center, in the report.
Not only is there the possibility of bacteria and viral infections swarming in these Asian shrimp farms, a recent investigation from the Associated Press revealed participation of forced labor from Burmese migrants in Thailand's shrimp processing chain.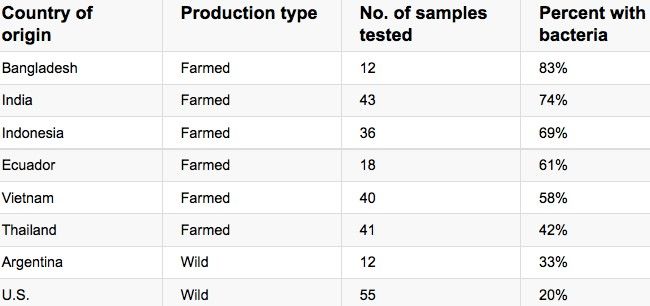 Consumer Reports is calling on the federal government to make shrimp safer to consume. The organization pointed out that it's the Food and Drug Administration (FDA) job "to inspect shrimp coming into the U.S. to make sure it doesn't contain any drugs or chemicals that aren't permitted in imported shrimp."
"It is the FDA, not local retailers, that is charged with enforcing the law that prohibits importing shrimp containing antibiotics," Consumer Reports said. "According to the FDA, if those drugs had been detected in even one shrimp sample, the entire shipment would have been refused entry into the U.S."
We found bacteria + illegal antibiotics residues in tests of frozen shrimp; @US_FDA needs to step up http://t.co/o1Roslvf1q

— Consumer Reports (@ConsumerReports) April 24, 2015
So for your next trip to the grocery store, Consumer Reports recommends buying farmed shrimp raised without chemicals, including antibiotics. Seek out varieties that come from large outdoor ponds that mimic their natural habitat or in tanks that constantly filter and recycle water and waste, the report said.
Consumer Reports also suggests looking for shrimp carrying the Marine Stewardship Council logo or checking seafoodwatch.org and look for shrimp listed as a "Best Choice" or "Good Alternative." The organization also suggests following their safe-prep rules.
You also want to be wary about anything labeled "organic," as "organic" seafood sold in the country is not approved by the U.S. government. (The U.S. Department of Agriculture is set to propose standards for organic seafood raised in the country this year).
"Even though most bacteria on shrimp would be killed during the cooking process, our test results raise real questions about how shrimp is raised, processed, and regulated," Rangan said.
YOU MIGHT ALSO LIKE
USDA Approves Apple Imports From China Despite Potential Impact on American Consumers and Growers
Organic Food Industry Explodes as Consumer Demand Spikes
EcoWatch Daily Newsletter
The Centers for Disease Control (CDC) released new numbers that show vaping-related lung illnesses are continuing to grow across the country, as the number of fatalities has climbed to 33 and hospitalizations have reached 1,479 cases, according to a CDC update.
During the summer, the Arctic tundra is usually a thriving habitat for mammals such as the Arctic fox. Education Images / Universal Images Group via Getty Images
Reports of extreme snowfall in the Arctic might seem encouraging, given that the region is rapidly warming due to human-driven climate change. According to a new study, however, the snow could actually pose a major threat to the normal reproductive cycles of Arctic wildlife.
Vegan rice and garbanzo beans meals.
Ella Olsson /
Pexels
One common concern about vegan diets is whether they provide your body with all the vitamins and minerals it needs.
Many claim that a whole-food, plant-based diet easily meets all the daily nutrient requirements.
A fracking well looms over a residential area of Liberty, Colorado on Aug. 19.
WildEarth Guardians / Flickr
Pope Francis flanked by representatives of the Amazon Rainforest's ethnic groups and catholic prelates march in procession during the opening of the Special Assembly of the Synod of Bishops for the Pan-Amazon Region at The Vatican on Oct. 07 in Vatican City, Vatican. Alessandra Benedetti / Corbis News / Getty Images
The Catholic Church "hears the cry" of the Amazon and its peoples. That's the message Pope Francis hopes to send at the Synod of the Amazon, a three-week meeting at the Vatican that ends Oct. 27.
The crowd appears to attack a protestor in a video shared on Twitter by ITV journalist Mahatir Pasha.
VOA News /
Youtube screenshot
Some London commuters had a violent reaction Thursday morning when Extinction Rebellion protestors attempted to disrupt train service during rush hour.
Some fruit drinks may appear to be healthier, but many can have high levels of added sugars. d3sign / Moment / Getty Images
By Kristen Fischer
Though the science has shown sugary drinks are not healthy for children, fruit drinks and similar beverages accounted for more than half of all children's drink sales in 2018, according to a new report.