This website uses cookies to ensure you get the best experience while browsing it. By clicking 'Got It' you're accepting these terms.
Consumer Reports Finds 60% of Raw Shrimp Tested Positive for Bacteria
Apr. 24, 2015 01:27PM EST
Food
There are now more reasons to consider skipping your next shrimp cocktail. In a startling new Consumer Reports study, bacteria was detected in more than half the raw shrimp that was tested, with some also tainted with illegal antibiotic residues.
For the study, How Safe is Your Shrimp?, scientists analyzed 342 packages of frozen shrimp—284 raw and 58 cooked samples—purchased at Albertsons, Costco, Fry's Marketplace, Hy-Vee, Kroger, Sprouts Farmers Market and Walmart in 27 cities across the U.S.
The study found that 60 percent of raw shrimp tested positive for bacteria, including salmonella, E. coli and listeria. In seven raw shrimp samples, scientists detected the antibiotic-resistant superbug MRSA, or Methicillin-resistant Staphylococcus aureus, that could potentially lead to a dangerous infection.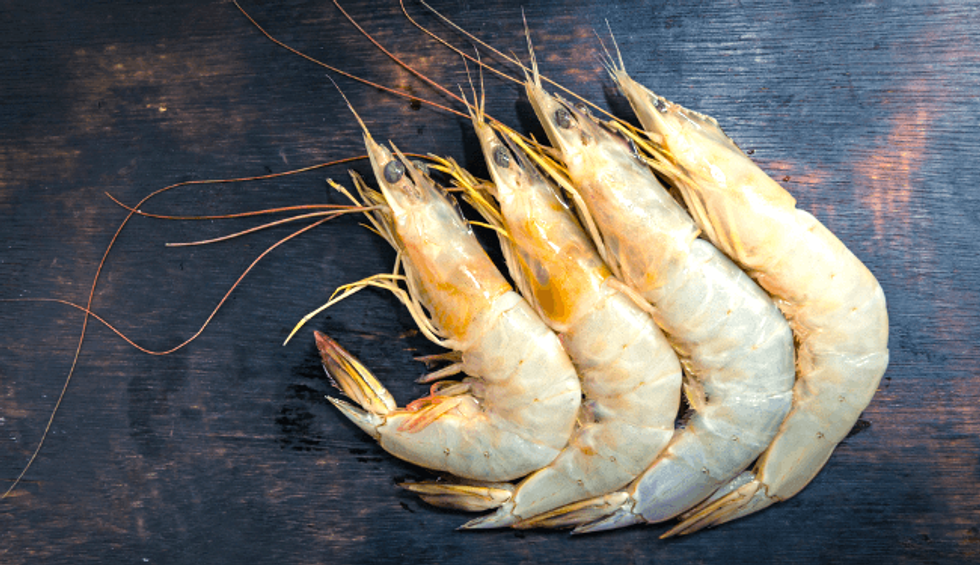 Photo credit: Shutterstock
The country currently consumes about three times more shrimp than it did 35 years ago, with the average American chomping down nearly 4 pounds of shrimp per year. While the crustacean is clearly America's favorite seafood, most of the country's supply comes from faraway countries such as India, Indonesia and Thailand, where shrimp is squeezed into industrial tanks or shallow, man-made ponds where they're fed commercial pellets, sometimes containing antibiotics to ward off disease, the study pointed out.
"Bacteria and algae can begin to grow and disease can set in, prompting farmers to use drugs and other chemicals that can remain on the shrimp and seep into the surrounding environment," said Urvashi Rangan, Ph.D., executive director of the Consumer Reports Food Safety and Sustainability Center, in the report.
Not only is there the possibility of bacteria and viral infections swarming in these Asian shrimp farms, a recent investigation from the Associated Press revealed participation of forced labor from Burmese migrants in Thailand's shrimp processing chain.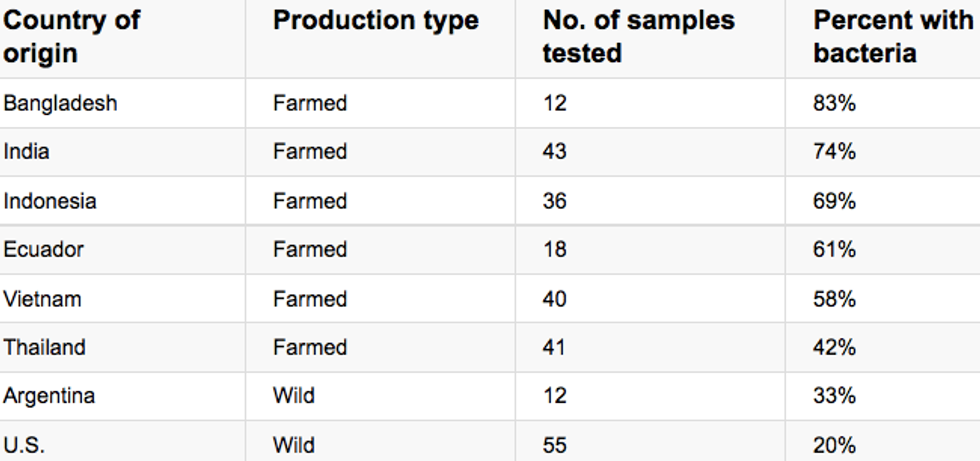 Consumer Reports is calling on the federal government to make shrimp safer to consume. The organization pointed out that it's the Food and Drug Administration (FDA) job "to inspect shrimp coming into the U.S. to make sure it doesn't contain any drugs or chemicals that aren't permitted in imported shrimp."
"It is the FDA, not local retailers, that is charged with enforcing the law that prohibits importing shrimp containing antibiotics," Consumer Reports said. "According to the FDA, if those drugs had been detected in even one shrimp sample, the entire shipment would have been refused entry into the U.S."
We found bacteria + illegal antibiotics residues in tests of frozen shrimp; @US_FDA needs to step up http://t.co/o1Roslvf1q

— Consumer Reports (@ConsumerReports) April 24, 2015
So for your next trip to the grocery store, Consumer Reports recommends buying farmed shrimp raised without chemicals, including antibiotics. Seek out varieties that come from large outdoor ponds that mimic their natural habitat or in tanks that constantly filter and recycle water and waste, the report said.
Consumer Reports also suggests looking for shrimp carrying the Marine Stewardship Council logo or checking seafoodwatch.org and look for shrimp listed as a "Best Choice" or "Good Alternative." The organization also suggests following their safe-prep rules.
You also want to be wary about anything labeled "organic," as "organic" seafood sold in the country is not approved by the U.S. government. (The U.S. Department of Agriculture is set to propose standards for organic seafood raised in the country this year).
"Even though most bacteria on shrimp would be killed during the cooking process, our test results raise real questions about how shrimp is raised, processed, and regulated," Rangan said.
YOU MIGHT ALSO LIKE
USDA Approves Apple Imports From China Despite Potential Impact on American Consumers and Growers
Organic Food Industry Explodes as Consumer Demand Spikes
EcoWatch Daily Newsletter
Aerial view of Ruropolis, Para state, northen Brazil, on Sept. 6, 2019. Tthe world's biggest rainforest is under threat from wildfires and rampant deforestation. JOHANNES MYBURGH / AFP via Getty Images
By Kate Martyr
Deforestation in Brazil's Amazon rainforest last month jumped to the highest level since records began in 2015, according to government data.
A total of 563 square kilometers (217.38 square miles) of the world's largest rainforest was destroyed in November, 103% more than in the same month last year, according to Brazil's space research agency.
From January to November this year an area almost the size of the Caribbean island of Puerto Rico was destroyed — an 83% overall increase in destruction when compared with the same period last year.
The figures were released on Friday by the National Institute for Space Research (INPE), and collected through the DETER database, which uses satellite images to monitor forest fires, forest destruction and other developments affecting the rainforest.
What's Behind the Rise?
Overall, deforestation in 2019 has jumped 30% compared to last year — 9,762 square kilometers (approximately 3769 square miles) have been destroyed, despite deforestation usually slowing during November and December.
Environmental groups, researchers and activists blamed the policies of Brazil's president Jair Bolsonaro for the increase.
They say that Bolosonaro's calls for the Amazon to be developed and his weakening support for Ibama, the government's environmental agency, have led to loggers and ranchers feeling safer and braver in destroying the expansive rainforest.
His government hit back at these claims, pointing out that previous governments also cut budgets to environment agencies such as Ibama.
The report comes as Brazil came to loggerheads with the Association of Small Island States (AOSIS) over climate goals during the UN climate conference in Madrid.
AOSIS blasted Brazil, among other nations, for "a lack of ambition that also undermines ours."
Last month, a group of Brazilian lawyers called for Bolsonaro to be investigated by the International Criminal Court over his environmental policies.
Reposted with permission from DW.
The Carolina parakeet went extinct in 1918. James St. John /
CC BY 2.0
The Carolina parakeet, the only parrot species native to the U.S., went extinct in 1918 when the last bird died at the Cincinnati Zoo. Now, a little more than 100 years later, researchers have determined that humans were entirely to blame.
Pexels
Vitamin C is a very important nutrient that's abundant in many fruits and vegetables.
BLM drill seeders work to restore native grasses after wildfire on the Bowden Hills Wilderness Study Area in southeast Oregon, Dec. 14, 2018. Marcus Johnson / BLM / CC BY 2.0
By Tara Lohan
In 2017 the Thomas fire raged through 281,893 acres in Ventura and Santa Barbara counties, California, leaving in its wake a blackened expanse of land, burned vegetation, and more than 1,000 destroyed buildings.