This website uses cookies to ensure you get the best experience while browsing it. By clicking 'Got It' you're accepting these terms.
Consumed: First Fictional Film to Cover Concerns of GMOs
May. 12, 2016 11:02AM EST
There have been many documentaries about the risks of genetically engineered foods. These include The Future of Food, GMO OMG, The World According to Monsanto and Genetic Roulette, to name a few. But the dark, complex world of GMOs hasn't been the subject of a fictional film—until now.
Consumed tells the story of a Sophie, a mother trying to deal with her young son's mysterious illness. She can't figure out what is causing her son's nasty rashes and vomiting. Then she starts researching and discovers genetically engineered foods. From there, Sophie, played by Zoe Lister-Jones, embarks on a desperate quest to help her son while becoming consumed in the world of GMOs with its safety concerns, corporate domination and questionable science. By the end of the film, Sophie fears the safety of foods that Americans eat.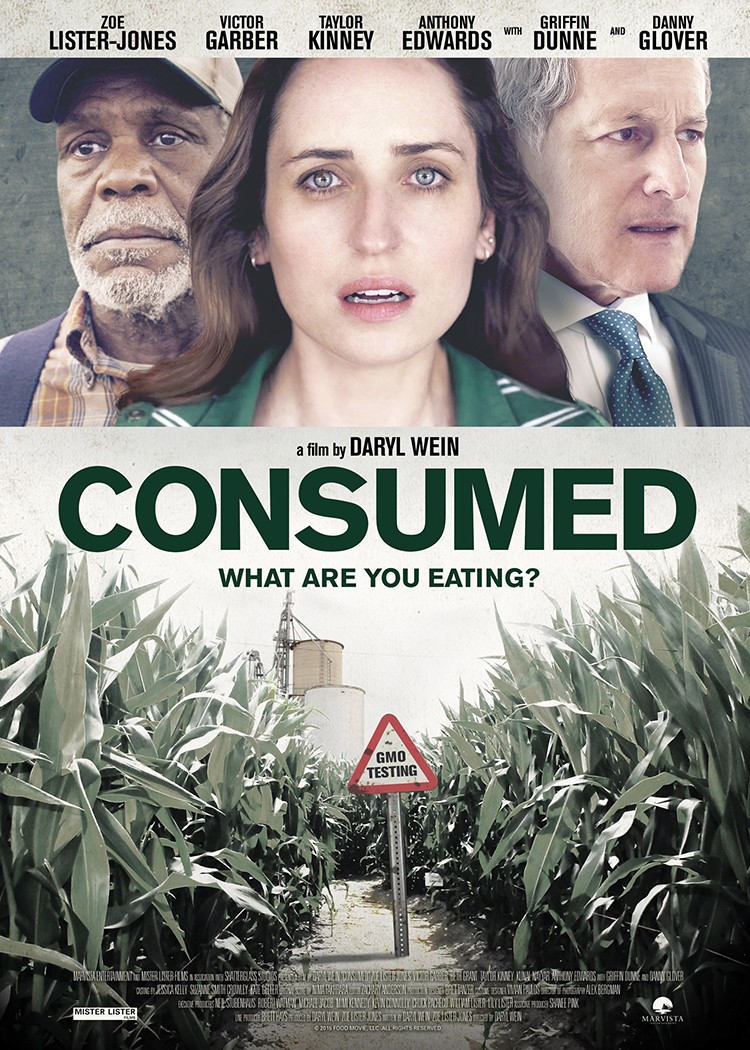 Consumed director Daryl Wein said the time was ripe for a narrative film about GMOs. "No one had made one," he said. "We felt it was important to tell the story and open people's eyes about GMOs. Seeing this issue in a movie is a little more digestible, no pun intended."
Wein worked on the script with his wife, Lister-Jones, who is also the producer.
"At first, we didn't know what the story would be, but as we dug deeper, we realized there were a few signposts we wanted to hit," he said. "We wanted to look at characters in the real world, such as farmers, scientists, biotech companies and people eating processed foods."
Famous Actors Play Key Roles
Famous actors play key roles in the film. Danny Glover is an organic farmer whose farm is threatened by a multi-national biotechnology company called Clonestra. Victor Garber is Clonestra's CEO. Griffin Dunne is a whistle-blowing ex-scientist. Taylor Kinney is a Clonestra employee who befriends Sophie and begins to doubt the aims of his company.
Lister-Jones's Sophie is the focus of the film. "We wanted the film to be anchored by a working class mother and son," Wein said.
The film manages to cover many of the controversies surrounding GMOs including corporate greed and control over seeds, threats to organic farms, lack of transparency and intimidation of scientists who question the technology.
Wein says their goal was to entertain and inform. "We want to open people's eyes to what is happening with GMO foods, spark a dialogue around our food and get people engaged in this issue," she said.
Consumed is available on video on demand platforms, such as iTunes and Amazon, as well as through the film's website.
Watch the trailer here:
YOU MIGHT ALSO LIKE
Results of Glyphosate Pee Test Are in 'And It's Not Good News'
'Mistaken' Release of Glyphosate Report Raises Questions Over EPA's Ties to Monsanto
Plus, learn if there's one that's best for your health.
Catherine Falls Commercial / Moment / Getty Images
An invasive Amynthas worm, also known as a crazy snake worm, Asian jumping worm and Alabama jumper Tom Potterfield / Flickr
By Jason Bittel
My wife and I built a house two years ago on a few acres of woodland outside of Pittsburgh. The backyard is full of maples, poplars, briars and common spicebush. Two-lined salamanders and grumpy-looking crayfish wade among the rocks in the small stream that runs down the edge of the property. Deer, raccoon and opossum tracks appear regularly in the snow and mud. Sometimes, my trail-cam even catches a pair of gray foxes as they slink through the night.
AleksandarNakic / Getty Images
By Kate Murphy
No matter the time of year, there's always a point in each season when my skin decides to cause me issues. While these skin issues can vary, I find the most common issues to be dryness, acne and redness.

David Woodfall / The Image Bank / Getty Images
By Sam Nickerson
The U.S. Environmental Protection Agency (EPA) in April 2018 proposed relaxing standards related to how it assesses the effects of exposure to low levels of toxic chemicals on public health.
Now, correspondence obtained by the LA Times revealed just how deeply involved industry lobbyists and a controversial, industry-funded toxicologist were in drafting the federal agency's proposal to scrap its current, protective approach to regulating toxin exposure.
Steve Irwin poses with a three foot long alligator at the San Francisco Zoo on June 26, 2002. Justin Sullivan / Getty Images
February 22 is the birthday of conservationist and beloved TV personality "Crocodile Hunter" Steve Irwin, who would have been 57 years old today.
Irwin's life was tragically cut short when the barb from a stingray went through his chest while he was filming in 2006, but his legacy of loving and protecting wildlife lives on, most recently in a Google Doodle today honoring his birthday.