Conservation International Celebrates 25 Years of Groundbreaking Accomplishments
Jan. 30, 2012 10:27AM EST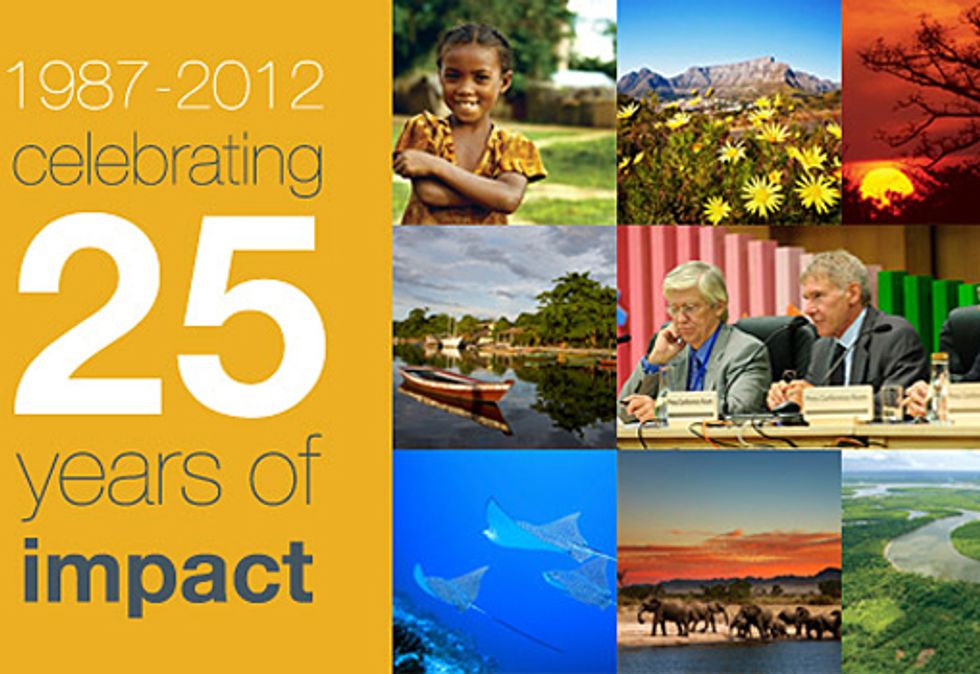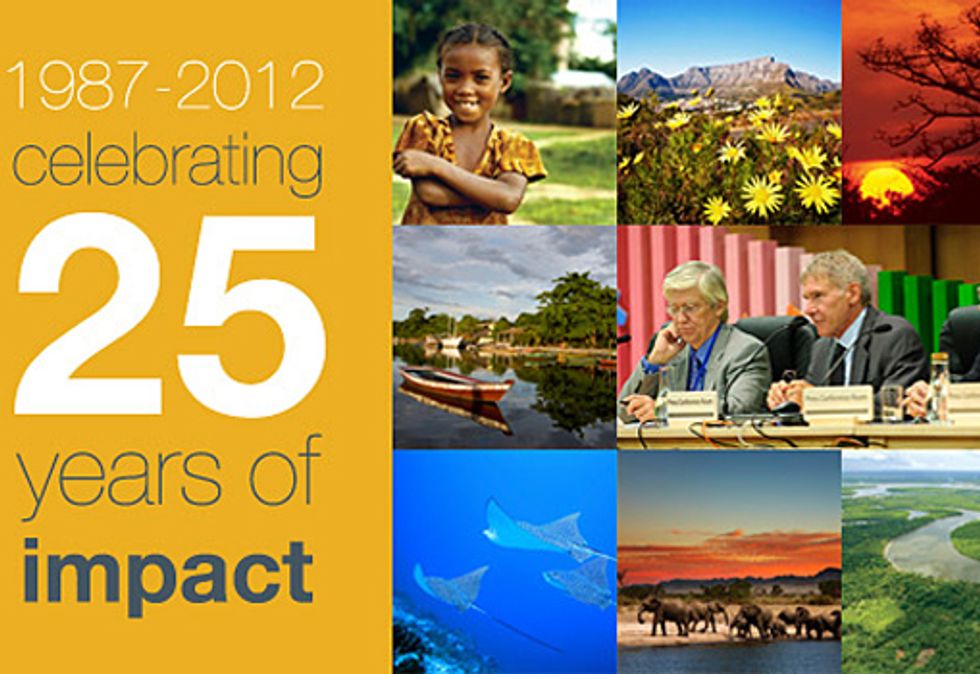 Founded with a mission to safeguard biodiversity and the provisions of ecosystem services for the well-being of people, Conservation International (CI) is proud to mark 25 years since its establishment in 1987 and reflects today on the groundbreaking accomplishments of its first quarter century, as well as the major challenges and opportunities that lie ahead in its next.
The organization, which brings together approximately 900 diverse and passionate conservation professionals in nearly 30 countries, is headquartered in the Washington, D.C. area, not far from where it was founded late one January evening in the Tabard Inn by conservationists Peter Seligmann and Spencer Beebe.
"It was a different era. Conservation of nature wasn't top-of-mind at that time. Companies didn't think about it, governments didn't prioritize it, schools didn't teach it. So we felt it was vital to show that nature and humanity are fundamentally linked and demonstrate the connections between conservation and economic well-being," said Seligmann, CI's Chairman and CEO.
In the organization's first year, CI particularly focused its international efforts on engaging local communities in the three countries where Seligmann and Beebe had previously worked—Bolivia, Costa Rica and Mexico. Thirty-five colleagues joined the founders that first year, taking a leap of faith that their vision would one day help to revolutionize how people, governments, and businesses value and manage our planet's natural capital.
"We believed tat in order to be successful in conservation, we had to involve local people and build local capacity, giving them ownership and control of conservation in their own countries," said Seligmann, a graduate of the Yale School of Forestry & Environmental Studies. "We also felt strongly that, in order for our conservation efforts to have meaningful and positive impacts on people, we had to engage not only natural scientists and conservationists but social scientists and economists as well."
The founding members of CI made personal sacrifices to lay its foundation, borrowing money and working out of their homes to help to turn their dreams into reality.
Looking back, they agree that the struggle was worth it. Today, CI is a top-rated charity with an operating budget of approximately $150 million USD annually and more than 1,000 partners and conservation investments in more than 40 countries. It has led or contributed to the protection of 106 million hectares (262 million acres) of land and sea around the world (terrestrial—51 million hectares; marine—55 million hectares); established innovative financing mechanisms to support long-term local efforts in priority regions; facilitated groundbreaking debt-for-nature swaps that led to the creation of parks and reserves; discovered and documented hundreds of new or endemic species in priority high-biodiversity countries to help inform conservation priorities; partnered with indigenous and traditional peoples from around the world to support their essential role as stewards of biodiversity; and impacted policy and corporate decisions that support sustainable development.
"Our approach is broad but strategic, focusing on the places that science tells us are the highest priorities for biodiversity and human well-being. It is also two-pronged—placing high value on engagement and partnership," said Seligmann. "With our feet in the mud and our heads metaphorically in the sky, we believe that the most effective way to achieve behavior change and sustainable development is to bring key influencers to the table, offer our expertise and together achieve positive impacts from the inside out."
Dr. Russell Mittermeier, a globally renowned primatologist and field biologist who speaks six languages fluently, has authored or co-authored 25 books and 655 scientific papers, and spends up to 200 days a year visiting conservation projects and leaders around the world, joined the organization as president in 1989 and still leads Conservation International with Seligmann.
"Our geographic priorities and our investments have always been based on the best available science, and it is from that foundation that we are able to advise and support sound decision-making," said Mittermeier. "But our approach to conservation has evolved over the past twenty-five years.
"In our early years, we focused on creating protected areas in the biodiversity hotspots, believing that we could stem the loss of species and ecosystems by creating safe havens for biodiversity. Protected areas of many different kinds continue to be among our most important tools in achieving conservation objectives and are also fundamentally important to human communities around the world. However, today we have come to the realization that they themselves aren't enough. Species are still disappearing, many of the habitats that  support life, including our own, continue to be degraded, and a large portion of the human population is still living under the poverty level. Clearly, we needed to take on a much broader agenda and think bigger, demonstrating that nature is not just worthy of conservation in its own right, it is also the most essential underpinning of long-term human well-being."
With that in mind, in 2010 CI redefined its institutional mission to expand the scope and scale of its work across the planet in order to tackle the greatest environmental challenges of our time, focusing more broadly on the direct connections between healthy ecosystems and the essential flows of goods and services they deliver to a growing human population, such as food, water, health, biodiversity, cultural heritage and climate security. The organization also forged new partnerships with international banks, civil society, and foundations to team global conservation initiatives with those investing in human development.
"Whereas we used to focus on creating parks and protecting natural areas for the sake of preserving our natural heritage, over time, we came to realize that we needed to reshape our approach to conservation, and tap into existing forces in order to address the scale of challenges facing governments and business, such as global poverty, food insecurity, water scarcity, economic development and supply chain flows," said Seligmann. "In our next 25 years, we have to constantly be creating new alliances and bringing more and more people into our conservation efforts so that together, we can tackle these shared concerns with our pooled passion and resources."
"To achieve this, we are demonstrating proof of concept at the local level, sharing and scaling these solutions up to larger and larger landscapes or regions, and helping communities, businesses, banks and governments see that it is in their enlightened self-interest to conserve, sustainably manage and properly value our natural wealth," added Seligmann. "We believe that with this bottom-up and top-down approach, we now have the best chance of gaining broad game-changing support for conservation."
Over the course of its 25 years, CI has worked with partners in five continents. It's used three different logos, the most recent of which was introduced in 2010 when the organization refined its mission. It has successfully attracted the dedicated support of diverse, global visionaries in business, science, entertainment and philanthropy, as well as indigenous leaders from Brazil and Philippines, to its board of directors, chairman's council and business & sustainability council. And it has adapted to new challenges.
On the occasion of the anniversary, co-founder Spencer Beebe, who subsequently moved on from CI to found and lead Ecotrust in Portland, Washington sent congratulations to the board, staff and "courageous team of individuals at CI who together put their faith in a more natural model of development, one that emerges bottom up from the very particular and distinctive qualities of people and place".
Conservation International Board Member and Trustee William Wrigley, Jr. said, "CI is a unique organization with an incredible ability to take science and practical thinking and rapidly turn it into demonstrable action that truly has a positive impact on humanity and our environment. The last twenty-five years of CI's accomplishments have been nothing short of extraordinary and the pace of meaningful change facilitated by CI is increasing every year."
Seligmann said, "Twenty-five years ago we took a leap of faith. We jumped out on our own and built something against all odds. We're making the same leap of faith today. The next four decades are going to be a serious challenge as our population soars to more than nine billion in forty years and ten billion by the end of this century. Demand for energy, food and water is going to double in the next four decades and we only have one planet to resource this increasing demand. Conservation is not a luxury anymore. It's a necessity. So we can't slow down. We have to really intensify."
1987-2012—A SELECTION OF CONSERVATION INTERNATIONAL'S KEY ACHIEVEMENTS
Debt for Nature swaps—CI's innovative leadership in debt-for-nature swaps dates back to its founding year, 1987, when it purchased a portion of Bolivia's foreign debt owed to a commercial creditor. In return, the Bolivian government redirected the funds to support protection of 3.7 million acres in and around the Beni Biosphere Reserve. Since then CI and its partners have played a key role in a number of debt-for-nature deals, including:  2004: the U.S. and Colombia reached an agreement on a debt-for-nature swap that resulted in forgiveness of $10 million of Colombia's debt to the U.S. As part of the deal, Colombia agreed to invest at least this amount over 12 years to protect nearly 11 million acres of its tropical forests. Global Conservation Fund (GCF), The Nature Conservancy and World Wildlife Fund contributed $1.4 million toward the deal; 2006: CI played a key role in a 2006 deal between the U.S. and Guatemala that cancelled $24 million of Guatemala's debt to the U.S. and channeled that money into a local fund for conservation grants to be distributed over the next 15 years. CI contributed $1 million to the swap, including $700,000 from the GCF and $300,000 from CEPF. The Nature Conservancy was also a partner in the deal; 2007: An agreement with the U.S. forgave $26 million of Costa Rica's debt in return for a commitment from Costa Rica to redirect that amount toward tropical forest conservation activities in six of the most important natural areas over the next 16 years. Both CI and The Nature Conservancy contributed to the purchase of the debt.
Biodiversity Hotspots—In 1989 Conservation International adopted a seminal concept of biodiversity hotspots, created by British ecologist Norman Myers. Myers' hotspots served as CI's institutional blueprint, and in 1999, CI conducted a global review, which introduced quantitative thresholds for the designation of biodiversity hotspots. The 1999 analysis identified 25 biodiversity hotspots and emerged as the dominant paradigm for global conservation strategy. Hotspots hold especially high numbers of endemic species, yet their combined area of remaining habitat covers only 2.3 percent of the Earth's land surface. Each hotspot faces extreme threats and has already lost at least 70 percent of its original natural vegetation. As of 2011, 35 biodiversity hotspots have been identified.
CI's Rapid Assessment Program (RAP)—Launched in 1990, the idea behind the creation of CI's Rapid Assessment Program was to build a team of the best field biologists from different disciplines, and create a type of ecological SWAT team that could accurately assess the health of an ecosystem in a fraction of the time it would normally take. The flagship program has conducted 80 scientific field surveys in 27 countries, contributing to the creation or improvement of nearly 21 million hectares of protected areas worldwide (~81,000 square miles) and the discovery of 1,300 species new to science. RAP surveys have also contributed a financial investment of more than $5.3 million into local communities and national economies through funding that is primarily spent in-country and they have trained more than 400 students and scientists in developing countries. Notable "RAP Stars" discovered through the years include species that have been nicknamed the "walking shark", the "Yoda bat" and the "ET salamander."
Critical Ecosystem Partnership Fund (CEPF)—A financing mechanism established under the leadership of CI in 2000, CEPF pools global funding resources to build the capacity of civil society organizations to meet local needs in critical conservation hotspots. An impressive collaboration among Conservation International, l'Agence Française de Développement, the Global Environment Facility, the Government of Japan, the John D. and Catherine T. MacArthur Foundation, and the World Bank, CEPF's Secretariat is based at CI's Arlington headquarters. Since its inception, the fund has committed more than $137 million and leveraged an additional $320 million to help more than 1,600 civil society organizations implement diverse projects to safeguard biodiversity hotspots in 53 countries. The result has been strengthened civil society, 12 million hectares of new or expanded protected areas and improved management of an additional 21 million hectares of globally important lands.
CI's Global Conservation Fund (GCF) finances the creation, expansion, and long-term management of protected areas, supporting partners in biodiversity hotspots to help places in peril reverse course. Created in 2001, the GCF launched with a $100-million commitment from the Gordon and Betty Moore Foundation. The fund has done more than any other instrument of its kind to support the creation of new protected areas in the biodiversity hotspots and high-biodiversity wilderness areas, supporting the creation and expansion of more than 79 million hectares of terrestrial and marine protected areas. GCF has given grants to CI's regional programs and more than 40 incredible partners—from The Nature Conservancy to Association FANAMBY in Madagascar to the Royal Society for the Protection of Birds and the Brazilian Biodiversity Fund.
Indigenous and Traditional Peoples' Program—In 2003, CI consolidated its many years of work with indigenous and traditional peoples into the Indigenous and Traditional Peoples Program, a global program that works to strengthen the capacities of Indigenous and traditional peoples and conservationists to work through policy, practice and partnership toward mutual goals. The program is guided by CI's institutional policy, Indigenous Peoples and Conservation International—Principles for Partnership, which focus on transparency, participation, consent, self-determination and cultural identity, traditional knowledge, tenure systems and conflict resolution. Some of CI's most important projects over the past two decades include partnerships with the Kayapó Indians of the Brazilian Amazon, the Trio people of southern Suriname and the Wai-Wai of Guyana. Today, CI works with more than 50 indigenous groups around the world and counts among its board of directors leaders from Brazil's Kayapó and the Philippines' Igorot peoples. This collaborative approach has led to a string of successes—helping the Wai-Wai receive absolute title to their lands, creating a long-term trust fund to support the Kayapó and establishing Ecuador's Socio Bosque program, which pays indigenous communities for reducing carbon emissions by protecting standing forest. In 2011, the work of the ITPP became the foundation for a new Social Policy and Practice Department that focuses on the intersection of conservation and human wellbeing in support of CI's new mission.
Center for Environmental Leadership in Business—For more than 20 years, CI has actively engaged with corporations for the purpose of improving environmental practices and conserving nature. Through its Center for Environmental Leadership in Business, founded in 2000, CI challenges and collaborates with companies to minimize environmental impacts and to harness private sector ingenuity on behalf of healthy ecosystems and human well-being. Engaging with multinational corporations such as Walmart, Starbucks, Marriott, and others, CI helps to ensure that effective safeguards for biodiversity and ecosystem services are incorporated fully into business operations and supply chains.
Seascapes & Pacific Oceanscape—in recent years, CI has focused in supporting the sustainable management of priority marine conservation regions where strategic actions can literally make a world of difference. These critical "Seascapes" in waters off Indonesia, Philippines, Brazil, Costa Rica, Panama, Colombia and Ecuador extend beyond country boundaries, creating opportunities for governments, multinational corporations, and others to work together to conserve the seas and the diverse marine life that is the lifeline for people living near their shores. CI is also supporting the implementation of a bold new framework for ocean management in the globally important Pacific Islands region, where island leaders have come together to create a Pacific Oceanscape, the largest government-endorsed marine managed initiative on Earth at 38.5 million square kilometers (nearly 24 million square miles). This area is collectively larger than the land territories of the U.S., Canada and Mexico combined, and will help vulnerable island populations in the region build resilience in ocean ecosystems so that marine life, and people, have the best chance of adapting to the impacts climate change.
The Tropical Ecology, Assessment and Monitoring (TEAM) Network—Conceived in 2001, this ambitious program monitors long-term trends in biodiversity, ecosystem services and climate using standardized methods of data collection so that scientists anywhere on Earth can quantify how climate change is affecting tropical ecosystems. Akin to an early warning system for nature, TEAM delivers multi-scale, real-time understanding of how key elements of Earth's operating system—climate, carbon stocks, biodiversity—are changing and what this means for people. Created by Conservation International, the TEAM Network is now a partnership of more than 80 organizations in 17 countries throughout Asia, Africa and Latin America, including—CI, the Missouri Botanical Garden, the Smithsonian Institution, and the Wildlife Conservation Society. The TEAM Network's research and systems have directly contributed to the production of 350,000 terrestrial vertebrate images from camera traps; population-level information on more than 300 species for the IUCN Species Survival Commission; data to calibrate remote sensing measurements of forest carbon at large spatial scales by Scientists at the NASA Jet Propulsion Laboratory; and a network of World Meteorological Organization compliant climate stations in natural areas where there may not be any other climate stations for hundreds of miles.
For more information, click here.
EcoWatch Daily Newsletter