This website uses cookies to ensure you get the best experience while browsing it. By clicking 'Got It' you're accepting these terms.
Conservation Groups to Sue Over Wind Turbine Project in Key Bird Migration Corridor
Jan. 09, 2014 09:30AM EST
Business
The Ohio National Guard facility at Camp Perry, near Port Clinton in northern Ohio, is the focus of possible legal action by American Bird Conservancy (ABC), a leading national bird conservation organization, and Ohio's Black Swamp Bird Observatory (BSBO), which yesterday announced the intention to sue the Ohio National Guard in connection with violations of the federal Endangered Species Act and other federal laws concerning the planned installation of a wind turbine on the shores of Lake Erie.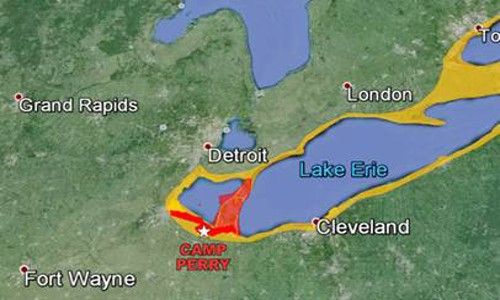 The two groups announced their intention to sue via a letter sent by the Washington, D.C.-based public interest law firm of Meyer Glitzenstein & Crystal (MGC), stating that the environmental review process was unlawfully circumvented, and that the development is taking place in violation of the Endangered Species Act, the Migratory Bird Treaty Act, the Bald and Golden Eagle Protection Act and the National Environmental Policy Act.
 
"The proposed development of wind power at Camp Perry ignores the many concerns expressed by wildlife professionals in the U.S. Fish and Wildlife Service (FWS) and the Ohio Department of Natural Resources (ODNR)," said Dr. Michael Hutchins, national coordinator of ABC's Bird Smart Wind Energy Campaign. "If completed, this turbine would sit in the middle of a major bird migration corridor directly adjacent to a national wildlife refuge. The FWS has concluded it is likely to kill threatened and endangered bird species such as the Piping Plover and Kirtland's Warbler, as well as other federally protected birds. We are asking the developer to immediately halt construction and take the steps mandated by federal law to prevent the illegal killing of protected species."
 
ABC and BSBO consider the placement of the Camp Perry facility to present an extremely high risk to migrating songbirds, especially the federally endangered Kirtland's Warbler. This imperiled species was nearly extinct less than 40 years ago and, while rebounding due to costly and intensive management efforts, still numbers only in the low thousands. Additional birds at risk include other migrating songbirds, raptors, Bald Eagles and waterfowl.
 
According to Mark Shieldcastle, BSBO research director: "Long-term research indicates that some of the largest concentrations of migratory birds in North America occur in the Lake Erie coastal region, including Camp Perry. These species, along with one of the highest concentrations of nesting Bald Eagles in the lower 48 states, use the habitat precisely in the risk zone of turbines such as the one proposed. Long-term monitoring of the active eagle nest at the facility indicates extensive use of the area of the turbine by eagles." Shieldcastle bases his statement on more than three decades of migratory bird research in the area, including as project leader for both wetland wildlife research and Bald Eagle recovery programs for the Ohio Division of Wildlife.
"The developers have misled the public about these federal and state concerns," said Kimberly Kaufman, director of the BSBO. "This project is the vanguard of a major planned build-out of wind power in what is one of the nation's greatest songbird migration bottlenecks and a key site for birding and bird tourism. It potentially sets a horrific precedent."
 
ABC has created a Wind Development Bird Risk Map that shows the Lake Erie shoreline in Ohio is among the worst possible locations for a wind power project. The configuration of water and land serves to "funnel" large numbers of protected migratory birds through a small area; the birds aim to avoid a long lake crossing by hugging the shoreline or following the shortest cross-water route to the Pelee Peninsula to the north. This is also major stopover habitat, where migrating birds are not merely flying over, but landing and taking off—often during poor weather conditions.
 
According to Kenn Kaufman, internationally acclaimed author of bird field guides and a local resident, "This funneling effect and stopover behavior can be predicted to put migrating birds precisely in the vicinity of the Camp Perry turbine and other wind energy sites proposed for the area."
 
Those concerns have been echoed by FWS, which in a letter to Camp Perry cautioned that there is a high probability of bird mortality caused by turbine strikes from the project and called for a formal Endangered Species Act consultation. That request was ignored by Camp Perry officials. Further, the ODNR cited 23 significant areas of deficiency in the original Environmental Assessment. ODNR also specifically raised concerns about impacts to Kirtland's Warbler and eagles.
 
"Unfortunately, the problems with this project suggest that the current voluntary federal guidelines aimed at minimizing impacts to migratory birds are flawed. If we cannot even trust the government's own agencies to follow them, then it is time for a change to a mandatory permitting system," noted Dr. Hutchins.
 
Also of concern to local residents and the birding community is the fact that the area hosts one of the largest birding events in the U.S., helping to attract tens of thousands of people annually and injecting $37 million into the local economy.
Visit EcoWatch's RENEWABLES page for more related news on this topic.

EcoWatch Daily Newsletter
Artist's conception of solar islands in the open ocean. PNAS
Millions of solar panels clustered together to form an island could convert carbon dioxide in seawater into methanol, which can fuel airplanes and trucks, according to new research from Norway and Switzerland and published in the Proceedings of the National Academy of Sciences journal, PNAS, as NBC News reported. The floating islands could drastically reduce greenhouse gas emissions and dependence on fossil fuels.
Marcos Alves / Moment Open / Getty Images
More than 40 percent of insects could go extinct globally in the next few decades. So why did the U.S. Environmental Protection Agency (EPA) last week OK the 'emergency' use of the bee-killing pesticide sulfoxaflor on 13.9 million acres?
EcoWatch teamed up with Center for Biological Diversity via EcoWatch Live on Facebook to find out why. Environmental Health Director and Senior Attorney Lori Ann Burd explained how there is a loophole in the The Federal Insecticide, Fungicide, and Rodenticide Act under section 18, "that allows for entities and states to request emergency exemptions to spraying pesticides where they otherwise wouldn't be allowed to spray."
Simple swaps that cut down on kitchen trash.
Sponsored
By Kayla Robbins
Along with the bathroom, the kitchen is one of the most daunting areas to try and make zero waste.
View of downtown Miami, Florida from Hobie Island on Feb. 2, 2019.
Michael Muraz / Flickr
The Democratic candidates for president descended upon Miami for a two-night debate on Wednesday and Thursday. Any candidate hoping to carry the state will have to make the climate crisis central to their campaign, as The New York Times reported.
By Sharon Kelly
On Monday, the Wall Street Journal featured a profile of Scott Sheffield, CEO of Pioneer Natural Resources, whose company is known among investors for its emphasis on drawing oil and gas from the Permian basin in Texas using horizontal drilling and hydraulic fracturing, or fracking.
Pexels
By Craig K. Chandler
The federal government has available to it, should it choose to use them, a wide range of potential climate change management tools, going well beyond the traditional pollution control regulatory options. And, in some cases (not all), without new legislative authorization.
Denis Poroy / Getty Images
By Dan Gray
Processed foods, in their many delicious forms, are an American favorite.
But new research shows that despite increasing evidence on just how unhealthy processed foods are, Americans have continued to eat the products at the same rate.
By Sarah Steffen
With a profound understanding of their environmental surroundings, indigenous communities around the world are often cited as being pivotal to tackling climate change.