This website uses cookies to ensure you get the best experience while browsing it. By clicking 'Got It' you're accepting these terms.
Conservation Groups Take Action against EPA's Inability to Combat Acid Rain
Jun. 04, 2012 12:30PM EST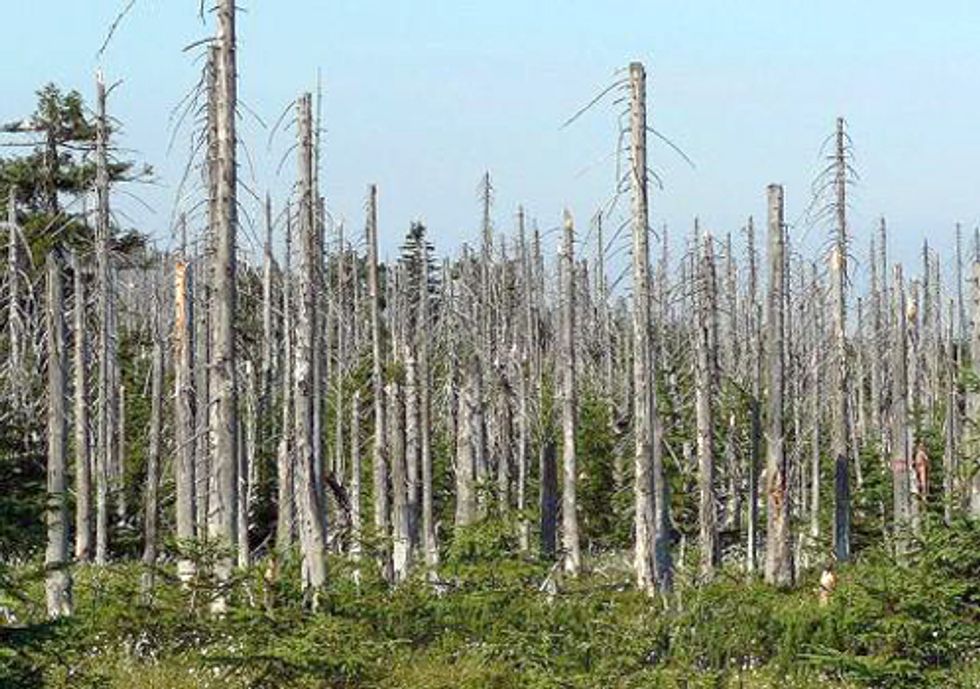 Three conservation organizations filed a legal challenge to the U.S. Environmental Protection Agency's (EPA) failure to update air-quality standards the agency itself admits are inadequate to protect the nation's parks, forests, rivers and lakes from acid rain. The petition for review was filed in the federal court of appeals for the District of Columbia Circuit by the Clean Air Council, Center for Biological Diversity and National Parks Conservation Association, represented by Earthjustice.
"Acid rain isn't a thing of the past, but an ongoing and very real threat to forest ecosystems and wild fisheries across the country," said Kevin Bundy, a senior attorney with the Center for Biological Diversity. "EPA is ignoring the hard work of its own scientific experts and instead relying on outdated air-quality standards that it knows are not protective enough."
"Instead of following the law and doing what is necessary to protect our natural resources, EPA has chosen to sit on the sidelines. Meanwhile, acid rain continues to poison our waters and threaten our forests," said Joe Minott of the Clean Air Council.
"Our national parks are unique and fragile places that were set aside to preserve the natural heritage of our nation," said Mark Wenzler, vice president for Clean Air and Climate Programs at the National Parks Conservation Association. "The EPA's failure to protect national parks from acid rain risks leaving wildlife and ecosystems permanently impaired."
"EPA's scientists identified the problem and provided a formula for action, but EPA dropped the ball," said Charles McPhedran, attorney with Earthjustice, which is representing the three groups. "EPA's inaction hurts our streams, and will not stand."
Power plants and other industrial operations pump pollution, including sulfur and nitrogen compounds, into the air. When this pollution later falls onto forests, rivers and lakes, it has an acidifying effect, hence the term "acid rain." Acidic waters harm fish and other aquatic organisms. In the Adirondack Mountains, for example, lakes with more acidic water support only half the species of fish that might otherwise live there. Reduced growth rates in trout and salmon also have been attributed to acid stress.
Acid rain threatens entire forest ecosystems, national parks and wilderness areas. Although places across the country are at risk from this pollution, the eastern U.S.—including the Adirondacks, the Green and White mountains, and the Appalachians—and the upper Midwest are among the most sensitive areas.
Today's action has a long history. The Clean Air Act requires the EPA to set so-called "secondary" air-quality standards limiting ambient concentrations of air pollutants that affect "public welfare," which includes ecosystems and natural resources. The Center and other groups sued the agency in 2005 over its failure to review the secondary standard for acid rain-causing sulfur and nitrogen compounds—a standard first established in 1971 and not strengthened since. That litigation led to the EPA's current review of the standard, in which the agency admitted that existing standards are inadequate to protect sensitive ecosystems and fish species from the effects of acid rain. Yet the EPA chose to leave these inadequate standards in place, rejecting efforts by the agency's own scientific experts to devise a new, more protective standard.
Visit EcoWatch's AIR page for more related news on this topic.
EcoWatch Daily Newsletter
The Ernest N. Morial Convention Center in New Orleans, Louisiana has been converted to a 1,000-bed field hospital for coronavirus patients to alleviate stress on local hospitals. Chris Graythen / Getty Images
An area in Louisiana whose predominantly black and brown residents are hard-hit by health problems from industry overdevelopment is experiencing one of the highest death rates from coronavirus of any county in the United States.
A woman lies in bed with the flu. marka/Universal Images Group via Getty Images
A central player in the fight against the novel coronavirus is our immune system. It protects us against the invader and can even be helpful for its therapy. But sometimes it can turn against us.
Several flower species, including the orchid, can recover quickly from severe injury, scientists have found. cunfek / iStock / Getty Images Plus
Calling someone a delicate flower may not sting like it used to, according to new research. Scientists have found that many delicate flowers are actually remarkably hearty and able to bounce back from severe injury.
A Boeing 727 flies over approach lights with a trail of black-smoke from the engines on April 9, 2018. aviation-images.com / Universal Images Group via Getty Images
With global air travel at a near standstill, the airline industry is looking to rewrite the rules it agreed to tackle global emissions. The Guardian reports that the airline is billing it as a matter of survival, while environmental activists are accusing the industry of trying to dodge their obligations.
A National Guard member works on election day at a polling location on April 7, 2020 in Madison, Wisconsin. Andy Manis / Getty Images.
ByJulia Baumel
The outbreak of COVID-19 across the U.S. has touched every facet of our society, and our democracy has been no exception.