This website uses cookies to ensure you get the best experience while browsing it. By clicking 'Got It' you're accepting these terms.
Conoco Drilling Threatens Water Source for Half Million in Peru
May. 09, 2012 07:40AM EST
Energy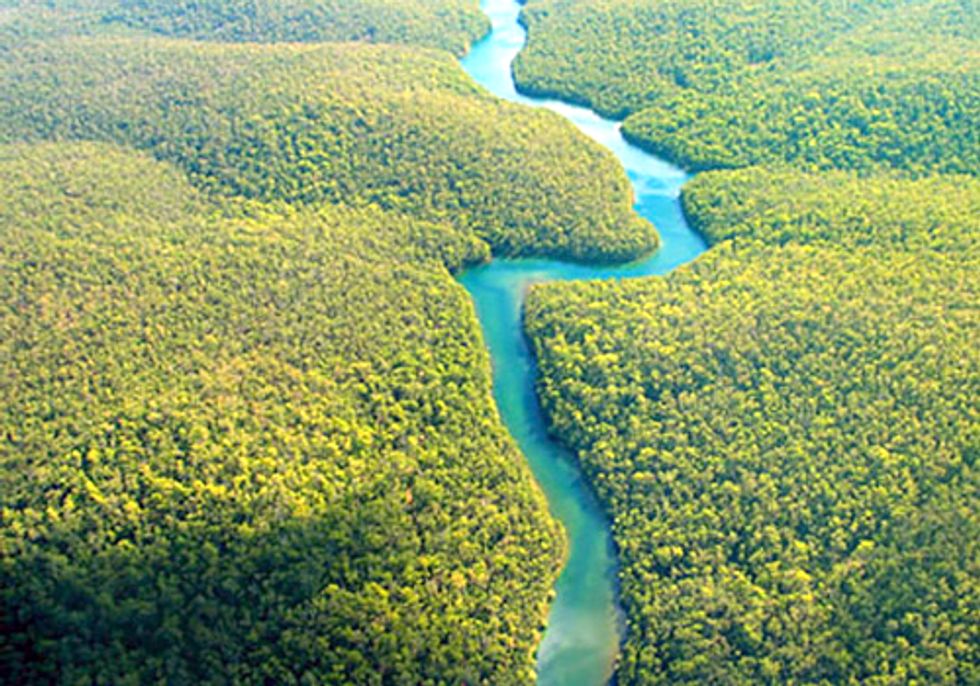 Grassroots opposition is mounting as ConocoPhillips' plans to drill for oil within the fresh-water source for Peru's largest rainforest city, Amazon Watch said today on the occasion of the company's annual shareholder meeting in Houston, Texas. Conoco is currently advancing plans to drill exploratory oil wells in Blocks 129 and 123, found within one of the most ecologically sensitive regions in the world.
According to a May 2012 map produced by PROCREL, the Loreto regional environmental authority, ConocoPhillips is planning a total of 16 oil platforms and 48 wells between Block 129 and the adjacent Block 123. Thirteen of these platforms are found within the Upper Nanay-Pintuyacu-Chambira Regional Conservation Area.
"Conoco's shareholders need to understand that the company's plans in northern Peru are being met with increasing popular opposition across the region," said Robert Collier, corporate campaigns director at Amazon Watch. "The reputational risks for Conoco grow by the day."
"The oil company's installation and Block 129 in the Nanay watershed has alarmed us because we all know the consequences of oil extraction in other Amazonian watershed," said José Manuyana, president of the social organization Colectivo Amazonía in today's local paper La Región. "We know the devastating results and are worried this will happen in the Nanay headwaters which provide drinking water to all of Iquitos' 500,000 citizens."
In March of this year, citizens of Peru's Loreto region organized themselves into the Iquitos Water Defense Committee, specifically in response to Conoco's plans. Today the committee demanded that the regional government hold a public hearing to explain why they are allowing ConocoPhillips to advance with the exploration. They have also asked that information about Conoco's plans be made public and that the Regional Government respect prior decisions to exclude mining activities from ecologically sensitive areas.
According to the Iquitos Declaration, issued by the Iquitos Water Defense Committee on April 24 of this year: "The situation is currently getting worse. ConocoPhillips has an oil concession in the headwaters of the Nanay River, even though the first article of the Regional Order No. 020-2009-GRL-CR of October 15th 2009 declared of regional public interest the conservation and protection of the headwaters of watersheds found in the Loreto Region. For us, this river is the primary source of water supply for the city and source of other resources like fish, bush meat, and wood for our house construction."
International scientific experts are also expressing concern about the probable impacts of oil activities on this ecologically sensitive area. According to Bob Stallard, a bio geochemist who has sampled and analyzed waters from throughout the Amazon and Orinoco river basins since 1976, "Great cities try to protect their water supplies, and Iquitos has one of the best. Based on hundreds of published analyses of dissolved salts in rivers, the Nanay is among the purest rivers in Amazonia. Spills of formation waters and wastes associated with drilling could damage the Nanay as a drinking-water supply."
The Iquitos Declaration cites information that seismic testing has carved 778 kilometers of lines through the jungle, clearing more than 180 hectares of forest cover and detonating more than 15,500 seismic explosives. The statement continues, "now they are trying to get the approval to drill 18 exploratory wells that would function from six platforms within Block 129."
"Biodiversity in the Nanay basin is spectacular. In three weeks we recorded more than 1,800 species of plants and animals. Because the Nanay River begins in the Peruvian lowlands—not in the Colombian or Ecuadorian Andes like many other rivers in Loreto—it created a singular opportunity to conserve almost the entire watershed," said Corine Vriesendorp, Ph.D., director of the Andes-Amazon Program at The Field Museum in Chicago. "Clean water and robust fisheries were the rallying cries for creating the regional conservation area. Now oil activities threaten to negatively impact both water quality and fish stocks, critical for forest dwellers in the Nanay basin and urban residents in Iquitos."
For more information, click here.
EcoWatch Daily Newsletter
One of the 25 new Long Beach Transit hybrid gasoline-electric buses on April 23, 2009. Jeff Gritchen / Digital First Media / Orange County Register / Getty Images
In Long Beach, California, some electric buses can charge along their route without cords or wires.
When a bus reaches the Pine Avenue station, it parks over a special charging pad. While passengers get on and off, the charger transfers energy to a receiver on the bottom of the bus.
Semi trucks travel along I94 on June 21 near Lake forest, Illinois. Scott Olson / Getty Images
The Trump administration pushed through an exemption to clean air rules, effectively freeing heavy polluting, super-cargo trucks from following clean air rules. It rushed the rule without conducting a federally mandated study on how it would impact public health, especially children, said the Environmental Protection Agency (EPA) Inspector General Charles J. Sheehan in a report released yesterday, as the AP reported.

A time-restricted eating plan provides a new way to fight obesity and metabolic diseases that affect millions of people worldwide. RossHelen / iStock / Getty Images Plus
By Satchin Panda and Pam Taub
People with obesity, high blood sugar, high blood pressure or high cholesterol are often advised to eat less and move more, but our new research suggests there is now another simple tool to fight off these diseases: restricting your eating time to a daily 10-hour window.
Kunhui Chih / iStock / Getty Images Plus
A man and his dog walk past an H&M store in Stockholm, Sweden on March 11, 2014. Melanie Stetson Freeman / The Christian Science Monitor via Getty Images
By Ashutosh Pandey
H&M's flagship store at the Sergels Torg square in Stockholm is back in business after a months-long refurbishment. But it's not exactly business as usual here.