Congressman Upton's New Energy Plan a Framework for 'Climate Suicide'
Feb. 10, 2015 10:02AM EST
Climate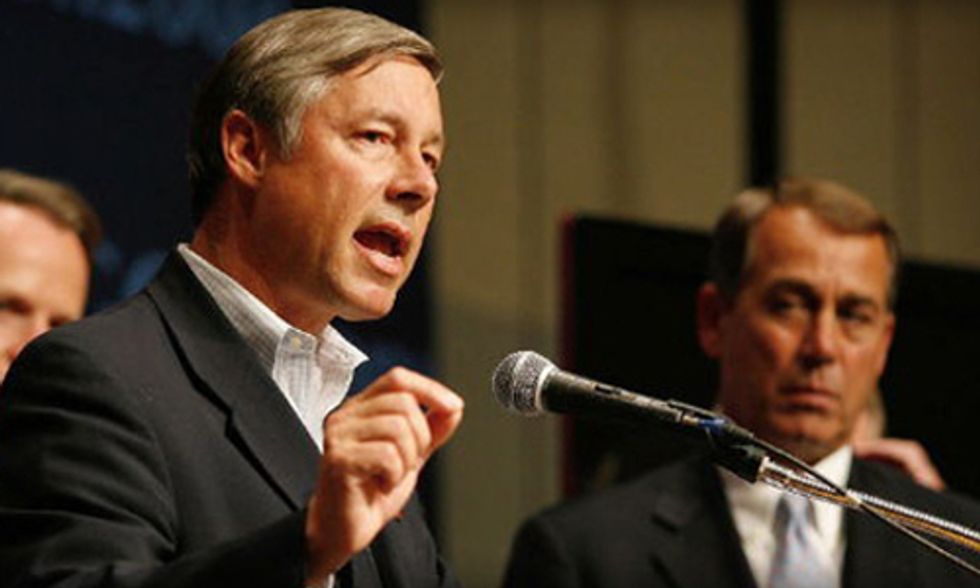 When Congressman Fred Upton (R-MI), chairman of the House Committee on Energy and Commerce, introduces a "legislative framework" for energy with the Orwellian name of The Architecture of Abundance, you should probably perk up your ears and pay attention. That's Fred Upton, as in climate denier Fred Upton, who as recently as 2009 actually supported the reduction of greenhouse gas emissions.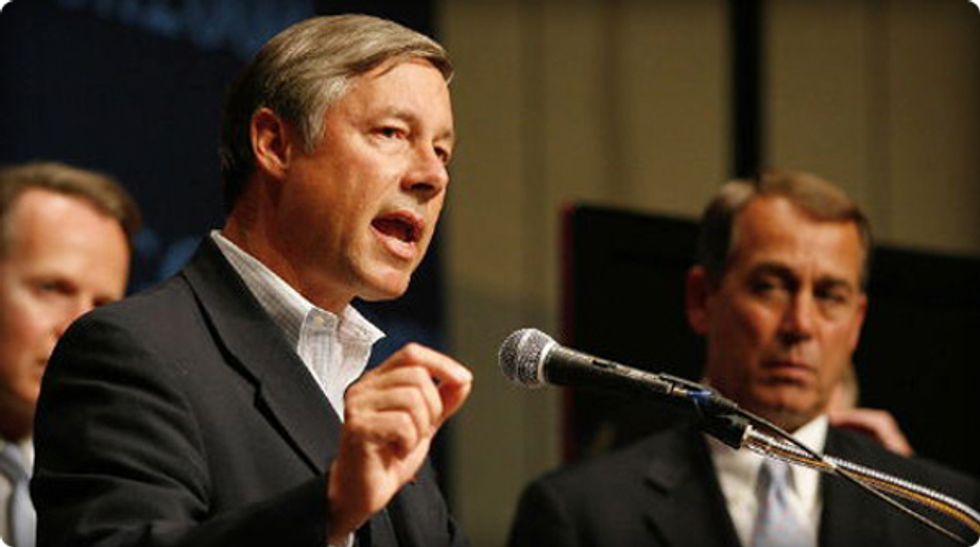 But apparently the big campaign contributions he has received from fossil fuel tycoons Charlie and David Koch started whispering sweet nothings in Upton's ear and changed his mind. In December 2010, he co-authored a Wall Street Journal editorial with Tim Phillips, president of the Koch-funded Americans for Prosperity, in which he called the U.S. Environmental Protection Agency's (EPA) regulation of greenhouse gases a "move [that] represents an unconstitutional power grab that will kill millions of jobs."
"The best solution is for Congress to overturn the EPA's proposed greenhouse gas regulations outright," they asserted. "Cuts in carbon emissions would mean significantly higher electricity prices. We think the American consumer would prefer not to be skinned by Obama's EPA."
In February 2011, he stated in an interview with National Journal Live that he did not believe global warming was manmade. So the contents of The Architect of Abundance shouldn't come as a big surprise, and will likely elicit as little enthusiasm from environmental advocates as they did when he posted the announcement on his Facebook page.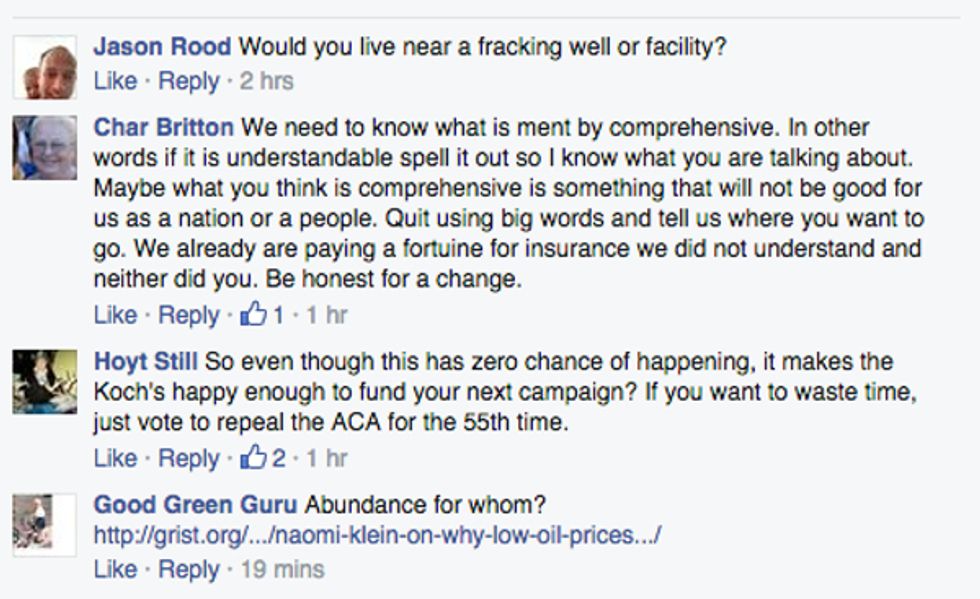 Upton and Energy and Power Subcommittee chairman Ed Whitfield of Kentucky said in releasing the plan yesterday, "Our energy realities have changed dramatically—we've gone from bust to boom practically overnight. Today's energy policies are lagging far behind, and are better suited for the gas lines in the 1970s than this new era of abundance. We need policies that meet today's needs and are focused on the future, and that starts with building the Architecture of Abundance."
In Upton's plan, that "architecture" should focus on making delivery easier and more profitable for the oil and gas sectors.
The plan's opening section, "Modernizing Infrastructure," says, "America faces different energy challenges today than it did a decade ago. Chief among them is a shortage of modern energy infrastructure to carry abundant new supplies of oil and gas to consumers. These challenges threaten energy reliability and affordability. For example, delays and red tape in the permitting process prevent America from constructing the safest, most reliable, and oftentimes more environmentally sound routes of energy delivery."
Friends of the Earth climate and energy campaigner Lukas Ross responded, "What Chairman Upton calls a framework for 'energy abundance' is actually a framework for climate suicide. Science tells us that solving the climate crisis means leaving fossil fuels in the ground and stopping dirty fuel infrastructure in its tracks. By doubling down on more infrastructure, Upton's framework amounts to an official policy of climate denial. After pushing a bill to approve one dirty, unsafe pipeline, Chairman Upton is now continuing down Big Oil's wish list with a plan to grease the approval process for unsafe infrastructure investments."
The framework's second section "21st Century Energy Workforce" is a handful of generalities about jobs and education. Part III, "Energy Diplomacy in a Changing World," advocates making the U.S. less dependent on OPEC and "improv [ing] coordination and strengthen [ing] energy partnerships with our North American neighbors and to establish a process to evaluate how energy permitting decisions impact international energy security." In other words, approve the Keystone XL pipeline.
Finally, in section IV, "Efficiency and Accountability," Upton again devolves into vagueness, advocating for more efficiency and "reducing government waste." He concludes with yet another attack on his favorite punching bag, the EPA, saying "The committee will also address regulatory overreach of the Environmental Protection Agency, including its power plant rules under Section 111 of the Clear Air Act and recent ozone proposal. And the committee will continue to monitor EPA's methane efforts and its management of the Renewable Fuel Standard as well as the administration's overall Climate Action Plan and climate spending and activities."
By the way, Upton's Energy Committee co-chair is Marsha Blackburn of Tennessee, whose own Koch Brothers-fueled climate denial was dismantled by Bill Nye The Science Guy in a video last year.
YOU MIGHT ALSO LIKE
Climate Denial Machine Fueled By Big Oil and Koch Brothers Impacts Congressional Races
ALEC Gives Congressional Climate Deniers Their 2015 Marching Orders
Senator Bernie Sanders Asks: Does Congress Believe Climate Change Is Real?
EcoWatch Daily Newsletter