This website uses cookies to ensure you get the best experience while browsing it. By clicking 'Got It' you're accepting these terms.
Congressman Issa Accuses EPA of Conspiring With Environmentalists
Oct. 14, 2014 04:46PM EST
Climate
First it was the Internal Revenue Service supposedly selectively targeting conservative groups for audits, only it didn't. Then it was Benghazi, and good luck figuring what that was about.
Now self-styled congressional watchdog Darrell Issa (R-CA), chairman of the House Committee on Oversight and Government Reform, along with Louisiana Senator David Vitter, the ranking Republican on the Senate Environment and Public Works Committee, has unearthed a baffling new "scandal" to bludgeon the Obama administration with. It seems that the U.S. Environmental Protection Administration (EPA) communicated extensively with the Natural Resources Defense Council (NRDC) while coming up with its new carbon rule to address climate change, announced this past June.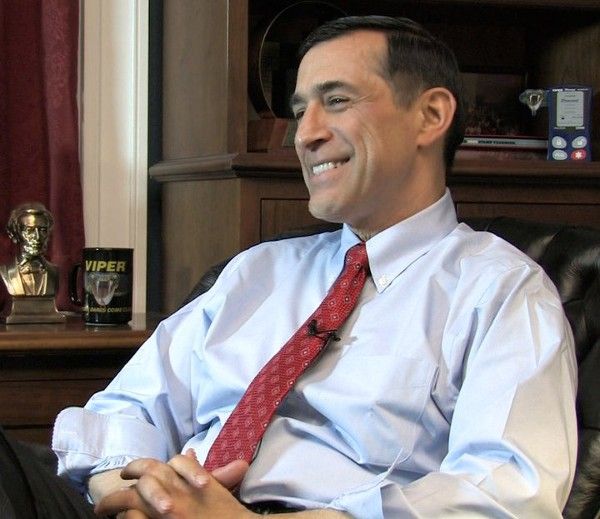 I know. Pick yourself up off the floor.
"Congressional Republicans are investigating whether the Obama administration improperly colluded with a prominent environmental advocacy group, the Natural Resources Defense Council, as the Environmental Protection Agency drafted major climate change regulations," reports the New York Times. The investigation ... comes as Republicans continue a long-running effort to block President Obama's climate change agenda."
The new regulations, now in public comments period, would require power plants to curb climate change-driving carbon emissions and force the closing of coal-fired plants or as Issa and his colleagues call it, the "War on Coal."
"The EPA appears to have a far cozier relationship with NRDC lobbyists on carbon emission rule-making than with any other stakeholders," Mr. Issa alleged in a statement. "The NRDC's influence on draft EPA regulations raises substantial concerns about blurred lines and inappropriate influence."
One of the primary pieces of evidence Issa and Vitter are waving around, according to the New York Times, is a friendly email exchange between EPA administrator Gina McCarthy and NRDC lawyer David Doniger, in which Doniger thanked McCarthy for the announcement of the resolution in December 2010 of court-ordered deadline on limiting greenhouse gas emissions from future power plants for which the NRDC had been advocating. Doniger wrote, "Thank you for today's announcement. I know how hard you and your team are working to move us forward and keep us on the rails. This announcement is a major achievement. We'll be with you at every step in the year ahead." McCarthy wrote back, "Thanks David. I really appreciate your support and patience. Enjoy the holiday. The success is yours as much as mine."
"Who is working for whom?" said an enraged Vitter. "The key example in all of this is the settlement agreement on greenhouse gases when the NRDC sued the EPA, the EPA settled and the two celebrate the agreement. It doesn't get any more blatantly obvious than that."
Issa and Vitter said they were set off by an earlier article in the New York Times that ran in July. It revealed how the NRDC provided a blueprint for the eventual carbon rule and lobbied for its adoption, and pointed out the similarities between the NRDC proposal and the final rule.
"Despite the full breadth and depth of the unprecedented outreach EPA engaged in to formulate and develop the Clean Power Plan proposal, some continue to push a flawed, cherry-picked narrative that simply ignores the well-documented and widely reported and recognized sweep and range of the Agency's engagement with the public, states and stakeholders over the past 14 months," responded EPA spokesman Tom Reynolds in a statement posted at the EPA website.
The EPA solicited input from other environmental groups, community groups, power companies, the coal industry, labor unions, native tribes and state—more than 300 stakeholders, according to a statement on the EPA website. It is continuing to hold public and private meetings and has received more than a million public comments to date. John McManus, vice president of American Electric Power, told the New York Times, "If we ask for a call or a meeting, they're receptive. They do want to hear what industry thinks of this, what states think. EPA got input from a lot of groups."
"This process yielded several crucial components the EPA adopted in developing the proposed rule because it helped focus our attention on what was going on—on the ground—in states and communities across the country, and it generated public discussion and ideas from numerous groups and individuals that helped inform our thinking," Reynolds' statement said. "The fact is, EPA's extraordinary outreach to business and industry, Main Street and Wall Street, elected officials, NGOs and others, coupled with the tireless work of dedicated agency staff, is what led to this pragmatic, thoughtful and important proposal—one that will cut harmful carbon pollution and lay the foundation for a clean energy future and a stronger economy for our country."
Issa and Vitter have a long history of trying to dig up something to use against the EPA to curb its power, for instance, claiming in August that the agency had pushed through regulations that "cost American jobs" using "sloppy analysis."
And Rachel Maddow Show reporter Steve Benen noted, "In 2005, the Bush/Cheney White House turned over reports on global warming to a former lobbyist for the American Petroleum Institute, the largest trade group representing the interests of the oil industry, encouraging the former lobbyist to edit the official materials to his heart's content. Other stakeholders in the climate debate were offered no similar opportunities. Issa and Vitter didn't seem at all concerned about this at the time."
YOU MIGHT ALSO LIKE
Obama and EPA Release Historic Carbon Reduction Plan to Fight Climate Change
Answering 3 Questions About Obama's Upcoming Carbon Emissions Rules
Robert F. Kennedy Jr. Praises Obama's Carbon Rules, Blasts Koch Brothers on 'The Ed Show'
EcoWatch Daily Newsletter
Tuna auctions are a tourist spectacle in Tokyo. Outside the city's most famous fish market, long queues of visitors hoping for a glimpse of the action begin to form at 5 a.m. The attraction is so popular that last October the Tsukiji fish market, in operation since 1935, moved out from the city center to the district of Toyosu to cope with the crowds.

gmnicholas / E+ / Getty Images
Kristan Porter grew up in a fishing family in the fishing community of Cutler, Maine, where he says all roads lead to one career path: fishing. (Porter's father was the family's lone exception. He suffered from terrible seasickness, and so became a carpenter.) The 49-year-old, who has been working on boats since he was a kid and fishing on his own since 1991, says that the recent warming of Maine's cool coastal waters has yielded unprecedented lobster landings.
Aerial view of lava flows from the eruption of volcano Kilauea on Hawaii, May 2018. Frizi / iStock / Getty Images
Hawaii's Kilauea volcano could be gearing up for an eruption after a pond of water was discovered inside its summit crater for the first time in recorded history, according to the AP.
The Eqip Sermia Glacier is seen behind a moraine left exposed by the glacier's retreat during unseasonably warm weather on Aug. 1 at Eqip Sermia, Greenland. Sean Gallup / Getty Images
hadynyah / E+ / Getty Images
By Johnny Wood
The Ganges is a lifeline for the people of India, spiritually and economically. On its journey from the Himalayas to the Bay of Bengal, it supports fishermen, farmers and an abundance of wildlife.
The river and its tributaries touch the lives of roughly 500 million people. But having flowed for millennia, today it is reaching its capacity for human and industrial waste, while simultaneously being drained for agriculture and municipal use.
Here are some of the challenges the river faces.
By Jake Johnson
As a growing number of states move to pass laws that would criminalize pipeline protests and hit demonstrators with years in prison, an audio recording obtained by The Intercept showed a representative of a powerful oil and gas lobbying group bragging about the industry's success in crafting anti-protest legislation behind closed doors.
Reposted with permission from our media associate Common Dreams.

DESIREE MARTIN / AFP / Getty Images
Wildfires raging on Gran Canaria, the second most populous of Spain's Canary Islands, have forced around 9,000 people to evacuate.