Congress to EPA: Investigate and Address Water Contamination From Fracking
For the first time, members of Congress today called upon U.S. Environmental Protection Agency (EPA) Administrator Gina McCarthy to "investigate and address the water contamination" in Dimock, PA, in Parker County, TX, and in Pavillion, WY. In all three communities, the EPA has previously withdrawn investigations into water contamination and stopped providing affected residents with clean drinking water. Eight Representatives, led by Rep. Matt Cartwright (PA-17), made the request in a letter to Administrator McCarthy.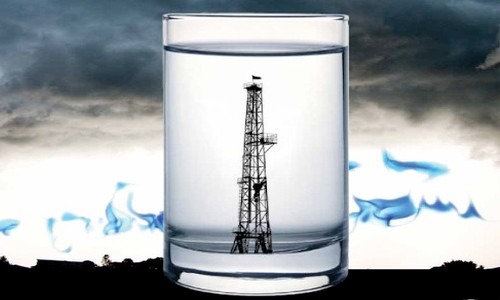 Responding to community requests in prior years, the EPA investigated alleged drilling and fracking-related oil and gas pollution of drinking water supplies in each of the three communities. In each case, the EPA's preliminary results indicated oil and gas development was the cause of the drinking water pollution. In each case, the EPA withdrew before finalizing the results of the investigations.
"Dimock, PA, Pavillion, WY, and Parker County, TX were grateful when the EPA stepped in to help deal with their water contamination issues, and disheartened when the EPA stopped their investigations, leaving them with polluted water and little explanation," wrote the Representatives to Administrator McCarthy. They continued, "We are writing to urge you to take any and all steps within your power to help these communities."
Emerging data shows that the EPA was misguided in closing its investigations. In the case of Parker County, TX, for instance, independent water testing from Duke University reveals that residents' drinking water was still contaminated when the EPA determined it was safe due to relying on faulty gas industry testing. 
The EPA's investigations into fracking-related threats to drinking water are especially important as the Obama Administration advocates for increased natural gas exports as a counterweight to Russia's influence in Eastern Europe. Because more than 90 percent of all gas wells are fracked, increased exports mean increased fracking.
"Europeans aren't fracking their own countries' shale gas because they are worried about its environmental and health impacts," said Ray Kemble, an affected resident of Dimock, Pennsylvania. He continued, "They're right to worry. I haven't had clean water for four years, and its due to oil and gas drilling."
President Obama's argument for increased unconventional oil and gas production has changed as times have changed.
"President Obama's arguments for fracking change with the wind," said Kemble. He continued, "Need a bridge fuel to a clean energy future? Fracking! Want energy independence? Fracking! Weaken Putin? Fracking! All the while his administration avoids clear evidence that fracking-related oil and gas development is poisoning Americans. Hopefully this letter will shake some sense into them."
The eight members of Congress who signed the letter are:
Matt Cartwright (PA-17)
Alan Lowenthal (CA-47)
Jared Huffman (CA-02)
Raul Grijalva (AZ-03)
Keith Ellison (MN-05)
David Scott (GA-13)
Mark Pocan (WI-02)
Rush Holt (NJ-12)
--------
YOU ALSO MIGHT LIKE
Feds Greenlight LNG Exports From Controversial Jordan Cove Project in Oregon
How Fracking Destroys the American Dream
Breaking: Los Angeles Passes Fracking Moratorium 
--------
A coalition of conservation groups and others announced Thursday that a historic number of comments and petitions of support have been submitted to the U.S. Department of the Interior in support of Bears Ears National Monument. Despite the entirely inadequate 15-day comment period ending on May 26, more than 685,000 comments in support of Bears Ears National Monument have been collected.
Keep reading...
Show less
Rink Glacier in western Greenland, with a meltwater lake visible center. NASA/OIB
Scientists have had their eyes on Greenland as its iconic glaciers have begun disappearing due to a warming climate. But, what they didn't expect to see was a whole new type of melting.
Keep reading...
Show less
Mountain View Fire
By Lena Moffitt
An oil tanker in Mead, Colorado exploded, killing one and injuring three on Thursday. Authorities are continuing to investigate the cause of the explosion.
Keep reading...
Show less
Banner created by Alliance for Climate Education
Keep reading...
Show less
Twenty-two GOP senators sent a letter Thursday urging Donald Trump to pull out of the Paris agreement. They argued remaining in the deal could "upend" the administration's ability "to fulfill its goal of rescinding the Clean Power Plan."
Keep reading...
Show less
By Cheryl Johncox
The Federal Energy Regulatory Commission (FERC) rejected on Thursday Energy Transfer Partners' request to resume horizontal directional drilling at two sites for its Rover fracked gas pipeline. This rejection comes after numerous leaks into Ohio's wetlands, and Clean Air and Clean Water act violations. FERC has halted the process at only eight locations of the 32 where drilling is taking place under Ohio's wetlands and streams.
Keep reading...
Show less
By Nadia Prupis
A majority of people in eight countries say they are ready to change their lifestyles if it would prevent climate catastrophe, a survey on global threats released Wednesday found.
Keep reading...
Show less
May. 25, 2017 01:55PM EST
Bill Maher is sick of billionaires' obsession with Mars, more like "Mars-a-Lago," he said.
In a new animation produced by ATTN:, the popular talk show host of Real Time, discusses the perils of our planet, including how "climate change is killing us."
Keep reading...
Show less