Congress, Listen to the People, Not the Polluters
As I write this, corporate interests are holding our democracy hostage. Voter suppression—targeting communities of color, students and low-income Americans—is running rampant, fossil fuel money is warping our electoral process and now, leaders in Congress are even blocking the fair consideration of a Supreme Court nominee.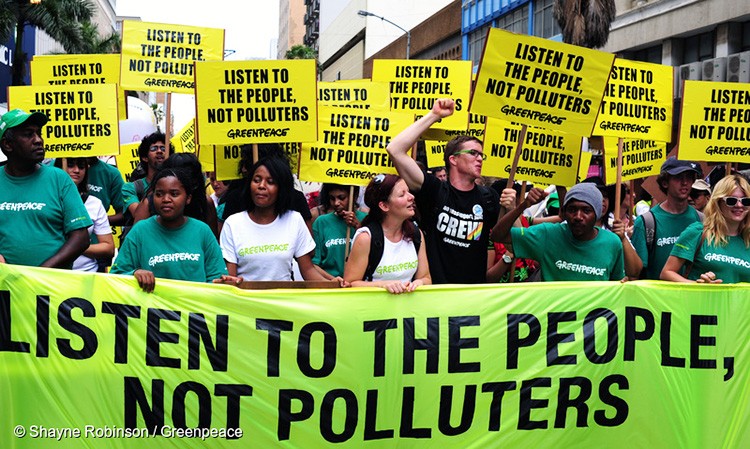 Democracy is one of the best tools we have to protect the environment, but our system has been polluted by big money. We deserve a democracy that represents all of us, not just a wealthy few. A democracy that allows us to take swift action on today's most urgent issues, like stopping runaway climate change and preventing environmental health disasters like the Flint water crisis.
Right now—as we prepare to elect our next president and members of Congress—we have a chance to make it happen.
Democracy Awakening is a movement of thousands working for a system in which everyone can participate and every voice is heard. With your help, it can be a movement of millions.
Here's what we're fighting for.
Restore Voting Rights
Casting our votes one of the most important political cards many of us have to play—and it's been hard won by many seeking enfranchisement. But in this election, the right to vote is more at risk that at any time since the passage of the Voting Rights Act 50 years ago. Thanks to a 2013 Supreme Court ruling, we've seen state after state pass laws that restrict the right to vote, almost all of them targeting low-income groups, people of color and students.
And you better believe that matters for environmental justice.
These groups are by far the most likely to suffer environmental harms—like industrial waste sites in their backyards and lead in their water—and have the fewest means to counteract these injustices. Blocking the right to vote only makes it worse.
Instead of restricting rights, it's time we start knocking down barriers and propping up the right to vote.
Get Money Out
There's a pretty straightforward reason that the same lawmakers standing in the way of a people-powered democracy are the ones denying the science of climate change and blocking environmental action: money. Fossil fuel money, to be exact.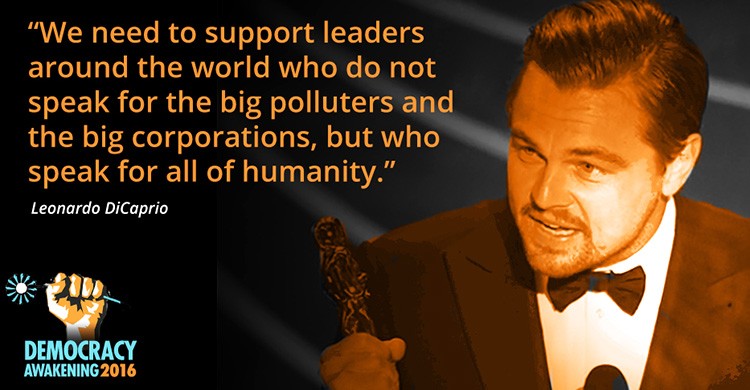 Too many of our politicians are acting in the interests of coal and oil barons instead of the people they're supposed to represent. Texas Senator and GOP presidential candidate Ted Cruz, for example, has taken the most money from fossil fuel lobbyists in this election. He's also one of the most egregious climate deniers in office or maybe even in existence.
There's also a pretty straightforward fix to this issue: get big money out of politics. Campaign finance reform, transparency and overturning Citizens United aren't just solutions for fixing democracy. When it comes to fossil fuel money, they're the stepping stones we need to make real progress on environmental issues.
When It Comes to Democracy, It's About All of Us
Democracy Awakening is not just about the environment. It's about groups from labor, students, racial justice, civil rights and more coming together as a united pro-democracy movement. Because if we're going to make our democracy work for all of us and win on the issues that matter most, we need as many voices as possible on our side.
That's why I'm confident we'll succeed. Together, we can build a democracy in which money doesn't buy access to power and where everyone has an equal say in our shared future.
With every person that joins us, we're that much closer to awakening a democracy that works for us—not corporate powers. Join the Democracy Awakening movement today!
YOU MIGHT ALSO LIKE
Worldwide Shift to Renewable Energy Played 'Critical Role' in Stalling Carbon Emissions
Indigenous Activist Murdered in Honduras Just Two Weeks After Berta Cáceres Was Killed
What Garland's Supreme Court Nomination Could Mean for the Climate
Ice Shelf Twice the Size of Manhattan Is About to Break Off From Antarctica
Bill Maher is sick of billionaires' obsession with Mars, more like "Mars-a-Lago," he said.
In a new animation produced by ATTN:, the popular talk show host of Real Time, discusses the perils of our planet, including how "climate change is killing us."
Keep reading...
Show less
Dr. Benjamin D. Santer, research scientist
A group of prominent climate scientists have written a study explicitly refuting statements made by the U.S. Environmental Protection Agency Administrator Scott Pruitt on climate data. During his Senate confirmation hearing, Pruitt claimed in a written response that satellite data shows a "leveling off" of warming over the past two decades.
Keep reading...
Show less
By David Pomerantz
The Nevada Assembly passed a bill Wednesday that would dramatically increase the growth of renewable energy in the state, but Sheldon Adelson, the casino magnate and major donor to Donald Trump, is attempting to prevent the bill from becoming law.
Keep reading...
Show less
Matt Crossick
By Yosola Olorunshola
Whether it's through fashion or protest, Vivienne Westwood is not a woman afraid of making a statement.
On May 23, she rocked up to the residence of the Archbishop of Canterbury in London with a special guest—the Grim Reaper—to issue a strong statement on the Church of England's position on fracking.
Keep reading...
Show less
Military veterans from across Virginia released a letter Thursday opposing two proposed fracked-gas pipelines: Dominion Energy's Atlantic Coast Pipeline and EQT's Mountain Valley Pipeline. These pipelines would cross through pristine areas of Virginia, taking private property by use of eminent domain, removing mountain ridgetops and threatening valuable drinking water resources. The veterans view this as contrary to their service to protect and defend the freedom and security of American citizens.

Keep reading...
Show less
By Paul Brown
The food industry and big agricultural concerns are driving climate change and at the same time threatening to undermine efforts to feed the world's growing population, according to GRAIN, an organization that supports small farmers.
Particularly singled out for criticism are the large chemical fertilizer producers that have gained access to the United Nations talks on climate change. GRAIN accuses them of behaving like the fossil fuel companies did in the 1990s, pushing false information in the hope of delaying real action on climate change.
Keep reading...
Show less
May. 24, 2017 06:55PM EST
By Sydney Robinson
President Trump has no doubt been given a long list of extravagant, elaborate gifts in his lifetime, but the gift given to him today by Pope Francis may not make it on his most favorite list.
Keep reading...
Show less
May. 24, 2017 07:17PM EST
By John Rogers
Maybe it's because I first started working on clean energy while serving in the Peace Corps he founded, or maybe it's my years of working on these issues from his home state. But I can't help thinking about the 100th anniversary of John F. Kennedy's birth, and connecting his stirring rhetoric to the energy challenges of our times.
Here's what our 35th president might have said about the challenges of energy transition and the opportunities in clean energy:
"Change is the law of life. And those who look only to the past or present are certain to miss the future."
Keep reading...
Show less


Get EcoWatch in your inbox