Politics
21 December 2015
Congress Bans Plastic Microbeads, Bill Heads to President Obama's Desk
On Friday, the U.S. Senate unanimously approved a bill phasing out the manufacture of beauty products with plastic microbeads by July 1, 2017, and the sale of such products by July 1, 2018. The Microbead Free Waters Act (H.R. 1321) bans all plastic microbeads in beauty products, including those made from so-called "biodegradable plastics," the majority of which do not biodegrade in marine environments.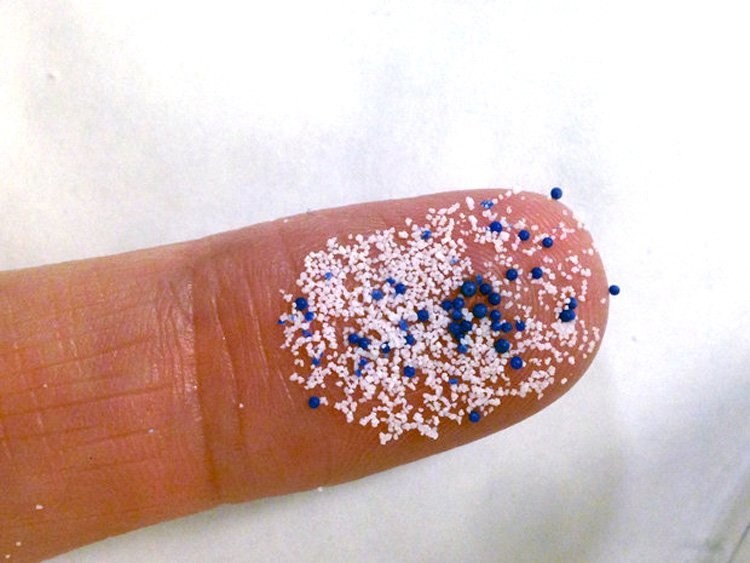 "Our oceans have been choking on these tiny plastic microbeads for way too long," Miyoko Sakashita, oceans program director with the Center for Biological Diversity, said. "This is a huge and important step toward protecting fish, birds and other ocean wildlife hurt by plastic pollution. I applaud the Senate for following California's lead and voting to eliminate this pointless and harmful source of plastic pollution."
The Microbead Free Waters Act, introduced by Reps. Frank Pallone (D-N.J.) and Fred Upton (R-Mich.), will prevent 1.4 trillion plastic microbeads from entering U.S. waterways each year. Plastic microbeads—designed to be washed down the drain and too small to be reliably captured by wastewater treatment facilities—pollute lakes, rivers and oceans.
Once in the environment, plastic microbeads concentrate toxins such as pesticides and flame retardants on their surface, which may then transfer to the tissue of fish that mistake microbeads for food. A recent study found that one quarter of fish found at California fish markets had ingested plastic. One tube of exfoliating facewash can contain more than 350,000 microbeads.
The U.S. House of Representatives approved H.R. 1321 earlier this month. The bill now heads to President Obama's desk for his approval.
YOU MIGHT ALSO LIKE
25% of Fish Sold at Markets Contain Plastic or Man-Made Debris
Exclusive Interview: Researchers Remove Plastic Fork Lodged in Sea Turtle's Nose
World's Most Comprehensive Study Shows More Plastic in Our Oceans Than Scientists Thought
Adidas Unveils 3D-Printed Shoe Made From Plastic Ocean Waste
www.facebook.com
Keep reading...
Show less
Keep reading...
Show less
www.elysee.fr
By Andy Rowell
There is a growing feeling within European capitals that a quiet, but deeply positive, revolution is happening under Emmanuel Macron in France.
Macron's opinion poll rating is high, especially boosted in how the young French president has reacted to Donald Trump on the international stage.
Keep reading...
Show less
Hawaii Renewable Energy Alliance
The latest issue of the U.S. Energy Information's "Electric Power Monthly" (with data through April 30) reveals that—for the first time since the beginning of the nuclear era—renewable energy sources (i.e., biomass, geothermal, hydropower, solar—inc. small-scale PV, wind) are now providing a greater share of the nation's electrical generation than nuclear power.
Keep reading...
Show less
www.youtube.com
Check out this great 360° virtual reality video by NowThis on the world's largest indoor vertical farm, AeroFarms. Located in Newark, New Jersey, AeroFarms grows more than 2 million pounds of greens a year without sunlight, soil or pesticides.
As reported by EcoWatch in July 2105, the $30 million, 70,000-square-foot AeroFarms headquarters dwarfs Japan's (already impressive) 25,000-square-foot vertical indoor farm, which had been the world's largest until now.
www.youtube.com
According to Bloomberg, "SeaWorld Entertainment Inc. received a subpoena earlier this month from regulators investigating disclosures and public statements by executives, including comments about the Blackfish documentary that caused a public backlash against the confinement of orcas.
Keep reading...
Show less
Jun. 25, 2017 04:50PM EST
Monsanto, the maker of the glyphosate-based herbicide Roundup, filed a motion June 16 in U.S. District Court, Northern District of California to reconsider the chemical's addition to California's Proposition 65 list of agents known to cause cancer.
The agrochemical giant made this move based on a June 14 Reuters investigation of Dr. Aaron Blair, a lead researcher on the World Health Organization's International Agency for Research on Cancer (IARC) committee, that classified glyphosate as a "2A probable human carcinogen" in March 2015.
Keep reading...
Show less
Jun. 25, 2017 04:40PM EST
By Avery Friedman
Algae is often considered a nuisance, but for Sweden, the rapidly growing sea plant is now an asset.
As the Scandinavian country works to cut all of its greenhouse gas emissions by 2045, it's using algae to sop up the carbon emissions from cement.
Keep reading...
Show less
Jun. 24, 2017 01:35PM EST
By Itai Vardi
A recent intensification in protests against Williams Partners' planned Atlantic Sunrise pipeline in Pennsylvania prompted a state senator to propose legislation aimed at limiting demonstrations.
Last month, Pennsylvania Sen. Scott Martin (R-Norman) announced his intention to introduce legislation that would pass the costs of law enforcement responding to protests onto the demonstrators. Martin also helped introduce a different bill that would criminalize protests at natural gas facilities.
Keep reading...
Show less