This website uses cookies to ensure you get the best experience while browsing it. By clicking 'Got It' you're accepting these terms.
Confirmed: Oklahoma Earthquakes Caused By Fracking
Apr. 23, 2015 09:26AM EST
Despite the enormous increase in earthquakes in Oklahoma that started at the same time as heavy fracking began there—with the number of earthquakes over 3.0 magnitude skyrocketing from an average of less than two a year to 585 last year—the state has been in official denial about the cause.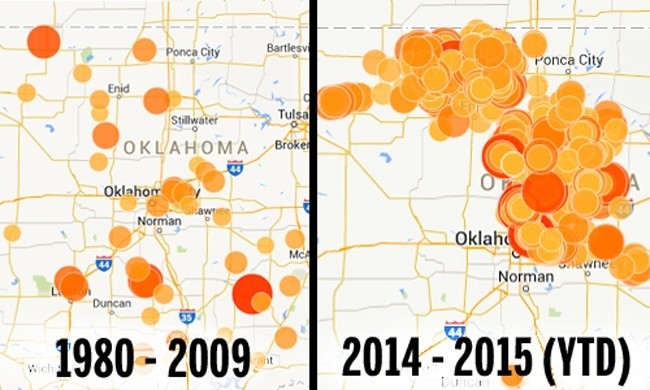 Now the state has not only admitted that the injection into deep underground wells of fluid byproducts from drilling operations is behind the quakes, but it put up a website titled Earthquakes in Oklahoma that is a "one-stop source for information on earthquakes in Oklahoma." The site includes an interactive map that displays the dramatic change not only in the number of earthquakes but in their distribution. Instead of a scattering around the state, they're clustered heavily in areas where drilling operations are disposing of fracking wastewater.
The new website says, in a post dated April 21, "The Oklahoma Geological Survey announced today the majority of recent earthquakes in central and north-central Oklahoma are likely triggered by the injection of produced water in disposal wells."
"Oklahoma experienced 585 magnitude 3+ earthquakes in 2014 compared to 109 events recorded in 2013," it says on the front page. "This rise in seismic events has the attention of scientists, citizens, policymakers, media and industry. See what information and research state officials and regulators are relying on as the situation progresses."
Click on that and you get this: "While we understand that Oklahoma has historically experienced some level of seismicity, we know that the recent rise in earthquakes cannot be entirely attributed to natural causes. Seismologists have documented the relationship between wastewater disposal and triggered seismic activity. The Oklahoma Geological Survey has determined that the majority of recent earthquakes in central and north-central Oklahoma are very likely triggered by the injection of produced water in disposal wells."
"There is broad agreement among seismologists that the disposal of water into or in communication with basement rock presents a potential risk for triggering seismicity."
That's a big turnaround from recent years in which the state has officially ignored or denied this connection under pressure from the oil and gas industry. Last month, media outlets, including Bloomberg and Energy Wire, revealed that a trove of official emails released by the Oklahoma Geological Survey in response to a public records request showed that Oklahoma City oil and gas billionaire Harold Hamm, who is known as the father of the U.S. fracking boom, became involved in conversations about what was causing the earthquakes. State seismologist Austin Holland was called to a meeting with Hamm and University of Oklahoma president David Boren, who sits on the board of Hamm's company, Continental Resources.
In the article Big Oil Pressured Scientists Over Fracking Wastewater's Link to Quakes, Bloomberg reported, "Hamm requested that Holland be careful when publicly discussing the possible connection between oil and gas operations and a big jump in the number of earthquakes, which geological researchers were increasingly tying to the underground disposal of oil and gas wastewater, a byproduct of the fracking boom that Continental has helped pioneer."
While the state has done an official about-face, the Oklahoma Oil and Gas Association (OKOGA) continued to deny that there was solid proof that the quakes were connected to wastewater injection.
"There may be a link between earthquakes and disposal wells," said OKAGO president Chad Warmington. "But we—industry, regulators, researchers, lawmakers or state residents—still don't know enough about how wastewater injection impacts Oklahoma's underground faults. We don't know enough about what's really going on in the subsurface to know how to mitigate some of this risk."
Luckily, the new website has diagrams explaining it. If that's not enough for him, the U.S. Geological Survey (USGS) released a report today outlining models that forecast the potential earthquake damage in areas of induced seismicity. The USGS says bluntly, "Earthquake activity has sharply increased since 2009 in the central and eastern United States. The increase has been linked to industrial operations that dispose of wastewater by injecting it into deep wells."
"This new report describes for the first time how injection-induced earthquakes can be incorporated into U.S. seismic hazard maps," said Mark Petersen, chief of the USGS National Seismic Hazard Modeling Project. "These earthquakes are occurring at a higher rate than ever before and pose a much greater risk to people living nearby. The USGS is developing methods that overcome the challenges in assessing seismic hazards in these regions in order to support decisions that help keep communities safe from ground shaking."
YOU MIGHT ALSO LIKE
Did Fracking Cause Oklahoma to Have 3 Times as Many Earthquakes as California in 2014?
Oil and Gas Billionaire Pressured Oklahoma Scientist to Ignore Fracking-Earthquake Link
Staggering Rise in Fracking Earthquakes Triggers Kansas to Take Action
KarinaKnyspel / iStock / Getty Images
2018 saw a number of studies pointing to the outsized climate impact of meat consumption. Beef has long been singled out as particularly unsustainable: Cows both release the greenhouse gas methane into the atmosphere because of their digestive processes and require a lot of land area to raise. But for those unwilling to give up the taste and texture of a steak or burger, could lab-grown meat be a climate-friendly alternative? In a first-of-its-kind study, researchers from the Oxford Martin School set out to answer that question.
Three scissor-tailed flycatcher fledglings in a mesquite tree in Texas. Texas Eagle / CC BY-NC 2.0
By Gary Paul Nabhan
President Trump has declared a national emergency to fund a wall along our nation's southern border. The border wall issue has bitterly divided people across the U.S., becoming a vivid symbol of political deadlock.
PeopleImages / E+ / Getty Images
By Daniel Ross
Hurricane Florence, which battered the U.S. East Coast last September, left a trail of ruin and destruction estimated to cost between $17 billion and $22 billion. Some of the damage was all too visible—smashed homes and livelihoods. But other damage was less so, like the long-term environmental impacts in North Carolina from hog waste that spilled out over large open-air lagoons saturated in the rains.
Hog waste can contain potentially dangerous pathogens, pharmaceuticals and chemicals. According to the state's Department of Environmental Quality, as of early October nearly 100 such lagoons were damaged, breached or were very close to being so, the effluent from which can seep into waterways and drinking water supplies.
This picture taken on May 21, 2018 shows discarded climbing equipment and rubbish scattered around Camp 4 of Mount Everest. Decades of commercial mountaineering have turned Mount Everest into the world's highest rubbish dump as an increasing number of big-spending climbers pay little attention to the ugly footprint they leave behind. DOMA SHERPA / AFP / Getty Images
China has closed its Everest base camp to tourists because of a buildup of trash on the world's tallest mountain.