This website uses cookies to ensure you get the best experience while browsing it. By clicking 'Got It' you're accepting these terms.
Confirmed: 4.6-Magnitude Earthquake in British Columbia Caused by Fracking (Likely World's Largest)
Dec. 17, 2015 03:17PM EST
Energy
Fluid injection from hydraulic fracturing, or fracking, triggered a 4.6-magnitude earthquake that struck northeast British Columbia (BC) over the summer, the Canadian province's energy regulator has confirmed. It's the largest fracking-caused earthquake in the province to date, according to The Canadian Press.
Or, more significantly, it could very likely be the largest fracking-caused earthquake in the world.
"This seismic event was caused by hydraulic fracturing," Ken Paulson, CEO of the BC Oil and Gas Commission, said in a statement.
Fracking, which has helped drive U.S.' gas prices below $2 a gallon, involves shooting large quantities of water and chemicals at high pressure to release gas and oil from layers of subterranean shale.
The earthquake struck this past August about 110 kilometers northwest of Fort St. John in BC. Its epicenter was three kilometers from a fracking site operated by Progress Energy, prompting the natural gas production company to temporarily halt operations after the quake hit.
The company said in a statement that it's taking the incident very seriously and it has 17 monitoring stations in its operating area to accurately detect seismic activity.
Progress Energy also has the dubious honor of holding the previous record for the largest known fracking-caused quake in BC with a 4.4-magnitude tremor in 2014.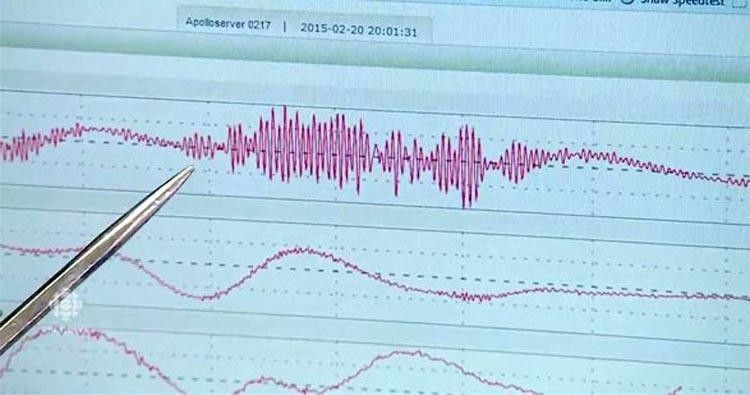 As CBC News noted, the 4.6 August quake may likely be the largest in the world caused by fracking. That's because after a 4.4 struck Alberta in Jan. 2015, scientists told the publication at the time it was already the world's largest quake caused by fracking.
Honn Kao, a research scientist with Geological Survey of Canada, told CBC News after the 4.6 hit, "If this is proven to be linked to hydraulic fracturing, this would be a world record in terms of size."
Food & Water Watch observed that "while fracking itself can cause earthquakes, they are smaller and less frequently felt than earthquakes produced from underground injection control wells." Food & Water Watch added:
A study in Seismological Research Letters found that fracking was the likely culprit of hundreds of small tremors in Ohio during 2013; another Ohio-based study that came out in 2015 pinpointed fracking as the cause of a 3.0 magnitude earthquake near Poland Township. In 2011, fracking was associated with a 3.8 magnitude earthquake in British Columbia, Canada; and that same year, in Blackpool, England, two earthquakes were directly linked to fracking operations. Fracking has also been linked to an earthquake that was felt in Garvin County, Oklahoma in 2011.
Paulson said in his statement that fewer than one percent of fracking operations trigger seismic activity, and those quakes tend to be low magnitude and cause little damage.
Still, as Geological Survey of Canada seismologist John Cassidy told The Globe and Mail, "more and bigger" earthquakes triggered by gas extraction could be on the horizon.
"The overall pattern is that there's an increase in the number of induced earthquakes—and there is an overall or average increase in the magnitude as well."
A study from Dr. Cassidy and his colleagues found that northeast BC recorded 24 earthquakes in 2002-03 before fracking kicked off. In 2010-11, that number jumped to 189 earthquakes during the peak of fracking activity in the Horn River Basin.
This trend mirrors the alarming uptick of earthquakes striking Oklahoma. Before 2009, Oklahoma had two earthquakes of magnitude 3.0 or greater each year, but now there are two a day, giving it the distinction of the earthquake capital of the U.S., if not the world.
Although fracking isn't the direct cause of Oklahoma's earthquake swarm, it is related to the process. The scientific consensus is that the injection of large volumes of toxic wastewater left over from oil drilling and fracking operations into underground wells has triggered the state's now daily earthquakes.
YOU MIGHT ALSO LIKE 
How Fracking is Driving Gas Prices Below $2 Per Gallon
Energy Companies Want Judge to Dismiss Historic Lawsuit Over Oklahoma Earthquakes
Oklahoma Earthquakes: Bombshell Doc Reveals Big Oil's Tight Grip on Politicians and Scientists
James Hansen: Fracking is 'Screwing Your Children and Grandchildren'
EcoWatch Daily Newsletter
Tuna auctions are a tourist spectacle in Tokyo. Outside the city's most famous fish market, long queues of visitors hoping for a glimpse of the action begin to form at 5 a.m. The attraction is so popular that last October the Tsukiji fish market, in operation since 1935, moved out from the city center to the district of Toyosu to cope with the crowds.

gmnicholas / E+ / Getty Images
Kristan Porter grew up in a fishing family in the fishing community of Cutler, Maine, where he says all roads lead to one career path: fishing. (Porter's father was the family's lone exception. He suffered from terrible seasickness, and so became a carpenter.) The 49-year-old, who has been working on boats since he was a kid and fishing on his own since 1991, says that the recent warming of Maine's cool coastal waters has yielded unprecedented lobster landings.
Nicole Greenfield is a writer at NRDC whose articles on religion, the environment, popular culture and social justice have appeared in many publications.
Aerial view of lava flows from the eruption of volcano Kilauea on Hawaii, May 2018. Frizi / iStock / Getty Images
Hawaii's Kilauea volcano could be gearing up for an eruption after a pond of water was discovered inside its summit crater for the first time in recorded history, according to the AP.
The Eqip Sermia Glacier is seen behind a moraine left exposed by the glacier's retreat during unseasonably warm weather on Aug. 1 at Eqip Sermia, Greenland. Sean Gallup / Getty Images
hadynyah / E+ / Getty Images
By Johnny Wood
The Ganges is a lifeline for the people of India, spiritually and economically. On its journey from the Himalayas to the Bay of Bengal, it supports fishermen, farmers and an abundance of wildlife.
The river and its tributaries touch the lives of roughly 500 million people. But having flowed for millennia, today it is reaching its capacity for human and industrial waste, while simultaneously being drained for agriculture and municipal use.
Here are some of the challenges the river faces.
Protesters gathered outside US Bank and Wells Fargo locations around the U.S. to protest investment in the Dakota Access Pipeline on Dec. 1, 2016. This photo is from a protest outside US Bank in south Minneapolis, Minnesota.
Fibonacci Blue / CC BY 2.0
By Jake Johnson
As a growing number of states move to pass laws that would criminalize pipeline protests and hit demonstrators with years in prison, an audio recording obtained by The Intercept showed a representative of a powerful oil and gas lobbying group bragging about the industry's success in crafting anti-protest legislation behind closed doors.
Reposted with permission from our media associate Common Dreams.

DESIREE MARTIN / AFP / Getty Images
Wildfires raging on Gran Canaria, the second most populous of Spain's Canary Islands, have forced around 9,000 people to evacuate.