Confirmed: 4.6-Magnitude Earthquake in British Columbia Caused by Fracking (Likely World's Largest)
Fluid injection from hydraulic fracturing, or fracking, triggered a 4.6-magnitude earthquake that struck northeast British Columbia (BC) over the summer, the Canadian province's energy regulator has confirmed. It's the largest fracking-caused earthquake in the province to date, according to The Canadian Press.
Or, more significantly, it could very likely be the largest fracking-caused earthquake in the world.
"This seismic event was caused by hydraulic fracturing," Ken Paulson, CEO of the BC Oil and Gas Commission, said in a statement.
Fracking, which has helped drive U.S.' gas prices below $2 a gallon, involves shooting large quantities of water and chemicals at high pressure to release gas and oil from layers of subterranean shale.
The earthquake struck this past August about 110 kilometers northwest of Fort St. John in BC. Its epicenter was three kilometers from a fracking site operated by Progress Energy, prompting the natural gas production company to temporarily halt operations after the quake hit.
The company said in a statement that it's taking the incident very seriously and it has 17 monitoring stations in its operating area to accurately detect seismic activity.
Progress Energy also has the dubious honor of holding the previous record for the largest known fracking-caused quake in BC with a 4.4-magnitude tremor in 2014.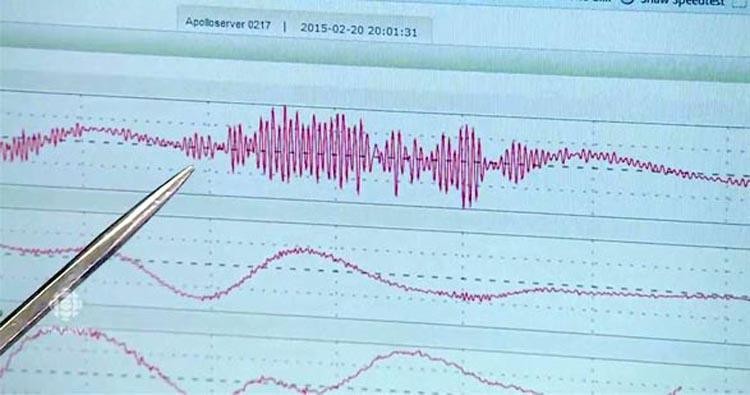 As CBC News noted, the 4.6 August quake may likely be the largest in the world caused by fracking. That's because after a 4.4 struck Alberta in Jan. 2015, scientists told the publication at the time it was already the world's largest quake caused by fracking.
Honn Kao, a research scientist with Geological Survey of Canada, told CBC News after the 4.6 hit, "If this is proven to be linked to hydraulic fracturing, this would be a world record in terms of size."
Food & Water Watch observed that "while fracking itself can cause earthquakes, they are smaller and less frequently felt than earthquakes produced from underground injection control wells." Food & Water Watch added:
A study in Seismological Research Letters found that fracking was the likely culprit of hundreds of small tremors in Ohio during 2013; another Ohio-based study that came out in 2015 pinpointed fracking as the cause of a 3.0 magnitude earthquake near Poland Township. In 2011, fracking was associated with a 3.8 magnitude earthquake in British Columbia, Canada; and that same year, in Blackpool, England, two earthquakes were directly linked to fracking operations. Fracking has also been linked to an earthquake that was felt in Garvin County, Oklahoma in 2011.
Paulson said in his statement that fewer than one percent of fracking operations trigger seismic activity, and those quakes tend to be low magnitude and cause little damage.
Still, as Geological Survey of Canada seismologist John Cassidy told The Globe and Mail, "more and bigger" earthquakes triggered by gas extraction could be on the horizon.
"The overall pattern is that there's an increase in the number of induced earthquakes—and there is an overall or average increase in the magnitude as well."
A study from Dr. Cassidy and his colleagues found that northeast BC recorded 24 earthquakes in 2002-03 before fracking kicked off. In 2010-11, that number jumped to 189 earthquakes during the peak of fracking activity in the Horn River Basin.
This trend mirrors the alarming uptick of earthquakes striking Oklahoma. Before 2009, Oklahoma had two earthquakes of magnitude 3.0 or greater each year, but now there are two a day, giving it the distinction of the earthquake capital of the U.S., if not the world.
Although fracking isn't the direct cause of Oklahoma's earthquake swarm, it is related to the process. The scientific consensus is that the injection of large volumes of toxic wastewater left over from oil drilling and fracking operations into underground wells has triggered the state's now daily earthquakes.
YOU MIGHT ALSO LIKE 
How Fracking is Driving Gas Prices Below $2 Per Gallon
Energy Companies Want Judge to Dismiss Historic Lawsuit Over Oklahoma Earthquakes
Oklahoma Earthquakes: Bombshell Doc Reveals Big Oil's Tight Grip on Politicians and Scientists
James Hansen: Fracking is 'Screwing Your Children and Grandchildren'
A coalition of conservation groups and others announced Thursday that a historic number of comments and petitions of support have been submitted to the U.S. Department of the Interior in support of Bears Ears National Monument. Despite the entirely inadequate 15-day comment period ending on May 26, more than 685,000 comments in support of Bears Ears National Monument have been collected.
Keep reading...
Show less
Rink Glacier in western Greenland, with a meltwater lake visible center. NASA/OIB
Scientists have had their eyes on Greenland as its iconic glaciers have begun disappearing due to a warming climate. But, what they didn't expect to see was a whole new type of melting.
Keep reading...
Show less
Mountain View Fire
By Lena Moffitt
An oil tanker in Mead, Colorado exploded, killing one and injuring three on Thursday. Authorities are continuing to investigate the cause of the explosion.
Keep reading...
Show less
Banner created by Alliance for Climate Education
Keep reading...
Show less
Twenty-two GOP senators sent a letter Thursday urging Donald Trump to pull out of the Paris agreement. They argued remaining in the deal could "upend" the administration's ability "to fulfill its goal of rescinding the Clean Power Plan."
Keep reading...
Show less
By Cheryl Johncox
The Federal Energy Regulatory Commission (FERC) rejected on Thursday Energy Transfer Partners' request to resume horizontal directional drilling at two sites for its Rover fracked gas pipeline. This rejection comes after numerous leaks into Ohio's wetlands, and Clean Air and Clean Water act violations. FERC has halted the process at only eight locations of the 32 where drilling is taking place under Ohio's wetlands and streams.
Keep reading...
Show less
By Nadia Prupis
A majority of people in eight countries say they are ready to change their lifestyles if it would prevent climate catastrophe, a survey on global threats released Wednesday found.
Keep reading...
Show less
May. 25, 2017 01:55PM EST
Bill Maher is sick of billionaires' obsession with Mars, more like "Mars-a-Lago," he said.
In a new animation produced by ATTN:, the popular talk show host of Real Time, discusses the perils of our planet, including how "climate change is killing us."
Keep reading...
Show less