This website uses cookies to ensure you get the best experience while browsing it. By clicking 'Got It' you're accepting these terms.
Confirmed: 4.6-Magnitude Earthquake in British Columbia Caused by Fracking (Likely World's Largest)
Dec. 17, 2015 03:17PM EST
Energy
Fluid injection from hydraulic fracturing, or fracking, triggered a 4.6-magnitude earthquake that struck northeast British Columbia (BC) over the summer, the Canadian province's energy regulator has confirmed. It's the largest fracking-caused earthquake in the province to date, according to The Canadian Press.
Or, more significantly, it could very likely be the largest fracking-caused earthquake in the world.
"This seismic event was caused by hydraulic fracturing," Ken Paulson, CEO of the BC Oil and Gas Commission, said in a statement.
Fracking, which has helped drive U.S.' gas prices below $2 a gallon, involves shooting large quantities of water and chemicals at high pressure to release gas and oil from layers of subterranean shale.
The earthquake struck this past August about 110 kilometers northwest of Fort St. John in BC. Its epicenter was three kilometers from a fracking site operated by Progress Energy, prompting the natural gas production company to temporarily halt operations after the quake hit.
The company said in a statement that it's taking the incident very seriously and it has 17 monitoring stations in its operating area to accurately detect seismic activity.
Progress Energy also has the dubious honor of holding the previous record for the largest known fracking-caused quake in BC with a 4.4-magnitude tremor in 2014.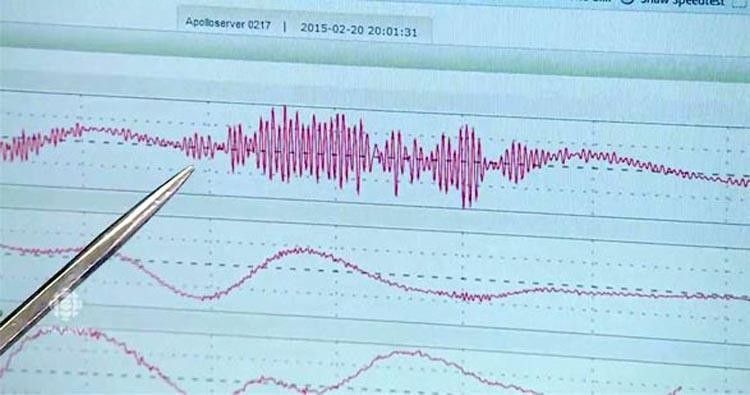 As CBC News noted, the 4.6 August quake may likely be the largest in the world caused by fracking. That's because after a 4.4 struck Alberta in Jan. 2015, scientists told the publication at the time it was already the world's largest quake caused by fracking.
Honn Kao, a research scientist with Geological Survey of Canada, told CBC News after the 4.6 hit, "If this is proven to be linked to hydraulic fracturing, this would be a world record in terms of size."
Food & Water Watch observed that "while fracking itself can cause earthquakes, they are smaller and less frequently felt than earthquakes produced from underground injection control wells." Food & Water Watch added:
A study in Seismological Research Letters found that fracking was the likely culprit of hundreds of small tremors in Ohio during 2013; another Ohio-based study that came out in 2015 pinpointed fracking as the cause of a 3.0 magnitude earthquake near Poland Township. In 2011, fracking was associated with a 3.8 magnitude earthquake in British Columbia, Canada; and that same year, in Blackpool, England, two earthquakes were directly linked to fracking operations. Fracking has also been linked to an earthquake that was felt in Garvin County, Oklahoma in 2011.
Paulson said in his statement that fewer than one percent of fracking operations trigger seismic activity, and those quakes tend to be low magnitude and cause little damage.
Still, as Geological Survey of Canada seismologist John Cassidy told The Globe and Mail, "more and bigger" earthquakes triggered by gas extraction could be on the horizon.
"The overall pattern is that there's an increase in the number of induced earthquakes—and there is an overall or average increase in the magnitude as well."
A study from Dr. Cassidy and his colleagues found that northeast BC recorded 24 earthquakes in 2002-03 before fracking kicked off. In 2010-11, that number jumped to 189 earthquakes during the peak of fracking activity in the Horn River Basin.
This trend mirrors the alarming uptick of earthquakes striking Oklahoma. Before 2009, Oklahoma had two earthquakes of magnitude 3.0 or greater each year, but now there are two a day, giving it the distinction of the earthquake capital of the U.S., if not the world.
Although fracking isn't the direct cause of Oklahoma's earthquake swarm, it is related to the process. The scientific consensus is that the injection of large volumes of toxic wastewater left over from oil drilling and fracking operations into underground wells has triggered the state's now daily earthquakes.
YOU MIGHT ALSO LIKE 
How Fracking is Driving Gas Prices Below $2 Per Gallon
Energy Companies Want Judge to Dismiss Historic Lawsuit Over Oklahoma Earthquakes
Oklahoma Earthquakes: Bombshell Doc Reveals Big Oil's Tight Grip on Politicians and Scientists
James Hansen: Fracking is 'Screwing Your Children and Grandchildren'
EcoWatch Daily Newsletter
David Gilmour performs at Anfiteatro Scavi di Pomei on July 7, 2016 in Pompei, Italy. Francesco Prandoni / Redferns / Getty Images
David Gilmour, guitarist, singer and songwriter in the rock band Pink Floyd, set a record last week when he auctioned off 126 guitars and raised $21.5 million for ClientEarth, a non-profit environmental law group dedicated to fighting the global climate crisis, according to CNN.
U.S. Secretary of Agriculture Sonny Perdue speaks during a forum April 18, 2018 in Washington, DC. Alex Wong / Getty Images
The Trump administration ratcheted up its open hostility to climate science in a move that may hide essential information from the nation's farmers.
Simple swaps that cut down on kitchen trash.
Sponsored
By Kayla Robbins
Along with the bathroom, the kitchen is one of the most daunting areas to try and make zero waste.
Protestors and police stand on ether side of railway tracks. dpa / picture-alliance
Police have cleared 250 climate activists who stayed overnight at the Garzweiler brown coal mine in western Germany, officials said Sunday.
Cecilie_Arcurs / E+ / Getty Images
By Megan Jones and Jennifer Solomon
The #MeToo movement has caused profound shake-ups at organizations across the U.S. in the last two years. So far, however, it has left many unresolved questions about how workplaces can be more inclusive and equitable for women and other diverse groups.

Cigarette butts are the most-littered item found at beach clean ups. John R. Platt
By Tara Lohan
By now it's no secret that plastic waste in our oceans is a global epidemic. When some of it washes ashore — plastic bottles, plastic bags, food wrappers — we get a stark reminder. And lately one part of this problem has been most glaring to volunteers who comb beaches picking up trash: cigarette butts.

Andrea Rodgers, second from the right, takes notes during a hearing in the Juliana v. U.S. case before the 9th Circuit Court of Appeals in Portland, Oregon on June 4. Colleague Elizabeth Brown sits to her left, while colleague Julia Olson sits on her right, with co-council Philip Gregory on Julia's right. Robin Loznak / Our Children's Trust
By Fran Korten
On June 4, Andrea Rodgers was in the front row of attorneys sitting before a three-judge panel of the 9th Circuit Court. The court session, held in Portland, Oregon, was to determine whether the climate change lawsuit (Juliana v. United States) brought by 21 young plaintiffs should be dismissed, as requested by the U.S. government, or go on to trial.
Seventy Extinction Rebellion protesters were arrested outside The New York Times building Saturday.
SCOOTERCASTER / YouTube screenshot