Confidential Report Shows EPA Folded Under Pressure from Oil and Gas Industry
Jan. 16, 2013 02:05PM EST
Energy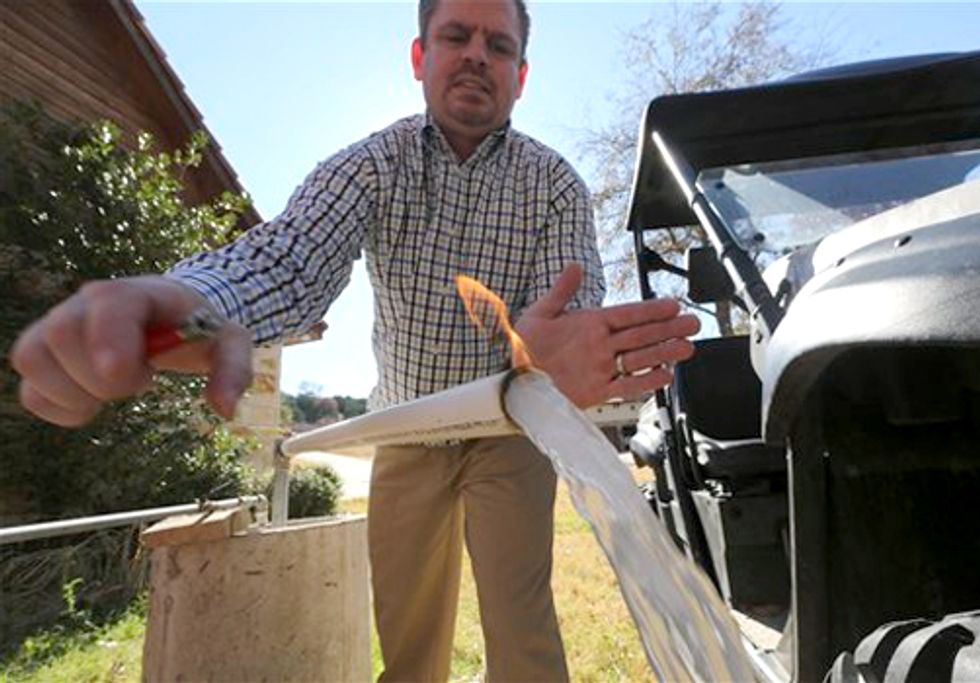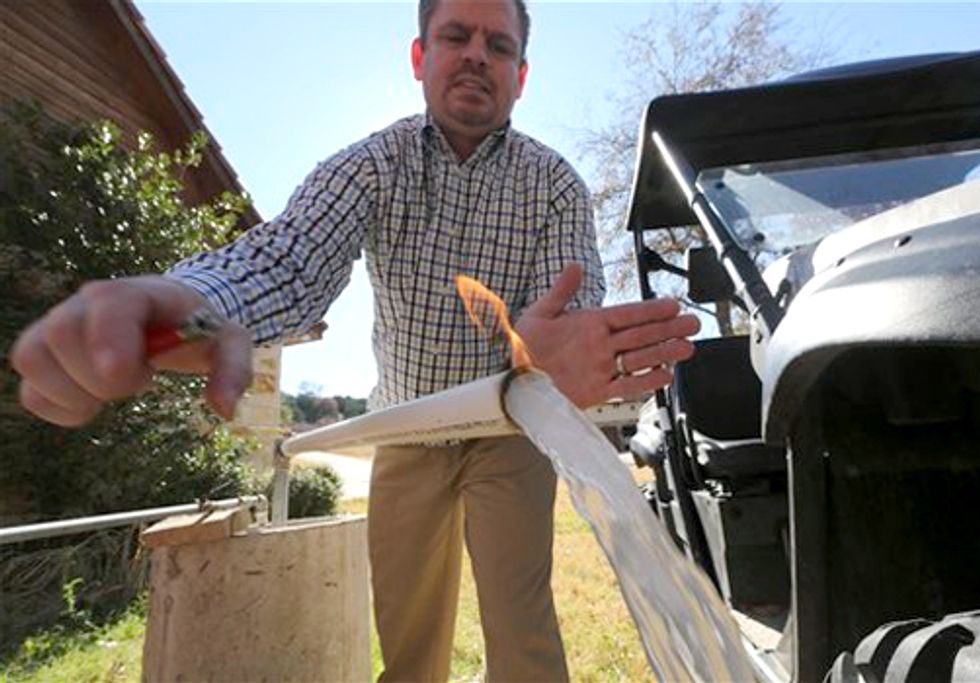 In this Nov. 26, 2012 photo, Steve Lipsky demonstrates how his well water ignites when he puts a flame to the flowing well spigot outside his family's home in rural Parker County near Weatherford, Texas. (AP Photo/LM Otero)
An independent scientist tasked with testing water samples in Fort Worth, Texas concluded that the water could have been contaminated with gas from a nearby Range Resources drilling operation. Yet the U.S. Environmental Protection Agency abandoned its investigation under pressure from Range Resources.
According to the The Associated Press:
At first, the Environmental Protection Agency believed the situation was so serious that it issued a rare emergency order in late 2010 that said at least two homeowners were in immediate danger from a well saturated with flammable methane. More than a year later, the agency rescinded its mandate and refused to explain why.
Now a confidential report obtained by The Associated Press and interviews with company representatives show that the EPA had scientific evidence against the driller, Range Resources, but changed course after the company threatened not to cooperate with a national study into a common form of drilling called hydraulic fracturing. Regulators set aside an analysis that concluded the drilling could have been to blame for the contamination.
"It is unconscionable that the Environmental Protection Agency, which is tasked with safeguarding our nation's vital natural resources, would fold under pressure to the oil and gas industry, as detailed in an article published today by The Associated Press regarding a case in Fort Worth, Texas," said Americans Against Fracking (AAF).
"It is again abundantly clear that the deep pocketed oil and gas industry will stop at nothing to protect its own interests, even when mounting scientific evidence shows that drilling and fracking pose a direct threat to vital drinking water supplies."
Government scientists believed two families were in danger from methane and cancer-causing benzene and ordered Range Resources to take steps to clean their water wells and provide affected homeowners with safe water. The company stopped doing that after state regulators declared in March 2011 that Range Resources was not responsible, according to The Associated Press.
"This case also shows that fracking cannot be safely regulated when the oil and gas industry can use its considerable clout to bend the rules in its own favor. The only true way to protect our communities it to ban this process altogether," said Wenonah Hauter, executive director of Food & Water Watch on behalf of AAF.
"Americans Against Fracking calls on the EPA to live up to its name and protect Americans, not the financial interests of the oil and gas industry. We call on President Obama to stop pursuing polices that enable fracking and drilling, and instead support the development of a green energy infrastructure so we can light our future with truly renewable resources, not perpetuate our nation's addiction to dirty fossil fuels."
Visit EcoWatch's FRACKING page for more related news on this topic.
——–
Sign the petition today, telling President Obama to enact an immediate fracking moratorium:

EcoWatch Daily Newsletter
Recent Stories from EcoWatch