This website uses cookies to ensure you get the best experience while browsing it. By clicking 'Got It' you're accepting these terms.
Concerned About the Zika Virus? Here's What You Need to Know
Apr. 21, 2016 09:52AM EST
Health + Wellness
What are your chances of getting bit by a mosquito infected with the Zika virus?
All U.S. public officials can say at this point is, they're not zero.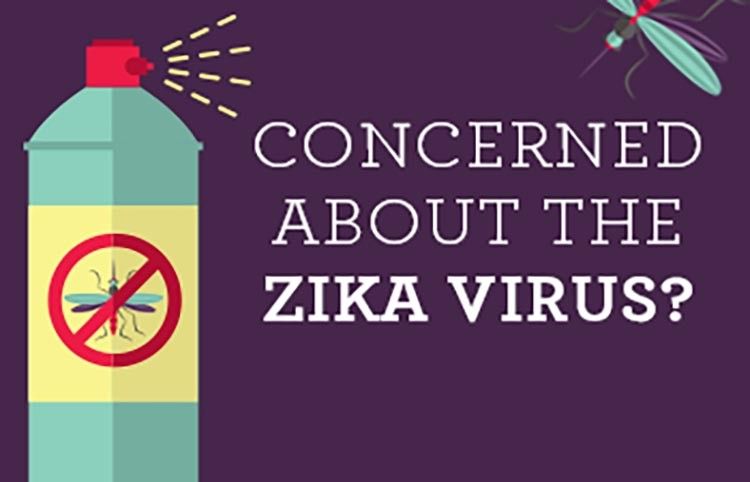 Mosquitos of the Aedes species that are the prime suspects for spreading the disease thrive in tropical and subtropical climates around the world, but they can also survive in some temperate zones, according to the latest estimates and maps from the Centers for Disease Control and Prevention (CDC).
The CDC's maps show that Aedes mosquitos have been found over the years in about 30 states, ranging as far north as Maine and Minnesota.
That doesn't mean that any mosquitos now in the U.S. are actually carrying Zika. For an outbreak to occur, the CDC says, an Aedes mosquito must bite someone infected with Zika during the first week of that person's illness, when the virus is in the bloodstream. Then mosquito must survive long enough for the virus to multiply in its body and it must then bite a second person. And so on.
Everyone, especially pregnant women, needs to take extra precautions to avoid mosquito bites. If you travel to warm countries this summer, your odds of coming into contact with a Zika-infected mosquito will be greater.
As of April 14, the World Health Organization (WHO) had documented Zika transmission in 64 countries and territories. Last February, the WHO formally declared the Zika threat a "public health emergency of international concern," only the fourth time an infectious disease has triggered that worldwide alarm. (The three earlier outbreaks were H1N1 influenza in 2009 and polio and Ebola in 2014).
Environmental Working Group scientists have conducted a new analysis—and developed an accompanying tip sheet—of bug repellents that claim to deter the mosquitos.
The bottom line: No repellent is 100 percent effective, but three offer users the best chance of avoiding mosquito bites:
DEET (20-30 percent concentration)
Picaridin (20 percent concentration)
IR 3535 (20 percent concentration)
These repellents offer strong protection from the Aedes mosquito for at least four hours in laboratory conditions. People should reapply them after swimming and sweating.
As has been widely reported, Zika is now a full-fledged crisis in Brazil, where, according to the WHO's April 14 report, public health officials have logged 1,113 cases of infants born with microcephaly and other birth defects possibly associated with Zika.
In the 50 states, according to the CDC, as of April 13, 358 people, including 31 pregnant women, are reported to have contracted Zika, all while traveling. None have been traced to a mosquito bite close to home.
The story is different in the territory of Puerto Rico, where 471 cases of Zika are being attributed to "local transmission," meaning, mostly mosquito bites and four to travel.
Obama administration officials, anticipating that the situation in the U.S. could worsen as the weather warms across in the country, took to the White House podium April 11 to urge Congress to pass $1.9 billion in emergency funding for mosquito control and vaccine development.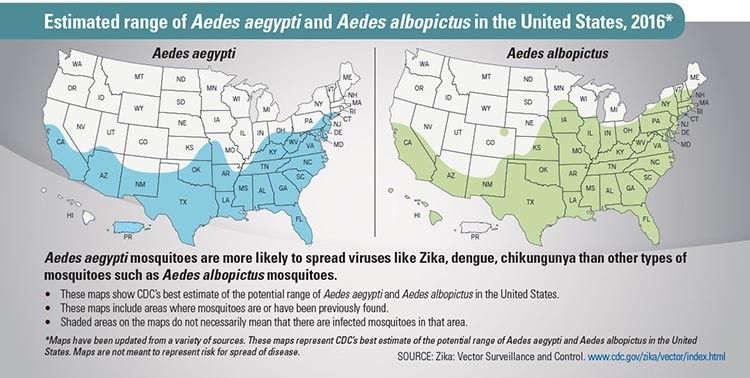 The most striking aspect of the outbreak is its mysteries, even to scientists who have spent their lives studying epidemics.
"Everything we look at with this virus seems to be a bit scarier than we initially thought," Dr. Anne Schuchat, principal deputy director of the CDC, told reporters.
"This is a very unusual virus that we can't even pretend to know everything about it that we need to know," Dr. Anthony Fauci, director of the National Institute of Allergy and Infectious Diseases, said.
Preliminary studies indicate that the virus "has a very strong propensity to destroy tissue," Fauci added. "Which could explain why, besides interfering with the development of a fetus, it might directly attack brain tissue, even when the fetus is later on in the period of gestation."
Though Zika itself was discovered in 1947 in Uganda and the first human cases were recorded in 1952, the outbreak that began last year in Brazil is the first to demonstrate the virus's power to inflict mass casualties, particularly on the young.
"Only when it hit a vulnerable, big population with a lot of mosquitoes, with people who have never been exposed to this before, did we then start seeing the unfolding of this scenario that every week, every month, tends to surprise us more," Fauci said.
Schuchat and Fauci said scientists have now determined that the Zika disease can be transmitted sexually as well as via mosquitos. And evidence is accumulating that adults infected with Zika can develop Guillain-Barré syndrome, characterized by weakness and paralysis and other chronic neurological disorders.
On April 10, Brazilian scientists linked Zika to a second congenital brain disorder, called Acute Disseminated Encephalomyelitis, whose symptoms resemble those of multiple sclerosis. Scientists have yet to prove conclusively that Zika causes this and other brain damage, but the circumstantial evidence for this, too, is mounting.
YOU MIGHT ALSO LIKE
166 Million Americans Live With Unhealthful Levels of Air Pollution
John Oliver Blasts GOPs for Failure to Address America's Lead Crisis
9 Ways Climate Change Is Making Us Sick
USDA Silences Its Own Scientists' Warnings About the Dangerous Effects of Pesticides on Bees
EcoWatch Daily Newsletter
By Adam Vaughan
Two-thirds of people in the UK think the amount people fly should be reined in to tackle climate change, polling has found.
Climate Week NYC
On Monday, Sept. 23, the Climate Group will kick off its 11th annual Climate Week NYC, a chance for governments, non-profits, businesses, communities and individuals to share possible solutions to the climate crisis while world leaders gather in the city for the UN Climate Action Summit.
By Pam Radtke Russell in New Orleans
Local TV weather forecasters have become foot soldiers in the war against climate misinformation. Over the past decade, a growing number of meteorologists and weathercasters have begun addressing the climate crisis either as part of their weather forecasts, or in separate, independent news reports to help their viewers understand what is happening and why it is important.

While airlines only serve bottled drinking water directly to customers, they use the plane's water for coffee and tea, and passengers can drink the tap water. Aitor Diago / Getty Images
You might want to think twice before washing your hands in an airplane bathroom.
By Allegra Kirkland, Jeremy Deaton, Molly Taft, Mina Lee and Josh Landis
Climate change is already here. It's not something that can simply be ignored by cable news or dismissed by sitting U.S. senators in a Twitter joke. Nor is it a fantastical scenario like The Day After Tomorrow or 2012 that starts with a single crack in the Arctic ice shelf or earthquake tearing through Los Angeles, and results, a few weeks or years later, in the end of life on Earth as we know it.
A pregnant woman works out in front of the skyline of London. SHansche / iStock / Getty Images Plus
Air pollution particles that a pregnant woman inhales have the potential to travel through the lungs and breach the fetal side of the placenta, indicating that unborn babies are exposed to black carbon from motor vehicles and fuel burning, according to a study published in the journal Nature Communications.
Teen activist Greta Thunberg delivered a talking-to to members of Congress Tuesday during a meeting of the Senate Climate Change Task Force after politicians praised her and other youth activists for their efforts and asked their advice on how to fight climate change.
Ten feet of water flooded 20 percent of this Minot, North Dakota neighborhood in June 2011.
DVIDSHUB
/
CC BY 2.0