This website uses cookies to ensure you get the best experience while browsing it. By clicking 'Got It' you're accepting these terms.
Concerned About the Zika Virus? Here's What You Need to Know
Apr. 21, 2016 09:52AM EST
Health + Wellness
What are your chances of getting bit by a mosquito infected with the Zika virus?
All U.S. public officials can say at this point is, they're not zero.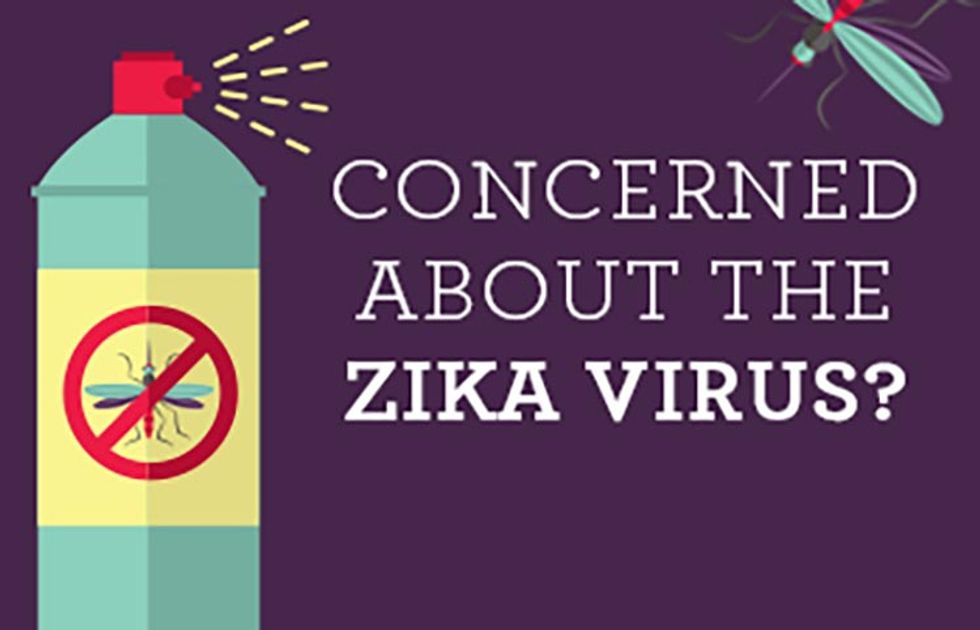 Mosquitos of the Aedes species that are the prime suspects for spreading the disease thrive in tropical and subtropical climates around the world, but they can also survive in some temperate zones, according to the latest estimates and maps from the Centers for Disease Control and Prevention (CDC).
The CDC's maps show that Aedes mosquitos have been found over the years in about 30 states, ranging as far north as Maine and Minnesota.
That doesn't mean that any mosquitos now in the U.S. are actually carrying Zika. For an outbreak to occur, the CDC says, an Aedes mosquito must bite someone infected with Zika during the first week of that person's illness, when the virus is in the bloodstream. Then mosquito must survive long enough for the virus to multiply in its body and it must then bite a second person. And so on.
Everyone, especially pregnant women, needs to take extra precautions to avoid mosquito bites. If you travel to warm countries this summer, your odds of coming into contact with a Zika-infected mosquito will be greater.
As of April 14, the World Health Organization (WHO) had documented Zika transmission in 64 countries and territories. Last February, the WHO formally declared the Zika threat a "public health emergency of international concern," only the fourth time an infectious disease has triggered that worldwide alarm. (The three earlier outbreaks were H1N1 influenza in 2009 and polio and Ebola in 2014).
Environmental Working Group scientists have conducted a new analysis—and developed an accompanying tip sheet—of bug repellents that claim to deter the mosquitos.
The bottom line: No repellent is 100 percent effective, but three offer users the best chance of avoiding mosquito bites:
DEET (20-30 percent concentration)
Picaridin (20 percent concentration)
IR 3535 (20 percent concentration)
These repellents offer strong protection from the Aedes mosquito for at least four hours in laboratory conditions. People should reapply them after swimming and sweating.
As has been widely reported, Zika is now a full-fledged crisis in Brazil, where, according to the WHO's April 14 report, public health officials have logged 1,113 cases of infants born with microcephaly and other birth defects possibly associated with Zika.
In the 50 states, according to the CDC, as of April 13, 358 people, including 31 pregnant women, are reported to have contracted Zika, all while traveling. None have been traced to a mosquito bite close to home.
The story is different in the territory of Puerto Rico, where 471 cases of Zika are being attributed to "local transmission," meaning, mostly mosquito bites and four to travel.
Obama administration officials, anticipating that the situation in the U.S. could worsen as the weather warms across in the country, took to the White House podium April 11 to urge Congress to pass $1.9 billion in emergency funding for mosquito control and vaccine development.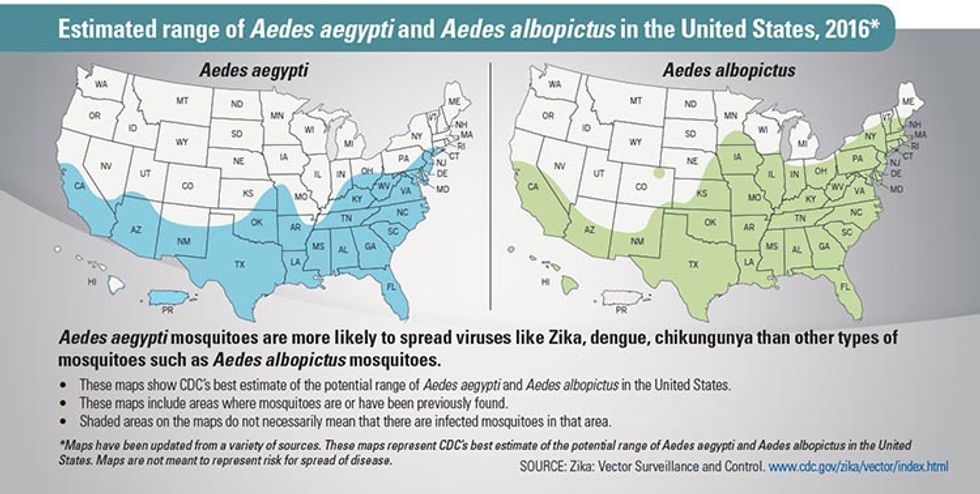 The most striking aspect of the outbreak is its mysteries, even to scientists who have spent their lives studying epidemics.
"Everything we look at with this virus seems to be a bit scarier than we initially thought," Dr. Anne Schuchat, principal deputy director of the CDC, told reporters.
"This is a very unusual virus that we can't even pretend to know everything about it that we need to know," Dr. Anthony Fauci, director of the National Institute of Allergy and Infectious Diseases, said.
Preliminary studies indicate that the virus "has a very strong propensity to destroy tissue," Fauci added. "Which could explain why, besides interfering with the development of a fetus, it might directly attack brain tissue, even when the fetus is later on in the period of gestation."
Though Zika itself was discovered in 1947 in Uganda and the first human cases were recorded in 1952, the outbreak that began last year in Brazil is the first to demonstrate the virus's power to inflict mass casualties, particularly on the young.
"Only when it hit a vulnerable, big population with a lot of mosquitoes, with people who have never been exposed to this before, did we then start seeing the unfolding of this scenario that every week, every month, tends to surprise us more," Fauci said.
Schuchat and Fauci said scientists have now determined that the Zika disease can be transmitted sexually as well as via mosquitos. And evidence is accumulating that adults infected with Zika can develop Guillain-Barré syndrome, characterized by weakness and paralysis and other chronic neurological disorders.
On April 10, Brazilian scientists linked Zika to a second congenital brain disorder, called Acute Disseminated Encephalomyelitis, whose symptoms resemble those of multiple sclerosis. Scientists have yet to prove conclusively that Zika causes this and other brain damage, but the circumstantial evidence for this, too, is mounting.
YOU MIGHT ALSO LIKE
166 Million Americans Live With Unhealthful Levels of Air Pollution
John Oliver Blasts GOPs for Failure to Address America's Lead Crisis
9 Ways Climate Change Is Making Us Sick
USDA Silences Its Own Scientists' Warnings About the Dangerous Effects of Pesticides on Bees
EcoWatch Daily Newsletter
A healthy diet may reduce hearing loss later in life, according to a new study. PamelaJoeMcFarlane / E+ / Getty Images
Weight loss aside, there is no shortage of benefits to eating healthier: a lower risk of heart disease and cancer, reduced gut inflammation and preventing memory loss later in life, to name a few. A healthy diet may also reduce hearing loss later in life, according to a new study out of Brigham and Women's Hospital.
A video shows a woman rescuing a koala from Australia's wildfires.
VOA News / YouTube screenshot
More than 350 koalas may have died in the wildfires raging near the Australian town of Port Macquarie in New South Wales, but one got a chance at survival after a woman risked her life to carry him to safety.
Tesla co-founder and CEO Elon Musk discusses vehicle dimensions in front of the newly unveiled all-electric battery-powered Tesla Cybertruck at Tesla Design Center in Hawthorne, California on Nov. 21. FREDERIC J. BROWN / AFP via Getty Images
Tesla just unveiled its first electric truck.
CEO Elon Musk showed off the new design at a launch event at the company's Design Studio in Hawthorne, California Thursday.
This study found evidence of illegal hammerhead fins in 46 out of 46 sampling events in Hong Kong. NOAA / Teachers at Sea Program
By Jason Bittel
Authorities in Hong Kong intercepted some questionable cargo three years ago — a rather large shipment of shark fins that had originated in Panama. Shark fins are a hot commodity among some Asian communities for their use in soup, and most species are legally consumed in Hong Kong, but certain species are banned from international trade due to their extinction risk. And wouldn't you know it: this confiscated shipment contained nearly a ton of illegal hammerhead fins.
Heat waves emanate from the exhaust pipe of a city transit bus as it passes an American flag hung on the Los Angeles County Hall of Justice on April 25, 2013. David McNew / Getty Images
Air pollution rules aren't doing enough to protect Americans, finds a major new study that examined the cause of death for 4.5 million veterans, as The Guardian reported.