This website uses cookies to ensure you get the best experience while browsing it. By clicking 'Got It' you're accepting these terms.
Company Seeks Barge Dock Permit for Shipping Fracking Wastewater
Jul. 10, 2014 02:52PM EST
Energy
Ohioans are shocked to stumble on a new proposal by GreenHunter, a Texas-based fracking wastewater company, to build a barge off-loading facility on the Ohio River in Meigs County. Barging of liquid frack waste has not been approved by the U.S. Coast Guard, which received 60,000 public comments last December opposing the proposal.
The dock proposal to U.S. Army Corps of Engineers was found by an individual scanning the Federal Register. No notice has been issued in state or local media. The online notice posted by the Corps on June 27, specifies that public comments must be hard copies and received at the Corps' Huntington office by July 28.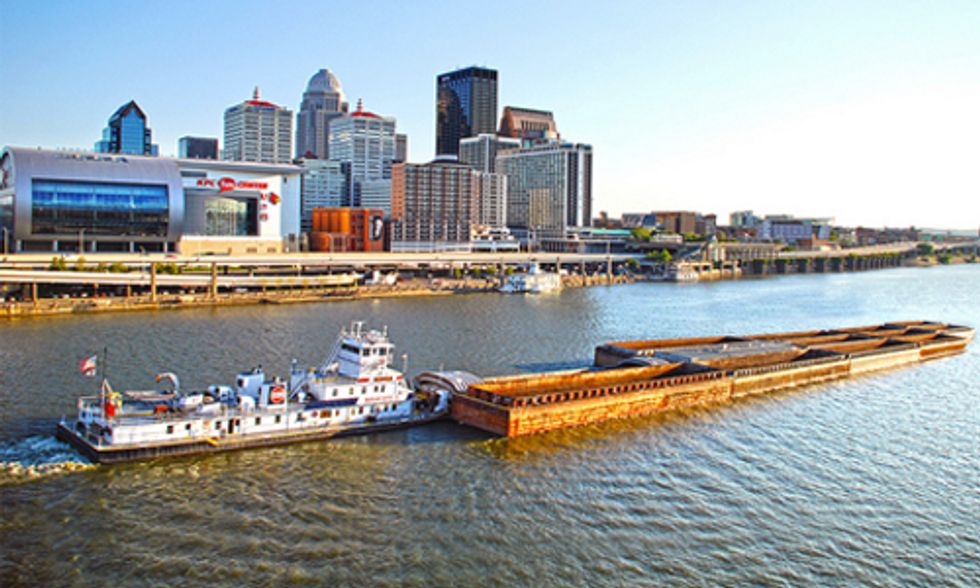 Roxanne Groff, Bern Township (Athens County) Trustee and former Athens County Commissioner, stated:
It is imperative that the Corps allow more time for citizens to become informed and comment knowledgeably on this disastrous project. Most rural elected officials are not yet even aware of the project and only meet once a month. There is no time for discussion by citizens or time to even understand the potential impacts of toxic radioactive waste being offloaded to a facility that does not even have regulations for storage or transport from the river site.
Groff alluded to two June 2014 Ohio fracking explosions and fires, one in Monroe County in which 20 fracking trucks burned for two days and led to a "significant fishkill," according to Ohio Department of Natural Resources, and another in which a frackwaste truck at Envirotank's Belpre facility exploded and burned three men. One of the men, Kevin McClain, 32, remained in critical condition as of July 3. Both explosions involved transfers of hydrocarbon-laden frack liquids. 
"Imagine an explosion from a barge carrying a half-million gallons of frackwaste at a site that is storing hundreds of thousands of gallons of this toxic radioactive waste. Can you imagine, if a spark ignited an off-loading bargeful, what a half-million gallons of flammable frackwaste would do to the riverside and downstream communities?" Groff asked.
Groups, including Athens County Fracking Action Network, People's Oil & Gas Collaborative-Ohio, Center for Health, Environment & Justice, Freshwater Accountability Project and Southwest Ohio No Frack Forum are urging Ohioans to promptly email Corps Project Manager Teresa Spagna at teresa.d.spagna@usace.army.mil to request an extension of the comment period to Oct. 31 and ask the Corps to hold a public hearing (include RE: LRH 2013-848-OHR in the e-mail subject line).
"The summer months are a time when many people are on vacation," said Athens County Fracking Action Network member Heather Cantino. "Is GreenHunter purposely trying to sneak this through without any public scrutiny?" 
Athens County Fracking Action Network members Cantino, Groff and former Athens County Children's Services Director Andrea Reik met with Athens County Commissioners on Tuesday. The commissioners passed a unanimous motion to call on the Corps for an extension of the comment period and a federal public hearing. They also agreed to contact and inform their Meigs County peers.
Joanne Gerson, of Cincinnati's Southwest Ohio No Frack Forum, stated:
Each of the 5 million people who get their drinking water from the Ohio River need to know that the Army Corps of Engineers is considering granting permission to a Texas company to build barge docks along the Ohio River to receive millions of gallons of toxic, cancer-causing, radioactive, flammable fluid. Much more difficult to clean up than spills on land, fracking fluid spills and barge accidents will affect our drinking water supply and may permanently damage the ecosystems that keep our water supply healthy.
Cincinnati and other Ohio River city water officials are well aware of the risks after the Elk River chemical spill, which recently sickened West Virginia residents for months and alarmed residents throughout the region.
"Most people aren't aware that no Environmental Impact Assessment or Statement has been conducted by a nonbiased third party group," said Kari Matsko, director of People's Oil & Gas Collaborative-Ohio. "With at least five endangered species known to be in the area, it is reckless to depend only on the results of a study commissioned by the corporation itself, GreenHunter."
The proposal specifies that a dock will be built to accommodate two barges simultaneously and receive approximately 105,000,000 gallons of frackwaste annually. This quantity is not regulated so does not indicate an actual limit. The waste will be stored in aboveground tanks and trucked to any of Ohio's more than 200 injection wells.
More than half of the more than 686 million gallons of frack waste dumped in Ohio injection wells last year came from out-of-state. Unlike its neighbors, Ohio runs its own injection well program, which does not conform to U.S. Environmental Protection Agency (EPA) permitting requirements. Nearby states, which must comply with U.S. EPA stricter and more time-consuming permitting requirements have only a handful of injection wells. Pennsylvania has ten.
Further, Ohio charges fees only on the first 500,000 gallons per year. "Some Ohio wells take in double or triple that amount in a year," commented Teresa Mills of Center for Health, Environment & Justice. "This proposal would give a green light and a 'dump for free here' card to guarantee that Ohio becomes the Waste Capital of the Nation. And this company will be able to just punch holes and dump anywhere it wants in the state, given ODNR's unwillingness to ever say 'no' to an injection well permit application." 
While the majority of frack waste dumped in Ohio currently comes from Pennsylvania and West Virginia, if GreenHunter's requests to the U.S. Coast Guard and Army Corps are approved, the company may ship waste from Texas and Louisiana up the Mississippi and Ohio Rivers as well. The groups that have come together to fight the dock proposal are among hundreds nationwide that earlier opposed the Coast Guard proposal to permit barging liquid frack waste on the nation's waterways.
"The Corps is providing minimal information to the public about this massive plan to make Ohio the dump of it all," said Lea Harper, managing director of Freshwater Accountability Project. "The public must weigh in quickly and demand more time and a public hearing by the Corps so that the public is informed and our concerns can be heard."
EcoWatch Daily Newsletter
The CDC has emphasized that washing hands with soap and water is one of the most effective ways to prevent the spread of COVID-19. Guido Mieth / Moment / Getty Images
The Centers for Disease Control has emphasized that washing hands with soap and water is one of the most effective measures we can take in preventing the spread of COVID-19. However, millions of Americans in some of the most vulnerable communities face the prospect of having their water shut off during the lockdowns, according to The Guardian.
A California newt (Taricha torosa) from Napa County, California, USA. Connor Long /
CC BY-SA 3.0
Aerial photos of the Sierra Nevada — the long mountain range stretching down the spine of California — showed rust-colored swathes following the state's record-breaking five-year drought that ended in 2016. The 100 million dead trees were one of the most visible examples of the ecological toll the drought had wrought.
Now, a few years later, we're starting to learn about how smaller, less noticeable species were affected.
Disinfectants and cleaners claiming to sanitize against the novel coronavirus have started to flood the market.
Natthawat / Moment / Getty Images
Disinfectants and cleaners claiming to sanitize against the novel coronavirus have started to flood the market, raising concerns for the U.S. Environmental Protection Agency (EPA), which threatened legal recourse against retailers selling unregistered products, according to The New York Times.
A customer packs groceries in reusable bags at a NYC supermarket on March 1, 2020. Eduardo Munoz Alvarez/Getty Images
The global coronavirus pandemic has thrown our daily routine into disarray. Billions are housebound, social contact is off-limits and an invisible virus makes up look at the outside world with suspicion. No surprise, then, that sustainability and the climate movement aren't exactly a priority for many these days.
Ingredients are displayed for the Old School Pinto Beans from the Decolonize Your Diet cookbook by Luz Calvo and Catriona Rueda Esquibel. Melissa Renwick / Toronto Star via Getty Images
By Molly Matthews Multedo
Livestock farming contributes to global warming, so eating less meat can be better for the climate.