This website uses cookies to ensure you get the best experience while browsing it. By clicking 'Got It' you're accepting these terms.
Community Members Hold Vigil for Worker Killed in Gas Explosion and Testify at City Council Meeting
Jul. 17, 2012 08:47AM EST
Energy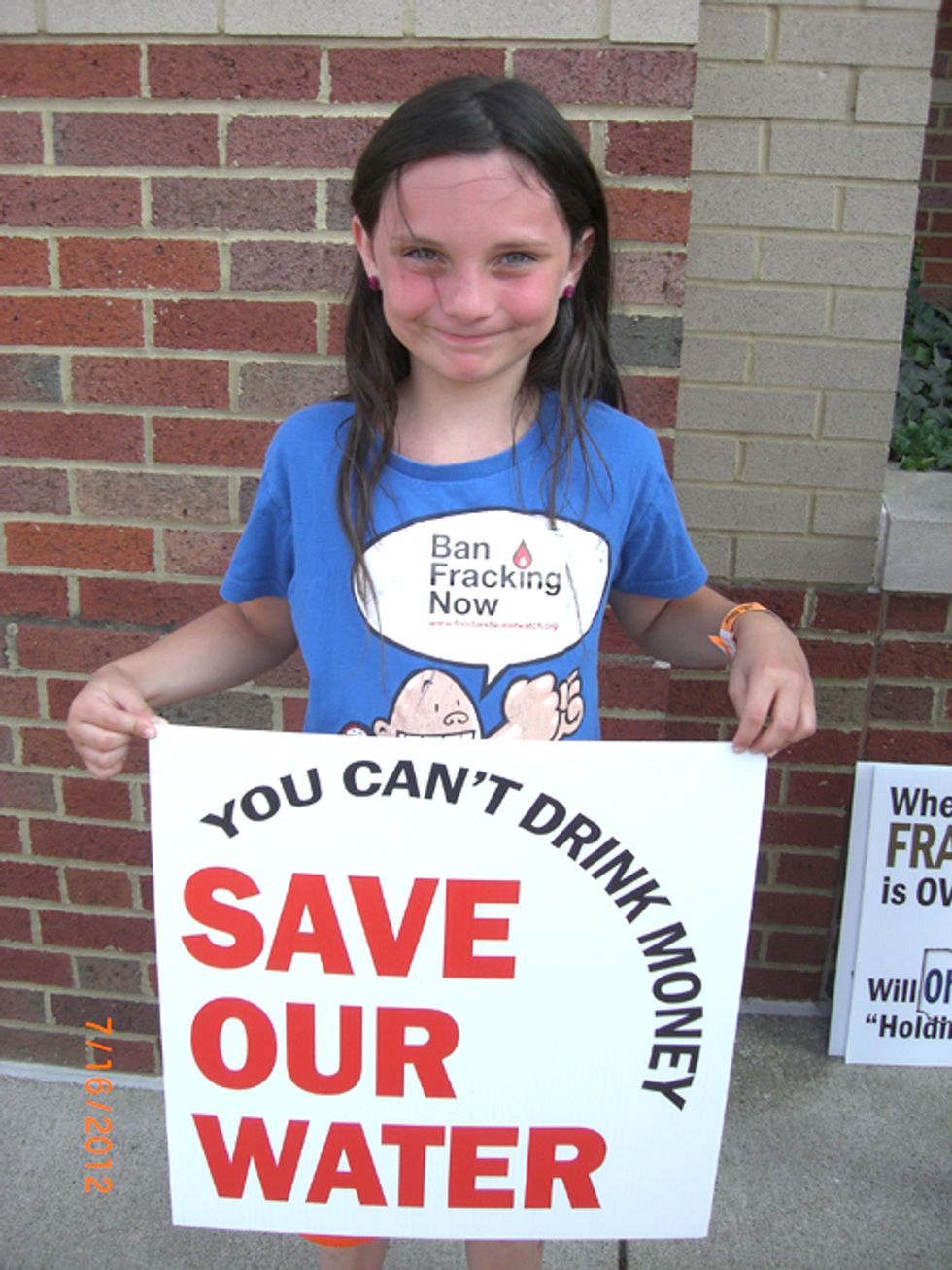 Following an explosion yesterday at a natural gas well in Bolivar Township, Ohio, that left a 19-year-old worker dead, local residents gathered last night at Chesapeake Energy's Canton office to protest Mayor Healy's request that the Canton City Council approve the company's plan to lease city-owned land for fracking.
Mourning the death of the oil and gas worker, protestors marched in a silent vigil to Canton City Hall, where they testified in opposition to the Mayor's plan before the Canton City Council.
Earlier this year in Healy's State of the City address, he dubbed Canton the "Utica Capital," clearly demonstrating his support for the controversial practice of shale gas drilling. But a growing number of residents and concerned council members are now working to block his efforts to drill on city-owned property.
Kristine Vaughan, local coordinator for Food & Water Watch, said, "We are asking city council to uphold its responsibility to protect the health, safety and welfare of Canton residents and water customers. Risking permanent contamination of our city water supply for a short-term gain hardly seems logical. I'm certain that neither Mayor Healy nor city council wants to jeopardize the health of their constituents for a budget band-aid."
As the area's leading supplier for more than 142 years, Canton has provided safe, high quality drinking water to city residents, six townships and four villages in Stark County.  
Mayor Healy's budget proposal to lease city-owned land would reportedly generate a one-time payment of $500,000 which would be used to address a projected $3.7 million deficit in 2013. At a July 2 council hearing on the topic of leasing, council members expressed concerns about water contamination, some saying Canton should protect water at all costs.
"Too many communities in Ohio are looking at the potential for a big windfall from the new shale gas drilling as an answer to their economic woes. The reality is that putting faith in a boom and bust venture could leave Canton in a bigger financial mess than what they are currently facing, with increased burden on infrastructure and potential for earthquakes," said Alison Auciello, organizer for Food & Water Watch.
Reuters recently cited Chesapeake Energy's own economic problems, reporting, "beset by growing governance and financial problems, and a sharp slump in natural gas prices, the No. 2 U.S. gas driller is reducing by half the ranks of its agents, known in the industry as landmen."
In May, EcoWatch provided exclusive information about the Chief Executive of Chesapeake Energy Aubrey McClendon and his deceptive ways, leading to Chesapeake emerging as one of the natural gas companies least trusted by the environmental community.
"Canton simply cannot afford to take this risk right now when so many questions are left unanswered about fracking. The practice should be banned to protect us from the associated dangers, especially in light of this morning's terrible tragedy in Bolivar Township," said Eric Vaughan, a Canton water customer.
Francesca, a 9-year-old Ohio resident spoke last night at the Canton City Council meeting protesting fracking in her community.
--------
Food & Water Watch works to ensure the food, water and fish we consume is safe, accessible and sustainable. So we can all enjoy and trust in what we eat and drink, we help people take charge of where their food comes from, keep clean, affordable, public tap water flowing freely to our homes, protect the environmental quality of oceans, force government to do its job protecting citizens, and educate about the importance of keeping shared resources under public control.
EcoWatch Daily Newsletter
A new report spotlights a U.N. estimate that at least 275 million people rely on healthy coral reefs. A sea turtle near the Heron Island in the Great Barrier Reef is seen above. THE OCEAN AGENCY / XL CATLIN SEAVIEW SURVEY
In a new report about how the world's coral reefs face "the combined threats of climate change, pollution, and overfishing" — endangering the future of marine biodiversity — a London-based nonprofit calls for greater global efforts to end the climate crisis and ensure the survival of these vital underwater ecosystems.
Half of the extracted resources used were sand, clay, gravel and cement, seen above, for building, along with the other minerals that produce fertilizer. Cavan Images / Cavan / Getty Images
The world is using up more and more resources and global recycling is falling. That's the grim takeaway from a new report by the Circle Economy think tank, which found that the world used up more than 110 billion tons, or 100.6 billion metric tons, of natural resources, as Agence France-Presse (AFP) reported.
By Gero Rueter
Heating with coal, oil and natural gas accounts for around a quarter of global greenhouse gas emissions. But that's something we can change, says Wolfgang Feist, founder of the Passive House Institute in the western German city of Darmstadt.

By George Citroner
Recent research finds that official government figures may be underestimating drug deaths by half.
Researchers estimate that 142,000 people died due to drug use in 2016.
Drug use decreases life expectancy after age 15 by 1.4 years for men and by just under 1 year for women, on average.
Government records may be severely underreporting how many Americans die from drug use, according to a new study by researchers from the University of Pennsylvania and Georgetown University.
Water coolers in front of shut-off water fountains at Center School in Stow, MA on Sept. 4, 2019 after elevated levels of PFAS were found in the water. David L. Ryan / The Boston Globe via Getty Images
In a new nationwide assessment of drinking water systems, the Environmental Working Group found that toxic fluorinated chemicals known as PFAS are far more prevalent than previously thought.