This website uses cookies to ensure you get the best experience while browsing it. By clicking 'Got It' you're accepting these terms.
Community Demands Transparency upon NRC Visit to Troubled Reactors
Apr. 05, 2012 08:20AM EST
Energy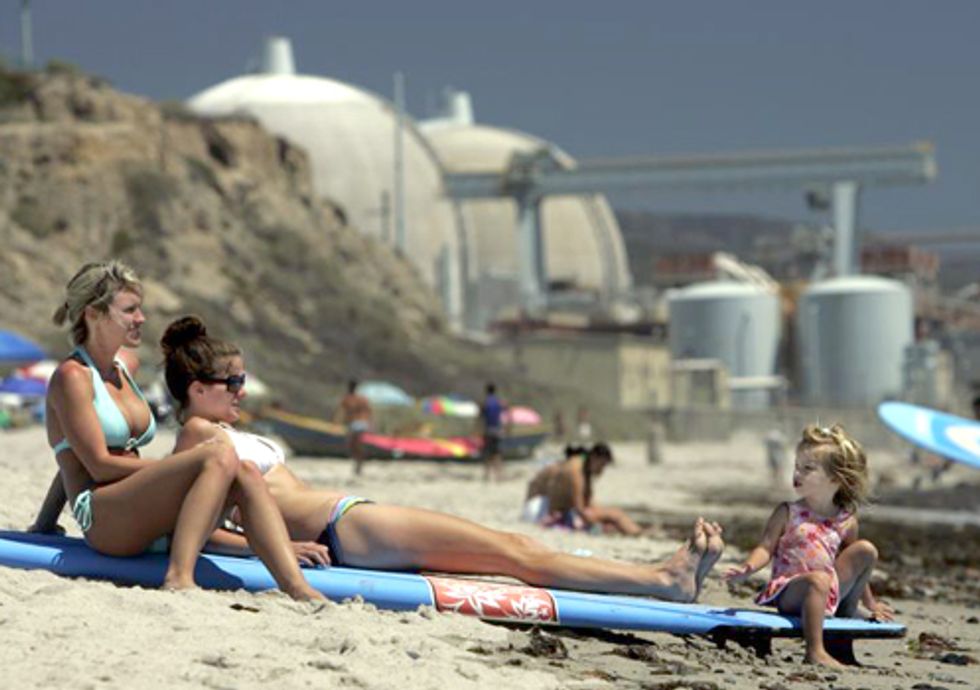 The ongoing crisis at the troubled San Onofre nuclear reactors entered a new phase on April 4 as Nuclear Regulatory Commission (NRC) Chair Gregory Jaczko announced he will visit the plant this Friday, April 6. Concerned organizations and community members reacted by demanding Jaczko announce a new policy of openness and require a full determination of what went wrong.
The two nuclear reactors at San Onofre, operated by Southern California Edison, have been shut down for more than two months following a radiation leak and the discovery of severely damaged equipment. Tubes in all four, new steam generators at both San Onofre reactors showed significant deterioration, which could lead to a serious release of radioactivity in the event of rupture.
"Chairman Jaczko needs to know that the citizens of Southern California are watching," said Gary Headrick with San Clemente Green. "We deserve answers, and we better get them before they even think about turning these reactors back on. If the Nuclear Regulatory Commission wants any credibility in this town, they need to know they can't sweep shoddy equipment and radiation leaks under the rug."
Jaczko confirmed his plans in a letter to local organizations working to address the serious threats the reactors pose to the health and safety of southern Californians. He has agreed to meet with concerned, local organizations in San Clemente, a city near the reactor site, at 4:45 p.m.—at the end of his visit Friday. The NRC chair will hold a press conference at 3 p.m. Local groups will be holding a press conference on Friday morning at 10 a.m. at the entrance to the reactor site to explain their opposition to the San Onofre nuclear reactors and their concerns over the current problems and investigations.
A report last week by one of the nation's leading independent nuclear engineers revealed that serious unresolved safety problems at San Onofre could lead to significant radiation releases if the plant is allowed to restart. The paper also documented that Edison misled the federal Nuclear Regulatory Commission about changes made to the reactors, which have led to unforeseen and undiagnosed safety problems. The report is online here.
The NRC and Edison are conducting an investigation into the malfunctions at San Onofre's reactors, yet it appears that the investigation does not include a thorough "root cause" analysis into what caused the problems—which the report concludes is essential. Without knowing what caused the damage, it's impossible to assess the true extent of the problems, or what can be done to stop them from happening again.
"Chairman Jaczko's visit to San Onofre underscores the severity of the crisis, but you don't get points just for showing up," said Damon Moglen of Friends of the Earth. "We got here because of Edison's culture of secrecy at San Onofre and that has to change. Edison has made its agenda clear—they want to restart these reactors as soon as possible, which would mean profits but not public safety. The public is looking to the NRC to get to the bottom of this crisis. Given the magnitude of the safety problems at the plant, band-aid solutions and empty assurances from Edison will not be good enough."
Friends of the Earth and a variety of local citizens' groups released a new ad campaign this week targeting Southern California Edison. The ad calls on citizens to let the utility know that their families come first—and that it must not restart the troubled San Onofre nuclear reactors currently facing serious questions about safety and secrecy. The citizens' groups include Citizens Oversight Projects, Committee to Bridge the Gap, Physicians for Social Responsibility – Los Angeles, Residents Organized for a Safe Environment (ROSE), San Clemente Green, SanOnofreSafety.org and the Peace Resource Center of San Diego. Click here to view the San Onofre ad online.
For more information, click here.
EcoWatch Daily Newsletter
Pexels
By Tim Lydon
Climate-related disasters are on the rise, and carbon emissions are soaring. Parents today face the unprecedented challenge of raising children somehow prepared for a planetary emergency that may last their lifetimes. Few guidebooks are on the shelves for this one, yet, but experts do have advice. And in a bit of happy news, it includes strategies already widely recognized as good for kids.
Pexels
Be it Nina Simone and James Brown for civil rights, Joni Mitchell and Marvin Gaye for the environment, or Jackson Browne and Buffalo Springfield for nuclear disarmament, musicians have long helped push social movements into the limelight.
Yulia Lisitsa / iStock / Getty Images Plus
Collagen is the most abundant protein in your body.
It is the major component of connective tissues that make up several body parts, including tendons, ligaments, skin, and muscles.
Greenpeace activists unfurl banners after building a wood and card 'oil pipeline' outside the Canadian High Commission, Canada House, to protest against the Trudeau government's plans to build an oil pipeline in British Colombia on April 18, 2018 in London. Chris J Ratcliffe / Getty Images
By Jessica Corbett
In an open letter to Canadian Prime Minister Justin Trudeau and Deputy Prime Minister Chrystia Freeland, 42 Nobel laureates implored the federal government to "act with the moral clarity required" to tackle the global climate crisis and stop Teck Resources' proposed Frontier tar sands mine.
Mapping Urban Heat through Portland State University /
video
Concrete and asphalt absorb the sun's energy. So when a heat wave strikes, city neighborhoods with few trees and lots of black pavement can get hotter than other areas — a lot hotter.