Community Builds Walden Pond Cabin in Thoreau-Inspired Fracking Pipeline Protest
You wouldn't suspect that a guy who builds things for a living would become the architect of a hugely popular symbol against the building of something else, but Will Elwell and his community of Ashfield, Massachusetts, have stumbled on just such a symbol. They are against the building of the Northeast Energy Direct pipeline, which energy company Kinder Morgan subsidiary Tennessee Gas Pipeline Company wants to trench through New York and Massachusetts to carry gas from the fracking fields of Pennsylvania to the coast.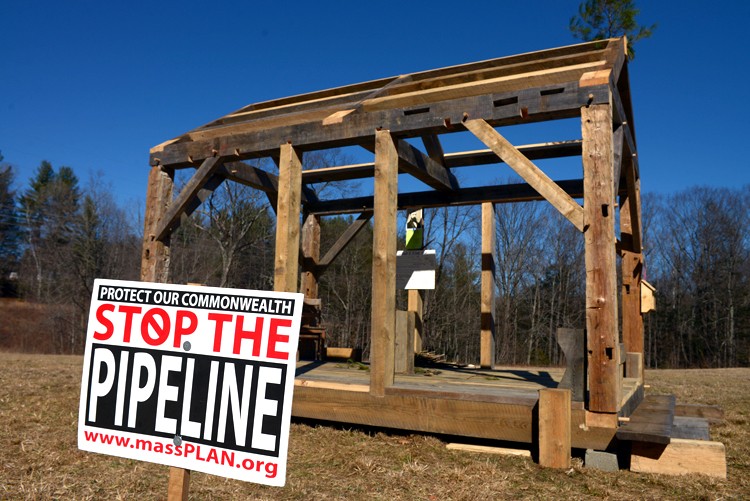 Residents of this proud New England town (where also I live) and many others around it strongly object to the notion of a corporation "taking" private and public land for this giant project, including state forestland and parcels conserved in perpetuity by land trusts, and have repeatedly denied company requests to survey their properties and farms, which has slowed the proposal's progress. Meanwhile citizen groups are preparing for civil disobedience alongside an effective grassroots education campaign that has won the support of many local, state and federal politicians.
That emphasis on civil disobedience, and wondering what more he could do for the cause, is what really rang a bell in Will Elwell's head. A skilled timber framer, he offered to create a direct reference to beloved Massachusetts figure and father of this style of resistance, Henry David Thoreau, by erecting a replica of the great writer's cabin on the hayfield of his neighbor, which itself is directly in the path of the proposed pipeline. Some of the beams were even salvaged from an 1800s-era Massachusetts barn, making the historic figure and new structure contemporaries of sorts.
As noted widely in the progressive press (Democracy Now and Common Dreams) and international media (RT), an enthusiastic group of 30 neighbors, activists and even local politicians turned out to help Elwell raise the beams on a recent weekday, culminating in a picturesque symbol of defiance. In the coming weeks, a roof, walls, and wood stove will be added, but for now, the key components are a sign board and journal that visitors have been using daily to share their frustrations, fears and hopes for the future of this place without a pipeline.
"I wanted to do something that would show my discontent with the proposed pipeline," Elwell told me, "but in a creative and beautiful way. And I wanted to occupy the proposed pipeline pathway and stop the project. This is an important and tangible symbol, and represents a place of resistance which many, many, people can now identify and help occupy."
As far as ideas to rally around go, it's certainly an effective one. But how practical it is in real pipeline-pausing terms is a bigger question. One way that Elwell has answered that was by getting a building permit:
"A building permit is not required for any outbuilding that is less than 200 square feet, but we wanted it to be registered and on record, because in order to move or demolish it, that would require its own permit. That would help raise awareness of the intent, and we could prepare to occupy the cabin (before its possible demolition)."
Fellow Ashfield pipeline resistance organizer Jim Cutler hopes to use the cabin as a rallying point for further activism and envisions it as a space that will host speakers that are eloquent on the issues.
Elwell thinks this one cabin is not a big enough symbol, however, and hopes to see more of these local rallying points pop up along the pipeline's possible path. "I would like to see a structure at every intersection along the proposed route," he said.
YOU MIGHT ALSO LIKE
7 Arrested at 'Pancakes Not Pipelines' Protest at FERC
The Wall Street Journal, Climate Change Denial and the Galileo Gambit
Bill McKibben: Fracking Has Turned Out to Be a Costly Detour
Glyphosate, the main ingredient in Monsanto's widely used herbicide Roundup, will be added July 7 to California's list of chemicals known to the state to cause cancer, according to a Reuters report Tuesday. This news comes after the company's unsuccessful attempt to block the listing in trial court and requests for stay were denied by a state appellate court and California's Supreme Court.
California's Office of Environmental Health Hazard Assessment (OEHHA) announced the designation on Monday under the Safe Drinking Water and Toxic Enforcement Act of 1986, or Proposition 65.
Keep reading...
Show less
www.facebook.com
Keep reading...
Show less
Researchers from the Marine Animal Response Society examine one of the dead right whales. Marine Animal Response Society
Canadian government officials and marine biologists are investigating the mysterious deaths of six North American right whales. The endangered animals all turned up dead between June 6 and June 23 in the Gulf of St. Lawrence, off Canada's southeastern coast.
North Atlantic right whales are the rarest of all large whale species and among the rarest of all marine mammal species, with only about 450 right whales in the North Atlantic.
Keep reading...
Show less
Scott Pruitt testifies during his Senate confirmation hearing for EPA administrator, January 2017.
The U.S. Environmental Protection Agency's (EPA) chief of staff pressured the leader of its Board of Scientific Counselors to change her congressional testimony to downplay the impact of the agency's mass dismissal of scientists from the board, the New York Times reports.
Keep reading...
Show less
By Jason Mark
Sequoiadendron giganteum. That's the scientific name for the giant sequoia: the mammoth trees found in California's Sierra Nevada that are the largest organisms on Earth, and among the longest-lived. Biologists estimate that about half of all sequoias live in Giant Sequoia National Monument, a 328,000-acre preserve in the Southern Sierra Nevada established by President Clinton in 2000.
Now that national monument is in jeopardy.
Keep reading...
Show less
By Andy Rowell
Donald Trump this week is launching an "energy week," pushing the argument that the U.S. will become a net exporter of oil and gas.
The president and his cronies are talking about a new era of "U.S. energy dominance," which could stretch for decades to come. However, no one believes the president anymore.
Keep reading...
Show less
UN
By Colleen Curry
The United Nations has designated 23 new sites around the world to its World Network of Biosphere reserves—stunning natural landscapes that balance environmental and human concerns and strive for sustainability.
The forests, beaches and waterways were added to the list this year at the International Coordinating Council of the Man and the Biosphere Programme meeting in Paris earlier this month.
Keep reading...
Show less
Jun. 26, 2017 01:48PM EST
www.elysee.fr
By Andy Rowell
There is a growing feeling within European capitals that a quiet, but deeply positive, revolution is happening under Emmanuel Macron in France.
Macron's opinion poll rating is high, especially boosted in how the young French president has reacted to Donald Trump on the international stage.
Keep reading...
Show less
Jun. 26, 2017 12:32PM EST
www.facebook.com
Keep reading...
Show less