This website uses cookies to ensure you get the best experience while browsing it. By clicking 'Got It' you're accepting these terms.
Colorado Supreme Court Upholds State Power, Says Cities Can't Impose Fracking Bans
May. 02, 2016 11:56AM EST
Energy
By Earthworks, Food & Water Watch, Our Longmont, Sierra Club
Today, the Colorado Supreme Court struck down the rights of Coloradans to protect their health, safety and wellbeing from fracking through the use of local bans. The justices denied residents their "right of enjoying and defending their lives and liberties; and of seeking and obtaining their safety and happiness" as outlined in the Colorado Constitution, by determining that oil and gas development is pre-empted by the state.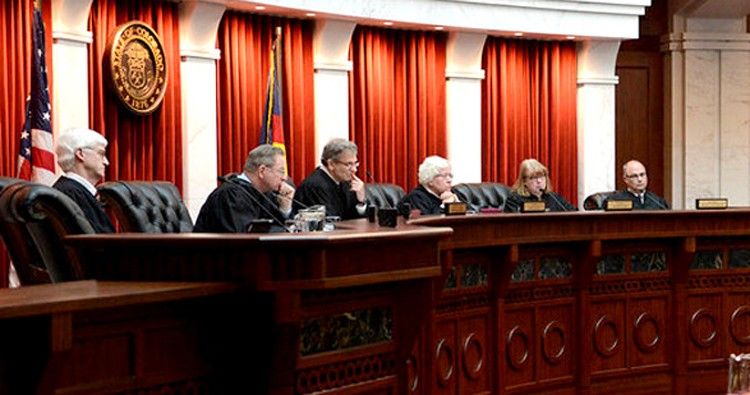 This decision overturns the democratically enacted measure to ban fracking passed overwhelmingly by Longmont residents in 2012 and strips all Coloradans of their Constitutional right to say "no" to fracking in their communities in order to prevent problems inherent in fracking, including air pollution, health complications, water contamination and reduced property values.
"It is beyond comprehension that the Colorado Supreme Court still fails to recognize the rights of people to live in a safe and healthy environment," Kaye Fissinger, president of Our Longmont, said. "The state has declared that fostering oil and gas development is in its interest. That the court apparently equates a government interest superior to human rights is a severe slap in the face. Our country's founding fathers are most certainly turning over in their graves."
In 2012, residents in Longmont passed a city charter amendment, Measure 300, which banned fracking and the disposal of its waste products, including injection wells within city limits, to protect homes, schools and public parks. The local ban passed with an overwhelming 60 percent majority despite being outspent 30-1 by the oil and gas industry. Gov. Hickenlooper and the oil and gas industry sued Longmont over this democratically enacted measure.
"Today's decision deals a devastating blow not just to Longmont residents, but to all Coloradans who have been stripped of a democratic process that should allow us the right to protect our health, safety and property from the impacts of this dangerous industrial activity," Lauren Petrie, Rocky Mountain region director with Food & Water Watch, said.
After appealing the District Court's ruling in 2015, the Colorado Court of Appeals petitioned the Colorado Supreme Court to hear this case. In an unprecedented decision, the Colorado Supreme Court agreed to hear this case and listened to oral arguments in December 2015, leading to this historic decision.
"Straight out of Orwell's Animal Farm, the Colorado Supreme Court just decided that the oil and gas industry is 'more equal' than other industries," Earthworks energy program director Bruce Baizel said. "Turning democracy on its head, today's ruling prohibits local communities from deciding whether and how to balance their health against the fracking industry's profits."
Physicians, Scientists & Engineers for Healthy Energy conducted an analysis of peer-reviewed studies on the impacts of fracking and shale gas development. It found that 21 of 25 papers published on the health impacts show potential risks or actual adverse outcomes, including increased incidence of cancer and birth defects associated with living in close proximity to oil and gas wells. The group's survey also showed that 33 of 48 water quality studies find either the potential for, a positive association with or direct evidence of water contamination. In addition, 30 of 34 focused on air quality found elevated levels of air pollution and that children are especially vulnerable to exposure to such pollution, according to the scientists.
As these inherent harms of fracking become ever-clearer, Gov. Hickenlooper's failed task force—formed in 2014 as a way to keep several anti-fracking measures off the ballot—has left municipalities frustrated as proposals to drill continue to encroach closer to homes and schools. In Adams County, a recent proposal to drill several new mega-facilities could place fracking wells within 100 feet from homes and a middle school. The governor's task force has failed to provide Coloradans with a way to protect their homes, families and futures from this dangerous, industrial activity.
"As a retired RN I am horrified that we continue to allow this toxic industry to operate next to our homes and schools," Karen Dike of the Sierra Club Rocky Mountain Chapter said. "The Colorado Supreme Court ruling discounts the inherent rights of the people of this state to have clean air to breath, fresh water to drink, land free of contamination and safe places to live, go to school and work. The ruling places profit of corporations before people and will allow the continuing toxic onslaught of this dangerous industry."
https://www.scribd.com/doc/311234580/Colo-Supreme-...
YOU MIGHT ALSO LIKE
Is Fracking Causing the Epidemic of Horse Birth Defects at Breeding Farm?
Watch: River Explodes Into Flames From Methane Coming From Nearby Fracking Sites
12 Arrested in Earth Day-Themed Protest Against Gas Storage in Seneca Lake's Salt Caverns
10 Years of Fracking: Its Impact on Our Water, Land and Climate
EcoWatch Daily Newsletter
Protestors and police stand on ether side of railway tracks. dpa / picture-alliance
Police have cleared 250 climate activists who stayed overnight at the Garzweiler brown coal mine in western Germany, officials said Sunday.
Cecilie_Arcurs / E+ / Getty Images
By Megan Jones and Jennifer Solomon
The #MeToo movement has caused profound shake-ups at organizations across the U.S. in the last two years. So far, however, it has left many unresolved questions about how workplaces can be more inclusive and equitable for women and other diverse groups.

Cigarette butts are the most-littered item found at beach clean ups. John R. Platt
By Tara Lohan
By now it's no secret that plastic waste in our oceans is a global epidemic. When some of it washes ashore — plastic bottles, plastic bags, food wrappers — we get a stark reminder. And lately one part of this problem has been most glaring to volunteers who comb beaches picking up trash: cigarette butts.

Andrea Rodgers, second from the right, takes notes during a hearing in the Juliana v. U.S. case before the 9th Circuit Court of Appeals in Portland, Oregon on June 4. Colleague Elizabeth Brown sits to her left, while colleague Julia Olson sits on her right, with co-council Philip Gregory on Julia's right. Robin Loznak / Our Children's Trust
By Fran Korten
On June 4, Andrea Rodgers was in the front row of attorneys sitting before a three-judge panel of the 9th Circuit Court. The court session, held in Portland, Oregon, was to determine whether the climate change lawsuit (Juliana v. United States) brought by 21 young plaintiffs should be dismissed, as requested by the U.S. government, or go on to trial.
Seventy Extinction Rebellion protesters were arrested outside The New York Times building Saturday.
SCOOTERCASTER / YouTube screenshot
Explosions and a blaze at the Philadelphia Energy Solutions Refining Complex on June 21.
VOA News / YouTube screenshot
A fire broke out at a Philadelphia oil refinery Friday morning, starting with an explosion so massive it was felt as far away as South Jersey and Delaware County, Pennsylvania, CNN reported.
Asian elephants in Bandipur National Park, India. Mike Prince / CC BY 2.0
By John R. Platt
Some of the tiniest creatures in Myanmar benefit from living near the largest species in the area.