This website uses cookies to ensure you get the best experience while browsing it. By clicking 'Got It' you're accepting these terms.
Colorado Judge Strikes Down Longmont's Fracking Ban in Favor of 'State's Interest' in Oil and Gas
Jul. 25, 2014 09:17AM EST
One thing is for sure—you can't accuse Boulder County District Court Judge D.D. Mallard of being dishonest.
Her decision Thursday regarding Longmont, CO's fracking ban includes no ambiguity. Instead it clearly states that concerns about health risks to residents don't quite stack up against Colorado's stake in the oil and gas industries.
"While the court appreciates the Longmont citizens' sincerely held beliefs about risks to their health and safety, the court does not find this is sufficient to completely devalue the state's interest," Mallard wrote in the decision, uploaded to Scribd by the Denver Post.
Voters approved the ban in 2012, but the Colorado Oil and Gas Association never stopped fighting to overturn it. Earthworks, the Sierra Club, Our Health, Our Future, Our Longmont and the other environmental groups listed as defendants plan on appealing the decision. The judge ruled that the ban can remain in place while an appeal is considered.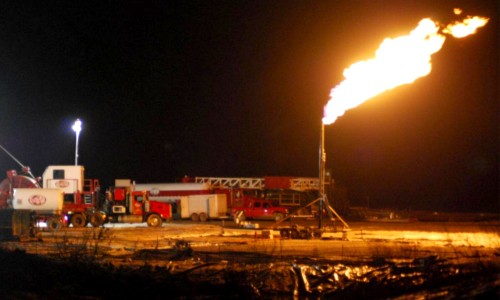 "While we respectfully disagree with the court's final decision, [Mallard] was correct that we were asking this Court, in part, to place protection from the health, safety and environmental risks from fracking over the development of mineral resources," Kaye Fissinger, president of Our Health, Our Future, Our Longmont, said in a statement on Earthworks' website.
"It's tragic that the judge views the current law in Colorado is one in which fracking is more important than public health; reversing that backwards priority is a long-term battle that we're determined to continue."
According to the Post, the City of Longmont had spent $116,324 defending the ban as of June 30. Though the groups argued that the language the industry relied on to get its desired result was written far before modern practices like fracking, Mallard said the issue should be taken up with a higher court or state legislators.
"This decision means two things: The judge has invited us to seek the change we need either through the higher courts or the legislature," said Bruce Baizel, Earthworks Energy Program director. "We fully intend to pursue the former on appeal, while the latter underscores the need for the citizens of Colorado to get out and support the Environmental Bill of Rights ballot measure this Fall."
& the Many Health Benefits
zeljkosantrac / E+ / Getty Images
Medically reviewed by Hrefna Palsdottir, MS
Oats are considered to be one of the healthiest grains on earth. Find out why and how to incorporate this breakfast staple into your morning routine.
Youth activists ages 11-18 learn to fight plastic pollution at the inaugural Ocean Heroes Bootcamp. Ocean Heroes Bootcamp
By 2018 Ocean Heroes: Claire MacQueen (13 years old), Sabine Thomas (13) and Ava Inskeep (14)
We despise single-use plastics. We want to keep our oceans and our beaches clean. Early last year I (Claire) lived in India for several months and became curious about plastic waste, as it was much more visible in India than back home in the U.S. Seeing all the plastic waste while I was visiting helped me to understand that much of the trash produced by the U.S. actually ends up in developing countries, like India, which does not have a proper waste management system like we do at home, which causes a ton of trash to end up in waterways and the ocean.
Sen. Bernie Sanders speaks at a Martin Luther King Jr. Day event in South Carolina on Jan. 21. Sean Rayford / Getty Images
Degraded coral reefs at Kahekili Beach Park in west Maui, Hawaii. Peter Swarzenski / Usgs
In a case watched closely both by polluting industries and clean water advocates across the nation, the U.S. Supreme Court agreed to take up an appeal of a Clean Water Act case out of Hawaii concerning treated sewage flowing into the Pacific Ocean from injection wells.
A woman works at a distrubiton station at the 855,000-square-foot Amazon fulfillment center in Staten Island, one of the five boroughs of New York City, on Feb. 5. JOHANNES EISELE / AFP / Getty Images
Amazon will strive to cut carbon emissions from its shipments in half by 2030, the e-commerce giant said Monday. The retailer's plan calls for an increase in the use of electric delivery vehicles and renewable energy as well as pressuring suppliers to use less packaging.