This website uses cookies to ensure you get the best experience while browsing it. By clicking 'Got It' you're accepting these terms.
Coloradans Give Gov. Hickenlooper and State Legislature an 'F' for Failing to Address Fracking
May. 07, 2015 09:23AM EST
Energy
As Colorado lawmakers wrapped up their legislative session on Wednesday, members of Coloradans Against Fracking set up a mock classroom on the capitol steps and staged a performance to draw attention to the legislature's failure to protect constituents from fracking.
The performance featured a disappointed teacher regaling two figures wearing "dunce" hats (one representing the Colorado legislature, the other Gov. Hickenlooper) over a shameful report card comprising "F" grades in every subject related to reining in the Colorado oil and gas industry.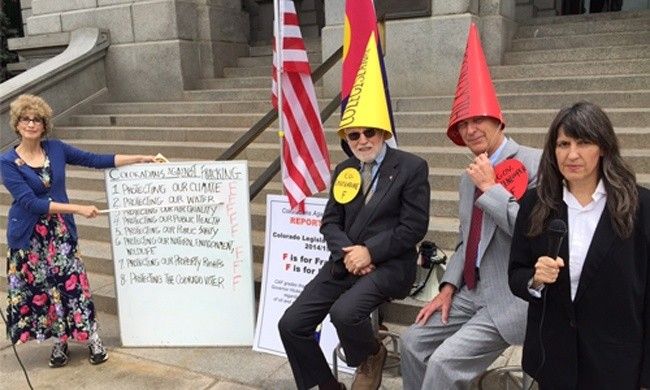 According to the state's own data, during the past five months the legislature has been in session, Gov. Hickenlooper's agency has permitted nearly 1,000 new wells in Colorado. Legislators have been sitting on their hands while Colorado's families and futures get fracked.
Coloradans Against Fracking staged the "F is for Fracking. F is for Failure." performance on the final day of the session to highlight that the governor's and legislature's inaction on fracking presents ongoing threats to Coloradans' health, air, water, environment and safety from oil and gas development. After the Governor's Blue Ribbon Task Force was deemed a failure by its own members, the Colorado legislature carried forward this trend by doing virtually nothing to abate the widespread fracking fiasco being literally drilled into Colorado.
"The Colorado Progressive Coalition is disappointed that the state legislature and Governor Hickenlooper have allowed gas & oil companies to continue to pollute and endanger the residents of low income, communities of color through continued fracking in Northern Colorado and northeast Denver," said Mike Roque, executive director of Colorado Progressive Coalition.
After the performance, members of Coloradans Against Fracking waded through the waves of oil and gas lobbyists who inhabit the Colorado State Capitol (it's estimated there are more oil and gas lobbyists than there are inspectors to monitor the state's 53,000 fracking wells), to deliver the fracking failure report cards to the governor's office. Last year, the oil and gas industry spent nearly $12 million to influence the outcome of elections, money "well spent" based on the result of this legislative session: no new oil and gas restrictions, no meaningful attempt to ban the fracking and no redress for the thousands of regular Coloradans whose health, safety and property is threatened by fracking.
"Our elected representatives—legislators and Governor Hickenlooper—should be standing up to the oil and gas companies to keep Colorado's water and air clean and healthy for my generation and many more to come," said youth leader Xiuhtezcatl Martinez of Earth Guardians. "They deserve an "F" for their lack of meaningful action to protect our future."
Coloradans are following a national trend of opposing fracking. Communities in Longmont, Fort Collins, Broomfield, Boulder and Lafayette have voted to place bans or moratoria on the dangerous industrial activity, and residents of Denver have launched an effort to stop fracking in that city and its watershed. Unfortunately, Gov. Hickenlooper continues his "Drill, Baby, Drill" stances—including supporting the export of fracked oil overseas (likely to China, Europe and India), a move that will create a further incentive for oil and gas companies to frack more wells next to homes and schools in Colorado.
"Due to the poor performance of our legislature and governor, our right to exercise local control over polluting industries remains undefended. The health and safety of Coloradans remains at risk from exposure to toxic emissions and industrial accidents. We need our elected officials to protect the rights of citizens, not the oil and gas industry," said Lauren Swain, 350 Denver fracking specialist.
"Governor Hickenlooper and our lawmakers need to stop drinking the fracking fluid and start protecting Coloradans," said Sam Schabacker, western region director with Food & Water Watch.
Where is this all going? As the Presidential Race heats up, this issue will continue to be a defining one in Colorado politics. And as the war over these issues escalates within the Democratic Party—with the party elites embracing fracking while the rising grassroots wing calls for a ban—one thing is certain: precisely because Gov. Hickenlooper and the legislature failed to address the fracking fight, this fight is only going to heat up.
Coloradans Against Fracking is a broad-based coalition of organizations, businesses and individuals from all corners of Colorado working together for a statewide ban on hydraulic fracturing for oil and gas.
Sharon Carlisle is with Protect Our Loveland, a grassroots group working to protect that Colorado city from fracking.
YOU MIGHT ALSO LIKE
Texas Passes Ban on Fracking Bans (Yes, You Read that Right)
8 States Dealing With Huge Increases in Fracking Earthquakes
EcoWatch Daily Newsletter
Smog over Los Angeles. Westend61 / Getty Images
After four decades of improving air quality, the U.S. has started to take a step backwards, as the number of polluted days has ticked upwards over the last two years, the Associated Press reported.
Photobos / iStock / Getty Images
Governors in Vermont and Maine signed bills on Monday that will ban plastic bags in their states next year, The Hill reported.
The Maine ban will go into effect next Earth Day, April 22, 2020. The Vermont ban, which extends beyond plastic bags and is the most comprehensive plastics ban so far, will go into effect in July 2020. The wait time is designed to give businesses time to adjust to the ban.
picture-alliance / AP Images / D. Goldman
By Daniel Moattar
Eastern Kentucky's hills are interrupted by jarring flats of bare rock: the aftermath of mountaintop removal mining, which uses explosives to destroy and harvest coal-rich peaks.
By Molly Taft
Lisa Marshall isn't your typical activist. For one thing, she's not into crowds. "I don't really like rallies," Marshall, a mom of three from upstate New York, said. "They're a little stressful — not my favorite thing."

An oil drilling site in a residential area of Los Angeles, California on July 16, 2014.
Faces of Fracking / Flickr
By Jake Johnson
A comprehensive analysis of nearly 1,500 scientific studies, government reports, and media stories on the consequences of fracking released Wednesday found that the evidence overwhelmingly shows the drilling method poses a profound threat to public health and the climate.

sonsam / iStock / Getty Images
By Grace Francese
A new Environmental Working Group (EWG) study published in Environmental Research found that nitrate, one of the most common contaminants of drinking water, may cause up to 12,594 cases of cancer per year, but that's not its only danger: It can pose unique health risks to children.
Melt water from Everest's Khumbu glacier. Ed Giles / Getty Images
EPA Administrator Andrew Wheeler signs his replacement for the Clean Power Plan. Win McNamee / Getty Images