This website uses cookies to ensure you get the best experience while browsing it. By clicking 'Got It' you're accepting these terms.
Coloradans Give Gov. Hickenlooper and State Legislature an 'F' for Failing to Address Fracking
May. 07, 2015 10:23AM EST
Energy
As Colorado lawmakers wrapped up their legislative session on Wednesday, members of Coloradans Against Fracking set up a mock classroom on the capitol steps and staged a performance to draw attention to the legislature's failure to protect constituents from fracking.
The performance featured a disappointed teacher regaling two figures wearing "dunce" hats (one representing the Colorado legislature, the other Gov. Hickenlooper) over a shameful report card comprising "F" grades in every subject related to reining in the Colorado oil and gas industry.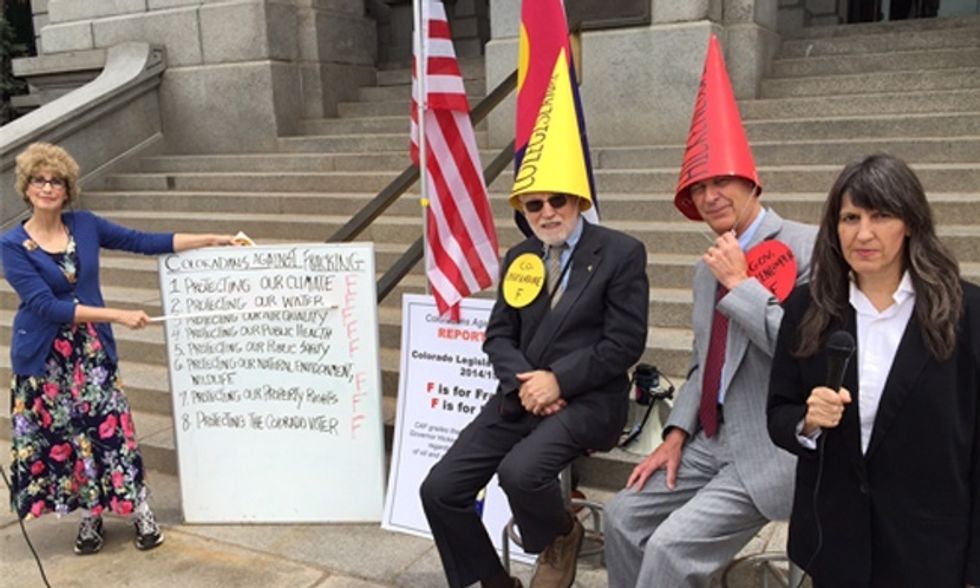 According to the state's own data, during the past five months the legislature has been in session, Gov. Hickenlooper's agency has permitted nearly 1,000 new wells in Colorado. Legislators have been sitting on their hands while Colorado's families and futures get fracked.
Coloradans Against Fracking staged the "F is for Fracking. F is for Failure." performance on the final day of the session to highlight that the governor's and legislature's inaction on fracking presents ongoing threats to Coloradans' health, air, water, environment and safety from oil and gas development. After the Governor's Blue Ribbon Task Force was deemed a failure by its own members, the Colorado legislature carried forward this trend by doing virtually nothing to abate the widespread fracking fiasco being literally drilled into Colorado.
"The Colorado Progressive Coalition is disappointed that the state legislature and Governor Hickenlooper have allowed gas & oil companies to continue to pollute and endanger the residents of low income, communities of color through continued fracking in Northern Colorado and northeast Denver," said Mike Roque, executive director of Colorado Progressive Coalition.
After the performance, members of Coloradans Against Fracking waded through the waves of oil and gas lobbyists who inhabit the Colorado State Capitol (it's estimated there are more oil and gas lobbyists than there are inspectors to monitor the state's 53,000 fracking wells), to deliver the fracking failure report cards to the governor's office. Last year, the oil and gas industry spent nearly $12 million to influence the outcome of elections, money "well spent" based on the result of this legislative session: no new oil and gas restrictions, no meaningful attempt to ban the fracking and no redress for the thousands of regular Coloradans whose health, safety and property is threatened by fracking.
"Our elected representatives—legislators and Governor Hickenlooper—should be standing up to the oil and gas companies to keep Colorado's water and air clean and healthy for my generation and many more to come," said youth leader Xiuhtezcatl Martinez of Earth Guardians. "They deserve an "F" for their lack of meaningful action to protect our future."
Coloradans are following a national trend of opposing fracking. Communities in Longmont, Fort Collins, Broomfield, Boulder and Lafayette have voted to place bans or moratoria on the dangerous industrial activity, and residents of Denver have launched an effort to stop fracking in that city and its watershed. Unfortunately, Gov. Hickenlooper continues his "Drill, Baby, Drill" stances—including supporting the export of fracked oil overseas (likely to China, Europe and India), a move that will create a further incentive for oil and gas companies to frack more wells next to homes and schools in Colorado.
"Due to the poor performance of our legislature and governor, our right to exercise local control over polluting industries remains undefended. The health and safety of Coloradans remains at risk from exposure to toxic emissions and industrial accidents. We need our elected officials to protect the rights of citizens, not the oil and gas industry," said Lauren Swain, 350 Denver fracking specialist.
"Governor Hickenlooper and our lawmakers need to stop drinking the fracking fluid and start protecting Coloradans," said Sam Schabacker, western region director with Food & Water Watch.
Where is this all going? As the Presidential Race heats up, this issue will continue to be a defining one in Colorado politics. And as the war over these issues escalates within the Democratic Party—with the party elites embracing fracking while the rising grassroots wing calls for a ban—one thing is certain: precisely because Gov. Hickenlooper and the legislature failed to address the fracking fight, this fight is only going to heat up.
Coloradans Against Fracking is a broad-based coalition of organizations, businesses and individuals from all corners of Colorado working together for a statewide ban on hydraulic fracturing for oil and gas.
Sharon Carlisle is with Protect Our Loveland, a grassroots group working to protect that Colorado city from fracking.
YOU MIGHT ALSO LIKE
Texas Passes Ban on Fracking Bans (Yes, You Read that Right)
8 States Dealing With Huge Increases in Fracking Earthquakes
EcoWatch Daily Newsletter
The CDC has emphasized that washing hands with soap and water is one of the most effective ways to prevent the spread of COVID-19. Guido Mieth / Moment / Getty Images
The Centers for Disease Control has emphasized that washing hands with soap and water is one of the most effective measures we can take in preventing the spread of COVID-19. However, millions of Americans in some of the most vulnerable communities face the prospect of having their water shut off during the lockdowns, according to The Guardian.
A California newt (Taricha torosa) from Napa County, California, USA. Connor Long /
CC BY-SA 3.0
Aerial photos of the Sierra Nevada — the long mountain range stretching down the spine of California — showed rust-colored swathes following the state's record-breaking five-year drought that ended in 2016. The 100 million dead trees were one of the most visible examples of the ecological toll the drought had wrought.
Now, a few years later, we're starting to learn about how smaller, less noticeable species were affected.
Disinfectants and cleaners claiming to sanitize against the novel coronavirus have started to flood the market.
Natthawat / Moment / Getty Images
Disinfectants and cleaners claiming to sanitize against the novel coronavirus have started to flood the market, raising concerns for the U.S. Environmental Protection Agency (EPA), which threatened legal recourse against retailers selling unregistered products, according to The New York Times.
A customer packs groceries in reusable bags at a NYC supermarket on March 1, 2020. Eduardo Munoz Alvarez/Getty Images
The global coronavirus pandemic has thrown our daily routine into disarray. Billions are housebound, social contact is off-limits and an invisible virus makes up look at the outside world with suspicion. No surprise, then, that sustainability and the climate movement aren't exactly a priority for many these days.
Ingredients are displayed for the Old School Pinto Beans from the Decolonize Your Diet cookbook by Luz Calvo and Catriona Rueda Esquibel. Melissa Renwick / Toronto Star via Getty Images
By Molly Matthews Multedo
Livestock farming contributes to global warming, so eating less meat can be better for the climate.