Jun. 15, 2016 01:58PM EST
College-Bound Student Rejects Scholarship From Nestlé's Bottled Water Company
Major kudos to Hannah Rousey. The college-bound student from Lovell, Maine has turned down a $1,000 scholarship money from Nestlé subsidiary Poland Spring‬ due to her objections to bottled water and the company's environmentally destructive practices.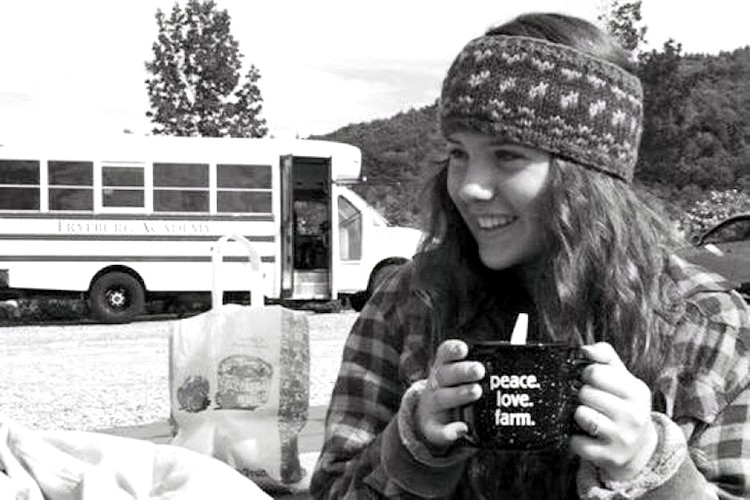 Hannah Rousey has turned down a $1,000 scholarship from water bottle company Poland Spring‬. Photo credit: GoFundMe
"I am grateful for the scholarship I have been awarded, but I cannot in good faith accept money from a company that does not exhibit sustainable and ethical practices," she wrote a letter to the bottling company on June 2, according to the Conway Daily Sun.
The 17 year old has been accepted to Sterling College in Vermont where she will pursue a degree in sustainable agriculture and environmental protection law and policy. She was one of five students who received a $1,000 Poland Spring Good Science scholarship at her high school graduation ceremony from Fryeburg Academy in Fryeburg, Maine, the Bridgton News reported.
Although tuition at the four-year private college will set her back $46,152 for the 2016-17 academic year, Rousey explained in her letter that it would be "hypocritical" of her to accept Poland Spring's money:
For me to accept your scholarship would be hypocritical. I am in hopes that more people of my generation will become aware of the dire need to protect our water and the earth's other precious resources.
On average, Poland Spring is now allowed to take up to 603,000 gallons of water per day from Fryeburg's aquifer. Poland Spring also taps water sources in Poland, Hollis, Pierce Pond Township, Dallas Plantation, Kingfield and Denmark. This water is then trucked to the largest bottling facility in the world, located in Hollis, Maine. They offer monies to our towns, schools and organizations to distract us from the fact that they robbing us of our water.
Treehugger pointed out that this is blatant "bluewashing," which is a term for when companies or organizations falsely boost their green credentials to make good PR.
Poland Spring natural resource manager Mark Dubois provided a response to Rousey's letter. According to the Conway Daily Sun, he acknowledged that while Rousey's numbers are accurate, he countered that Poland Spring could safely take 800,000 gallons of water a day from Fryeburg's aquifer.
"If it were not sustainable, we would not be here," Dubois said. "We are operating well under sustainable limits."
But Rousey isn't just mad about Poland Springs siphoning massive quantities of water. She also highlighted the enormous environmental footprint of water bottle production as well as its resulting plastic waste, as she told the Conway Daily Sun:
The average time for a plastic bottle to completely degrade is at least 450 years. It can even take some bottles 1,000 years to biodegrade. Along with the potential to drain the surrounding aquifers, shipping out 135 million cases of plastic bottles annually, think about all the air pollution from the trucks that travel around the state of Maine. How does this fall in line with sustainable and ethical practices?
The new high school grad told Bridgton News that she was taught at a young age to carry a reusable water bottle with her so she would not have to buy bottles from a store. As she got older, she learned more about Fryeburg's water issues and was even invited to speak at her local library about the documentary Bottled Life, which explores the environmentally exploitative practices of the bottled water industry.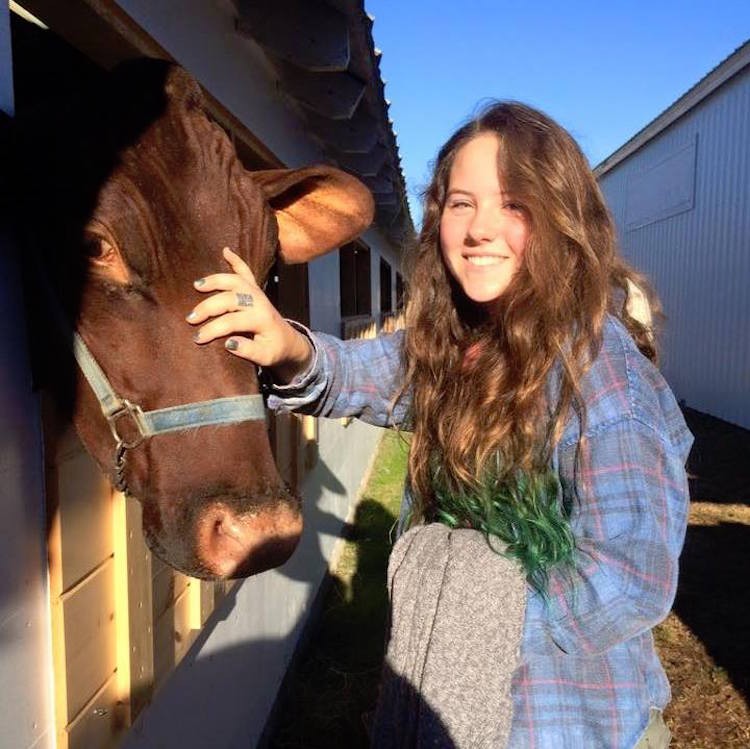 "I've grown up in a family where environmental stewardship is ingrained in our everyday life, to respect the planet and the rights of every living thing on it," Rousey said. Photo credit: GoFundMe
"Being an educated and aware consumer is key to being able to enact change," Rousey said. "The almighty dollar speaks volumes. It is paramount that we support the people and companies that are operating using sustainable practices."
While she admits she's appreciative of the scholarship money and could use the financial support to attend college in the fall, she said, "It's important to lead by action, when push comes to shove doing what is right isn't always what is easy.
"Accepting money from Poland Springs would go against everything I am going to school for, therefore, I politely declined their offer."
Since word got out of the principled teen, Fryeburg Water Trustee Nickie Sekera has set up a GoFundMe scholarship fund to help raise $10,000 that will go toward's Rousey college tuition. More than $2,000 has already been raised since the crowdfunding campaign launched two days ago.
Joshua Turcotte, who contributed $200, wrote on the campaign page, "Really happy you took the stance that you did; I'm from the areas affected by their water exploitations, and have been fuming about it ... so this is a great change of pace. Focus hard on your studies and beyond."
YOU MIGHT ALSO LIKE
80% of Ocean Plastic Comes From Land-Based Sources, New Report Finds
5 Ocean Heroes Protecting Earth's Most Precious Resource
World Oceans Day: Healthy Oceans = Healthy Planet
Jul. 21, 2017 01:50PM EST
Will Rose / Greenpeace
Eleven peaceful activists from the Greenpeace ship Arctic Sunrise have taken to the water in inflatable boats with handheld banners to oppose the Statoil Songa Enabler oil rig, 275 km North off the Norwegian coast, in the Arctic Barents sea.
The banners say: "People Vs. Arctic Oil" and are directed at Statoil and the Norwegian government, which has opened a new, aggressive search for oil in the waters of the Barents Sea.
Keep reading...
Show less
Jul. 21, 2017 10:34AM EST
Dominion Pipeline Monitoring Coalition
The Federal Energy Regulatory Commission (FERC) paved the way Friday for the 600-mile, 42-inch fracked gas Atlantic Coast Pipeline to proceed when it issued the final environmental impact statement (FEIS). A joint project of utility giants Duke Energy and Dominion Energy, the Atlantic Coast Pipeline would move fracked gas from West Virginia into Virginia and North Carolina.
In April, the Sierra Club submitted more than 500 pages of legal and technical comments on FERC's draft EIS, which were joined by more than 18,000 individual comments detailing opposition to the project. The pipeline has been met with widespread opposition, with more than 1,000 people participating in public hearings across the three affected states. The Sierra Club recently requested that FERC issue a new environmental review document analyzing information that came in after or late in, the public comment process.
Keep reading...
Show less
Jul. 21, 2017 08:25AM EST
Greenpeace / PolluterWatch
By Jessica Corbett
"It's time Rex Tillerson step down or be removed," said Gigi Kellett of Corporate Accountability International, following an announcement on Thursday that ExxonMobil will pay $2 million for violating U.S. sanctions against Russian officials while the now-secretary of state was the company's CEO.
"ExxonMobil demonstrated reckless disregard for U.S. sanction requirements," according to enforcement filing released by the Treasury Department's Office of Foreign Assets Control (OFAC), which issued the penalty. Though the fine is reportedly the maximum penalty allowed, it's pittance to one of the world's most profitable and powerful corporations, which last year reported a profit of $7.8 billion.
Keep reading...
Show less
Jul. 21, 2017 11:15AM EST
New analysis from Amory B. Lovins debunks the notion that highly unprofitable, economically distressed nuclear plants should be further subsi­dized to meet financial, security, reliability and climate goals. The analysis, which will appear shortly in The Electricity Journal, shows that closing costly-to-run nuclear plants and reinvesting their saved operating costs in energy efficiency provides cheaper elec­tricity, increases grid reliability and security, reduces more carbon, and preserves (not distorts) market integrity—all without subsidies.

Keep reading...
Show less
Jul. 21, 2017 08:44AM EST
Oil Change International / Twitter
By Christian Detisch and Seth Gladstone
In the wake of Senate Republicans' ever-deepening debacle over their flailing attempts to strip health insurance from 22 million people, Majority Leader Mitch McConnell is desperate to do something—anything—to show that he can get legislation passed. To this end, he's bypassing the standard committee review process to push a complex 850+ page energy bill straight to the full Senate floor. Perhaps not surprisingly, this legislation, the Energy and Natural Resources Act of 2017, would be a disaster for public health and our climate.
Keep reading...
Show less
Jul. 21, 2017 08:11AM EST
Rooftop solar panels on a beach house in southern Florida. TAI VIINIKKA / CC BY-NC-ND 2.0
A new law passed this week in South Miami will require all new homes built in the city to install solar panels. The measure, which was inspired by a proposal from a teenage climate activist, will go into effect in September.
The text of the ordinance details the climate impacts facing South Miami.
Keep reading...
Show less
Jul. 21, 2017 10:27AM EST
www.youtube.com
Keep reading...
Show less
Jul. 21, 2017 08:49AM EST
iStock
By Katherine Paul and Ronnie Cummins
A recent series of articles by a Washington Post reporter could have some consumers questioning the value of the U.S. Department of Agriculture's (USDA) organic seal. But are a few bad eggs representative of an entire industry?
Consumers are all for cracking down on the fraudulent few who, with the help of Big Food, big retail chains and questionable certifiers give organics a bad name. But they also want stronger standards, and better enforcement—not a plan to weaken standards to accommodate "Factory Farm Organic."
Keep reading...
Show less