Colbert: Trump Is Playing My Old Character 'Better Than I Ever Could'
Dec. 28, 2015 11:30AM EST
Politics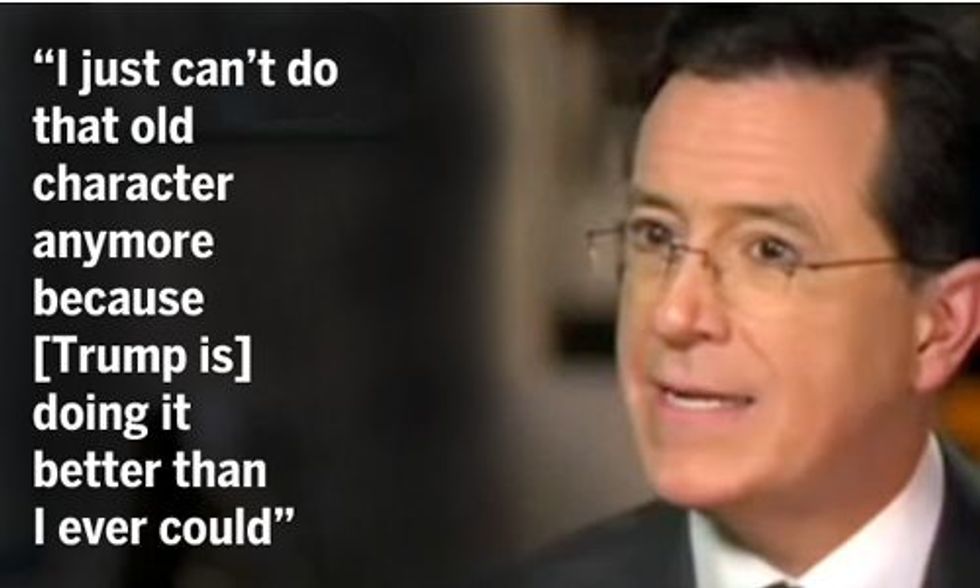 Stephen Colbert discussed Donald Trump's relentless popularity in an interview with John Dickerson on Face the Nation on Sunday. "He's completely playing on an emotional level—and so beautifully," Colbert said.
"I mean, it's one of the reasons why I just can't do that old character anymore, because he's doing it better than I ever could, because he's willing to drink his own Kool Aid and manufacture and distribute it, because he's got all the cash," he added. "I'm not the first person to say this, but I completely agree that he's my old character with $10 billion."
During his time on The Colbert Report, Colbert had some brilliant segments, including mocking the GOP for their "I'm not a scientist" stance on climate change. Now, as host of the Late Show, Colbert has been offering his incredibly witty takes on the 2016 election—with particular attention to Trump.
Shortly after Colbert took over as host in September, he invited Trump onto the show as his guest. Since then, Colbert has said "there is zero chance" Trump will be president, called him "an egomaniacal billionaire" and grilled him in his recap of the most recent GOP debate.
The interview touched on several other topics, including Pope Francis, Star Wars and how his interview style has changed since moving over to network television.
Watch the full interview here:
YOU MIGHT ALSO LIKE
Watch Colbert Unleash on Trump in Hilarious GOP Debate Recap
Donald Trump Loses Supreme Court Appeal Against Scottish Wind Farm
Trump Says EPA Regulations Are Ruining His Hair
Donald Trump Attacked by Eagle Named Uncle Sam, GIF Goes Viral
EcoWatch Daily Newsletter
Recent Stories from EcoWatch