Colbert Rips Into Trump for 'Small Loan of a Million Dollars' Comment
Oct. 29, 2015 12:08PM EST
Politics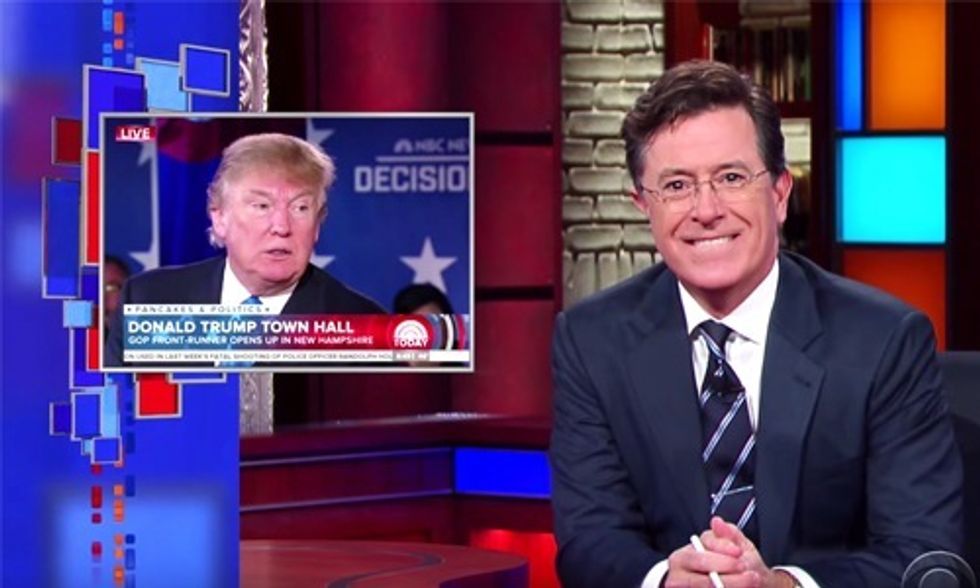 White billionaires born into massive privilege aren't usually known for their rags to riches tales, but Donald Trump is trying to sell one to the American public. Or, at least, to Matt Lauer.
In a recent interview, the Donald told NBC, "My whole life really has been a 'no' and I fought through it. It has not been easy for me, it has not been easy for me. And you know I started off in Brooklyn, my father gave me a small loan of a million dollars."
This bit of deluded runaway privilege was too good for Stephen Colbert to pass up, who took time out Wednesday night to mock the now-ex-GOP front-runner.
"Clearly, this is an inspiring tale of a young man made good," Colbert said. "The classic story of riches to richer. Donald was just a humble boy from the boroughs and wanted nothing more than to escape his provincial life and make his way in the big city ... Donald dared to venture into a land he didn't own."
Trump has long tried to sew a tale of scrappy, "self-made" man, but it has been exposed over and over again as largely bogus.
Watch the bit below:
YOU MIGHT ALSO LIKE
12 Tweets Worth Noting on GOP Debate on Climate and Renewables
Colbert: There's Human DNA in Your Hot Dogs and Veggie Dogs
Colbert: I Woke Up Yesterday Morning and My Tesla Could Drive Itself
EcoWatch Daily Newsletter
Recent Stories from EcoWatch