Colbert: I Woke Up Yesterday Morning and My Tesla Could Drive Itself
Oct. 16, 2015 09:31AM EST
Business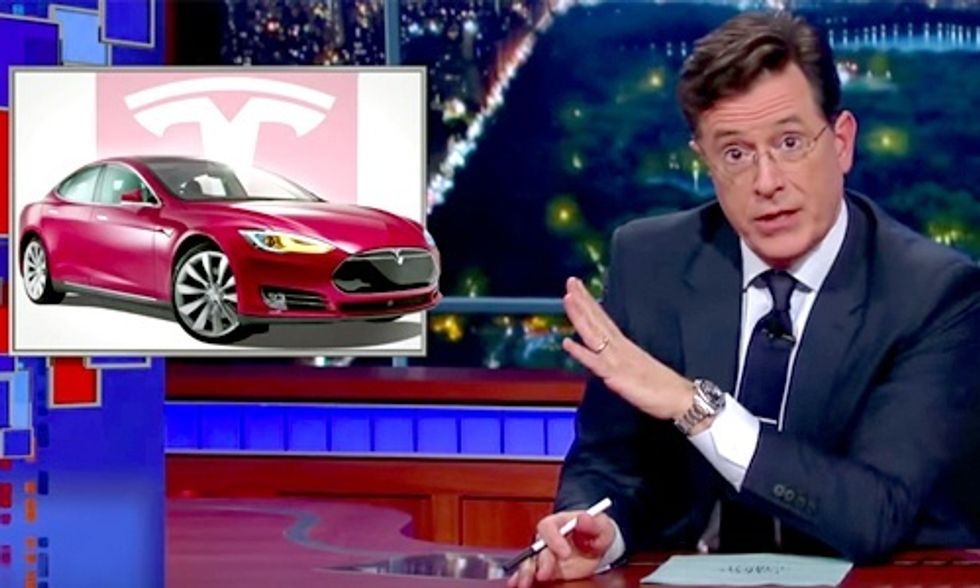 When Stephen Colbert had Elon Musk on the Late Show a few weeks ago, he told him he drives a Tesla. And Colbert happens to be just one of many celebrities that own a Tesla.
Colbert loves his Tesla and calls it part of his contribution to fighting global warming. But last night on the show, he talked about a new update for the Tesla Model S: autopilot. The feature "essentially allows you to do semi-autonomous driving when you're behind the wheel," says a CNBC reporter in the Late Show segment.
He talks about how it's not just car companies competing to make the first fully autonomous self-driving car. "It seems like every billionaire with a tech company [think: Tesla, Apple and Google] is working on a self-driving car," jokes Colbert.
"This technology is self-driving towards us whether we like it or not," says Colbert. But he, for one, is all for it.
Find out why here:
Colbert is not the only one who loves his Tesla, though. Paul Sasso turned his Tesla into what he calls the "Bern Machine" and he's been touring the country in it as "part of a fundraising—and awareness-raising—campaign" on behalf of presidential candidate Bernie Sanders. Sasso says on his Twitter page, "for every new photo of the Bern Machine posted to #BernMachineChallenge, I will donate $1 to Bernie's campaign."
#BernMachineChallenge rolling back into Vegas, 4pm today, after 42 day USA Tour. @CNN @VegasForBernie @Nevada http://t.co/RTSPiM5gMh

— Paul Sasso (@Paul Sasso)1444682322.0
YOU MIGHT ALSO LIKE
17 Celebrities That Love Elon Musk's Tesla
The Car of the Future Will Be All Electric and Self-Driving
EcoWatch Daily Newsletter
Recent Stories from EcoWatch