This website uses cookies to ensure you get the best experience while browsing it. By clicking 'Got It' you're accepting these terms.
Coke: End Your Attempt to Control Water for Profit
Apr. 26, 2012 03:00PM EST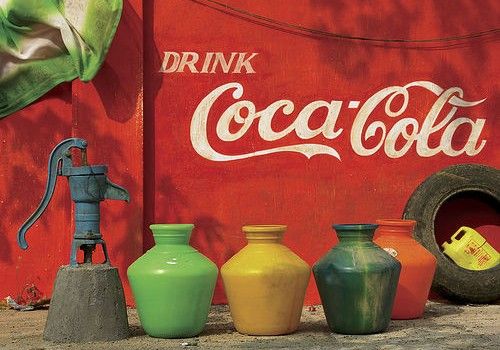 By Kristin Urquiza
Good morning and thank you for the opportunity to speak. My name is Kristin Urquiza, and I am the director of Corporate Accountability International's Think Outside the Bottle campaign.
Mr. Kent, you have spoken many times about the importance of business, government and civil society to work together in order to solve problems and improve lives around the world. In fact, you have termed this relationship the "golden triangle." Coca-Cola has demonstrated its commitment to this philosophy with its membership in several bodies devoted to developing and implementing policy around the world—particularly water policy.
Coca-Cola was a founding member of the 2030 Water Resources Group, a body of corporations seeking to leverage funding and connections from the World Bank to access public officials and advocate for corporate interests and promote private sector agendas as solutions to the challenges of governing water, our most precious public resource. Since 2007, Coca-Cola has also been a member of the CEO Water Mandate, a voluntary initiative within the United Nations' Global Compact that brings together some of the world's largest corporate water users in order to advance policy, even though there have been serious concerns about a lack of accountability for meeting voluntary guidelines and promoting policy that is in line with UN goals. In addition to these examples, Coca-Cola has partnered with USAID and the United Nations Development Programme, and launched its own program addressing water needs in Africa.
These examples, along with your description of the "golden triangle," make the case that Coca-Cola wants to be treated as if it is equal to a government when it comes to the governance of what is a public resource—water. However, corporations are fundamentally different from governments and in cases of the interest of the commons often collide with the public interest. With governments in charge, they are accountable to the people they serve and must prioritize the human right to water and equitable access to water. Whereas, corporations—"golden triangle" or not—are only accountable to profit.
So Mr. Kent, my question is, when will you answer the call of civil society groups across the world and leave the golden triangle—ending your attempt to control our most fundamental resource for profit when access to water is fundamental to life and must be controlled by democratic institutions accountable to the public?
For more information, click here.
EcoWatch Daily Newsletter
People carry children on a flooded street in Almoradi, Spain on Sept. 13. JOSE JORDAN / AFP / Getty Images
Large food companies are following in the footsteps of fast-food restaurants such as Burger King and KFC by offering meat alternatives. Getty Images
By Elizabeth Pratt
Hormel, Kellogg's, and Kroger are among the large companies now planning to offer "fake meat" products at grocery stores.
Experts say the trend toward plant-based meats coincides with consumers' desires to eat less meat.
However, experts urge consumers to closely check package labels as a product isn't necessarily healthy just because it's described as plant-based.
In grocery stores and fast-food outlets around the U.S., a revolution is taking place.
Colombia rainforest. Marcel Oosterwijk / CC BY-SA 2.0
Many of us think of the Amazon as an untouched wilderness, but people have been thriving in these diverse environments for millennia. Due to this long history, the knowledge that Indigenous and forest communities pass between generations about plants, animals and forest ecology is incredibly rich and detailed and easily dwarfs that of any expert.
picture-alliance / Newscom / R. Ben Ari
By Wesley Rahn
Plastic byproducts were found in 97 percent of blood and urine samples from 2,500 children tested between 2014 and 2017, according to a study by the German Environment Ministry and the Robert Koch Institute.

Pexels
Medically reviewed by Daniel Bubnis, MS, NASM-CPT, NASE Level II-CSS
Hot yoga has become a popular exercise in recent years. It offers many of the same benefits as traditional yoga, such as stress reduction, improved strength, and flexibility.
Lara Hata / iStock / Getty Images
By SaVanna Shoemaker, MS, RDN, LD
Rice is a staple in many people's diets. It's filling, inexpensive, and a great mild-tasting addition to flavorful dishes.
An image of the trans-alaskan oil pipeline that carries oil from the northern part of Alaska all the way to valdez. This shot is right near the arctic national wildlife refuge. kyletperry / iStock / Getty Images Plus
The Trump administration has initialized the final steps to open up nearly 1.6 million acres of the protected Alaskan National Wildlife Refuge to allow oil and gas drilling.