This website uses cookies to ensure you get the best experience while browsing it. By clicking 'Got It' you're accepting these terms.
Coke: End Your Attempt to Control Water for Profit
Apr. 26, 2012 03:00PM EST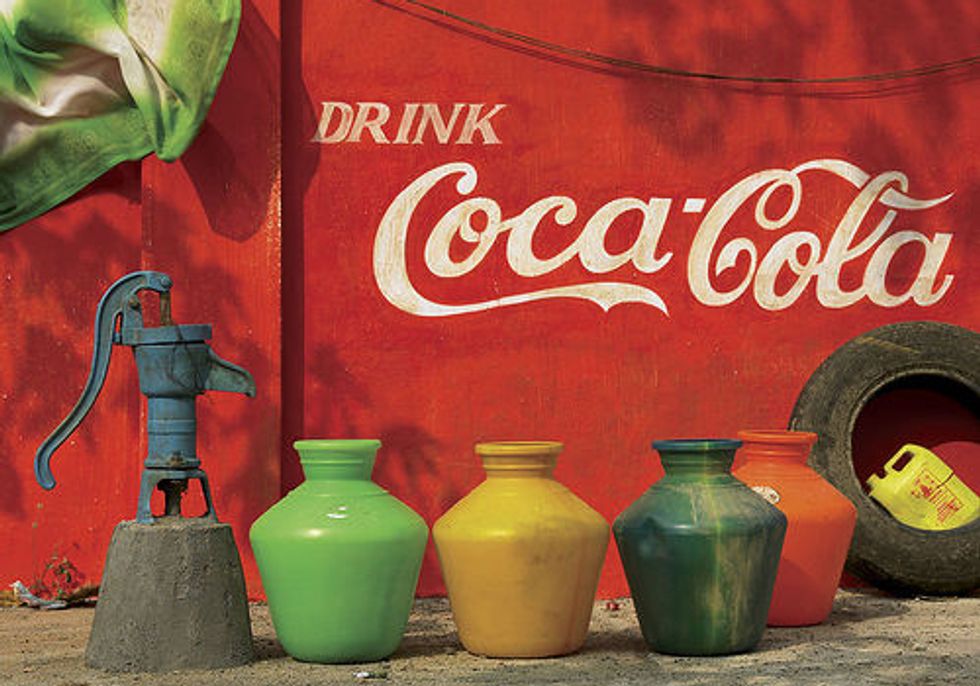 By Kristin Urquiza
Good morning and thank you for the opportunity to speak. My name is Kristin Urquiza, and I am the director of Corporate Accountability International's Think Outside the Bottle campaign.
Mr. Kent, you have spoken many times about the importance of business, government and civil society to work together in order to solve problems and improve lives around the world. In fact, you have termed this relationship the "golden triangle." Coca-Cola has demonstrated its commitment to this philosophy with its membership in several bodies devoted to developing and implementing policy around the world—particularly water policy.
Coca-Cola was a founding member of the 2030 Water Resources Group, a body of corporations seeking to leverage funding and connections from the World Bank to access public officials and advocate for corporate interests and promote private sector agendas as solutions to the challenges of governing water, our most precious public resource. Since 2007, Coca-Cola has also been a member of the CEO Water Mandate, a voluntary initiative within the United Nations' Global Compact that brings together some of the world's largest corporate water users in order to advance policy, even though there have been serious concerns about a lack of accountability for meeting voluntary guidelines and promoting policy that is in line with UN goals. In addition to these examples, Coca-Cola has partnered with USAID and the United Nations Development Programme, and launched its own program addressing water needs in Africa.
These examples, along with your description of the "golden triangle," make the case that Coca-Cola wants to be treated as if it is equal to a government when it comes to the governance of what is a public resource—water. However, corporations are fundamentally different from governments and in cases of the interest of the commons often collide with the public interest. With governments in charge, they are accountable to the people they serve and must prioritize the human right to water and equitable access to water. Whereas, corporations—"golden triangle" or not—are only accountable to profit.
So Mr. Kent, my question is, when will you answer the call of civil society groups across the world and leave the golden triangle—ending your attempt to control our most fundamental resource for profit when access to water is fundamental to life and must be controlled by democratic institutions accountable to the public?
For more information, click here.
EcoWatch Daily Newsletter
A new study shows that half of all Arctic warming and corresponding sea-loss during the late 20th century was caused by ozone-depleting substances. Here, icebergs discharged from Greenland's Jakobshavn Glacier. Kevin Krajick / Earth Institute /
EurekAlert!
The world awakened to the hole in the ozone layer in 1985, which scientists attributed it to ozone depleting substances. Two years later, in Montreal, the world agreed to ban the halogen compounds causing the massive hole over Antarctica. Research now shows that those chemicals didn't just cut a hole in the ozone layer, they also warmed up the Arctic.
Diane Wilson holds up a bag full of nurdles she collected from one of Formosa's outfall areas on Jan. 15. Julie Dermansky / DeSmogBlog
On the afternoon of Jan. 15, activist Diane Wilson kicked off a San Antonio Estuary Waterkeeper meeting on the side of the road across from a Formosa plastics manufacturing plant in Point Comfort, Texas.
After Wilson and the waterkeeper successfully sued Formosa in 2017, the company agreed to no longer release even one of the tiny plastic pellets known as nurdles into the region's waterways. The group of volunteers had assembled that day to check whether the plant was still discharging these raw materials of plastics manufacturing.
Malaysian Environment Minister Yeo Bee Yin (front 2nd L) and officials inspect a container containing plastic waste shipment on Jan. 20, 2020 before sending back to the countries of origin. AFP via Getty Images
The Southeast Asian country Malaysia has sent 150 shipping containers packed with plastic waste back to 13 wealthy countries, putting the world on notice that it will not be the world's garbage dump, as CNN reported. The countries receiving their trash back include the United States, the United Kingdom, France and Canada.
Trump leaves after delivering a speech at the Congress Centre during the World Economic Forum annual meeting in Davos on Jan. 21, 2020. JIM WATSON / AFP via Getty Images