This website uses cookies to ensure you get the best experience while browsing it. By clicking 'Got It' you're accepting these terms.
Coffee: The World's Biggest Source of Antioxidants
Aug. 10, 2015 01:16PM EST
Health + Wellness
There are mixed opinions about coffee.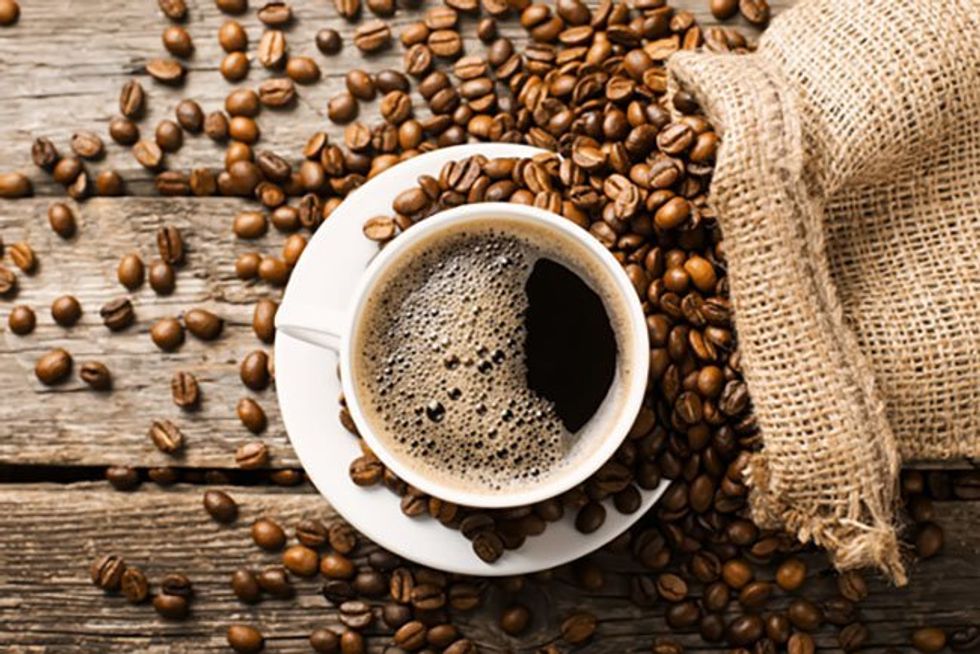 Studies show that coffee provides more antioxidants in the diet than any food group. Photo credit: Shutterstock
Some believe it is healthy and energizing, while others claim it is addictive and harmful.
When you look at the evidence, the majority of studies on coffee and health actually show that it is good for you.
For example, coffee has been linked to a reduced risk of type 2 diabetes, liver diseases, Alzheimer's and more (1, 2, 3, 4).
The reason for this may be the impressive amount of powerful antioxidants found in coffee.
In fact, studies show that coffee provides more antioxidants in the diet than any food group.
Coffee is Loaded with Several Powerful Antioxidants
Our bodies are under constant attack by reactive molecules called "free radicals."
These molecules have unpaired electrons that can damage important cell structures like proteins and DNA.
This is where antioxidants step in. They donate electrons to the free radicals, effectively disarming them.
This is believed to be protective against aging and many diseases that are partly caused by oxidative stress, including cancer.
Additionally, antioxidants can have various other biological effects and are considered to be very important for overall health.
Interestingly, coffee contains very large amounts of several powerful antioxidants. These include hydrocinnamic acids and polyphenols, to name a few (5, 6, 7).
Hydrocinnamic acids are very effective at neutralizing free radicals and preventing oxidative stress (8).
Additionally, the polyphenols found in coffee may help prevent a number of diseases, such as heart disease, cancer and type 2 diabetes (9, 10, 11, 12).
Bottom line: Coffee contains very large amounts of antioxidants, including polyphenols and hydrocinnamic acids. These antioxidants may improve health and help reduce the risk of several diseases.
Dietary Sources of Antioxidants
Most people consume about 1–2 grams of antioxidants per day.
The majority comes from beverages like coffee and tea (13, 14, 15).
Beverages are actually a much larger source of antioxidants in the Western diet than food. In fact, 79 percent of dietary antioxidants come from beverages, while only 21 percent come from food (16).
Bottom line: Most antioxidants in the Western diet come from beverages such as coffee and tea. Only 21 percent of dietary antioxidants come from food.
Coffee is the Biggest Dietary Source of Antioxidants
In one study, researchers looked at the antioxidant content of different foods by serving size.
Coffee ranked 11th on the list, after several different types of berries (7).
However, very few people eat large amounts of berries, but drinking several cups of coffee per day is common.
For this reason, the total amount of antioxidants provided by coffee far outweighs the amounts in berries, even though berries may contain greater amounts per serving.
In Norwegian and Finnish studies, coffee was shown to be the single biggest antioxidant source, providing about 64 percent of the total antioxidant intake.
In this study, the average coffee intake was 450–600 ml/day, or 2–4 cups (13, 17).
Additionally, studies from Spain, Japan, Poland and France all concluded that coffee is by far the biggest source of antioxidants in the diet (14, 16, 18, 19, 20, 21).
Bottom line: Studies from all over the world have shown that coffee is the single biggest source of antioxidants in the diet.
Coffee is Linked to a Reduced Risk of Many Diseases
Drinking coffee has been associated with a reduced risk of many diseases.
For example, coffee drinkers have a 23-50 percent lower risk of developing type 2 diabetes. Each daily cup of coffee is linked to a 7 percent lower risk (1, 22, 23, 24, 25).
Drinking coffee also seems to be very beneficial for the liver, with coffee drinkers having a much lower risk of liver cirrhosis (3, 26, 27).
Coffee may also lower the risk of liver and colorectal cancer and several studies have shown a reduced risk of heart disease and stroke (28, 29, 30, 31, 32).
Consuming coffee on a regular basis may also reduce the risk of Alzheimer's and Parkinson's disease by 32–65 percent (2, 33, 34, 35, 36).
Some studies have shown that coffee may also benefit mental health. Women who drink coffee are less likely to become depressed and commit suicide (37, 38).
Above all, drinking coffee has been linked to a longer lifespan and up to a 20–30 percent lower risk of premature death (4, 39).
However, keep in mind that most of these studies are observational. They cannot prove that coffee caused the reduction in disease risk, only that coffee drinkers were less likely to get these diseases.
Bottom line: Drinking coffee has been linked to numerous health benefits, including a reduced risk of type 2 diabetes and liver, heart and neurological diseases. Coffee may also benefit mental health and help you live longer.
Are Coffee Antioxidants Equal to Those Found in Fruits and Vegetables?
There are many types of dietary antioxidants and coffee is a very good source of some of them.
However, it does not contain the same antioxidants as whole plant foods like fruits and vegetables.
For optimal health, it is best to get a variety of vitamins, minerals, antioxidants and plant compounds from many different sources.
So while coffee may be the biggest source of antioxidants in the diet, it should never be relied on as the only source of antioxidants.
This article was reposted from our media associate Authority Nutrition.
YOU MIGHT ALSO LIKE
7 Things You Should Know About Coffee
7 Things You Should Know About the Health Benefits of Aloe Water
EcoWatch Daily Newsletter
Deserted view of NH24 near Akshardham Temple on day nine of the 21-day nationwide lockdown to curb the spread of coronavirus on April 2, 2020 in New Delhi, India. Raj K Raj / Hindustan Times via Getty Images
A Unicef social mobilizer uses a speaker as she carries out public health awareness to prevent the spread and detect the symptoms of the COVID-19 coronavirus by UNICEF at Mangateen IDP camp in Juba, South Sudan on April 2. ALEX MCBRIDE / AFP / Getty Images
By Eddie Ndopu
South Africa is ground zero for the coronavirus pandemic in Africa.
Its townships are typical of high-density neighbourhoods across the continent where self-isolation will be extremely challenging.
The failure to eradicate extreme poverty is a threat beyond the countries in question.
The outside of the Food and Drug Administration headquarters in White Oak, Md. on Nov. 9, 2015. Al Drago / CQ Roll Call
The U.S. Food and Drug Administration has approved the use of two malarial drugs to treat and prevent COVID-19, the respiratory infection caused by the SARS-CoV-2 coronavirus, despite only anecdotal evidence that either is proven effective in treating or slowing the progression of the disease in seriously ill patients.

Some
speculate
that the dissemination of the Antarctic beeches or Nothofagus moorei (seen above in Australia) dates to the time when
Antarctica
, Australia and
South America
were connected. Auscape / Universal Images Group / Getty Images
A team of scientists drilled into the ground near the South Pole to discover forest and fossils from the Cretaceous nearly 90 million years ago, which is the time when dinosaurs roamed the Earth, as the BBC reported.
The recovery of elephant seals is one of the "signs of hope" that scientists say show the oceans can recover swiftly if we let them. NOAA /
CC BY 2.0