This website uses cookies to ensure you get the best experience while browsing it. By clicking 'Got It' you're accepting these terms.


The best of EcoWatch, right in your inbox. Sign up for our email newsletter!
Coca-Cola Finds Fungicide in Orange Juice Brands on American Store Shelves
Jan. 12, 2012 12:00PM EST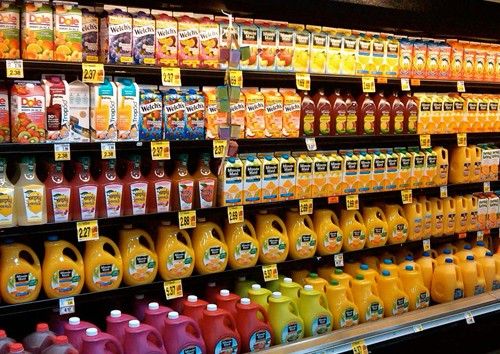 The U.S. Food and Drug Administration (FDA) says it will step up testing for a fungicide not registered for use in the U.S. that has been found in low levels in orange juice. The fungicide, carbendazim, does not have any food tolerances and thus its presence in orange juice is unlawful under the Federal Food, Drug, and Cosmetic Act. Despite this, FDA does not intend to take action to remove from domestic commerce orange juice containing the reported low levels of carbendazim, but will deny future imports.
FDA said in a letter to the Juice Products Association that an unnamed juice company (later identified as Coca-Cola, maker of Minute Maid and Simply Orange), contacted the agency in late December and said it had detected low levels of carbendazim, a fungicide, in the company's own orange juice and also its competitors' juice. Carbendazim is not currently approved for use on citrus in the U.S., but is used in Brazil, which exports orange juice to the U.S. Testing found levels up to 35 parts per billion (ppb) of the fungicide, far below the European Union's maximum residue level of 200 ppb. The U.S. does not have an established maximum residue level (tolerance level) for carbendazim in oranges.
According to the FDA letter, the U.S. Environmental Protection Agency (EPA) conducted a preliminary risk assessment based on the recent report of carbendazim in orange juice, and concluded that consumption of orange juice with carbendazim at the low levels that have been reported does not raise safety concerns. However, when carbendazim was evaluated along with its parent chemical—thiophanate-methyl—also a fungicide, by EPA in 2004, both were determined to cause liver and thyroid effects in animal studies and have been classified as probable human carcinogens. Repeated exposure to carbendazim causes spermatogenic effects in rats and hepatic tumours in mice. The liver and thyroid are the primary target organs in several species following subchronic or chronic dietary exposures and the testes are the main known target organ for carbendazim. Carbendazim is also listed as a potential endocrine disruptor in the European Union.
Section 408 of the Federal Food Drug and Cosmetic Act (FFDCA) authorizes EPA to establish, modify or maintain tolerances or tolerance exemptions for pesticide residues in or on food. According to the law, any food with pesticide residues not covered by a tolerance or tolerance exemption, and any food with residues in excess of the tolerance, may be subject to regulatory action, including seizure, by the U.S. government. Pesticide tolerances and exemptions are enforced by FDA (for most foods), the U.S. Department of Agriculture (for meat, poultry and some egg products), and the individual states. According to EPA's 2004 registration documents for thiophosphate-methyl and its degradate carbendazim, there are no registered food uses in the U.S., nor import tolerances for carbendazim. Food with pesticide residues cannot be imported to the U.S. without an established food tolerance (the legal maximum pesticide residue allowed in or on food.)
FDA states it is sampling import shipments of orange juice and will deny entry to shipments that test positive for carbendazim. FDA does not intend to take action to remove from domestic commerce orange juice containing the reported low levels of carbendazim. The discovery comes after the agency said it would also step up testing for arsenic in apple juice. FDA officials said last year that the agency is considering tightening restrictions for the levels of arsenic allowed in the juice after consumer groups pushed the agency to crack down on the contaminant. Studies show that apple juice has generally low levels of arsenic, and the government says it is safe to drink. But consumer advocates say the FDA is allowing too much of the chemical.
Carbendazim is a systemic benzimidazole fungicide that plays a role in plant disease control with the global market worth more than $200 million, and is an approved fungicide in many countries. According to an FDA notification, it "learned from a juice company that it had detected low levels of carbendazim (in the low parts per billion range) in its and competitors' currently marketed finished products, and in certain orange juice concentrate that is not on the market." It is thought that the chemical was in the juice because it had been imported from Brazil, where the chemical is legal and used against black spot.
The use of hazardous chemicals in food production, especially chemicals not allowed for use in the U.S. and Europe, is still a common practice in much of the developing world where food is routinely imported into the U.S. By purchasing food commodities with legal tolerances for pesticides no longer used or restricted in the U.S., consumers inadvertently support agricultural production practices in other countries that are associated with the range of adverse effects as noted in the Pesticide Induced-Disease Database, including poor labor practices and environmental degradation. The Eating with a Conscience database, based on legal tolerances (or allowable residues on food commodities), describes a food production system that enables toxic pesticide use both domestically in the U.S. and internationally, and provides a look at the toxic chemicals allowed in the production of the food we eat and the environmental and public health effects resulting from their use.
To avoid potentially dangerous chemical residues in food, whose origins may be domestic or international, choose organic. The most important organic food products to purchase, especially for children, are those that are consumed in great quantity, such as juice. Purchasing organic juice is particularly important to reduce their pesticide exposure. Research has shown that switching children to an organic diet drastically reduces their exposure. For more information, visit our Organic Food page.
For more information, click here.
EcoWatch Daily Newsletter
Pexels
By Ketura Persellin
Global consumption of beef, lamb and goat is expected to rise by almost 90 percent between 2010 and 2050. But that doesn't mean you need to eat more meat. In fact, recent news from Washington gives you even less confidence in your meat: Pork inspections may be taken over by the industry itself, if a Trump administration proposal goes into effect, putting tests for deadly pathogens into the hands of line workers.
MStudioImages / E+ / Getty Images
Backpacking is an exciting way to explore the wilderness or travel to foreign countries on a budget.
Tim P. Whitby / 21st Century Fox / Getty Images
The beauty products we put on our skin can have important consequences for our health. Just this March, the U.S. Food and Drug Administration (FDA) warned that some Claire's cosmetics had tested positive for asbestos. But the FDA could only issue a warning, not a recall, because current law does not empower the agency to do so.
Michelle Pfeiffer wants to change that.
The actress and Environmental Working Group (EWG) board member was spotted on Capitol Hill Thursday lobbying lawmakers on behalf of a bill that would increase oversight of the cosmetics industry, The Washington Post reported.
By Collin Rees
We know that people power can stop dangerous fossil fuel projects like the proposed Line 3 tar sands oil pipeline in Minnesota, because we've proved it over and over again — and recently we've had two more big wins.

Scientists released a study showing that a million species are at risk for extinction, but it was largely ignored by the corporate news media. Danny Perez Photography / Flickr / CC
By Julia Conley
Scientists at the United Nations' intergovernmental body focusing on biodiversity sounded alarms earlier this month with its report on the looming potential extinction of one million species — but few heard their calls, according to a German newspaper report.
DoneGood
By Cullen Schwarz
Ethical shopping is a somewhat new phenomenon. We're far more familiar with the "tried and tested" methods of doing good, like donating our money or time.
Pixabay
Summer is fast approaching, which means it's time to stock up on sunscreen to ward off the harmful effects of sun exposure. Not all sunscreens are created equally, however.