This website uses cookies to ensure you get the best experience while browsing it. By clicking 'Got It' you're accepting these terms.
Coalition Sues NY State for Putting Industrial Milk Production Before Clean Water
Jul. 29, 2013 01:24PM EST
A coalition of environmental groups has filed a lawsuit against the New York State Department of Environmental Conservation (DEC) for its deregulation of industrial dairy farms with 200–299 cows. DEC's rulemaking has rolled back clean water protection standards to allow medium size dairy CAFOs (concentrated animal feeding operations) to operate without a permit, in clear violation of both federal and state law, with the likely result that untreated cow manure will run off into and contaminate nearby waters. The groups are co-represented in the lawsuit by Pace Law School's Environmental Litigation Clinic and Earthjustice.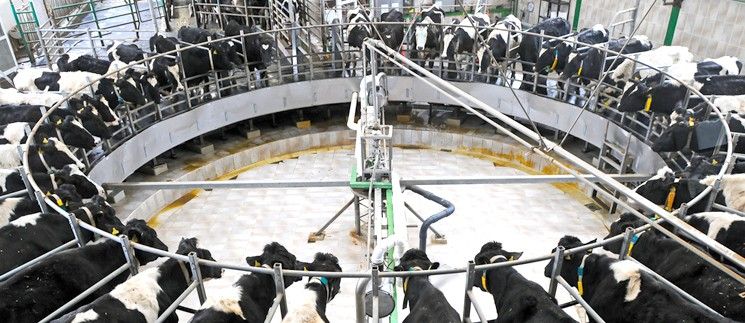 Photo courtesy of Shutterstock
Less than a year ago, in a filing with the U.S. Environmental Protection Agency (EPA), the DEC asserted that a non-regulatory approach to medium-sized CAFOs, the same approach it is now taking, would be "neither credible nor effective" to protect the health and environment of New Yorkers. Just six weeks later, Gov. Cuomo announced that New York State would weaken state environmental protections put in place to protect public health, safety and the environment by exempting some medium size industrial dairy operations from its CAFO permit program.
"Factory farms are one of the greatest sources of water pollution in the country," stated Robert F. Kennedy, Jr., president of Waterkeeper Alliance and chief prosecuting attorney for Riverkeeper. "Deregulating an already dirty business in other states has destroyed water quality and done nothing more than put money in the hands of a few corporations at the expense of the public. It is a shame that New York would want to follow that terrible precedent, rather than support family farms with the resources they need to operate in a way that protects the water quality we've fought so hard to maintain."
"What the state did, when it eliminated key clean water regulations for medium sized dairy farms, is a textbook case of sacrificing the environment in a misguided attempt to advance economic interests," said Paul Gallay, president and Hudson Riverkeeper. "Rather than eliminating these regulations, which had been on the books for years, the state should have assisted farmers in meeting those standards. Instead, they adopted a voluntary approach to protecting our precious rivers, lakes and streams from farm runoff, which they had explicitly rejected as 'neither credible nor effective,' only a year ago."
The groups filed formal comments in response to Governor Cuomo's proposed rule-making in January 2013, stating that DEC had not adequately reviewed the human health, environmental and economic impacts such an action would have on state and local communities, which it must do prior to taking such an action. An independent team of experts in agricultural waste management also reviewed the proposed rule changes at the request of the groups and concluded that without clean water protections, "human health risks are substantial." In addition, these experts concluded that the proposed rule changes "would likely result in increased environmental degradation of water, soil and air quality."
"The burden of the massive amounts of manure and other waste generated by industrial-sized dairy facilities is borne by the communities who live near them and by the environment," said Eve Gartner, the Earthjustice attorney handling the case. "Requiring regulatory oversight of the disposal of these tons of manure is just common sense."
The groups' lawsuit raises a number of claims against the state's action, including that:
DEC exceeded its regulatory authority by creating a loophole for industrial dairies in the Water Pollution Control Law enacted by the New York State legislature, undermining the legislature's intent to prevent discharges of pollutants into state waters.
DEC did not adequately examine all adverse environmental impacts the deregulation will have, nor fully consider alternative strategies that could provide both an economic and environmental benefit to the state and its dairy farmers.
DEC failed to obtain EPA approval as required prior to revising Clean Water Act permitting standards.
DEC violated the Clean Water Act and state law by making its CAFO Permit Program less stringent than the minimum federal requirements.
"DEC admits that animal manure and other dairy waste will be discharged into New York's waterways unless these dairy operations voluntarily implement the permitting system pollution controls, which is highly unlikely," said Marc Yaggi, executive director of Waterkeeper Alliance. "DEC acknowledges that the nitrogen, phosphorus and pathogens that would be discharged pose serious threats to public health, water quality, fisheries, water supplies, recreation and groundwater wells in New York. DEC's actions are unacceptable and violate state and federal law."
"The health of New Yorkers cannot be placed at risk by exposing us to raw, untreated manure. Industries should not be exempt from clean water regulations nor should the laws be weakened to accommodate a particular industry. Weakening and ignoring clean water regulations is bad public health policy and unacceptable to the people and environment of our state. Citizens Campaign for the Environment is happy to stand with our partners to protect public health, our water and our environment," said Adrienne Esposito, executive director of Citizens Campaign for the Environment.
"The false narrative that water quality protections are suppressing milk production will hurt everyone in the long run," said Roger Downs, conservation director for the Sierra Club Atlantic Chapter. "Clean water is a central element to any successful dairy farm and removing protections that keep manure out of our rivers and streams will only make people sick and harm the quality of milk and the products made from that milk. "
"The impact of changing the regulation will be felt at a much greater distance than where the cattle waste is deposited because of the brooks, streams and tributaries that will lead to the Hudson River that is used extensively for recreational fishing. Drinking water will also be negatively impacted throughout whatever water system the new regulations allow the spreading of cattle manure," stated Bert Darrow, president of Theodore Gordon Flyfishers.
Michael R. Helfrich, Lower Susquehanna Riverkeeper, added: "The lower Susquehanna River is thick with algae, mostly from agricultural pollution. We have been working diligently to improve Pennsylvania's implementation of pollution reductions to heal the Susquehanna River and Chesapeake Bay. We don't need New York to reduce their standards on controlling their agricultural pollution."
Visit EcoWatch's WATER and FACTORY FARMING pages for more related news on this topic.
——–
EcoWatch Daily Newsletter

georgeclerk / E+ / Getty Images
By Jennifer Molidor
One million species are at risk of extinction from human activity, warns a recent study by scientists with the United Nations. We need to cut greenhouse gas pollution across all sectors to avoid catastrophic climate change — and we need to do it fast, said the Intergovernmental Panel on Climate Change.
This research should serve as a rallying cry for polluting industries to make major changes now. Yet the agriculture industry continues to lag behind.
Edwin Remsburg / VW Pics / Getty Images
Botswana, home to one third of Africa's elephants, announced Wednesday that it was lifting its ban on the hunting of the large mammals.
"The Ministry of Environment, Natural Resources Conservation and Tourism wishes to inform the public that following extensive consultations with all stakeholders, the Government of Botswana has taken a decision to lift the hunting suspension," the government announced in a press release shared on social media.
Pxhere
By Richard Denison
Readers of this blog know how concerned EDF is over the Trump EPA's approval of many dozens of new chemicals based on its mere "expectation" that workers across supply chains will always employ personal protective equipment (PPE) just because it is recommended in the manufacturer's non-binding safety data sheet (SDS).
By Grant Smith
From 2009 to 2012, Gregory Jaczko was chairman of the Nuclear Regulatory Commission, which approves nuclear power plant designs and sets safety standards for plants. But he now says that nuclear power is too dangerous and expensive — and not part of the answer to the climate crisis.
A lake in Rocky Mountain National Park. Brett Walton / Circle of Blue
By Brett Walton
When Greg Wetherbee sat in front of the microscope recently, he was looking for fragments of metals or coal, particles that might indicate the source of airborne nitrogen pollution in Rocky Mountain National Park. What caught his eye, though, were the plastics.
Gabriele Holtermann Gorden / Pacific Press / LightRocket / Getty Images
In a big victory for animals, Prada has announced that it's ending its use of fur! It joins Coach, Jean Paul Gaultier, Giorgio Armani, Versace, Ralph Lauren, Vivienne Westwood, Michael Kors, Donna Karan and many others PETA has pushed toward a ban.
This is a victory more than a decade in the making. PETA and our international affiliates have crashed Prada's catwalks with anti-fur signs, held eye-catching demonstrations all around the world, and sent the company loads of information about the fur industry. In 2018, actor and animal rights advocate Pamela Anderson sent a letter on PETA's behalf urging Miuccia Prada to commit to leaving fur out of all future collections, and the iconic designer has finally listened.
Amer Ghazzal / Barcroft Media / Getty Images
If people in three European countries want to fight the climate crisis, they need to chill out more.
That's the conclusion of a new study from think tank Autonomy, which found that Germany, the UK and Sweden all needed to drastically reduce their workweeks to fight climate change.
Amazon Employees for Climate Justice held a press conference after the annual shareholder meeting on May 22. Amazon Employees for Climate Justice