This website uses cookies to ensure you get the best experience while browsing it. By clicking 'Got It' you're accepting these terms.
Coalition Intervenes Against Flaming Gorge Pipeline
Dec. 16, 2011 09:46AM EST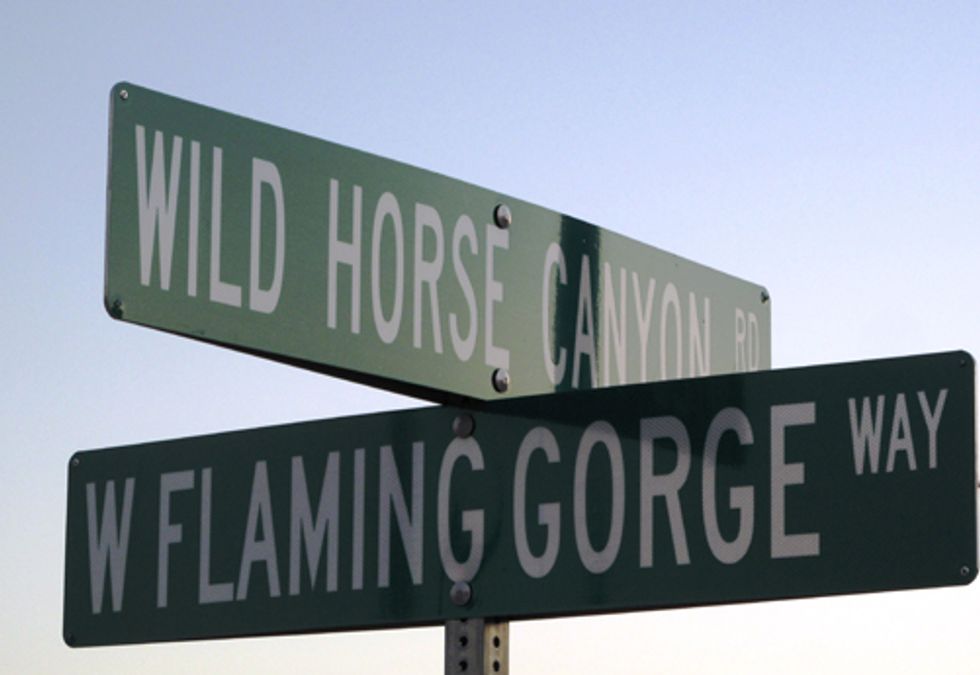 A coalition of 10 conservation groups from Colorado, Utah, Wyoming and Arizona—the Colorado River Protection Coalition—moved to intervene in the Federal Energy Regulatory Commission (FERC) review of the Regional Watershed Supply Project (a.k.a., the "Flaming Gorge Pipeline") Dec. 15. FERC is currently evaluating a preliminary permit application for the Flaming Gorge Pipeline from Wyco Power and Water Inc. FERC allows members of the public with a stake in projects to intervene in preliminary permit proceedings, and the Colorado River Protection Coalition, represented by Earthjustice, has called upon FERC to deny the permit on numerous grounds.
"The Flaming Gorge Pipeline would be one of the biggest, most environmentally damaging water projects in the history of the western United States," said McCrystie Adams of Earthjustice, the coalition's lead attorney. "The pipeline would devastate the Green River, one of the West's last great rivers and a sanctuary for native fish and wildlife, and severely harm the Colorado River downstream."
In its intervention comments, the Colorado River Protection Coalition asserted that the Flaming Gorge Pipeline is extremely unlikely to be permitted because it would likely violate the Endangered Species Act, would adversely affect four national wildlife refuges, and part of the project would be located in a U.S. Forest Service roadless area. The coalition also argued that the permit should be denied because the applicant failed to meet various requirements during a previous attempt at permitting a nearly identical project with the U.S. Army Corps of Engineers. Further, the coalition asserted that the pipeline is an extremely environmentally damaging water supply project that would irrevocably harm the Green and Colorado Rivers, not a "hydropower project," and thus FERC is not the appropriate agency to lead federal review of the proposal.
"The Flaming Gorge Pipeline would severely harm the Wyoming landscape it crosses," said Steve Jones of the Wyoming Outdoor Council. "Our state's heritage, wildlife and economy are dependent on protecting roadless and wilderness areas."
"Four endangered fish—the Colorado pikeminnow, humpback chub, razorback sucker and bonytail chub—are dependent on the water this pipeline proposes to drain out of the Green and Colorado Rivers," said Taylor McKinnon of the Center for Biological Diversity in Flagstaff, Arizona. "The pipeline would spell disaster for those fish and the river ecosystems we and they depend on. It's a foolish proposal in the face of global warming and projected declines in river flows."
"The Green River flows through Utah's largest roadless area, provides 40 percent of the water entering the Colorado River at Lake Powell each year, and supports a world-famous trout fishery averaging 6,000-8,000 fish per mile," said Zach Frankel, executive director of the Utah Rivers Council. "This catastrophic proposal would not only mar these treasures, it would forever alter life in Utah."
The applicant previously sought a permit for the pipeline from a different federal agency, the U.S. Army Corps of Engineers (Corps). In July of 2011, the corps terminated its review of the project because the applicant missed multiple deadlines and did not provide information requested by the corps. A few months later, the applicant redesigned the project to include some incidental hydropower components and requested review through FERC. Despite the modifications, the project remains a huge energy hog—at least nine air-polluting natural gas-fired pumping stations would be required to pump the water uphill across Wyoming and over the Continental Divide. Wyco's president has acknowledged that pumping the water uphill would use more energy than the project would create through hydropower.
"We know this project would burn more energy than it produces," said John Spahr of the Sierra Club. "Claiming it is a hydropower project is nothing more than a thinly veiled attempt to make an end-run around federal law."
Since its inception, the extremely controversial Flaming Gorge Pipeline has met with great opposition in Colorado, Wyoming and Utah. The water would go to the Front Range of Colorado which is projected to double in population in the next 50 years. Colorado is already a parched state with severely depleted rivers while the majority of the water in Colorado's cities is used to keep lawns green for three months in the hot, dry summer across sprawling suburban landscapes.
Duane Short of Biodiversity Conservation Alliance noted, "The coalition believes that Colorado and other western citizens are beginning to realize that unbridled consumption of water from our rivers and aquifers will leave our precious water resources depleted leading to even more severe water shortages for our children and grandchildren. We hope the public will work with us to prevent this shortsighted and irresponsible water grab."
"The Flaming Gorge Pipeline would be a flaming disaster for Colorado," said Gary Wockner of Save the Poudre: Poudre Waterkeeper. "The pipeline would be a devastating step backwards for water supply policy and river protection in Colorado and the Southwest U.S.—our coalition will work as long and hard as it takes to stop this project."
This coalition's intervention is one of several being filed by public interest groups and local communities. More than a hundred public comments urging FERC to deny the preliminary permit have already been filed before the Dec. 19 deadline. Comments are posted on FERC's website here (search for Docket Number: P-14263).
The Colorado River Protection Coalition's comments are posted here.
A map of the pipeline's proposed 550 mile route across Wyoming and down through Colorado is available by clicking here.
For more information, click here.
EcoWatch Daily Newsletter
Doctors report that only 1 in 4 children are getting the recommended 60 minutes of physical activity per day. Ronnie Kaufman / DigitalVision / Getty Images
By Dan Gray
Pediatricians are being urged to start writing "exercise prescriptions" for the children they see in their office.
A First Nations protester walks in front of a train blockade in Tyendinaga, near Belleville, Ontario, Canada on Feb. 21, 2020. LARS HAGBERG / AFP via Getty Images
An indigenous rail blockade that snarled train travel in Canada for more than two weeks came to an end Monday when police moved in to clear protesters acting in solidarity with another indigenous community in British Columbia (B.C.), which is fighting to keep a natural gas pipeline off its land.
A rainbow snake, a rare reptile spotted in a Florida county for the first time in more than 50 years, seen here on July 5, 2013.
Kevin Enge / FWC Fish and Wildlife Research Institute / Flickr
A Florida hiker recently stumbled across a slithering surprise — a rare snake that hadn't been spotted in the area for more than 50 years.
We need our government to do everything it can to stop PFAS contamination and exposure from wreaking havoc in communities across the country. LuAnn Hun /
Unsplash
By Genna Reed
The EPA announced last week that it is issuing a preliminary regulatory determination for public comment to set an enforceable drinking water standard to two of the most common and well-studied PFAS, PFOA and PFOS.
This decision is based on three criteria:
PFOA and PFOS have an adverse effect on public health
PFOA and PFOS occur in drinking water often enough and at levels of public health concern;
regulation of PFOA and PFOS is a meaningful opportunity for reducing the health risk to those served by public water systems.
Charging EVs in Stockholm: But where does a dead battery go? Ranjithsiji / Wikimedia Commons
By Kieran Cooke
Driving an electric-powered vehicle (EV) rather than one reliant on fossil fuels is a key way to tackle climate change and improve air quality — but it does leave the old batteries behind as a nasty residue.