This website uses cookies to ensure you get the best experience while browsing it. By clicking 'Got It' you're accepting these terms.
Coal Is No Longer King in America, Says EIA Report
Jul. 02, 2015 01:28PM EST
Coal is no longer king in America. That's the latest findings from the U.S. Energy Information Administration (EIA), which provides independent statistics and analysis of the energy sector. Coal lost its number one spot as the nation's top electricity source for the first time on record this April.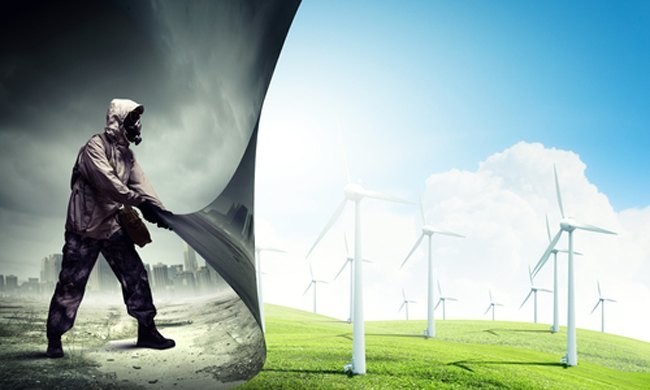 Photo credit: Shutterstock
The report found that total net generation of electricity from coal this past April fell from 109,591 to 88,835 thousand megawatt hours, dropping nearly 20 percent compared to last April. At the same time, the data shows explosive growth in solar power in the last year with a 60 percent increase.
"This major milestone shows that coal is on a steady path out, while clean energy solutions like solar and wind are increasingly [taking] over as prices keep falling," said John Coequyt, Sierra Club's director of federal and international climate campaigns.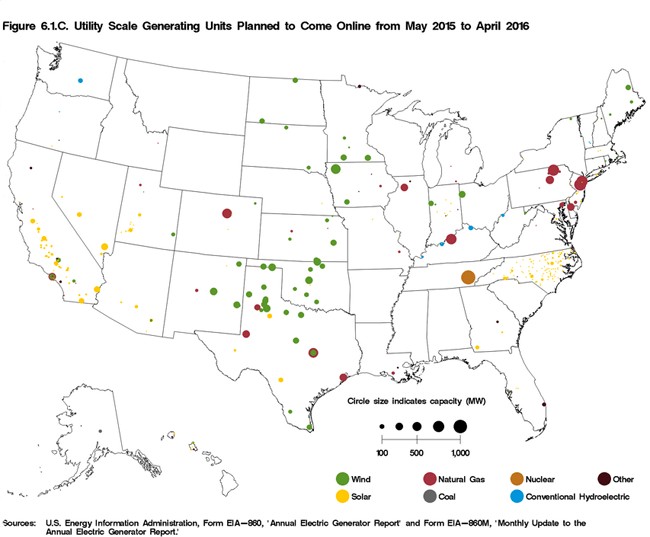 And it's not just for the month of April. It's part of the long term trend which is moving increasingly away from fossil fuels and towards renewable energy sources like wind and solar. A report released earlier this week from the Government Accountability Office (GAO) found that overall electricity consumption has slowed in the last 15 years, and the use of natural gas, wind and solar have become larger portions, while coal and nuclear have become smaller portions, of the nation's electricity generation.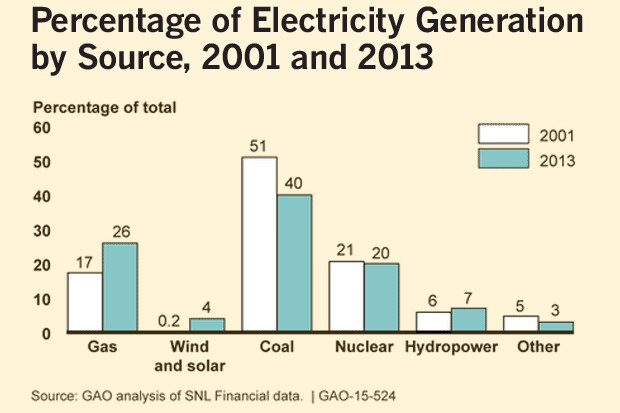 As aging coal-fired power plants have been retired, especially from 2009-2013, very little new coal capacity has been added, says the GAO report. The report also found that government support of renewables was definitely helping bring on new capacity.
"Various federal and state actions have contributed to increases in wind and solar power plant capacity, including financial supports and state renewable portfolio standards," says GAO. "These increases led to wind and, to a lesser extent, solar accounting for a larger share of the nation's energy mix, increasing from just over zero percent of electricity generation in 2001 to four percent in 2013." This number does not account for distributed solar installations, most notably rooftop solar.
"Data from an industry association show that distributed solar generating capacity has increased to reach over 8,500 MW as of the end of 2014—compared to about 10,000 MW that was installed at larger solar power plants. The electricity generated at such distributed generation sites is not generally measured or managed by the system operator," says the GAO.
These two reports confirm the findings of earlier reports on the nation's and the world's energy mix. A recent report from Bloomberg New Energy Finance found that renewable energy is set to blow past fossil fuels in the next 25 years, attracting nearly two-thirds of the spending on new power plants. With rapidly decreasing costs, solar will be the top choice for consumers, particularly in developing nations. Worldwide, solar could draw $3.7 trillion of the $8 trillion invested in renewable energy, with only $4.1 billion spent on coal, natural gas and nuclear.
YOU MIGHT ALSO LIKE
Goodbye Coal, Hello Renewables, Thanks to Advocates' Work Retiring Dirty Plant + Google's New Data Center
Water Use for Fracking Has Skyrocketed, Stressing Drought-Ridden States
Supreme Court Restricts EPA's Ability to Regulate Toxic Emissions From Power Plants
Plus, learn if there's one that's best for your health.
Catherine Falls Commercial / Moment / Getty Images
An invasive Amynthas worm, also known as a crazy snake worm, Asian jumping worm and Alabama jumper Tom Potterfield / Flickr
By Jason Bittel
My wife and I built a house two years ago on a few acres of woodland outside of Pittsburgh. The backyard is full of maples, poplars, briars and common spicebush. Two-lined salamanders and grumpy-looking crayfish wade among the rocks in the small stream that runs down the edge of the property. Deer, raccoon and opossum tracks appear regularly in the snow and mud. Sometimes, my trail-cam even catches a pair of gray foxes as they slink through the night.
AleksandarNakic / Getty Images
By Kate Murphy
No matter the time of year, there's always a point in each season when my skin decides to cause me issues. While these skin issues can vary, I find the most common issues to be dryness, acne and redness.

David Woodfall / The Image Bank / Getty Images
By Sam Nickerson
The U.S. Environmental Protection Agency (EPA) in April 2018 proposed relaxing standards related to how it assesses the effects of exposure to low levels of toxic chemicals on public health.
Now, correspondence obtained by the LA Times revealed just how deeply involved industry lobbyists and a controversial, industry-funded toxicologist were in drafting the federal agency's proposal to scrap its current, protective approach to regulating toxin exposure.
Steve Irwin poses with a three foot long alligator at the San Francisco Zoo on June 26, 2002. Justin Sullivan / Getty Images
February 22 is the birthday of conservationist and beloved TV personality "Crocodile Hunter" Steve Irwin, who would have been 57 years old today.
Irwin's life was tragically cut short when the barb from a stingray went through his chest while he was filming in 2006, but his legacy of loving and protecting wildlife lives on, most recently in a Google Doodle today honoring his birthday.