This website uses cookies to ensure you get the best experience while browsing it. By clicking 'Got It' you're accepting these terms.
Coal Exports Would Lock in Catastrophic Climate Change
Jan. 23, 2013 09:34AM EST
Climate
A new global study has named Australia's export coal proposals as the world's second largest fossil fuel expansion, threatening to lock in worst-case projections of global warming.
The 14 carbon intensive projects highlighted in Point of No Return from Greenpeace International range from massive coal expansion in Australia, China, the U.S. and Indonesia, to oil expansion in the tar sands of Canada, the Arctic and Brazil, to new gas production in the Caspian Sea and the U.S.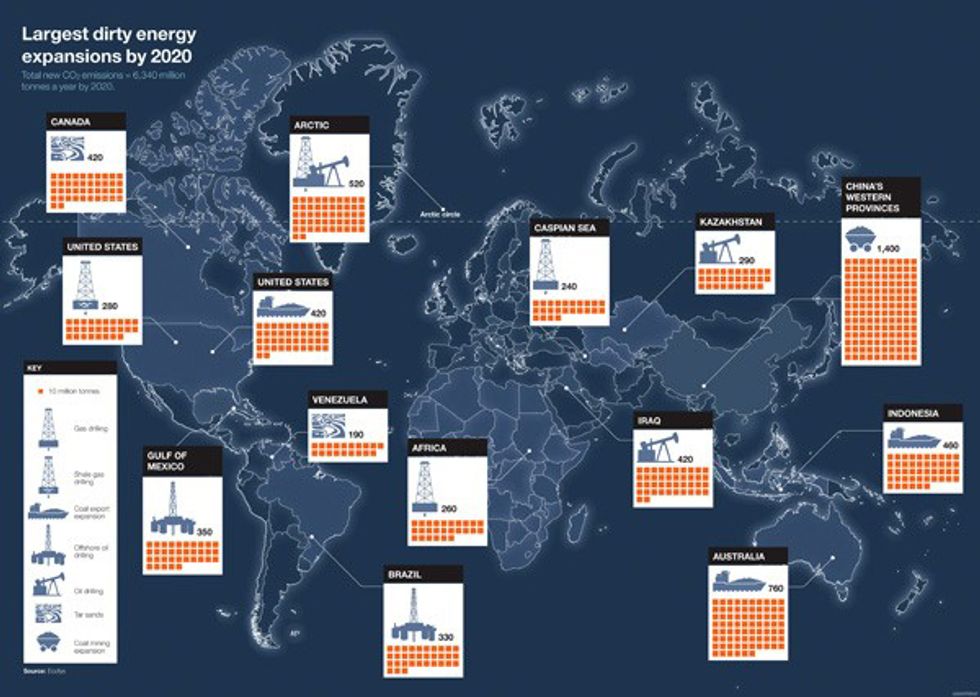 Groundbreaking analysis by consultancy Ecofys for the report shows by 2020 these 14 projects will increase carbon dioxide (CO2) emissions by six gigatonnes a year. The International Energy Agency says despite years of government promises to reduce emissions, CO2 emissions are already at a record high of 31.6 gigatonnes.
The Ecofys modeling found that the yearly CO2 emissions from these projects will be higher than the total U.S. emissions and will lock in catastrophic global warming.
"The same Australian Government warning us that recent deadly heat waves are a sign of things to come is also presiding over a globally significant expansion of coal exports, the resource which is driving climate change," said Greenpeace CEO David Ritter. "We are willfully sabotaging our own future."
In a one-page advert in Australia's national media on Jan. 14, eminent scientists and academics joined the call to end Australia's coal export expansion, in order to "prevent global warming running out-of-control and destroying lives and livelihoods here and abroad."
Even the World Economic Forum, in its Global Risks 2013 report for this year's gathering in Davos, warns that we are on course for the global temperature to increase by 3.6 to 40 C, possibly by 6 degrees. These increases will be well above the promise of governments to keep global warming to below a 20 increase.
"Given the human suffering, destruction and economic turmoil of recent extreme weather events, a world with runaway climate change is a frightening prospect. We cannot let that be our legacy," said Kumi Naidoo, executive director of Greenpeace International, who is meeting key business and government leaders at the World Economic Forum in Davos this week. 
The report features an Ecofys pathway showing a 75 percent chance of avoiding climate chaos if emissions peak soon and then drop by 5 percent a year and emissions from the 14 projects are cancelled. Greenpeace's Energy [R]evolution shows that renewable energy and energy savings can deliver the energy our economies need.
"We are running out of time to prevent catastrophic climate change," said Naidoo. "The companies promoting and the governments allowing these massive climate threats must replace them with renewable energy right away and become part of the solution to climate chaos." 
Watch this charming video illustrating the impacts of coal exporting on Australia:
Visit EcoWatch's COAL EXPORTS pages for more related news on this topic.
EcoWatch Daily Newsletter
The Visible Infrared Imaging Radiometer Suite on the Suomi NPP satellite acquired this image of forest fire smoke hovering over North America on Aug. 15, 2018. NASA Earth Observatory
New York City isn't known for having the cleanest air, but researchers traced recent air pollution spikes there to two surprising sources — fires hundreds of miles away in Canada and the southeastern U.S.
If temperatures continue to rise, the world is at risk from global
sea-level rise
, which will flood many coastal cities as seen above in Bangladesh. NurPhoto / Contributor / Getty Images
The mounting climate emergency may spur the next global financial crisis and the world's central banks are woefully ill equipped to handle the consequences, according to a new book-length report by the Bank for International Settlements (BIS), as S&P Global reported. Located in Basel, Switzerland, the BIS is an umbrella organization for the world's central banks.
Two ice fishers with a truck cut a hole in the ice near an ice fishing hut on frozen Lake Winnebago.
Richard Hamilton Smith / Corbis NX / Getty Images
By Susan Cosier
Come February in Wisconsin, almost everything will be covered in ice and snow. In little shanties on frozen Lake Winnebago, a 30-by-13-mile lake in the eastern part of the state, fishers will keep watch over rectangular holes cut into the ice with a chainsaw. When they spot a fin passing below, they'll jab their spears down deep. The lucky ones will earn themselves a lake sturgeon, a species that has prowled the earth's waters for more than 150 million years.
Fresno, California, seen above, is receiving $66 million for walking trails, sidewalks, bike lanes, and more. DenisTangneyJr / iStock / Getty Images
Grecia Elenes grew up in Fresno, California. She says some parts of the city have been neglected for decades. When she moved back after college she realized nothing has changed.
People are seen embracing at Numeralla Rural Fire Brigade near the scene of a water tanker plane crash on Jan. 23 in Cooma, Australia. Three American firefighters have have died after their C-130 water tanker plane crashed while battling a bushfire near Cooma in southern NSW this afternoon. Jenny Evans / Getty Images
Three U.S. firefighters gave their lives battling Australia's historic wildfires Thursday when their airborne water tanker crashed.