Coal Exports Face Unprecedented Opposition in the Pacific Northwest
By Bart Mihailovich
Communities concerned about harmful coal mining and coal export are revving up again for hearings scheduled during the next month in Washington State. On Sept. 17, the first of five environmental impact "scoping" hearings was held in Longview, WA, for a proposed coal export facility in Longview. The Longview project is the second proposed coal export facility in the state of Washington to make its way to the environmental impact statement (EIS) scoping period. The first was the proposed Gateway Pacific Terminal at Cherry Point, near Bellingham, WA, which prompted a comment period and a round of statewide hearings last year. An unprecedented amount of comments were received during the last scoping period, ultimately leading to the state announcing that they would engage in a fairly substantial review for the Gateway Pacific proposal.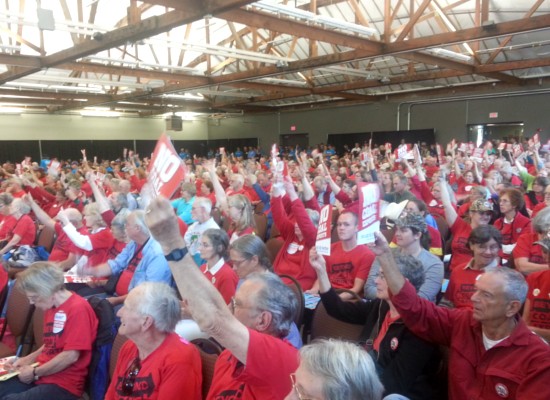 The remaining three highly-controversial Pacific Northwest coal export proposals together would add up to 100 million metric tons of coal a year. Shipping that amount of coal each year through West Coast communities would clog our railroads, ports and roads; risk our families' health; pollute our air and water; hurt local economies and continue to stoke the climate crisis. In addition to Longview and Gateway, a Coyote Island Terminal is proposed on the Oregon side of the Columbia River at Boardman. Three other proposals have recently been scrapped by proponents.
"If coal exports are allowed from any port in the Pacific Northwest, it will significantly accelerate the deadly effects of climate change in the name of profit for corporate shareholders," said Brett VandenHeuvel, executive director and Riverkeeper at Columbia Riverkeeper, which is a licensed member of Waterkeeper Alliance. "Waterkeepers from China, India, Idaho, Washington and Oregon oppose these proposals and will do everything we can to defeat them," added VandenHeuvel.
The proposed coal export facility at Longview is named the Millennium Bulk Terminals—Longview, LLC (MBTL), and is currently backed by Ambre Energy North America and Arch Coal. They have submitted an application to export 44 million tons of coal each year, and if built, it would be the largest coal export terminal in North America.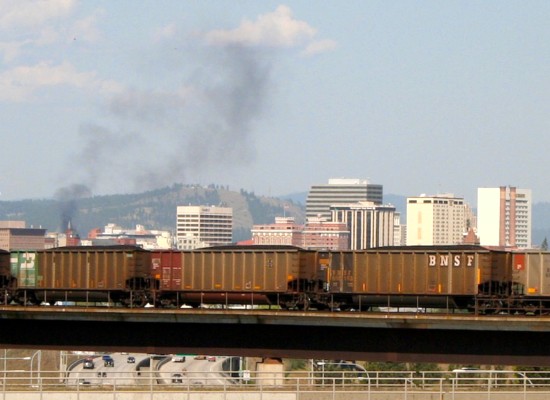 The Longview project has a rocky history. In 2011, a legal challenge exposed internal documents showing that Ambre and their U.S. subsidiary Millennium Bulk Logistics misled Cowlitz County and state officials about the size of their project, claiming it would ship five million tons per year when they planned on more than 10 times that size.
Following the controversy, Ambre withdrew its permit application and in 2012 re-filed for a terminal that would handle 44 million tons of coal/year, the current proposal.
"Coal is the most destructive and dirtiest of all carbon-based fuels," said Chris Wilke, Puget Soundkeeper and executive director of Puget Soundkeeper Alliance. "Its extraction, burning and even its transport come at a terrible cost in toxic pollution, human health and climate change. This cost is borne out by increases in cancer, asthma, lung disease and neurological disorders in the affected communities."
"Coal is also the dirtiest of fossil fuels when it comes to climate change, and its evil twin, ocean acidification, increasingly threatens Washington's shellfish industry and the entire ocean food web" continued Wilke, noting that the Columbia River project will negatively affect waterways around the world, including Puget Sound.
"There is simply no path to controlling carbon that involves continuing to burn coal at current levels," Wilke said. "It is mathematically impossible, which is why expanding coal burning and exports is pure insanity."
Across the country, Americans are turning to cleaner energy and phasing out coal power. Because of that, the coal industry has been working on a new plan: strip-mine coal in Montana and Wyoming, transport it on coal trains through Northwest cities and towns, ship it on massive cargo ships off the West Coast, and sell it overseas.
Speak Up Against Longview Proposal
And now there's another chance to derail a dirty coal export proposal and ask the tough questions that the coal companies have refused to answer.
The public comment period for the scope of the EIS for the proposed Longview coal export facility is open now, and will be until Nov. 18. Information about the proposed project will be available at each of the hearings around the state of Washington, as well as via the official EIS website established by the three agencies involved in the process.
"These coal export projects are drawing unprecedented resistance from communities across the Northwest because they are bad for the environment, bad for the economy and bad for our communities," said Crina Hoyer, executive director for RE Sources for Sustainable Communities. "I'm impressed by the well-informed, articulate scoping comments that we've heard for both the Gateway Pacific project and now the Millennium Bulk project. Community members are speaking from the heart and they're saying, no to big coal."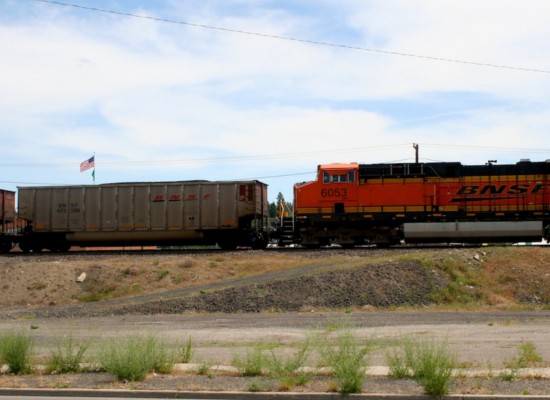 Coal Export Hearing Schedule in Washington State
Sept. 17: Cowlitz Expo Center, Longview
Sept. 25: Spokane Convention Center, Spokane
Oct. 1: The Trac Center, Pasco
Oct. 9: Clark County Fairgrounds, Vancouver
Oct. 17: Tacoma Convention Center, Tacoma
Unified Message Against Dirty Coal
As it was last year with the EIS scoping process for the proposed Gateway Pacific Terminal at Cherry Point, the unified message for these hearings is:
The scope of the EIS must take into account every community impacted by the mining, transport and burning of coal

Opposition to coal trafficking stems from a broad base of authentic citizen support that genuinely wants to transition away from planet-killing fossil fuels and create jobs in renewable energy

Scientific evidence conclusively shows that the pollution from coal burned in India and China will harm people, waterways and fisheries in the Pacific Northwest with mercury and fine particulates that rob children of IQ points and cause respiratory disease

This decision is far more complex than a simple and unhelpful jobs-vs-environment dichotomy; it is a decision that has global impacts in a quickly changing world

The only return on investment with coal, coal trains and coal terminals is carbon dioxide and ocean acidification

We can do better—we can Power Past Coal.
New Poll Shows Majority Oppose Coal Shipments
The strong opposition to the proposal follows recent news that a majority of voters in both Washington and Oregon now oppose plans to export coal from Northwest ports, opposition that has grown by double digits in the last year. 
"This poll confirms what has remained consistent throughout the debate about coal exports: the more people learn about the issue, the more they are opposed," said Beth Doglio, co-director of Power Past Coal. "It's like an onion: the more layers you peel back the more you realize what a stinky deal this would be for our communities, economy and planet."
Now it's your turn to take action. Help stop coal exports from the Pacific Northwest. Sign this petition today.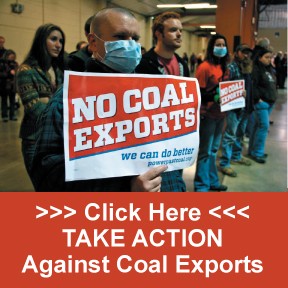 Visit EcoWatch's COAL EXPORTS page for more related news on this topic.
——–
Disturbing footage of a snake in Goa, India vomiting an empty soft drink bottle highlights the world's mounting plastic pollution crisis.
Keep reading...
Show less
By Melissa Hellmann
When her eldest son was in elementary school in the Oakland Unified School District, Ruth Woodruff became alarmed by the meals he was being served at school. A lot of it was frozen, processed foods, packed with preservatives. At home, she was feeding her children locally sourced, organic foods.
Keep reading...
Show less
May. 28, 2017 01:33PM EST
Laurie Woolever
By James O'Hare
There are 20 million people in the world facing famine in South Sudan, Somalia, Nigeria and Yemen. In developed nations, too, people go hungry. Venezuela, for instance, is enduring food insecurity on a national level as a result of economic crisis and political corruption. In the U.S., the land of supposed excess, 12.7 percent of households were food insecure in 2015, meaning they didn't know where their next meal would come from.
Keep reading...
Show less
May. 28, 2017 01:22PM EST
Melwater, Greenland ice sheet. Diane Tuft
Artists are taking the climate crisis into frame and the results are emotional, beautiful and stirring.
So you've seen the best climate change cartoons and shared them with your friends. You've showed your family the infographics on climate change and health, infographics on how the grid works and infographics about clean, renewable energy. You've even forwarded these official National Oceanic and Atmospheric Administration graphs that explain the 10 clear indicators of climate change to your colleagues at the office.
Keep reading...
Show less
May. 27, 2017 01:11PM EST
As the Trump administration moves full speed ahead on boosting the oil and fossil fuel industry, opposition to increased pipeline construction is cropping up in different communities around the country.
Keep reading...
Show less
May. 27, 2017 01:02PM EST
Minke whale stranding near Havergate Island in Suffolk. MCGA.
By Simon Evans
Last Saturday, two dead whales washed up on the coast of Suffolk, in eastern England, and a third was spotted floating at sea.
What happened next illustrates how news can spread and evolve into misinformation, when reported by journalists rushing to publish before confirming basic facts or sourcing their own quotes.
Keep reading...
Show less
May. 27, 2017 01:22PM EST
By Monica Amarelo and Paul Pestano
Sun safety is a crucial part of any outdoor activity for kids, and sunscreen can help protect children's skin from harmful ultraviolet rays. Kids often get sunburned when they're outside unprotected for longer than expected. Parents need to plan ahead and keep sun protection handy in their cars or bags.
Keep reading...
Show less
May. 27, 2017 01:02PM EST
By Joe McCarthy
A lot of people take part in community clean-up efforts—spending a Saturday morning picking up litter in a park, mowing an overgrown field or painting a fence.
Keep reading...
Show less