Coal Ash Spill Leaves Most North Carolina Voters Craving Stronger Environmental Leadership
After polling North Carolina voters for three days, the Sierra Club and Hart Research Associates concluded that residents lack confidence in their state leaders after Duke Energy's coal ash spill in February.
Nearly three-quarters of voters say the incident makes them want stronger regulations and enforcement from future candidates, and the results show no difference along partisan lines.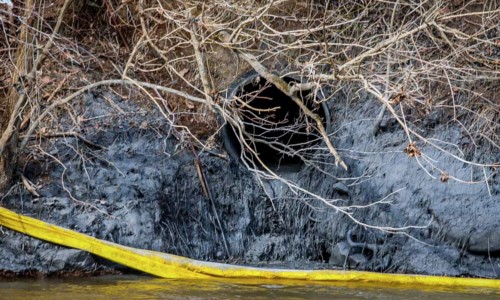 As Hart began conducting the survey on March 10, the Waterkeeper Alliance flew over the Duke Energy Cape Fear Plant, snapping photos of workers pumping wastewater from the company's coal ash pond into a canal that drains into the Cape Fear River. Since the Cape Fear River provides drinking water for residents in Fayetteville, Sanford and several other communities, one can only imagine how much higher the figures would be if the survey was conducted today.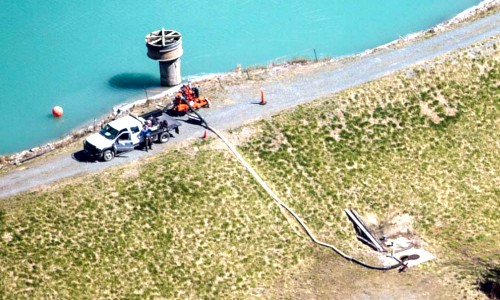 "This North Carolina coal spill has been a wake up call for voters about the need to protect our water from toxic coal pollution," said Mary Anne Hitt, director of the Sierra Club's Beyond Coal Campaign. "This poll is yet another indication that Republicans, Democrats and Independents in coal-dependent states want leaders who will stand up to big coal companies and enact common-sense initiatives to protect our air, our water and our families from toxic coal ash and pollution." 
Even though 70 percent of respondents say that Duke Energy is "mostly" to blame for the spill and 90 percent say the company should clean up all coal ash sites in the state, it's clear they think more emphasis on the environment from politicians would help. Here are some other highlights from the survey's results:
70 percent of voters polled say they would be more likely to support a candidate who " favors strong regulations and enforcement ... to prevent future spills." These include the majority of Democrats (87 percent), independents (69 percent) and Republicans (55 percent). Only 17 percent said they would be more likely to support a candidate who says that having more regulations and enforcement will hurt jobs and the state's economy.

 Coal ash regulation proposals garnered strong support from all parties— at least 60 percent of voters strongly supporting each of three initiatives.

57 percent of those polled say "stronger regulation and enforcement" could have prevented the spill; 69 percent say other serious incidents like this will occur unless some action is taken.

83 percent of North Carolina voters polled want coal ash to be regulated as a hazardous substance
"North Carolinians are sick of paying the cost for Duke Energy's failures and the Dan River spill is the last straw," said Kelly Martin, senior campaign representative for the Sierra Club's Beyond Coal campaign in North Carolina.
"Clear majorities across the aisle want policy and politicians who will hold Duke accountable and act to protect our water and  prevent another coal ash spill." 
———
Related Content:
Breaking: Duke Energy Coal Ash Spill Pollutes River and Threatens Drinking Water
Duke Energy Caught Dumping Wastewater from Coal Ash Lagoon Into Local Watershed
North Carolina Regulators Take Legal Action Against Duke Energy for Coal Ash Dumping
Bill Maher is sick of billionaires' obsession with Mars, more like "Mars-a-Lago," he said.
In a new animation produced by ATTN:, the popular talk show host of Real Time, discusses the perils of our planet, including how "climate change is killing us."
Keep reading...
Show less
Dr. Benjamin D. Santer, research scientist
A group of prominent climate scientists have written a study explicitly refuting statements made by the U.S. Environmental Protection Agency Administrator Scott Pruitt on climate data. During his Senate confirmation hearing, Pruitt claimed in a written response that satellite data shows a "leveling off" of warming over the past two decades.
Keep reading...
Show less
By David Pomerantz
The Nevada Assembly passed a bill Wednesday that would dramatically increase the growth of renewable energy in the state, but Sheldon Adelson, the casino magnate and major donor to Donald Trump, is attempting to prevent the bill from becoming law.
Keep reading...
Show less
Matt Crossick
By Yosola Olorunshola
Whether it's through fashion or protest, Vivienne Westwood is not a woman afraid of making a statement.
On May 23, she rocked up to the residence of the Archbishop of Canterbury in London with a special guest—the Grim Reaper—to issue a strong statement on the Church of England's position on fracking.
Keep reading...
Show less
By Paul Brown
The food industry and big agricultural concerns are driving climate change and at the same time threatening to undermine efforts to feed the world's growing population, according to GRAIN, an organization that supports small farmers.
Particularly singled out for criticism are the large chemical fertilizer producers that have gained access to the United Nations talks on climate change. GRAIN accuses them of behaving like the fossil fuel companies did in the 1990s, pushing false information in the hope of delaying real action on climate change.
Keep reading...
Show less
May. 24, 2017 06:55PM EST
By Sydney Robinson
President Trump has no doubt been given a long list of extravagant, elaborate gifts in his lifetime, but the gift given to him today by Pope Francis may not make it on his most favorite list.
Keep reading...
Show less
May. 24, 2017 07:17PM EST
By John Rogers
Maybe it's because I first started working on clean energy while serving in the Peace Corps he founded, or maybe it's my years of working on these issues from his home state. But I can't help thinking about the 100th anniversary of John F. Kennedy's birth, and connecting his stirring rhetoric to the energy challenges of our times.
Here's what our 35th president might have said about the challenges of energy transition and the opportunities in clean energy:
"Change is the law of life. And those who look only to the past or present are certain to miss the future."
Keep reading...
Show less
May. 24, 2017 01:47PM EST
Keep reading...
Show less


Get EcoWatch in your inbox