Climate Skeptic, Koch-Funded Scientist Admits Global Warming Real and Humans the Cause
Aug. 03, 2012 11:11AM EST
Climate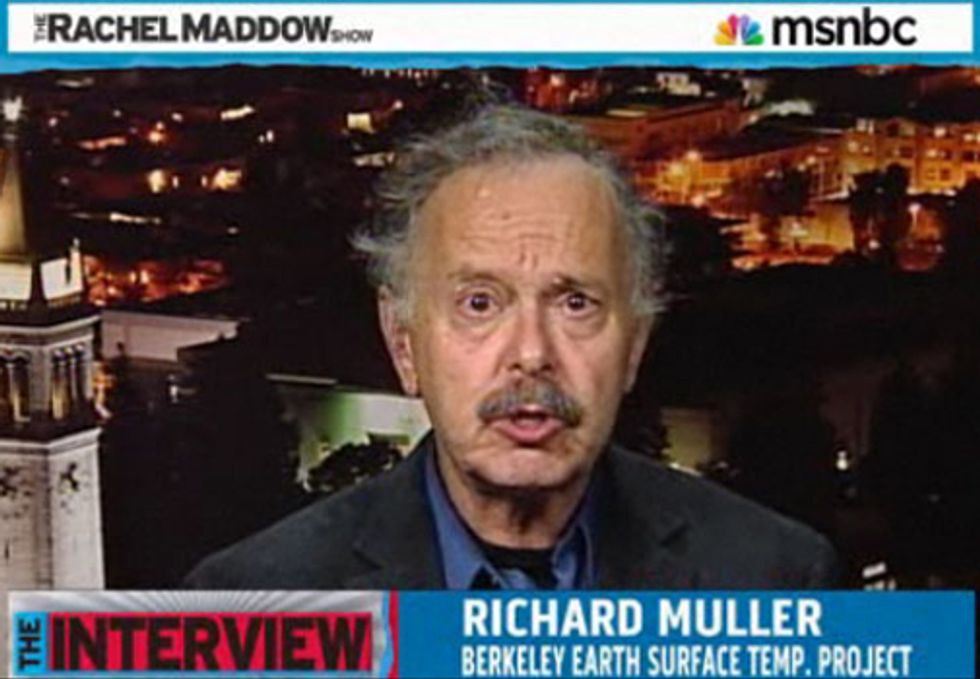 According to a new Berkeley Earth study released on July 29, the average temperature of the Earth's land has risen by 1.5°C over the past 250 years. The good match between the new temperature record and historical carbon dioxide records suggests that the most straightforward explanation for this warning is human greenhouse gas emissions.
The new analysis from Berkeley Earth goes all the way back to 1753, about 100 years earlier than previous groups' analyses. The limited land coverage prior to 1850 results in larger uncertainties in the behavior of the record; despite these, the behavior is significant.
Robert Rohde, lead scientist for Berkeley Earth and the person who carried out most of the analysis, noted that "Sudden drops in the early temperature record (1753 to 1850) correspond to known volcanic events." Volcanoes spew particles into the air, which then reflect sunlight and cool the earth for a few years. In the Berkeley Earth temperature plot (see figure below), sudden dips in temperature caused by large volcanic explosions are evident back to the late 1700s.
Berkeley Earth compared the shape of the gradual rise over 250 years to simple math functions (exponentials, polynomials) and to solar activity (known through historical records of sunspot numbers), and even to rising functions such as world population.
Richard Muller, founder and scientific director of Berkeley Earth, said, "Much to my surprise, by far the best match was to the record of atmospheric carbon dioxide, measured from atmospheric samples and air trapped in polar ice." He emphasizes that the match between the data and the theory doesn't prove that carbon dioxide is responsible for the warming, but the good fit makes it the strongest contender. "To be considered seriously, any alternative explanation must match the data at least as well as does carbon dioxide."
In its 2007 report, the International Panel on Climate Change (IPCC) concluded only that "most" of the warming of the past 50 years could be attributed to humans. It was possible, according to the IPCC, that increased solar activity could have contributed to warming prior to 1956. Berkeley Earth analyzed about 5 times more station records than were used in previous analyses, and this expanded data base along with its new statistical approach allowed Berkeley Earth to go about 100 years farther back in time than previous studies. By doing do, the Berkeley Earth team was able to conclude that over 250 years, the contribution of solar activity to global warming is negligible.
Some of the scientists on the Berkeley Earth team admit surprise that the new analysis has shown such clear agreement between global land-temperature rise and human-caused greenhouse gases. "I was not expecting this," said Richard Muller, "but as a scientist, I feel it is my duty to let the evidence change my mind."
In a July 28 New York Times op-ed piece, Muller wrote:
"Call me a converted skeptic. Three years ago I identified problems in previous climate studies that, in my mind, threw doubt on the very existence of global warming. Last year, following an intensive research effort involving a dozen scientists, I concluded that global warming was real and that the prior estimates of the rate of warming were correct. I'm now going a step further: Humans are almost entirely the cause."
"Science is that narrow realm of knowledge that, in principle, is universally accepted. I embarked on this analysis to answer questions that, to my mind, had not been answered. I hope that the Berkeley Earth analysis will help settle the scientific debate regarding global warming and its human causes. Then comes the difficult part: agreeing across the political and diplomatic spectrum about what can and should be done."
Elizabeth Muller, co-founder and executive director of Berkeley Earth, said that "One of our goals at Berkeley Earth is complete transparency—we believe that everyone should be able to access raw climate data and do their own analysis. Scientists have a duty to be 'properly skeptical,' and we are trying to lower the barriers to entry into the field."
Robert Rohde created an online feature that allows look up temperature records by location. "If you want to know what the temperature change has been in your city, your state or even your country, you can now find this online at BerkeleyEarth.org," says Rohde. He adds, "We hope people will have a lot of fun interacting with the data."
Visit EcoWatch's CLIMATE CHANGE page for more related news on this topic.
Watch Richard Muller on The Rachel Maddow Show talking about this new study:
Visit NBCNews.com for breaking news, world news, and news about the economy
EcoWatch Daily Newsletter
Related Articles from EcoWatch