Climate Scientists and Deniers Debate Keystone XL on The Ed Show
Mar. 14, 2014 09:22AM EST
Climate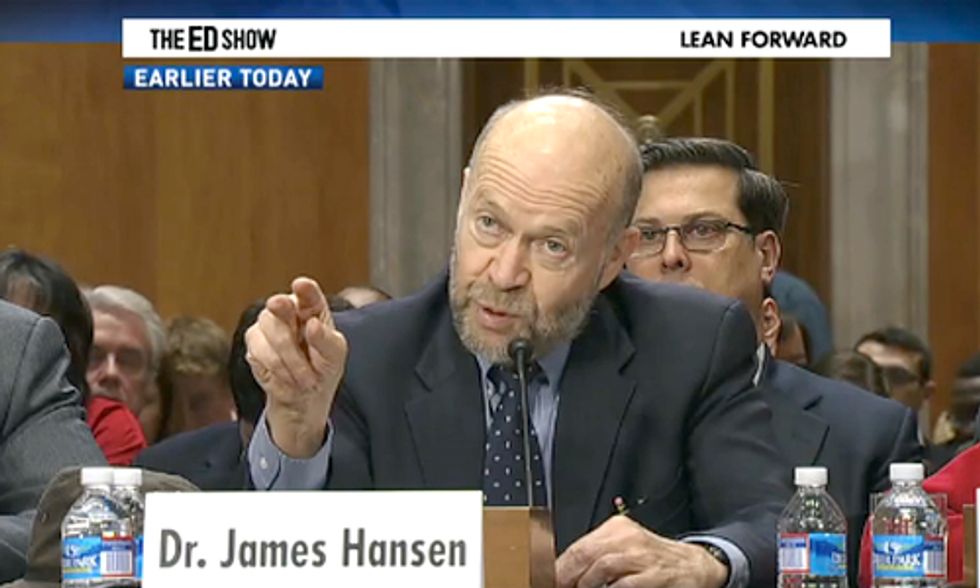 If you missed footage from the U.S. Senate's Foreign Relations Committee's hearing on the proposed Keystone XL Pipeline—and the accompanying testimonies that ranged from enlightening to erroneous—a widely viewed MSNBC talk show provided the footage Thursday.
The Ed Show's opening segment containing hearing excerpts from the likes of Dr. James Hansen and Karen Alderman Harbert, the president and CEO of the U.S. Chamber of Commerce's Institute for 21st Century Energy, exemplify the varying opinions on the pipeline and climate change.
By the 11-minute, 40-second-mark, host Ed Schultz brings in Earth scientist and former Montana Gov. Brian Schweitzer and Mark Fulton, an author of Carbon Tracker Initiative's report released Thursday in response to the State Department's Final Supplemental Environmental Impact Statement on the massive pipeline. 
Given recent findings about tar sands, both men wondered how Keystone XL could possibly be approved. However, Schweitzer reminded viewers that the fight for cleaner air should not revolve around Keystone XL—he spoke about 81 other pipelines, most of which are already carrying oil sands from Canada to the U.S., as well as a few others that are in the works that involve Thunder Bay, Canada, the Great Lakes and more.
"There's 2.2 trillion barrels that are stored in Canada, the largest deposit of oil on the planet. It's going to be developed, whether we bring (Keystone XL) across Nebraska, or it's rail or barges, as long as we're using oil in this country, we're either going to import it from Canada, Saudi Arabia or Venezuela," Schweitzer said.
"I believe that methane and carbon dioxide and the emissions that humans are using these hydrocarbons, whether it's coal or whether it's clean or natural gas, we're creating a climate change," Schweitzer continued. "We're not going to leave the hydrocarbon era tomorrow. The sooner we move with a carbon tax, the sooner we move with electric cars, the sooner we move with cleaner and better energy, the sooner we're going to decrease the risk to our planet.
"But it isn't just the Keystone Pipeline that is going to be the line in the sand."
Visit EcoWatch's KEYSTONE XL page for more related news on this topic.

EcoWatch Daily Newsletter