This website uses cookies to ensure you get the best experience while browsing it. By clicking 'Got It' you're accepting these terms.
Climate Riders Head to NYC for People's Climate March
Sep. 20, 2014 03:22PM EST
Climate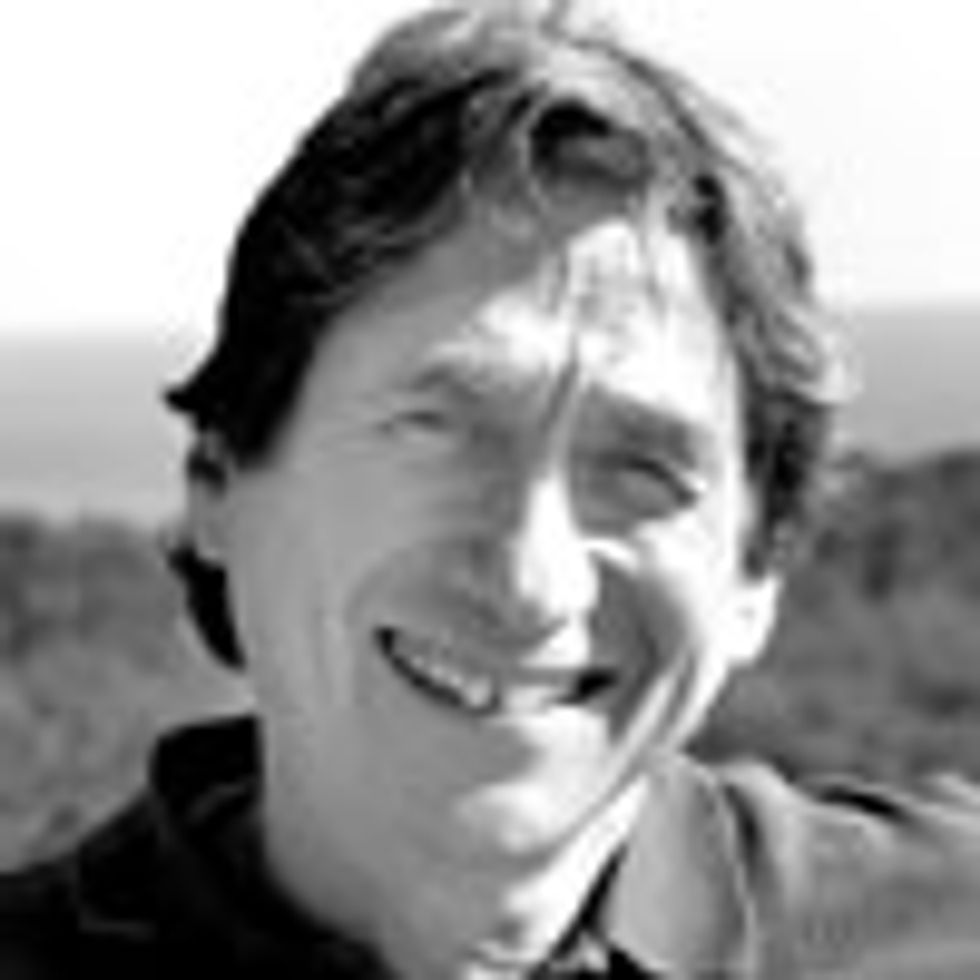 [Editor's note: Can't make it to NYC for the People's Climate March? Watch it on EcoWatch here, tomorrow, Sunday, Sept. 21 starting at 10:30 a.m.]
Two vans and a big bus filled with truly great people—the new Climate Riders—on their way to New York City for the People's Climate March pulled up to the First Watch for breakfast this morning in Columbus, Ohio.
Twenty-four hours on the road each way to march for a few hours against the corporations that are killing our planet.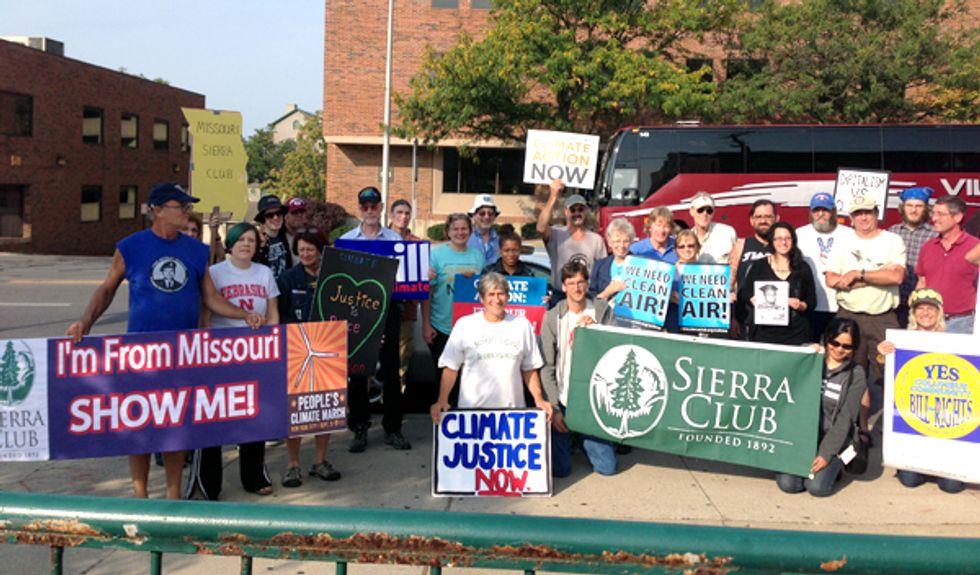 Kansas/Missouri Climate Riders stop for breakfast in central Ohio on their way to NYC. Local author Harvey Wasserman is kneeling in front in his "Solartopia! Our Green-Powered Earth" t-shirt. Photo credit: Samantha Allen
"I hate the Koch Brothers," one of them tells me over pancakes. "They are wrecking the Earth for all of us."
Another, Chris, borrows my bike to ride down the street to a bakery, then does it a second time to feed the drivers.
I've come just five miles from my house on the east side of Columbus biking about a half-hour on my two-wheeler through the flatlands of Ohio's state capital, where a corrupt, climate-killing legislature has been working to outlaw renewables, ban the sale of Tesla cars, kill passenger rail service, subsidize dying nukes and embrace fracking with all its corporate might.
These good folks have come from Kansas and Missouri. Overnight to Columbus, then all day to Allentown, Pennsylvania, where they'll stay the night. Then two more hours into the city tomorrow morning. March through the day. Get back on the bus and into the vans around 9 p.m. Then ride a full day back to the far midwest.
Many have taken unpaid days off from work to do this. Some would like to stay a while in New York City but can't afford it.
But they've all come to send a message to the corporate climate-killing billionaires.
"We need to make an impact," one tells me. "Things gotta change."
Tonight still more buses will leave for Columbus for the shorter but still grueling overnight haul to Manhattan. Then, after the march, they'll turn around and come back so folks can get back to work by Monday morning. The folks from Kansas, who left yesterday, won't get back to work until Tuesday.
At least one trainload with more than 100 people, has been rolling from the San Francisco Bay for days now. They will march in New York City, then turn around and cross the whole country again.
This is a staggering show of concern and commitment. These folks are on the move to fight King CONG (Coal, Oil, Nukes and Gas).  They are clearly willing to pay a serious price to win.
Everybody knows we can now power our planet entirely with renewables.
These folks from Kansas see firsthand the promise of windpower being filled on the prairies where they live.
One works as a solar installer. He put in 500 rooftop systems last year alone. He's brought his teenaged son, who beams proudly as his dad explains the business.
Another tells me about her job teaching people to do urban gardening. "It takes about three years," she says. "Then they're on their own. It really works."
The chief organizer works in sign language. She tells me about the exciting advances in telecommunicating that now allow the deaf to do conference calling. I'll send her this article and she'll forward it on to the rest of the group.
Another bends my ear about bio-char agriculture, and how midwestern farmers have been quietly revolutionizing crop fertilization in ways perfected centuries ago by the native Americans through the use of controlled burn.
Two of the younger riders are handing out fliers about the murder in Ferguson. They are pierced, tattooed and dressed in black. They are also articulate, committed and extremely well-informed.
The Sierra Clubber here is a Marine Corps vet, just out of Ohio State University. Down the table is another Kansan, a factory worker, twice her age, ready for a new career in social change.
And so it goes. Every one of these people with a great story to tell, and an astonishing commitment to saving this planet.
The corporate media likes to make these issues complex and confusing. But nobody on this bus has any doubts. We need to save the planet. We need to convert to renewables. The corporations are in the way.
The corporate media sees us all in terms of numbers.
But these buses are filled with people. Tough, committed, knowledgeable people. Savvy about Fukushima. Inspired by the German transition to green power. Fully informed as to where the green jobs will be and how energy prices will drop once we get them.
The corporations may have their money invested in coal, oil, nukes and gas.
But the truly smart investors are all riding with us.
YOU MIGHT ALSO LIKE
Naomi Klein on Democracy Now! Discussing Capitalism vs. the Climate
'This Changes Everything' Including the Anti-Fracking Movement
How Climate Change Exacerbates the Spread of Disease, Including Ebola
EcoWatch Daily Newsletter
The Visible Infrared Imaging Radiometer Suite on the Suomi NPP satellite acquired this image of forest fire smoke hovering over North America on Aug. 15, 2018. NASA Earth Observatory
New York City isn't known for having the cleanest air, but researchers traced recent air pollution spikes there to two surprising sources — fires hundreds of miles away in Canada and the southeastern U.S.
If temperatures continue to rise, the world is at risk from global
sea-level rise
, which will flood many coastal cities as seen above in Bangladesh. NurPhoto / Contributor / Getty Images
The mounting climate emergency may spur the next global financial crisis and the world's central banks are woefully ill equipped to handle the consequences, according to a new book-length report by the Bank for International Settlements (BIS), as S&P Global reported. Located in Basel, Switzerland, the BIS is an umbrella organization for the world's central banks.
Two ice fishers with a truck cut a hole in the ice near an ice fishing hut on frozen Lake Winnebago.
Richard Hamilton Smith / Corbis NX / Getty Images
By Susan Cosier
Come February in Wisconsin, almost everything will be covered in ice and snow. In little shanties on frozen Lake Winnebago, a 30-by-13-mile lake in the eastern part of the state, fishers will keep watch over rectangular holes cut into the ice with a chainsaw. When they spot a fin passing below, they'll jab their spears down deep. The lucky ones will earn themselves a lake sturgeon, a species that has prowled the earth's waters for more than 150 million years.
Fresno, California, seen above, is receiving $66 million for walking trails, sidewalks, bike lanes, and more. DenisTangneyJr / iStock / Getty Images
Grecia Elenes grew up in Fresno, California. She says some parts of the city have been neglected for decades. When she moved back after college she realized nothing has changed.
People are seen embracing at Numeralla Rural Fire Brigade near the scene of a water tanker plane crash on Jan. 23 in Cooma, Australia. Three American firefighters have have died after their C-130 water tanker plane crashed while battling a bushfire near Cooma in southern NSW this afternoon. Jenny Evans / Getty Images
Three U.S. firefighters gave their lives battling Australia's historic wildfires Thursday when their airborne water tanker crashed.