This website uses cookies to ensure you get the best experience while browsing it. By clicking 'Got It' you're accepting these terms.
Today 13 individuals who blockaded a runway to protest against expanding Heathrow airport were expected to be sent to prison but ended up receiving six-week suspended sentences instead. They had packed suitcases and set up their "out of office" email messages anticipating to become the first climate activists in the UK to receive a prison sentence.
It is symptomatic of the overwhelming influence of corporate interests over our democracies to threaten peaceful protestors who take action for the greater good with prison sentences, while tolerating the conduct of those that drive us into climate chaos for private gain. Yet, as the climate crisis unfolds, more and more people are preparing for climate disobedience. The promises of the Paris climate agreement require an immediate and massive shift away from burning fossil fuels. There is however a major gap between the words of politicians and their plans for action. It's now up to ordinary citizens to take action to keep the coal, oil and gas that is cooking our climate in the ground.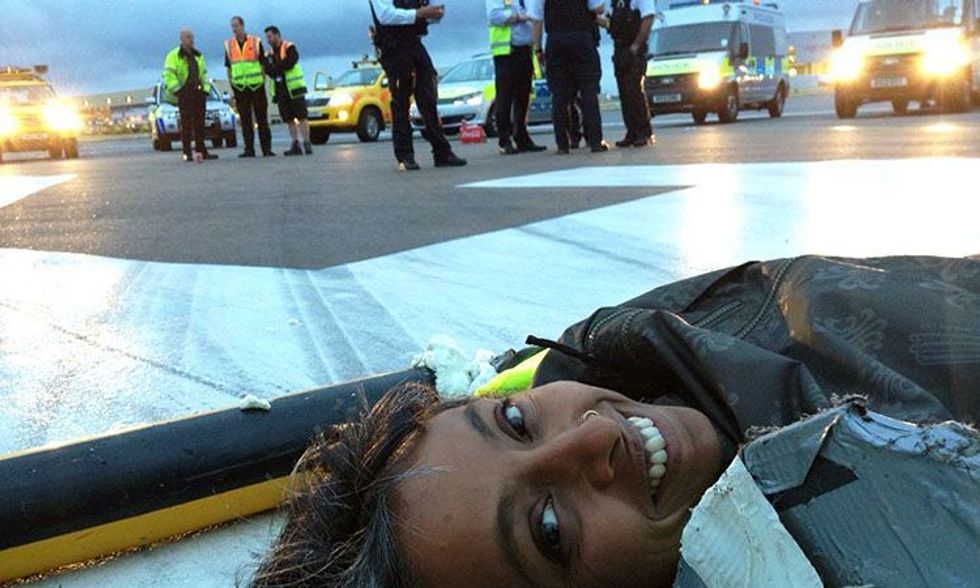 In the case of the Heathrow 13, this is what happened: In July last year, a commission tasked by the UK government recommended expanding the Heathrow airport. Two weeks later, 13 individuals from the direct action network Plane Stupid peacefully blockaded a runway at Heathrow airport in protest at the expanding aviation industry, which causes deaths from air pollution and climate change. Their occupation lasted six hours and delayed or cancelled dozens of flights.
The "Heathrow 13" include a 68-year-old atmospheric physicist and 350.org UK divestment campaigner Danielle Paffard. In court they argued that they feel a moral responsibility to take action as ordinary citizens where democratic, legislative and political processes fail to address the threat the aviation industry poses to the climate and people's health.
Thirty-two-year-old Melanie Strickland who works for a health charity in London said:
"When the political system is so fundamentally flawed that it is unresponsive to an issue of colossal international importance, such as climate change, then every citizen has a responsibility to act. There is a basic human, moral and social duty to take action to prevent this disaster and to wake people up."
Aviation currently accounts for about 2-5 percent of global emissions but the industry's rapid expansion could see that number jump to 22 percent by 2050, according to a recent study by the European Parliament. It is one of the fastest growing sources of emissions, yet aviation remains largely exempt from emission reduction requirements and enjoys tax breaks that keep air travel costs artificially low.
A paragraph on emissions from aviation and shipping in a draft version of the Paris text was taken out of the final agreement and new rules by the UN's International Civil Aviation Organization are much too weak to have a meaningful impact. Besides fueling climate change, a third runway at Heathrow will cause 150 premature deaths a year by 2030, according to a MIT estimate.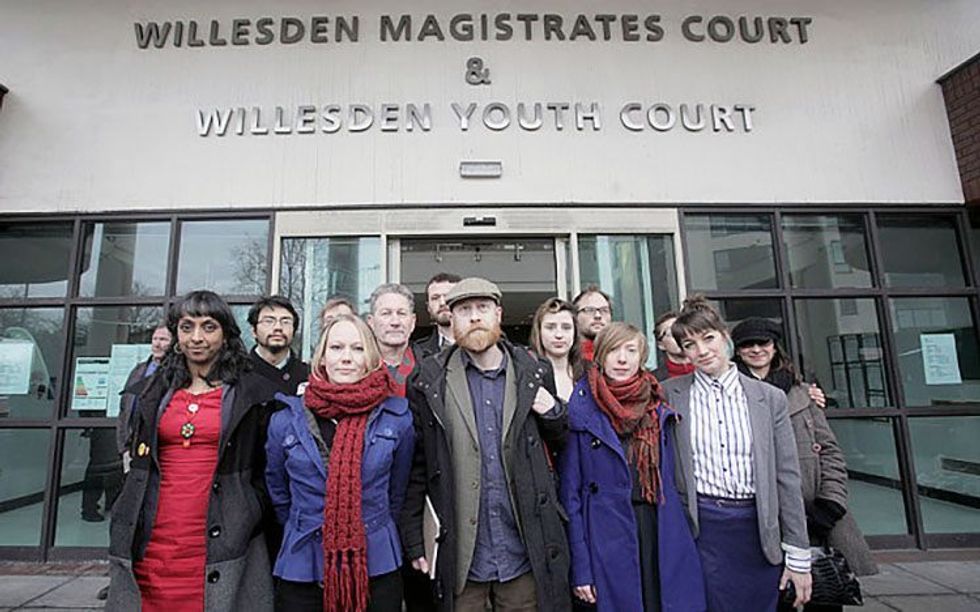 Even though the judge recognized that the Heathrow 13 were "principled and passionate people" and that Heathrow is in breach of EU emission regulations, she found them guilty of "aggravated trespass" and warned them to expect immediate jail sentences when they return to court.
Aggravated trespass is a criminal offense that was introduced under the Thatcher government with the aim of curbing protests. In 2013, a UN independent expert recommended that the UK review its public order legislation, in particular with "great concern about the use of aggravated trespass against people staging legitimate protests." A criminal law specialist described the possibility of a custodial sentence as "extremely surprising." Ten of the Heathrow 13 had no prior convictions.
Meanwhile in France ...
There is another anti-aviation fight in Europe that is gaining steam. In France, a 40-year battle against plans for Europe's biggest airport in Notre-Dame-des-Landes (NDDL), about 25 km from Nantes, is heating up in the aftermath of the Paris agreement. A petition arguing that the airport is not compatible with the Paris climate agreement and urging the French government to intervene gathered more than 11,000 signatures in just 24 hours.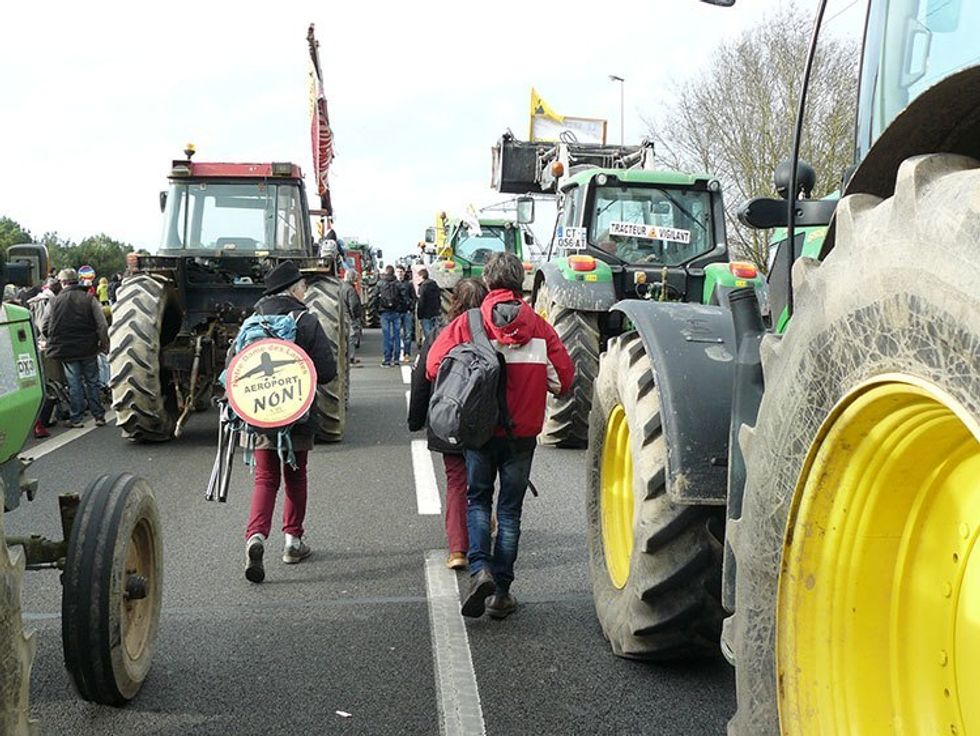 The battle against the airport at NDDL has grown into the most iconic fight of the French climate and social justice movement. The airport project is seen to represent a system of unnecessary expansion that serves the economic interests of a minority at the expense of local communities, farmers' livelihoods, the environment and the climate.
Hundreds of people have occupied the site for years. Recently, 11 farmer families announced that they will resist an eviction order and are prepared to risk imprisonment. Twenty-thousand people blockaded the ring road around Nantes in January in a protest against the project. Many more are expected to join the next big mobilization on Feb. 27.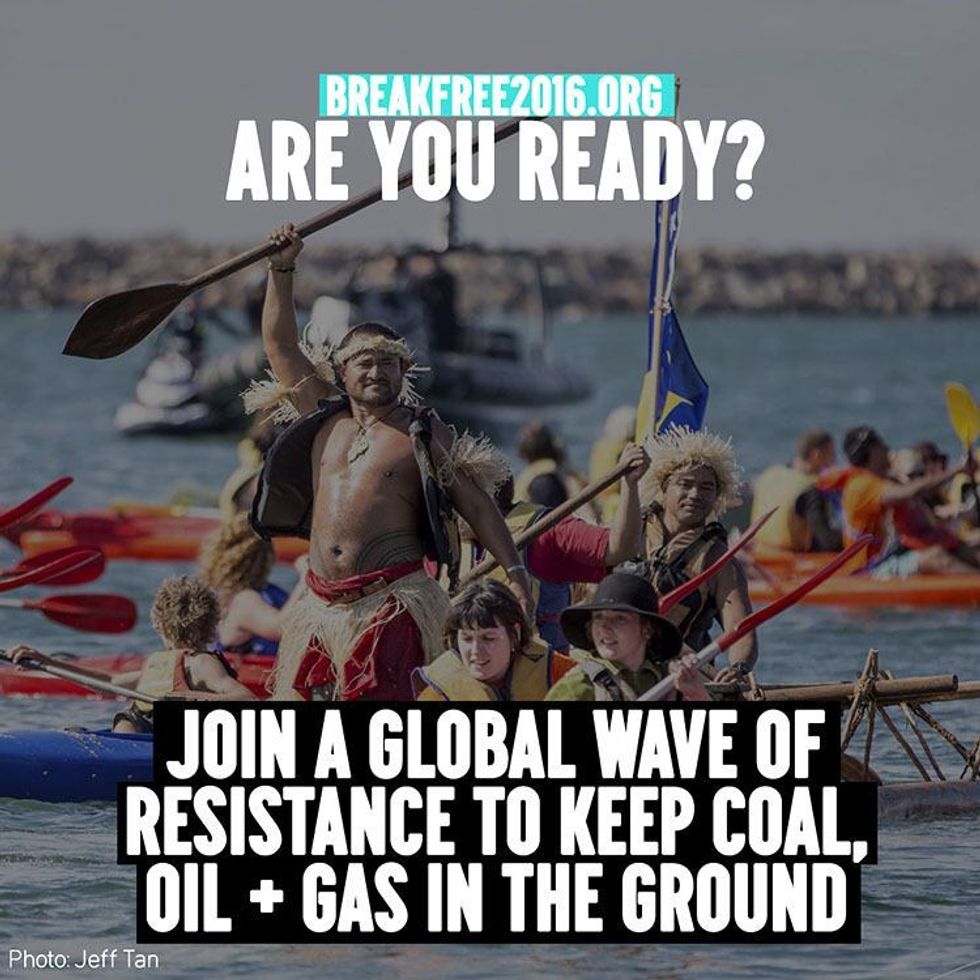 The anti-aviation fights in France and the UK heat up as groups around the globe prepare for a series of mass mobilizations that will disrupt iconic fossil fuel projects on six continents in May. The sentencing of the Heathrow 13 today only marks the onset of a new wave of climate disobedience. Groups around the world are currently preparing mass mobilizations to shut down major fossil fuel projects on six continents in a series of actions from May 7-15. The Break Free wave of actions will target oil wells in Nigeria, coal mines in Germany and Australia, fracking in Brazil, and coal plants in Turkey and the Philippines among others.
YOU MIGHT ALSO LIKE
Climate Experts to American Geophysical Union: Reject Exxon Sponsorship
Sea Levels Rising at Fastest Rate in 3,000 Years
6 Stunning Images Show Sense of Urgency to Act on Climate
Epic Drought and Food Crisis Prompts South Africa to Ease Restrictions on GMOs
EcoWatch Daily Newsletter
The CDC has emphasized that washing hands with soap and water is one of the most effective ways to prevent the spread of COVID-19. Guido Mieth / Moment / Getty Images
The Centers for Disease Control has emphasized that washing hands with soap and water is one of the most effective measures we can take in preventing the spread of COVID-19. However, millions of Americans in some of the most vulnerable communities face the prospect of having their water shut off during the lockdowns, according to The Guardian.
A California newt (Taricha torosa) from Napa County, California, USA. Connor Long /
CC BY-SA 3.0
Aerial photos of the Sierra Nevada — the long mountain range stretching down the spine of California — showed rust-colored swathes following the state's record-breaking five-year drought that ended in 2016. The 100 million dead trees were one of the most visible examples of the ecological toll the drought had wrought.
Now, a few years later, we're starting to learn about how smaller, less noticeable species were affected.
Disinfectants and cleaners claiming to sanitize against the novel coronavirus have started to flood the market.
Natthawat / Moment / Getty Images
Disinfectants and cleaners claiming to sanitize against the novel coronavirus have started to flood the market, raising concerns for the U.S. Environmental Protection Agency (EPA), which threatened legal recourse against retailers selling unregistered products, according to The New York Times.
A customer packs groceries in reusable bags at a NYC supermarket on March 1, 2020. Eduardo Munoz Alvarez/Getty Images
The global coronavirus pandemic has thrown our daily routine into disarray. Billions are housebound, social contact is off-limits and an invisible virus makes up look at the outside world with suspicion. No surprise, then, that sustainability and the climate movement aren't exactly a priority for many these days.
Ingredients are displayed for the Old School Pinto Beans from the Decolonize Your Diet cookbook by Luz Calvo and Catriona Rueda Esquibel. Melissa Renwick / Toronto Star via Getty Images
By Molly Matthews Multedo
Livestock farming contributes to global warming, so eating less meat can be better for the climate.